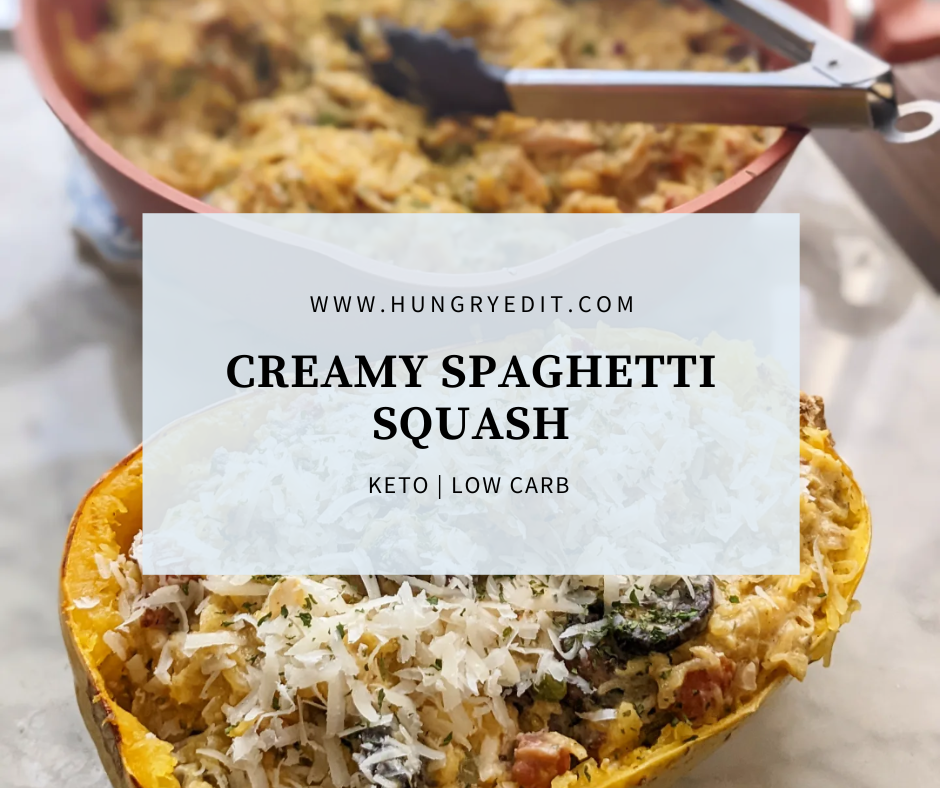 Our Creamy Keto Spaghetti Squash is made with crispy pancetta, peas and mushrooms. We simmer the peas and mushrooms in white wine and finish off the dish with heavy cream and Parmigiano-Reggiano. We also add shredded chicken to make this a more hearty and fulfilling meal.
Inspiration
This keto dish is inspired by the classic Italian pasta dish with ham and peas (Pasta piselli e prosciutto). The dish uses prosciutto cotto which you can find in a well stocked grocery or specialty Italian grocery. Since we swapped the pasta for the spaghetti squash, I felt that crispy pancetta would be a nice addition here instead. Feel free to use proscuitto cotto in this dish instead of the pancetta. If using prosciutto cotto, add the sliced ham at the end. There is no need to cook them ham before like we do with the pancetta.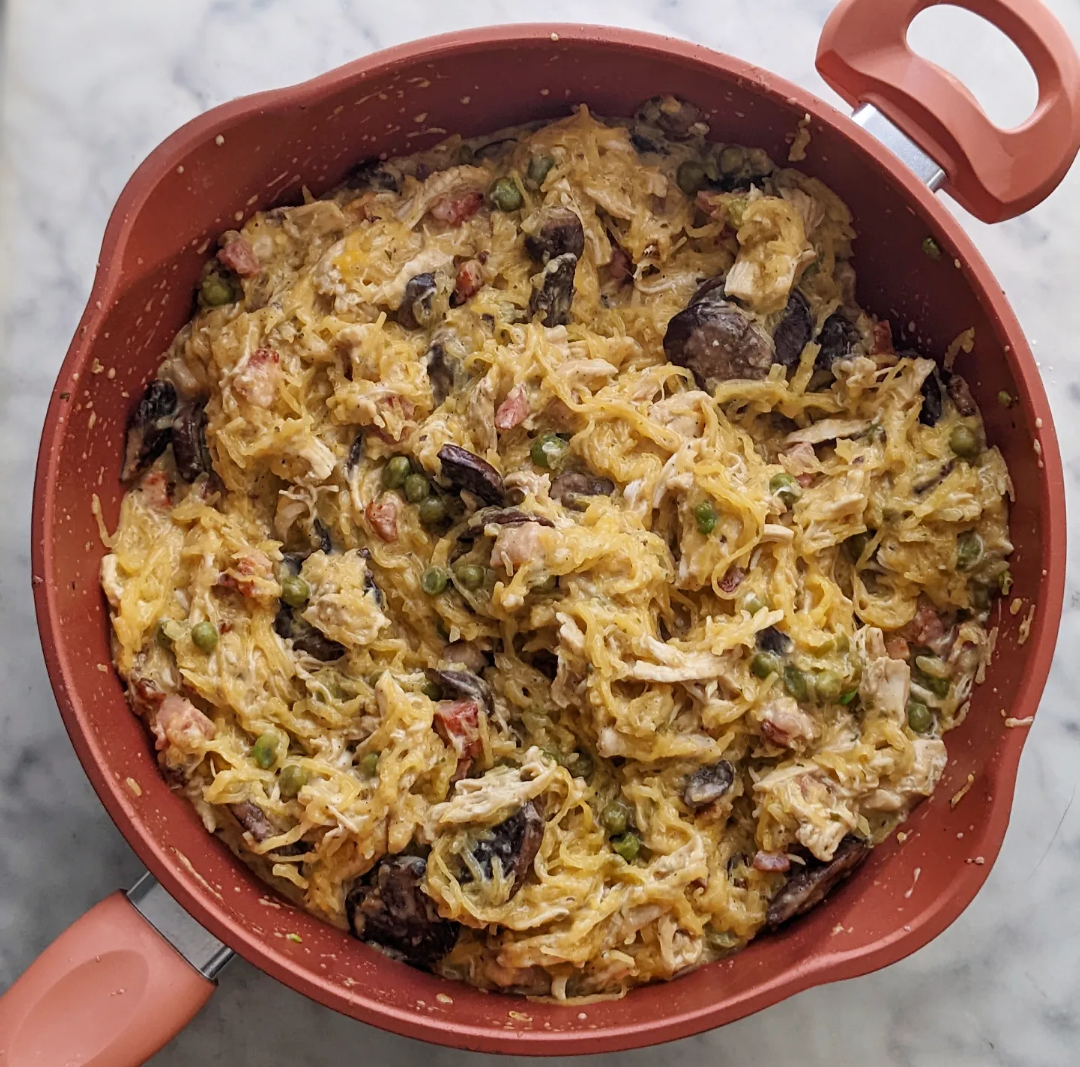 Is Spaghetti Squash Keto?
The simple answer is, yes! Per cup, spaghetti squash is only 42 calories with 10g of carbs and 2.2g of fiber. This makes each cup (155 grams) only 7.8g of net carbs. Spaghetti squash is great to add into a keto diet because it is high in pantothenic acid, a B vitamin. It is also a good source of vitamin C, manganese and niacin
Chicken
Shredded chicken adds a really nice component to this dish. It makes this dish more filling, lower in carbs, and the texture of the shredded chicken works nicely with the spaghetti squash. You can use any precooked shredded chicken or shred a rotisserie chicken from the grocery store. Our favorite way is to cook the chicken in the Instant Pot (it only takes 10 minutes!). We use the leftover chicken stock to make the cream sauce. Directions for the Instant Pot shredded chicken is in the recipe below.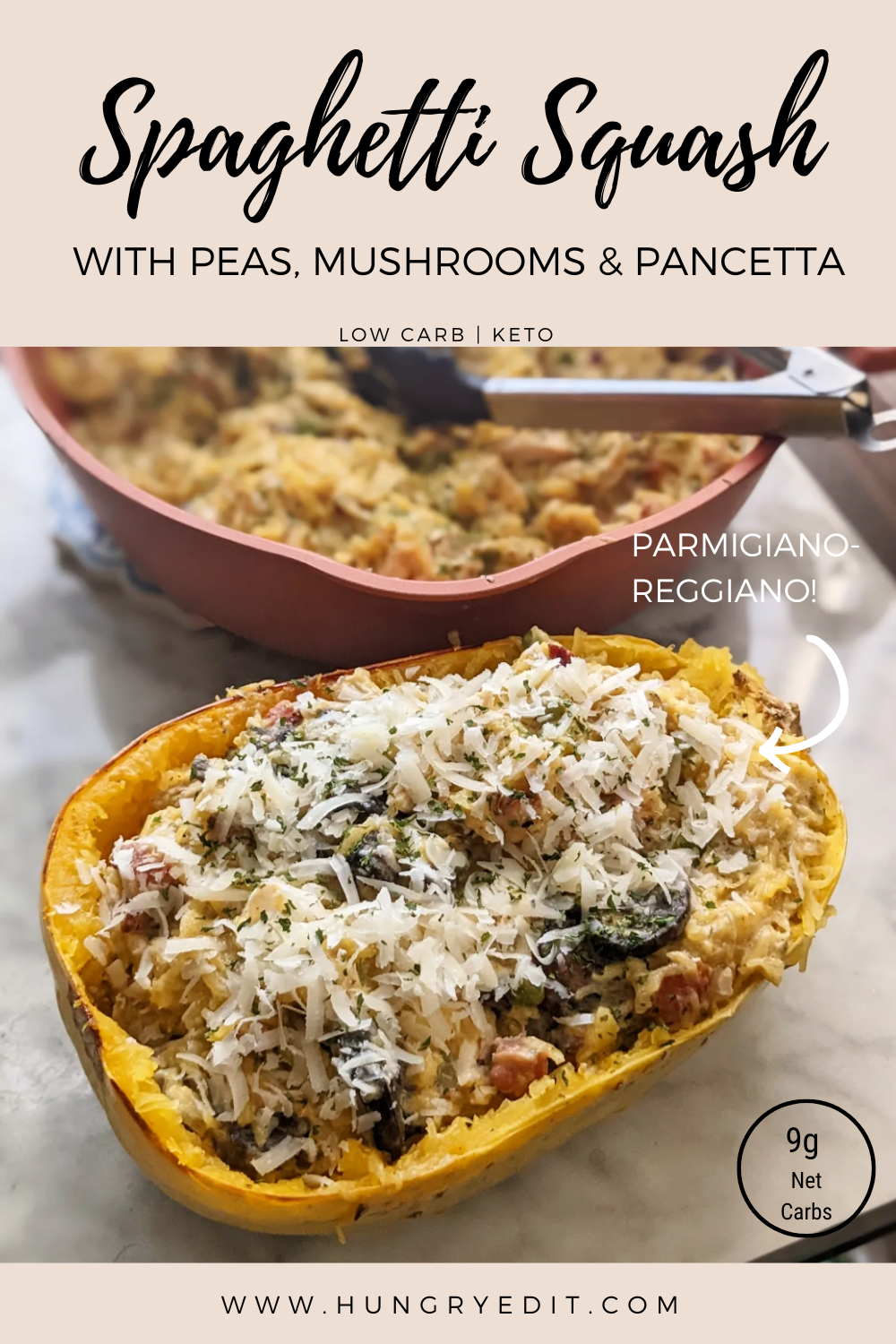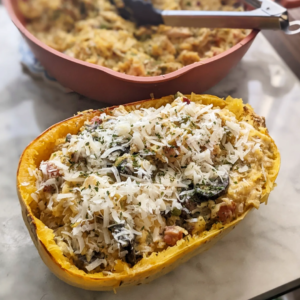 Creamy Keto Spaghetti Squash (With Pancetta, Peas and Mushrooms)
Ingredients
1

Spaghetti Squash

About 6 Cups Cooked.

1

Lb

Cooked Shredded Chicken Breast

See Below for Optional Cooking Method in the Instant Pot.

2

Cups

Parmigiano-Reggiano

Grated, Divided.

1/2

Cup

Mozzarella

Grated.

250

Grams

Mushrooms

Sliced.

1/2

Cup

Frozen Peas

200

Grams

Pancetta

Or Proscuttio Cotto. If using procuitto cotto, add the sliced ham at the end of the dish.

1/2

Cup

Dry White Wine

1/2

Cup

Heavy Cream

1/2

Cup

Chicken Broth

Optional, if not using chicken broth, use 1 cup of heavy cream.

1/4

Cup

Fresh Parsley

2

Garlic Cloves

Minced.

1

Tbsp

Olive Oil

2

Tbsp

Butter

Salt

To Taste.

Pepper

To Taste.

1/8-1/4

Tsp

Xanthan Gum

Optional, To Thicken Sauce.
Instructions
Spaghetti Squash
Poke holes all around the spaghetti sqash. Cook in the microwave for about 5 minutes (this will make it easier to cut).

Cut the spaghetti squash in half lenghtwise. Scoop out the seeds.

Brush 1 tbsp of olive oil over both halves of the spaghetti squash. Season with salt and pepper.

Place the spaghetti squash cut side down on a baking tray lined with parchment paper.

Bake for 30-40 minutes until fork tender.

Remove from the oven and flip so that the squash is cut side up. Use a fork to shred the cooked squash.
Sauce
While the spaghetti squash is baking, prepare the sauce.

Place the chopped pancetta in a large deep pan over medium-high heat. Fry until crispy, about 10-15 minutes.

Once cooked, remove the pancetta with a slotted spoon, keeping the grease in the pan. Set aside.

Add butter to the pan and add minced garlic. Cook until fragrant, about 1-2 minutes.

Add chopped mushrooms and fresh parsley. Cook until the mushroomed are browned, about 5 minutes. Season with salt and pepper.

Add frozen peas and cook for another 3-5 minutes.

Add white wine. Cook until the smell of the alcohol is gone and the liquid is halfway reduced.

Stir in the heavy cream, chicken broth, half the Parmigiano-Reggiano and all of the mozarella cheese. Bring to a simmer.

If the sauce is not thick enough, whisk in optional xanthan gum and continue simmering for another 3 minutes.

Adjust seasoning if needed.
Assembly
Stir in shredded chicken, shredded spaghetti squash and pancetta to the sauce.

Adjust seasoning once more if needed.

Top with the remainder of the Parmigiano-Reggiano and enjoy!
Instant Pot Shredded Chicken (Optional)
Optional, can use any pre-cooked shredded chicken instead.

Add chicken breast, 1 cup chicken broth, salt, pepper, onion and garlic powder to instant pot.

Turn the valve to seal and pressure cook for 10 minutes.

Once the chicken is done cooking, carefully turn the value to release the pressure.

Remove and shre the chicken with two forks.

Save the broth leftover in the instant pot for the sauce.
Notes
Nutrition Information (6 Servings):
519 Calories 
11.2g Carbohydrates
2.2g Fiber
34.5g Fat
44.5g Protein
Net Carbs: 9g / Serving
Let us know in the comments below if you've tried our Creamy Keto Spaghetti Squash. If you're looking for more keto and low carb recipes, visit our recipe page!