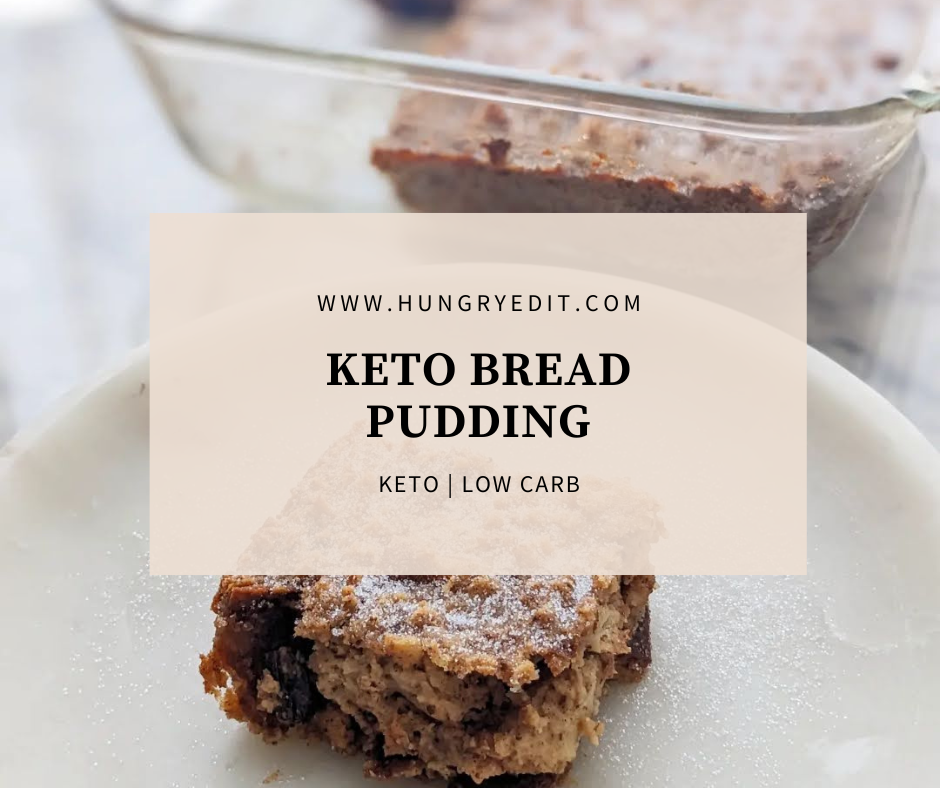 This Keto Bread Pudding is a low carb take on the traditional British recipe! Made with keto-friendly bread, milk, cinnamon and raisins. This is an easy keto dessert recipe that's low in carbs but full of flavour.
Bread Pudding vs. Bread and Butter Pudding
Across the pond in the US and Canada, we commonly refer to "Bread and Butter Pudding" as "Bread Pudding". Bread and Butter Pudding is a dessert made with stale bread that puffs up like a souffle. Traditional British Bread Pudding is a dense and moist cake that can be served hot or cold with a cup of tea.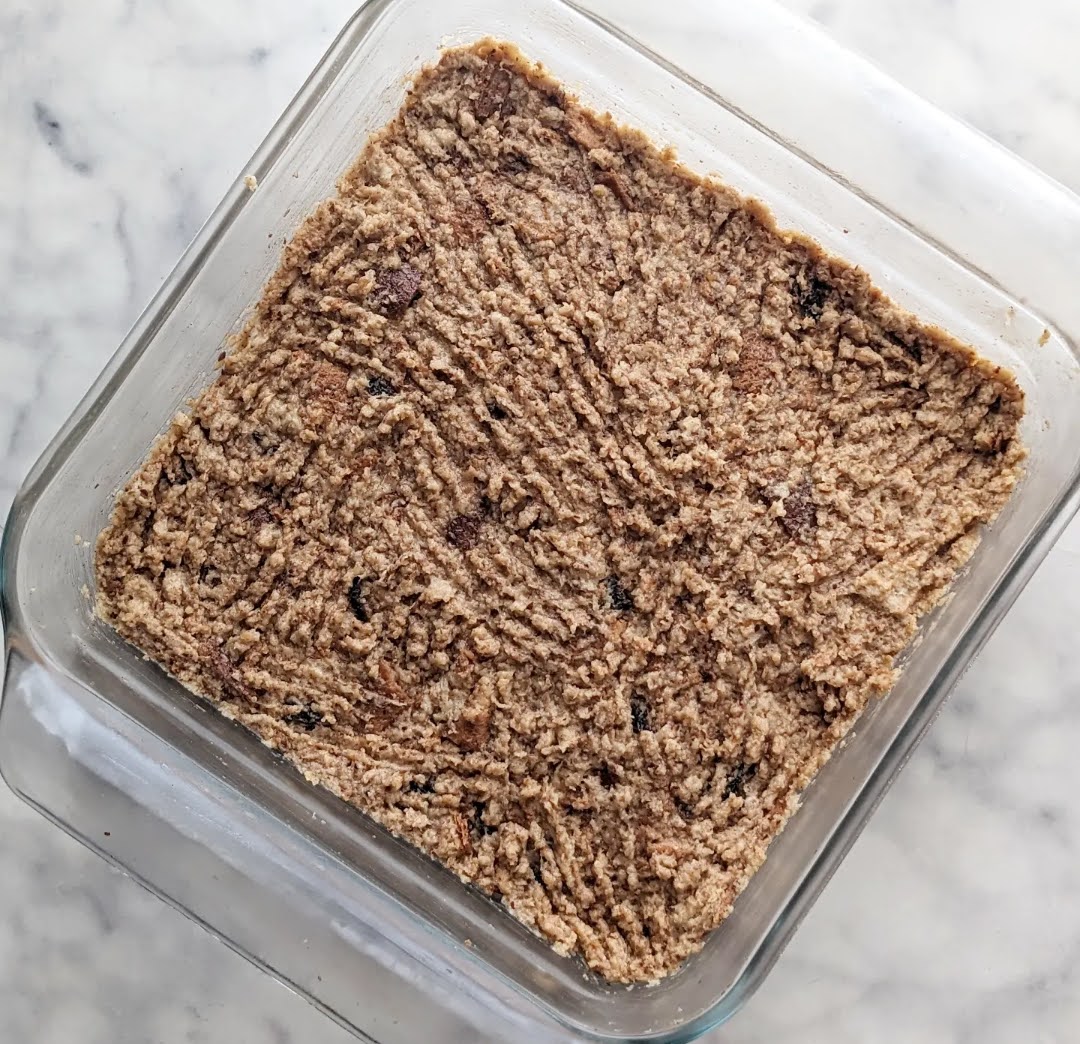 (Keto Bread Pudding, Before Baking)
What Type of Bread to Use for Traditional Bread Pudding
Traditional UK Bread Pudding is made with a stale loaf of bread. Typically you would use a crusty loaf of bread instead of the pre-sliced bread from the store. For our Keto Bread Pudding, we are keeping it easy and using what's the most easily accessible. For this recipe we use the Carbonaut Keto White Bread. Feel free to substitute this with whatever low carb bread you prefer. Another note, the traditional recipe calls to remove the crusts from the bread. You can definitely do that with this keto recipe. We left out that step because this typically wastes a lot of bread and keto bread isn't cheap! If you are removing the crusts, you'll want to add at least 1 more slice to the recipe.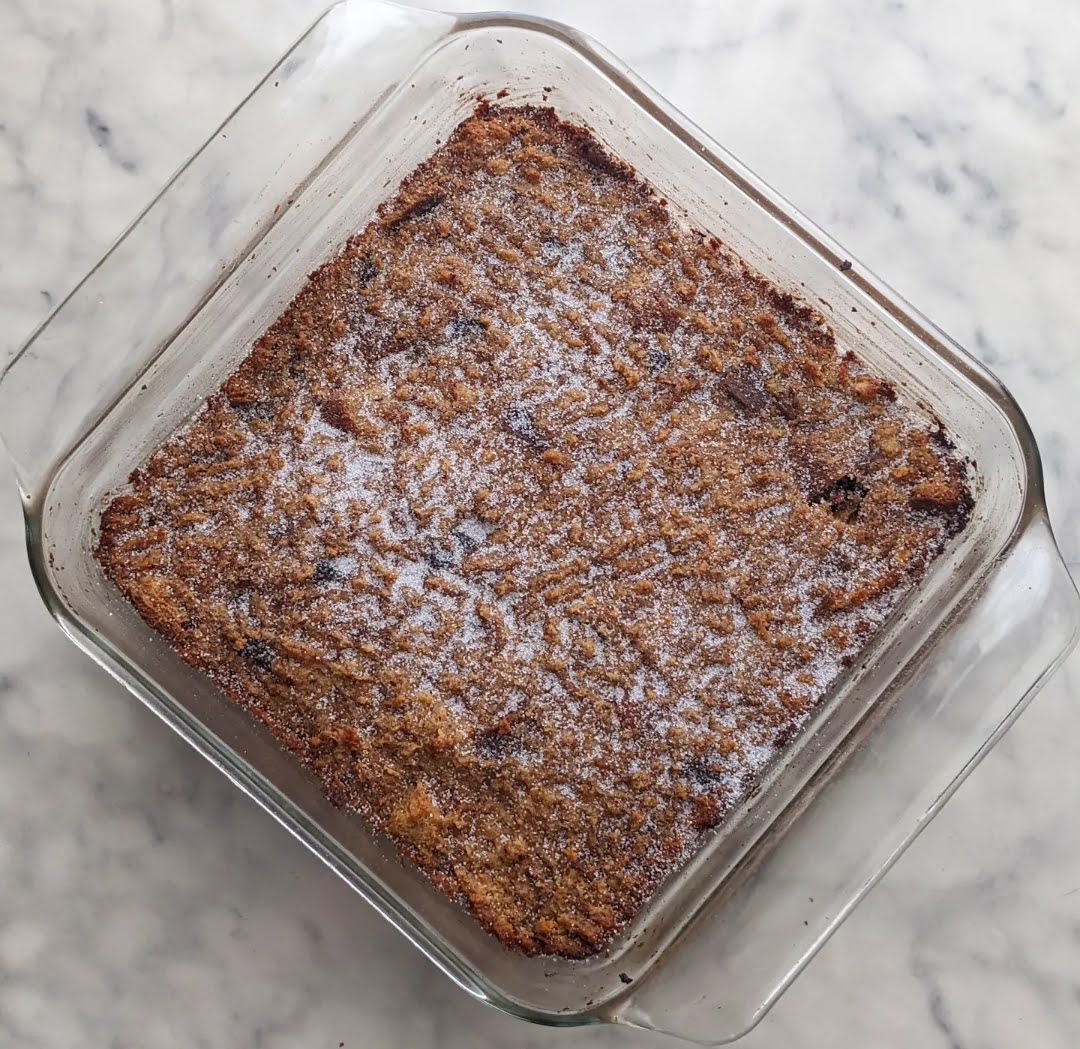 Keto Bread Pudding (After Baking)
Keto Sugar Replacement
The mixture for this recipe calls for keto brown sugar. For this, we like to use the Swerve Brown Sugar Replacement. If you don't have this, you can mix maple extract with the sweetener of your choice for a similar result. Once the bread pudding is done baking, allow to cook and sprinkle with white granulated sweetener.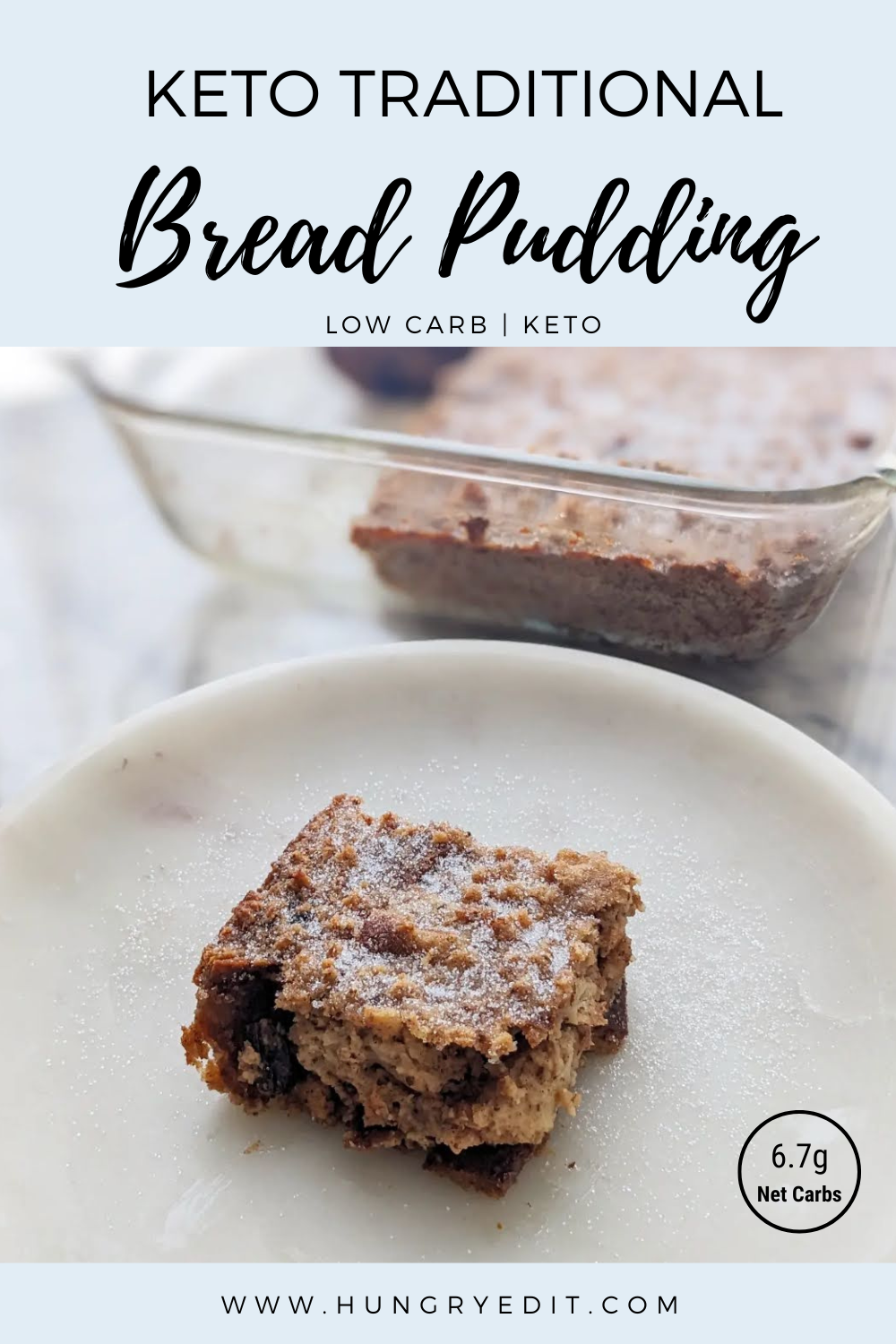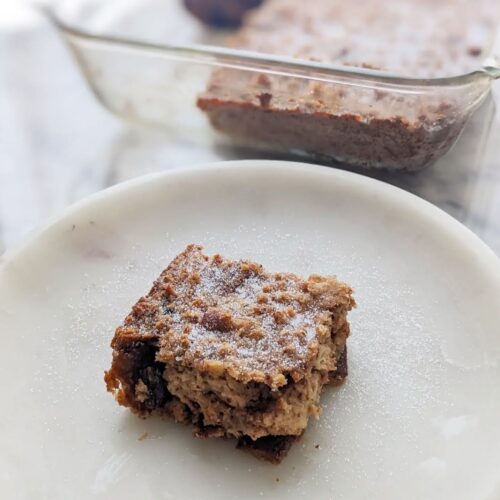 Keto Bread Pudding
Ingredients
13

Slices

Carbonaut Keto White Bread

Or Equivalent, About 1 lb.

1

Cup

Unsweetened Almond Milk

1/2

Cup

Heavy Cream

1/2

Cup

Swerve Brown Sugar 

Or Any Keto-Friendly Sweetener Mixed with 1/4 Tsp Maple Extract.

1/4

Cup

Raisins

Soaked in 1 Tbsp of Spiced Rum or Water.

100

Grams

Butter

Softened, Room Temperature.

1

Large

Egg

Whisked.

1

Tbsp

Cinnamon

1/2

Tsp

Nutmeg

1-2

Tbsp

Warm Water

If Needed.
Instructions
Break the bread into small pieces and put into a bowl.

Heat heavy cream and unsweetened almond milk over the stove, do not boil.

Pour the milk over the bread and let soak for 30 minutes.

Meanwhile, soak the raisins in water or spiced rum.

Add 1 large whisked egg, soaked raisins, butter, cinnamon, nutmeg and 1/2 cup Swerve Brown Sugar to the bread mixture. Combine thoroughly. You may need to use your hands to ensure that there are no lumps in the mixture.

The mixture should look mushy, if it isn't you may need to add more moisture. Start with 1 tbsp of warm water and go from there.

Pour the bread mixture into a 9x9 greased baking dish and bake in the center of the oven for 30-40 minutes.

Allow to cool and sprinkle with granulated sweetener for serving.
Notes
Nutrition Information (6 Servings): 
265 Calories 
17.1g Carbohydrates 
10.4g Fiber 
18.9g Fat 
11.4g Protein
Net Carbs: 6.7g / Serving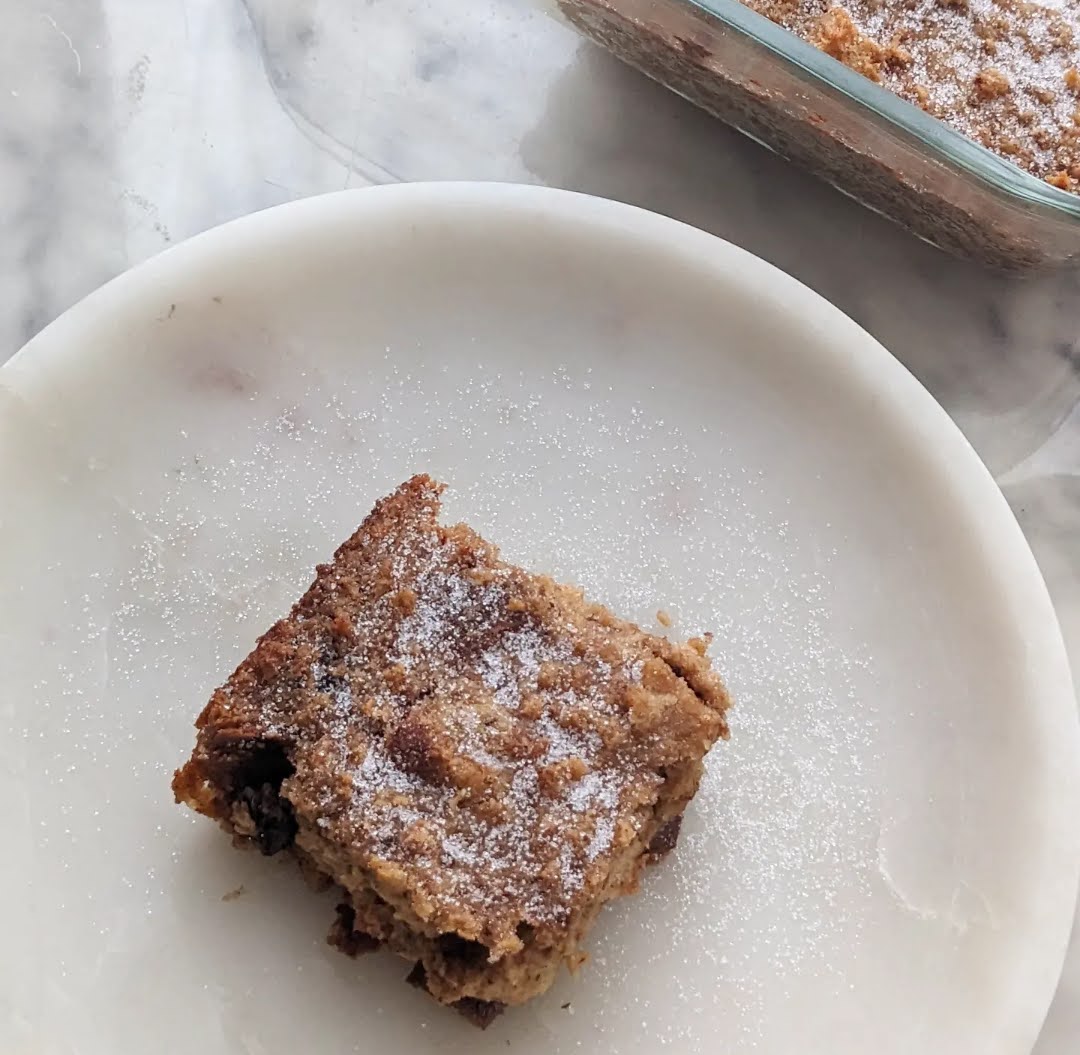 Let us know in the comments below if you've tried our Keto Bread Pudding! If you're looking for more recipes, visit our recipe page.