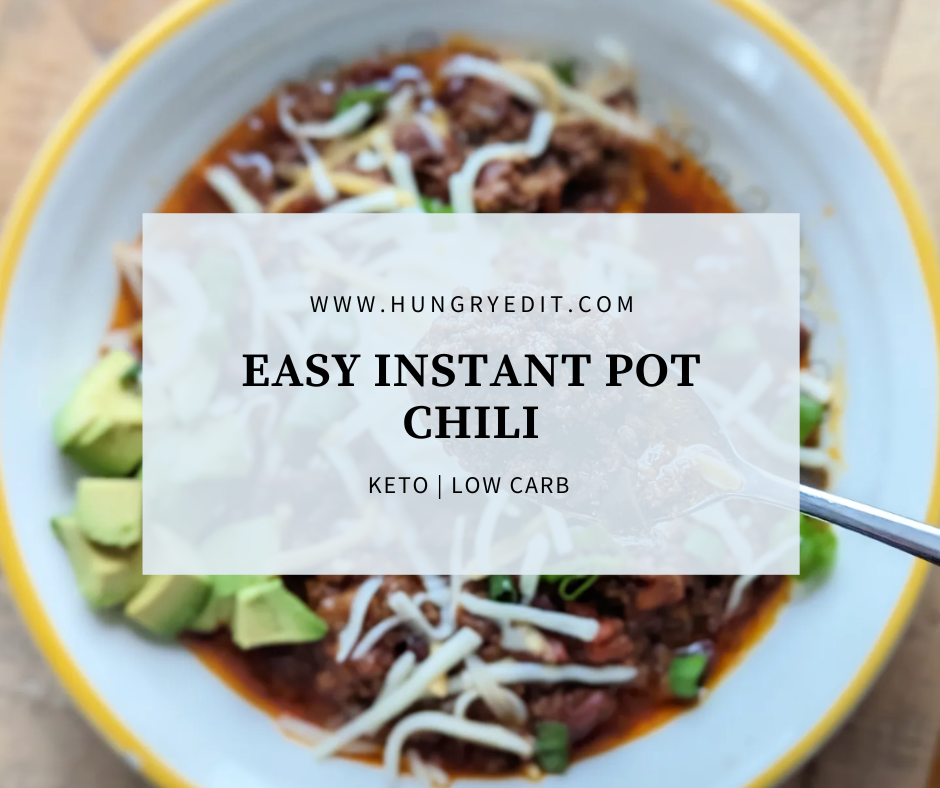 Jump to Recipe
Our Keto Instant Pot Chili is quick, easy and is ready in under 1 hour! This recipe uses common ingredients but has layers of complex flavours. It is made with ground beef, optional keto black soy beans, good quality canned tomatoes and various spices. This recipe is the perfect cozy meal. Perfect for busy weeknights and meal prep!
Is Chili Keto?
Traditional Chili typically doesn't fit within a keto diet because the beans are too high in carbs. In this keto recipe we use optional black soy beans. These keto-friendly beans are low in carbs and high in fiber. For a half cup, it contains 11 grams of carbohydrates and 6 grams of fiber.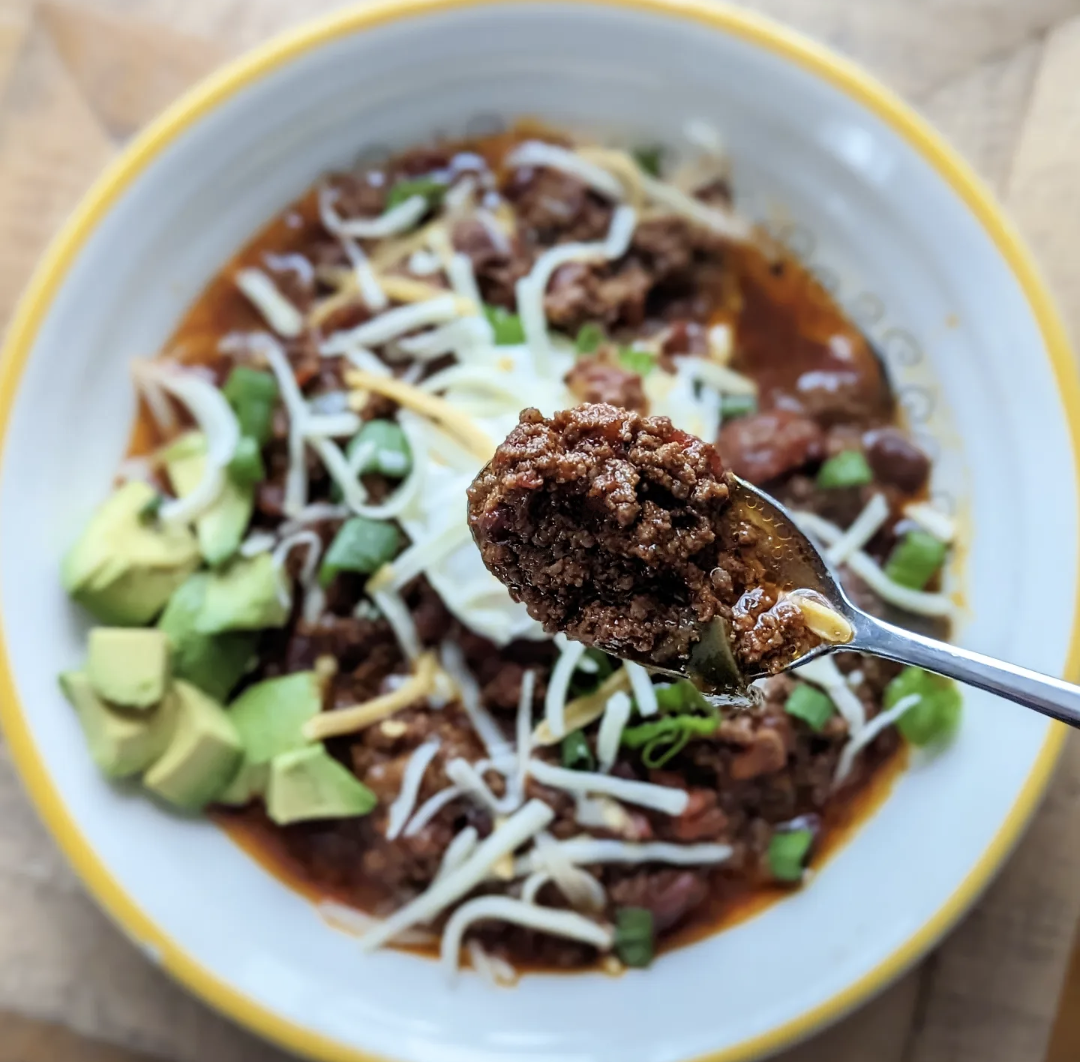 Spices
In this Keto Instant Pot Chili we use 7 different spices. Together these create a rich and complex flavour. The use of unsweetened cocoa powder might seem a little bit unusual, but trust us! It offsets the acidity of the tomatoes and deepens the flavour of the chili. We like to make a big batch of our chili seasoning so that it's even quicker to make this meal! If you're doing this, use a 1/2 cup of the pre-mixed spices for 2 lbs of ground beef.
Tomatoes
To get the best tasting chili, we recommend using good quality canned tomatoes. We recommend this, because some brands of canned diced tomatoes are more watery than others. In fact, we like to use whole peeled San Marzano Tomatoes or La Pavoncella Italian Peeled Tomatoes (grown and packed near naples for Italian Center Shop Ltd). If using whole peeled tomatoes, roughly chop them before adding them into the instant pot.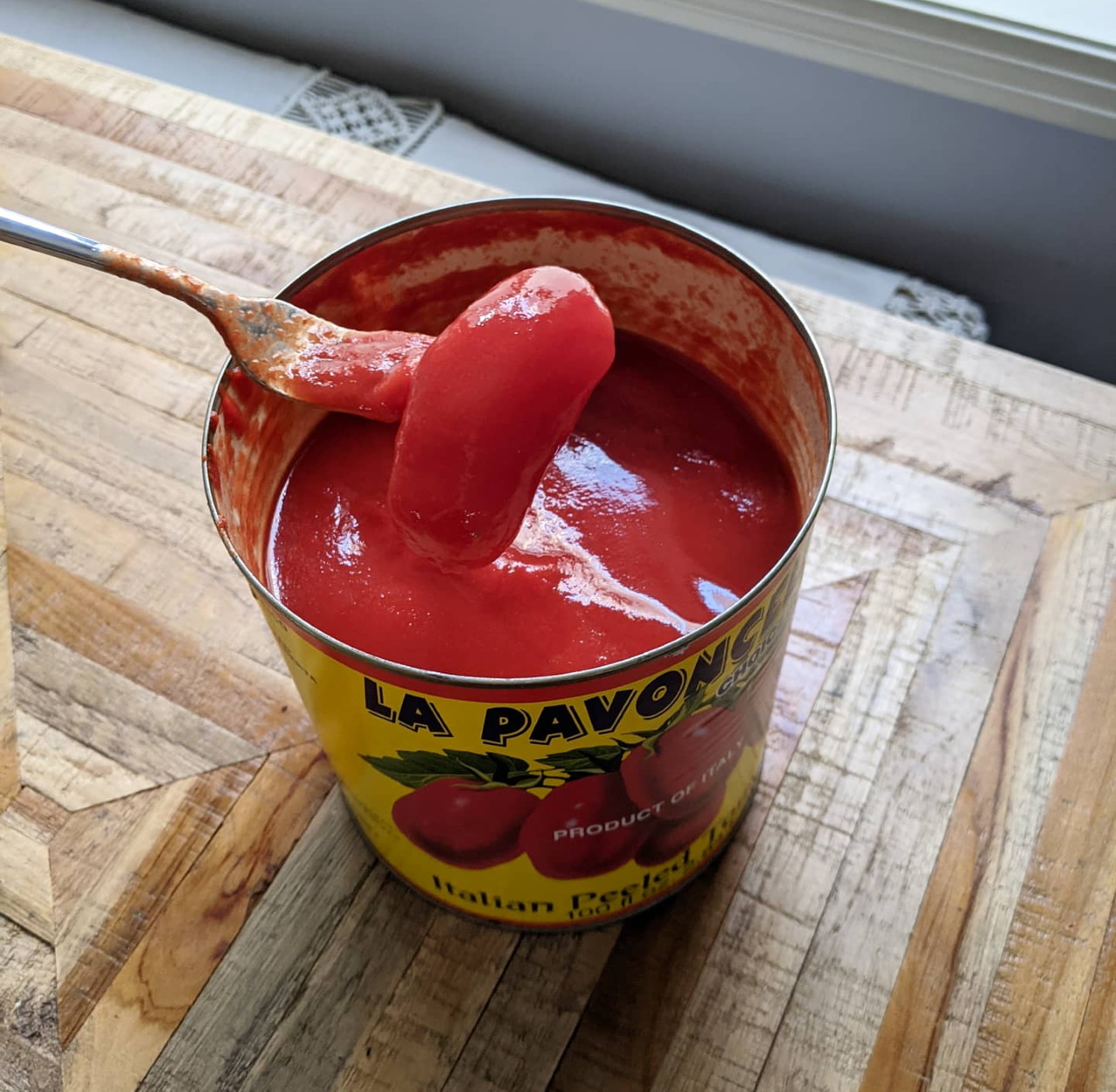 What to Serve with Keto Chili
A fresh dollop of sour cream, green onions, cheddar cheese and fresh avocado are perfect additions to chili! Together this makes a complete meal and we enjoy eating it as is.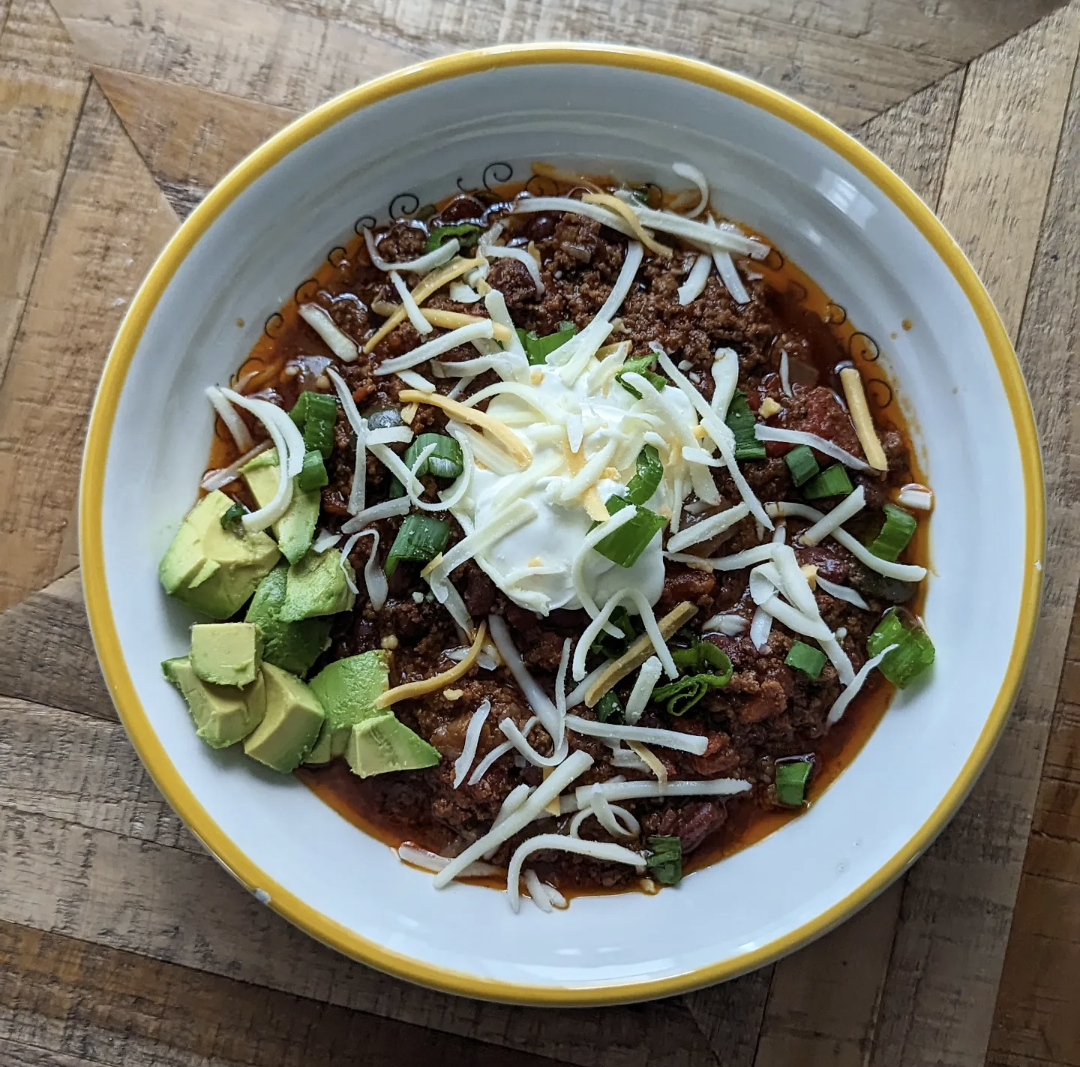 How to Make Keto Instant Pot Chili
To make our Keto Instant Pot Chili you'll first have to saute the ingredients.
Select the "sauté" setting on your instant pot. Once hot add your oil and sauté the diced onion. Once translucent, add the minced garlic.
Next, add the ground beef and cook until browned, about 5 minutes.
Stir in the tomato paste and cook for another 1-2 minutes.
Stir in all of the spices, diced canned tomatoes, canned jalapenos with liquid and optional black soy beans.
Place the lid on the Instant Pot and lock into place. Select the bean/chili setting and cook for 35 minutes.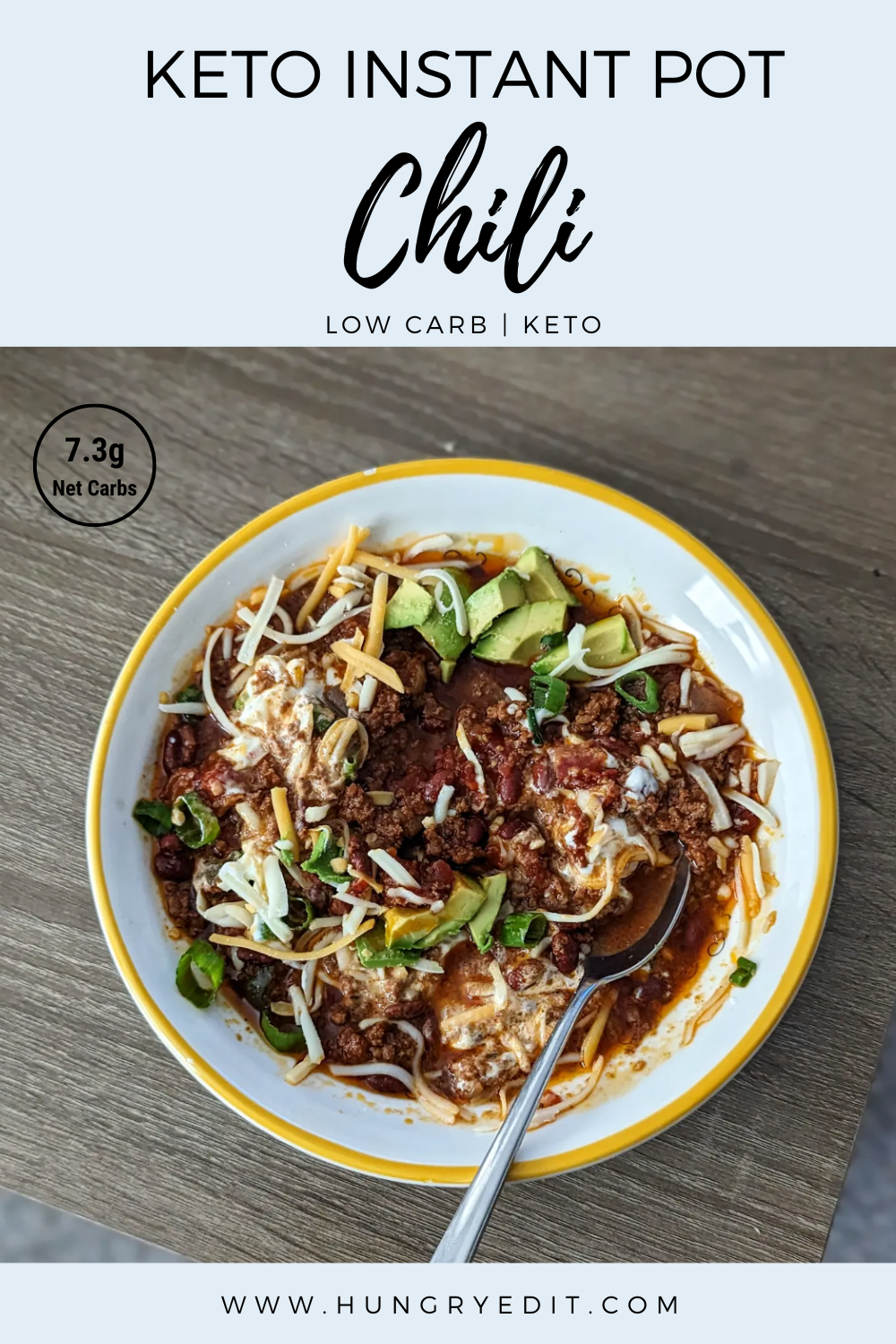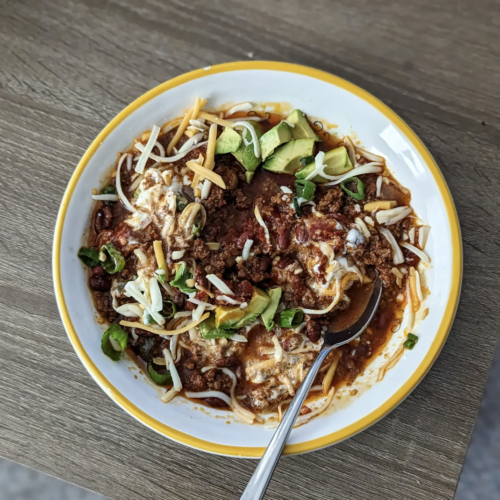 Keto Instant Pot Chili
Ingredients
1

Tbsp

Olive Oil

2

Lbs

Ground Beef

1/2

Large Onion

Diced, 100 Grams.

3

Garlic Cloves

Minced.

1

28-oz Can

Diced Tomatoes

1/2

Can

Black Soy Beans

Optional. Drained and Rinsed.

1/2

Cup

Canned Jalapeños

Roughly Chopped, with Liquid.

2

Tbsp

Tomato Paste

2

Tbsp

Worcestershire Sauce

3

Tbsp

Chili Powder

1

Tbsp

Ground Mustard

1

Tbsp

Dried Oregano

2

Tsp

Salt

1

Tsp

Smoked Paprika

1

Tsp

Unsweetened Cocoa Powder

1

Tsp

Black Pepper

1

Medium Bay Leaf
Instructions
Turn your Instant Pot to Sauté, once hot add olive oil to the pot.

Sauté the diced onion until translucent, 3-5 minutes.

Add garlic and sauté for another minute.

Add the ground beef and Worcestershire sauce. Break apart the ground beef with a spatula. Cook until browned.

Add the tomato paste and cook for another 1-2 minutes.

Stir in the diced tomatoes, canned jalapenos, all of the spices and optional Black Soy Beans.

Place and lock the lid on the Instant Pot. Select the Chili/Bean setting and cook for 35 minutes.

Allow for a natural release or carefully manually release.

Serve with sour cream, diced avocado, green onion and/or your choice of cheese.
Notes
Nutrition Information (6 Servings):
443 Calories 
14.4g Carbohydrates 
7.1g Fiber
26.1g Fat 
41g Protein 
Net Carbs: 7.3g / Serving 
Let us know in the comments below if you've tried our Keto Instant Pot Chili. If you're looking for more keto or low carb recipes,