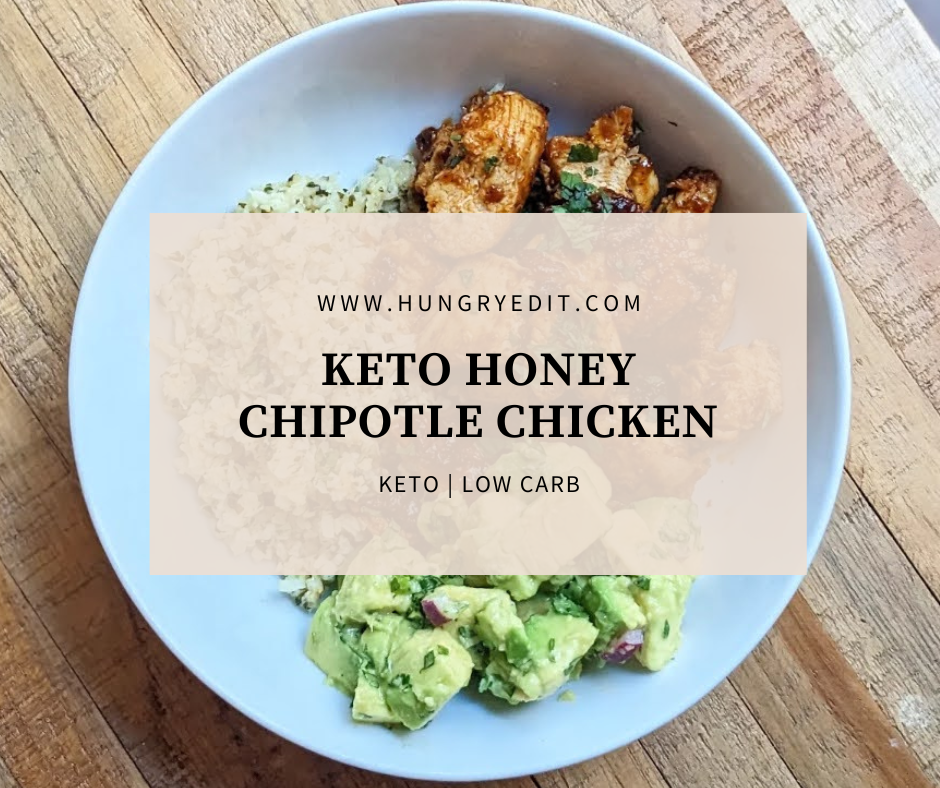 Our Keto Honey Chipotle Chicken is served with Cilantro Lime Cauliflower Rice and ripe avocados! This easy recipe is the perfect keto bowl that's perfect for weeknights and meal prep.
Honey Chipotle Chicken Marinade
This marinade has it all! Marinate the chicken in olive oil, lime juice, salt, chili powder, garlic powder, black pepper, coriander, oregano, chipotle powder and keto honey substitute. Our favorite brand is the Nature Hallow Honey Substitute. This ingredient is highly recommended for this dish. The keto honey will give the chicken a beautiful caramelized finished. We love using keto honey for various marinades and recipes such as our Keto Sweet and Sour Pork and Keto Baked Pepperoni Chips with Keto Honey Mustard.
How to Make Cauliflower Rice Taste Good
We've been making keto cauliflower rice for over 5 years! In the beginning, we hated it. But after testing various recipes and cooking methods, we think we've narrowed down the tastiest way to make it.
Buy Frozen Cauliflower Rice. Yes, frozen is best! We prefer this over the fresh cauliflower rice. In our experience the "fresh" cauliflower rice at the grocery store was always close to going bad. You can of course make your own cauliflower rice, but this makes the meal much more labour intensive.
Remove as Much Moisture As Possible. Cauliflower holds a lot of water. To get the best texture for your cauliflower rice, we recommend steaming the frozen cauliflower in the microwave. Allow the cauliflower to cool and squeeze out as much moisture as possible with a kitchen towel.
Seasoning, Seasoning and More Seasoning! Cauliflower rice isn't the best on it's own. It's kind of bland! But this makes it a great base to take on whatever seasoning you prefer. In this dish we use A LOT of fresh cilantro and lime juice to flavour or cauliflower rice. If cilantro isn't your thing, you can try our Keto Coconut Cauliflower Rice that's featured in our Keto Cilantro Lime bowl.
How to Serve Keto Honey Chipotle Chicken
This recipe is a complete keto meal! The Keto Honey Chipotle Chicken is best served with fresh avocado and our Keto Cilantro Lime Cauliflower Rice. If you're looking for something different, you can serve the chipotle chicken with whatever low carb sides that you like! When I doubt, we like to make an easy tomato cucumber salad dressed with olive oil, lime juice and a bit of salt.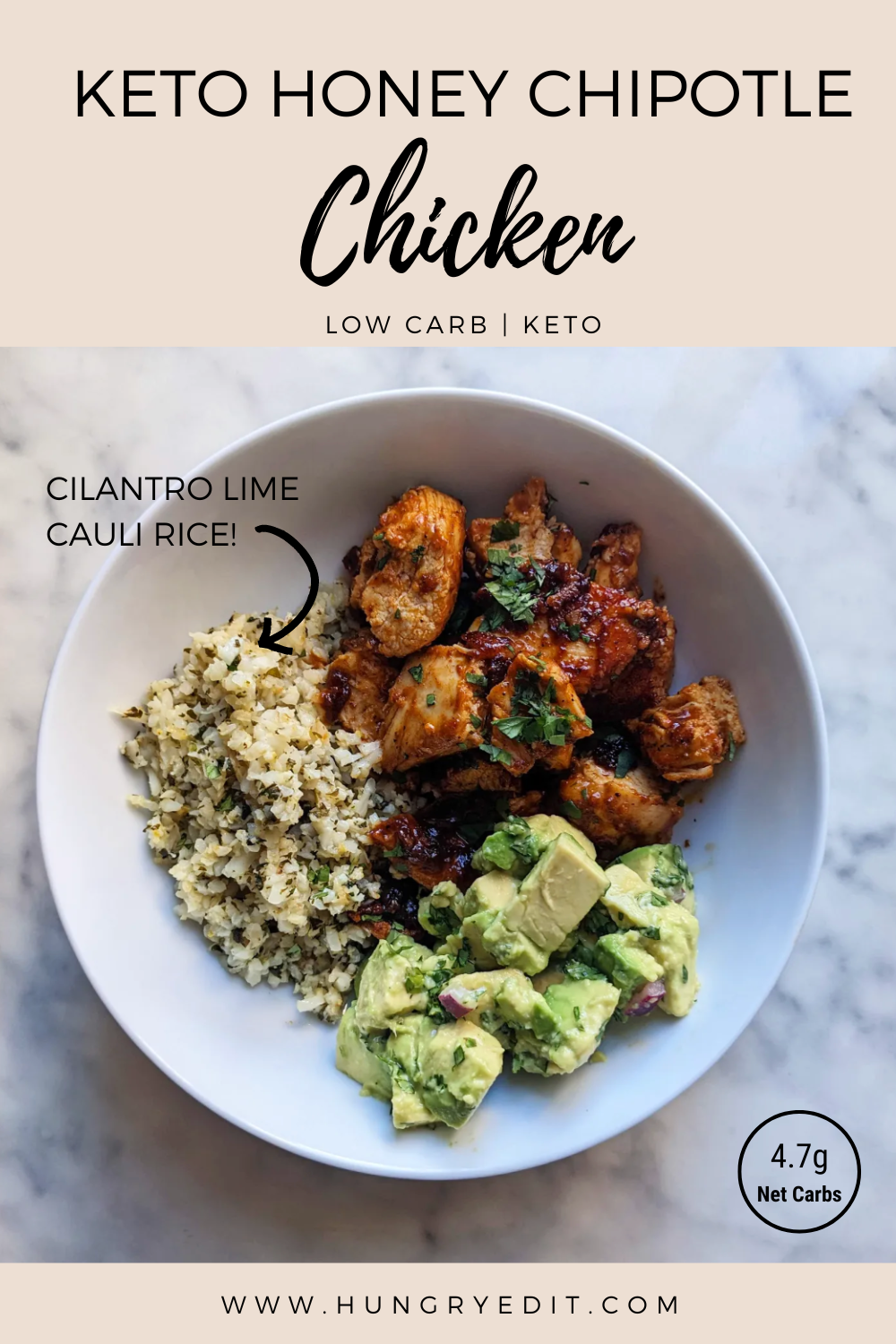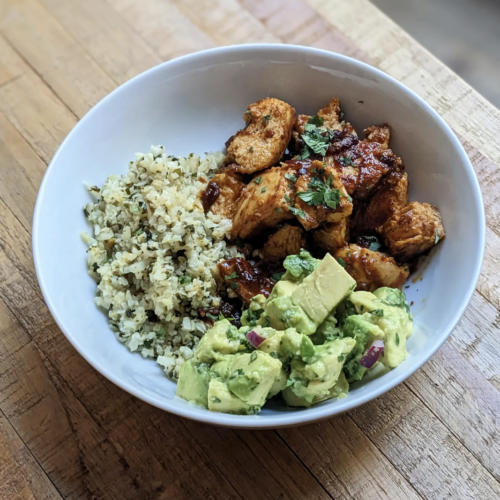 Keto Honey Chipotle Chicken & Cilantro Lime Cauliflower Rice
Ingredients
Honey Chipotle Chicken
1

lb

Chicken Breast

3

Tbsp

Olive Oil

2-3

Tbsp

Keto Friendly "Honey"

We Like Nature's Hollow Honey Substitute

1

Tsp

Salt

2

Tsp

Chipotle Powder

1

Tsp

Chili Powder

1/2

Tsp

Garlic Powder

1/2

Tsp

Black Pepper

1/2

Tsp

Coriander

1/2

Tsp

Oregano

Juice of 1 Lime
Cilantro Lime Cauliflower Rice
1

Bag

Frozen Cauliflower Rice

340 Grams.

1/2

Lime

Juiced.

1/4

Cup

Cilantro

Finely Chopped.

Salt

To Taste.
Avocado
2-3

Medium Avocados

Diced.

1

Lime

Juiced.

Red Onion

Diced, To Taste.

Salt

To Taste.
Instructions
Lightly pound the chicken breast so that each piece has an even thickness.

In a large bowl combine all of the seasoning, olive oil and keto honey.

Mix the marinade with the chicken and allow to marinate for 30 minutes covered in the fridge.

Meanwhile, prepare the cauliflower rice.

Steam the frozen cauliflower in the microwave according to the package directions. Allow to slightly cool.

Once cooled, use a kitchen towel to drain the excess moisture.

In a pan over medium heat, add the drained cauliflower rice, lime juice, fresh cilantro and salt. Cook until heated through and flavors have combined. Set aside.

When the chicken is done marinating, heat a large skillet over medium-high heat. Cook the chicken for 5-6 minutes until browned, flip and cook for an additional 7-8 minutes until browned and cooked to 165°F.

Dice the avocados and mix with lime juice, red onion and salt to taste.

Assemble your bowl with the cauliflower rice, chicken and avocado.
Notes
Nutrition Information (4 Servings): 
388 Calories 
14.5g Carbohydrates 
9.8g Fiber 
24.5g Fat 
39.3g Protein
Net Carbs: 4.7g / Serving 
Let us know in the comments below if you've tried our Keto Honey Chipotle Chicken. If you're looking for more keto and low carb recipes, visit our recipe page!