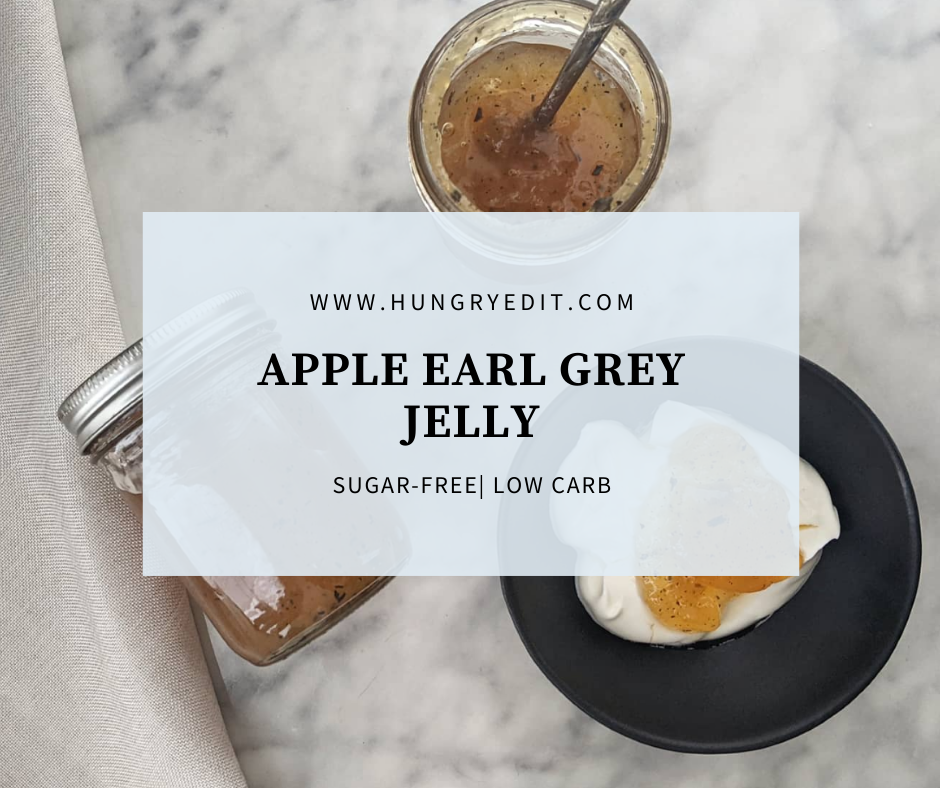 This homemade Apple Earl Grey Jelly is sugar-free, low in carbs and is made with real Earl Grey tea leaves. It is easy to make and is so versatile. This recipe is so good and these make the most perfect holiday gifts. That is if you don't end up saving it all to yourself!
How to Use
Of course the most familiar way to enjoy this jelly with keto-friendly bread such as the Carbonaut keto bread. The white bread or cinnamon raisin bread would be lovely with this jelly. Instead of bread, our favorite way to use this jelly is to flavor plain Greek yogurt! This combination makes a perfect breakfast, snack or dessert.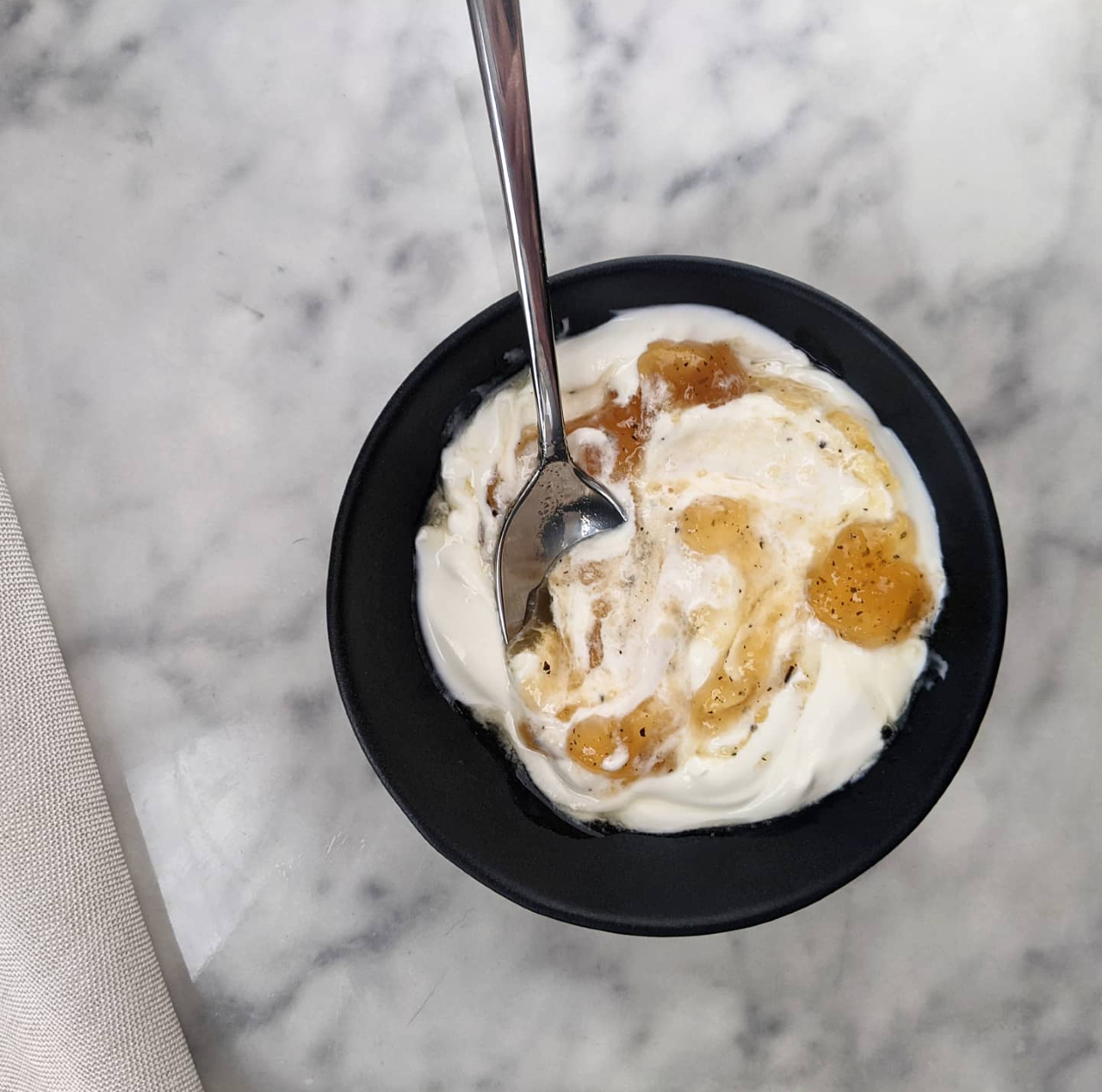 Sugar-Free Jelly
In this recipe, the only sugar occurs naturally from the apples. To sweeten it further, we use keto-friendly monkfruit sweetener or Swerve. To get this recipe to work, it is very important to use the Bernardin No Sugar Needed Fruit Pectin with this recipe, otherwise it won't jell.
Storing Homemade Jelly
When properly canned, unopened jars of the Apple Earl Grey Jelly will last for up to 6 months in a dry, cool place. Opened jars should be stored in the fridge for up to 1 month.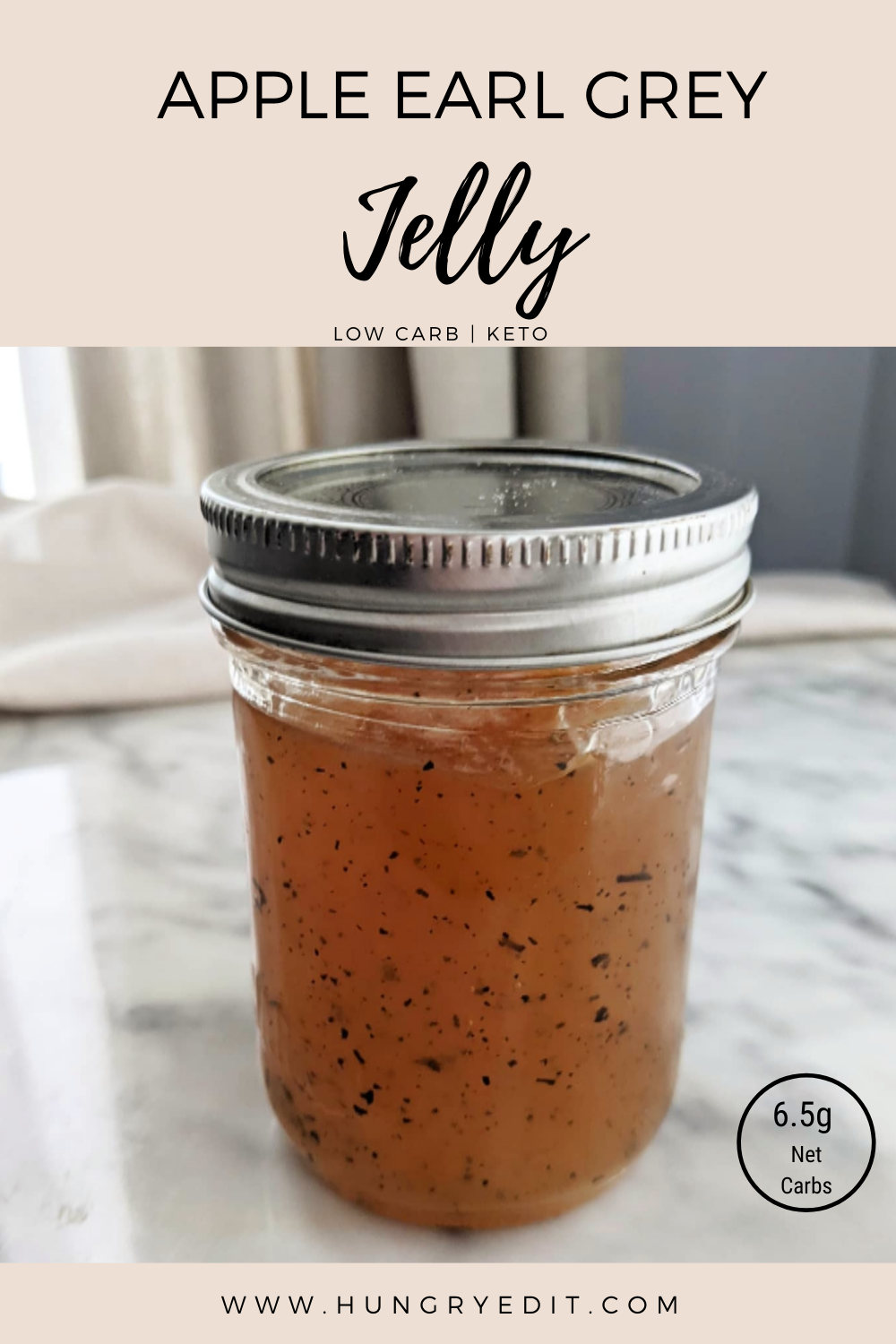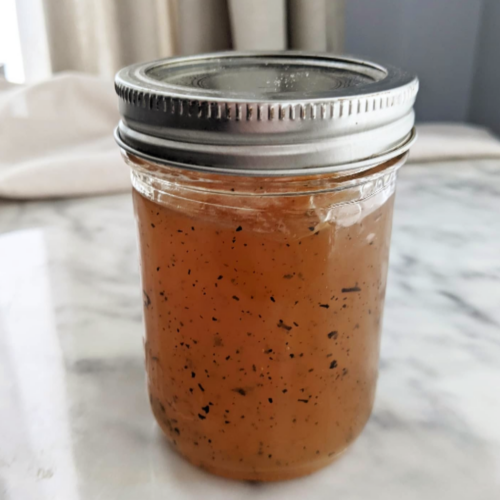 Low Carb Apple Earl Grey Jelly
Equipment
Cheese Cloth

4 x 250 ml Preserving Mason Jars

Blender

Digital Thermometer

Water Bath Canner
Ingredients
1

Packet

Bernardin No Sugar Needed Fruit Pectin, 49-g

5

Lbs

Apples

Cored and diced.

6

Cups

Water

5

Cups

Swerve

Or any other keto-friendly sweetener.

3

Tbsp

Earl Grey Tea Leaves

2

Tbsp

Lemon Juice
Instructions
Place apples in a large pot and cover with 6 cups of water.

On high heat, boil the water and let the apples simmer for about 30 minutes until soft. Once soft, transfer to a blender.

Wet a large cheesecloth and fill it with the cooked apples and water. Hang the cheesecloth over a large bowl and let drip until all the liquid has drained. Allow the juice to strain overnight.

The next day prepare the canning jars.

Measure out 4.5 cups of the strained juice. Add the apple juice to a large pot along with the sweetener and lemon juice.

Bring to a boil for about 10 minutes. Carefully skim off any excess foam.

While the apple juice is boiling, add 1 tbsp of Earl Grey tea leaves to 1 cup of boiled water and steep for 3 minutes.

Once the juice has boiled, add in the steeped tea and 1 package of Bernardin No Sugar Needed Fruit Pectin, 49-g. Continue to boil until temperature reaches 218°F.

When the jelly reaches temperature, immediately pour it into the canning jars, seal and process in a water bath for 5 minutes.

Tip: To test to see if your jelly has set, place a small 1 tsp of jelly onto a plate and freeze for 1-2 minutes. If the edges start to jell, then your jelly is ready. If not, continue boiling for a few minutes and repeat the process.
Notes
Nutrition Information (Per Tbsp): 
25 Calories 
6.5g Carbohydrates
0.0g Fiber 
0.0g Fat 
0.0g Protein
Net Carbs: 6.5g / Tbsp 
Let us know in the comments below if you've tried our Apple Earl Grey Jelly! If you're looking for more keto and low carb recipes, visit our recipe page.