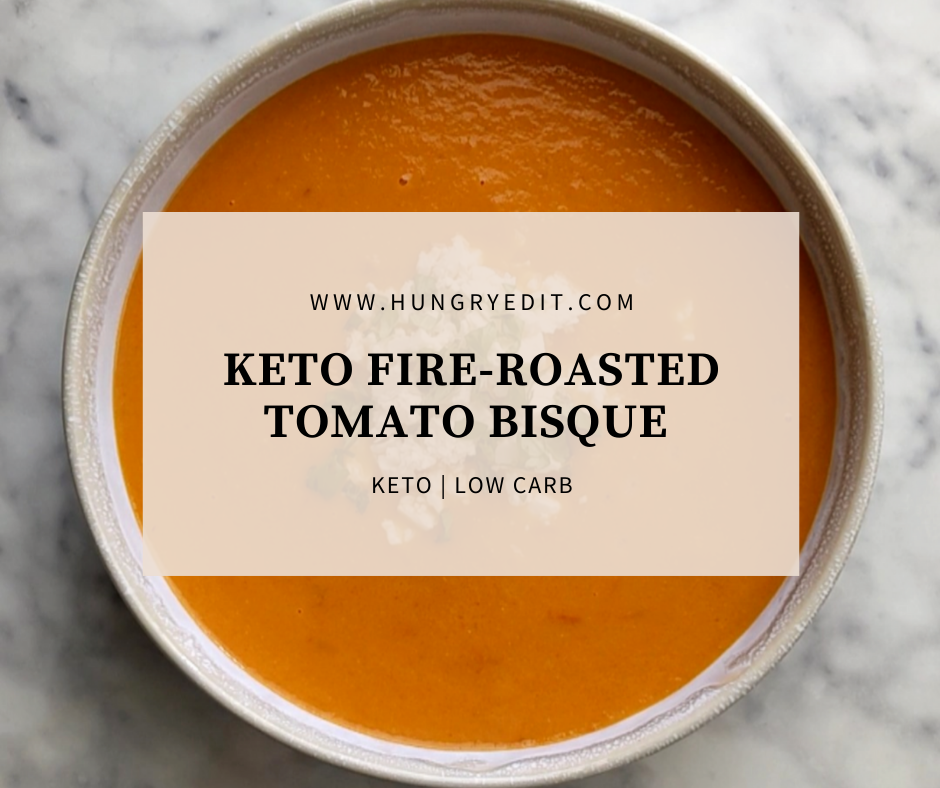 Our Keto Tomato Bisque is the ultimate comforting soup. This is an easy low carb soup that's made with fresh fire-roasted tomatoes and garlic. Serve this warming soup with some toasted keto bread and a side salad for a simple lunch!
How to Make Oven Roasted Tomatoes
Roasted tomatoes are bursting with flavor and make great additions to any dish – in this case, our Tomato Bisque! Any tomatoes will work for this recipe, but for the best flavor we recommend using in-season heirloom or beefsteak tomatoes. Look for these at your local farmers market.
Depending on the size of your tomatoes, you can cut them in half or quarter them. Place them in a large baking tray with roughly chopped onion and one whole head of garlic. Make sure to remove the top and leave the skin on. Cover with olive oil and season with salt and pepper. Bake in a preheated oven at 425°F for about 45 minutes, until the garlic and tomatoes are soft.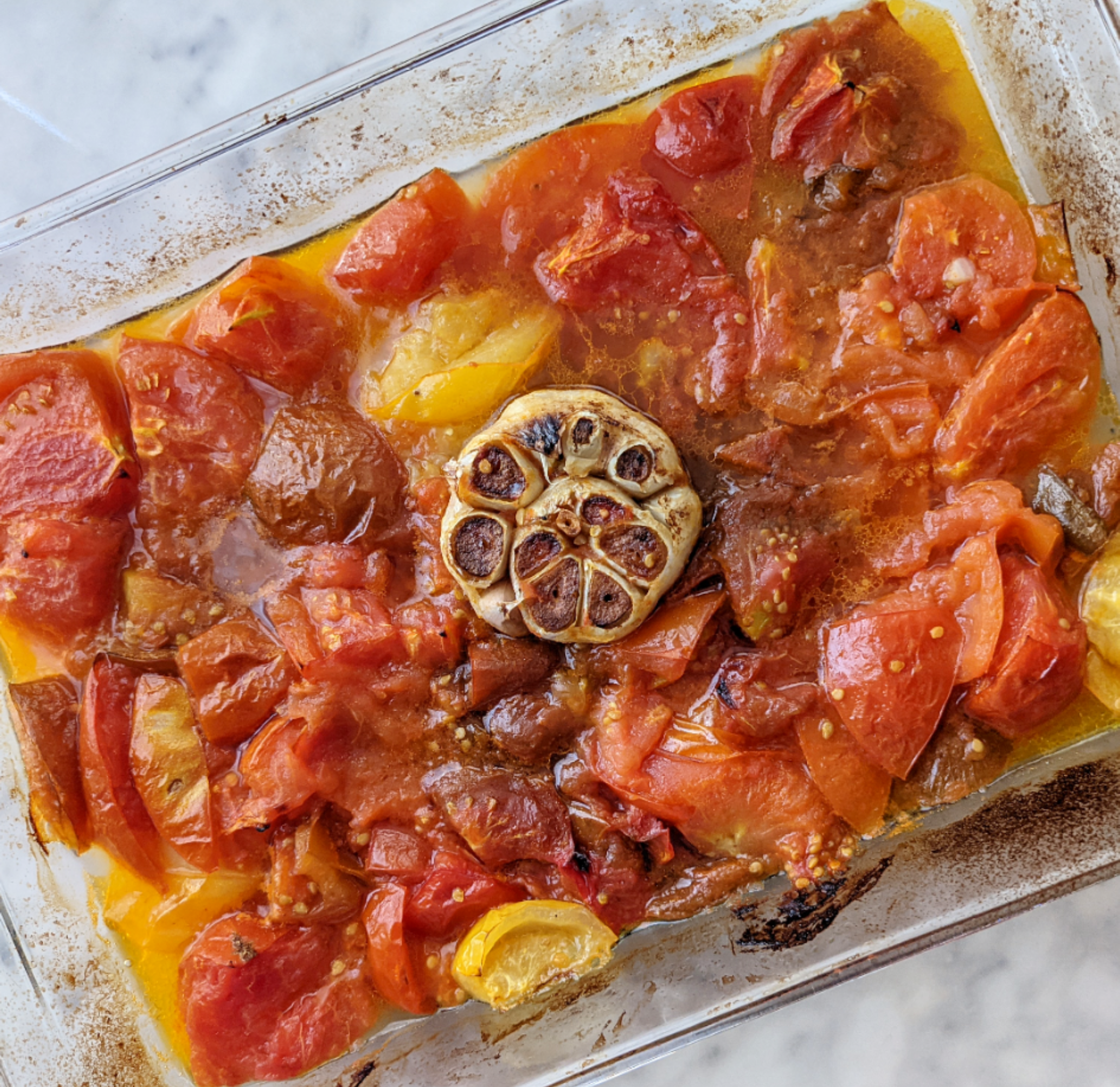 How to Make Keto Tomato Bisque
Once the tomatoes, onion and garlic are done roasting, place the onions and tomatoes into a blender. Squeeze out the garlic cloves and blend all ingredients until puréed. Place the purée into a large pot and add chicken or vegetable stock. Bring the soup to a simmer and adjust seasoning if needed. Remove from heat and stir in heavy whipping cream.
Serving
This soup is best served with some fresh garnish. Fresh basil is a must but we also recommend serving this with some crumbled feta cheese. If you're from Western Canada, you know that the restaurant Famoso makes the best tomato bisque. They serve theirs with feta cheese and its genius! We highly recommend this addition.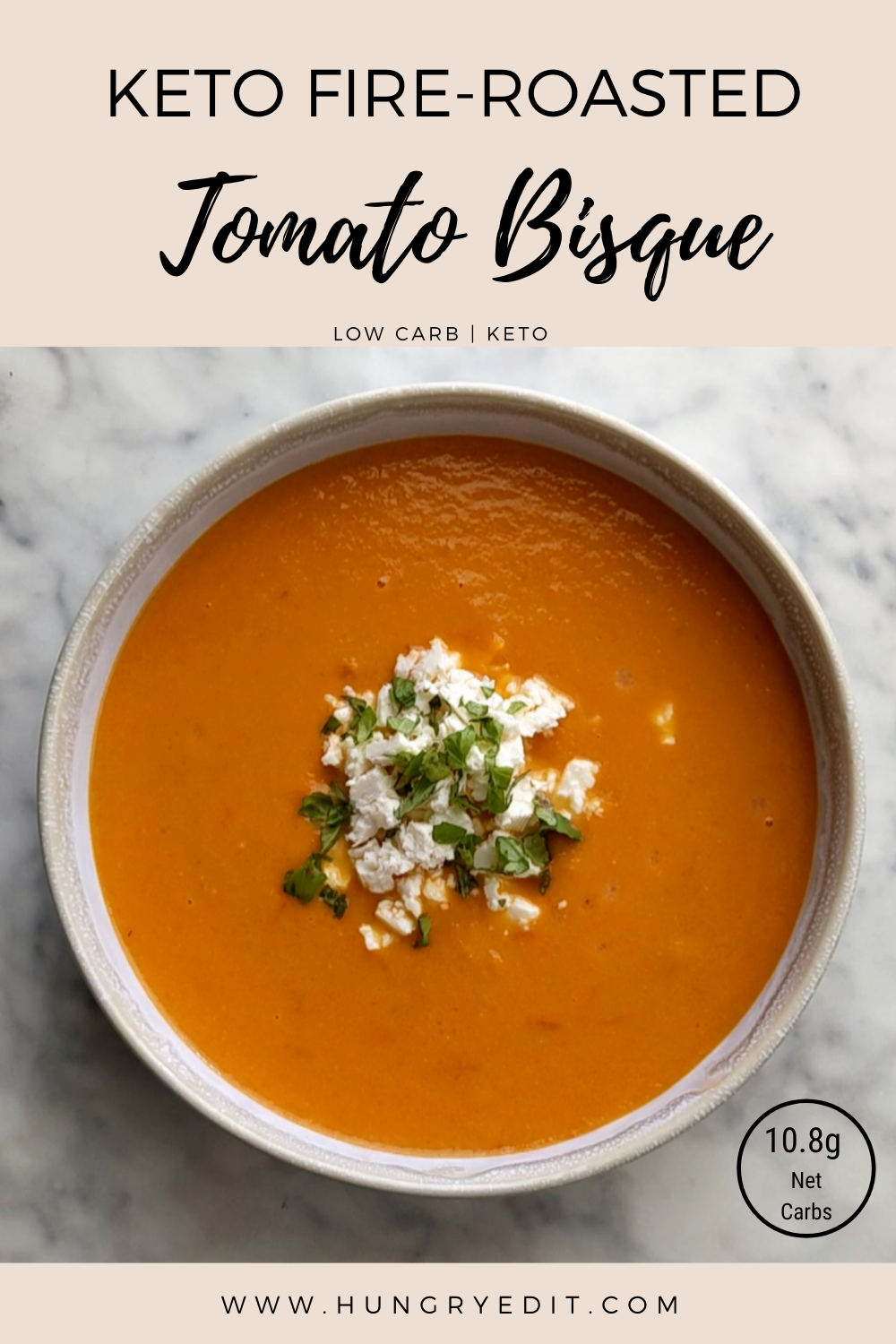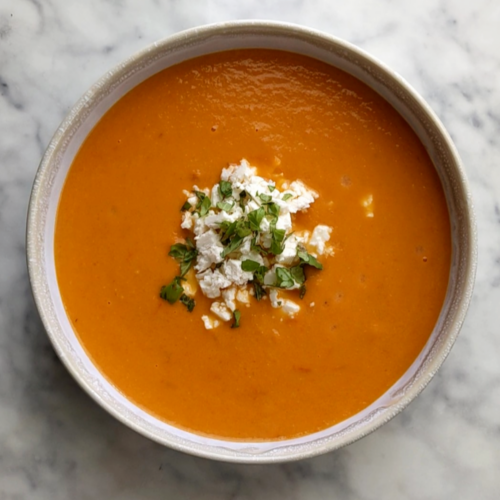 Keto Tomato Bisque (With Feta Cheese)
Ingredients
Instructions
Add the chopped tomatoes, roughly chopped onion and 1 whole head of garlic to a baking sheet.

Season with salt, pepper and cover with olive oil.

Bake for about 45 minutes until the tomatoes are soft and starting to caramelize.

Scoop the tomatoes and onions into a blender.

Squeeze the garlic cloves into the same blender. Blend until combined.

Transfer the purée into a large soup pot along with the chicken or vegetable stock and a pinch of red pepper flakes (optional).

Bring the soup to a light boil and adjust seasoning.

Remove from heat and stir in heavy whipping cream.

Serve with crumbled feta and freshly chopped basil.
Notes
Nutrition Information (4 Servings): 
297 Calories
14.6g Carbohydrates 
3.8g Fiber
24.4g Fat 
8.7g Protein 
Net Carbs: 10.8g / Serving
Let us know in the comments below if you've tried our Keto Tomato Bisque! If you're looking for more keto recipes, visit our recipe page.