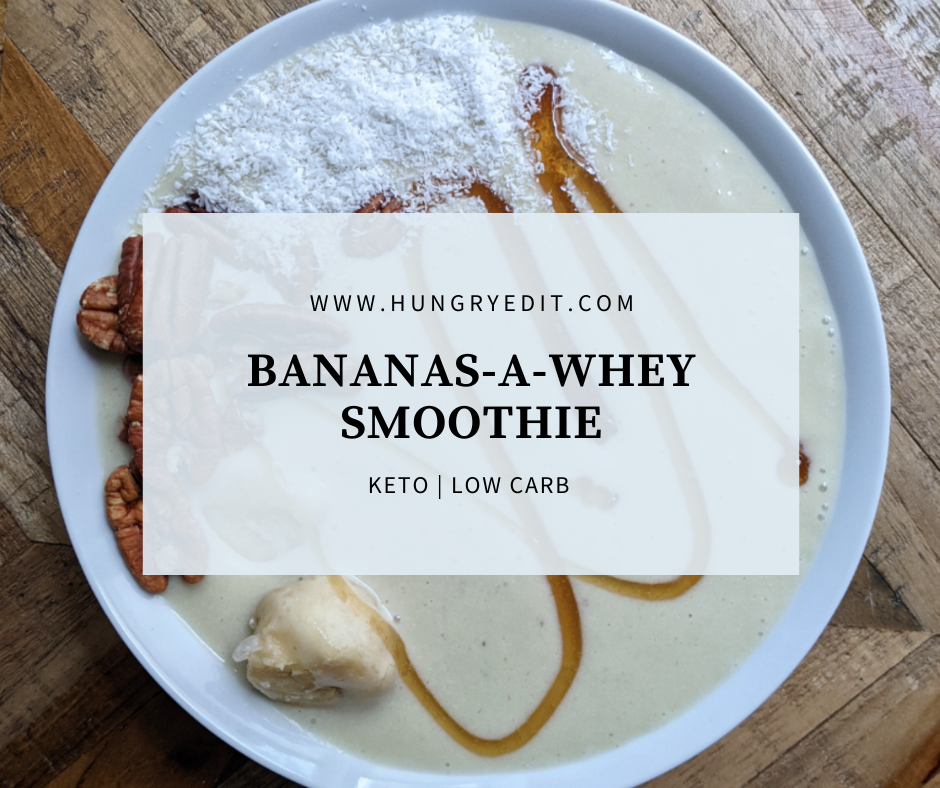 Jump to Recipe
This Bananas-A-Whey-Smoothie is a low carb adaptation of one of my favorite smoothies from Booster Juice. I'm on a mission to prove that you don't have to give up or villainize food (especially fruits & vegetables) on a keto or low carb diet.
Bananas
While bananas are high on carbs, they pack a ton of flavor. Only a small amount is needed to get the banana flavor that we all are craving! Using the natural stuff is way better than artificial flavoring, trust us. Since we are only using half a banana for this recipe (recipe makes 2 smoothies), we add avocados as a replacement. Ripe avocados have a very similar texture to bananas. Since the bananas are so strong, you don't taste the avocado. Both bananas and avocados are high in potassium, making them perfect for a keto or low carb diet. Tip: Divide your banana portions and keep them in a freezer for future recipes.
Protein Powder
For this recipe we use vanilla whey protein powder to keep this as similar to the Booster Juice recipe as possible. Feel free to use plain or chocolate whey protein powder instead. When buying whey protein powder, pay attention to the nutrition label as they can greatly vary in carbs depending on the brand. For this recipe we use the KAIZEN Vanilla Whey Protein. This is readily available at our local Costco and has 3g of carbs per scoop. If you're looking for a whey protein powder that has zero carbs, try the Isopure Whey Protein Powder.
Smoothie Bowl
Enjoy this recipe as is or turn it into a smoothie bowl! Just add more ice so that is has a thicker consistency. Add your favorite toppings such as pecans, walnuts or almonds. Unsweetened coconut flakes and keto "honey" would be great here as well.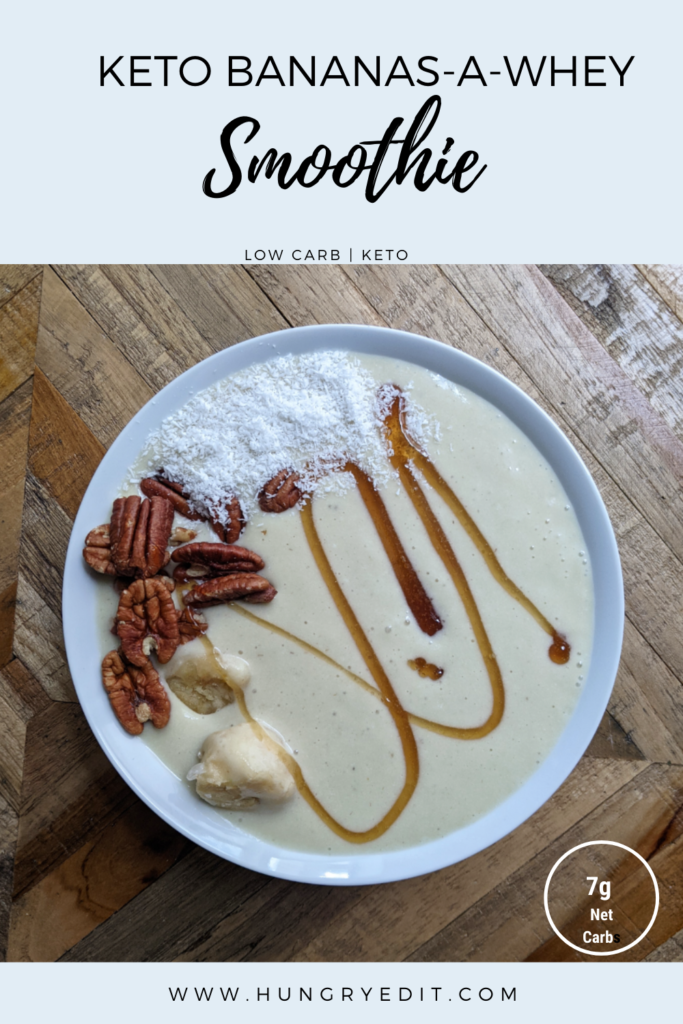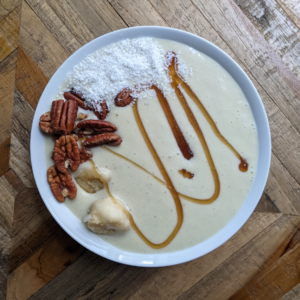 Bananas-A-Whey Smoothie
Ingredients
2

Cups

Unsweetened Almond Milk

1/4

Cup

Heavy Whipping Cream

60

Grams

Avocado

1/2

Banana

About 40 grams.

1

Scoop

Vanilla Whey Protein Powder

Can alternatively use plain or chocolate whey protein powder.

1

Tsp

Vanilla Extract

1

Handful of Ice

5

Drops

Liquid Stevia

To taste. Can alternatively use any other keto-friendly sweetener.
Instructions
Add all ingredients to a blender and blend until combined.
Notes
Nutrition Information (2 Servings): 
276 Calories 
11g Carbohydrates 
4g Fiber 
19g Fat
19g Protein
7g Net Carbs / Serving 
*Carb count will greatly vary depending on brand of protein powder and grams of banana. For lower carbs, use the Isopure Whey Protein Powder.
Let us know in the comments below if you've tried this recipe, we'd love to hear your thoughts! If you're looking for more keto and low carb recipes, visit our recipe page.