Jump to Recipe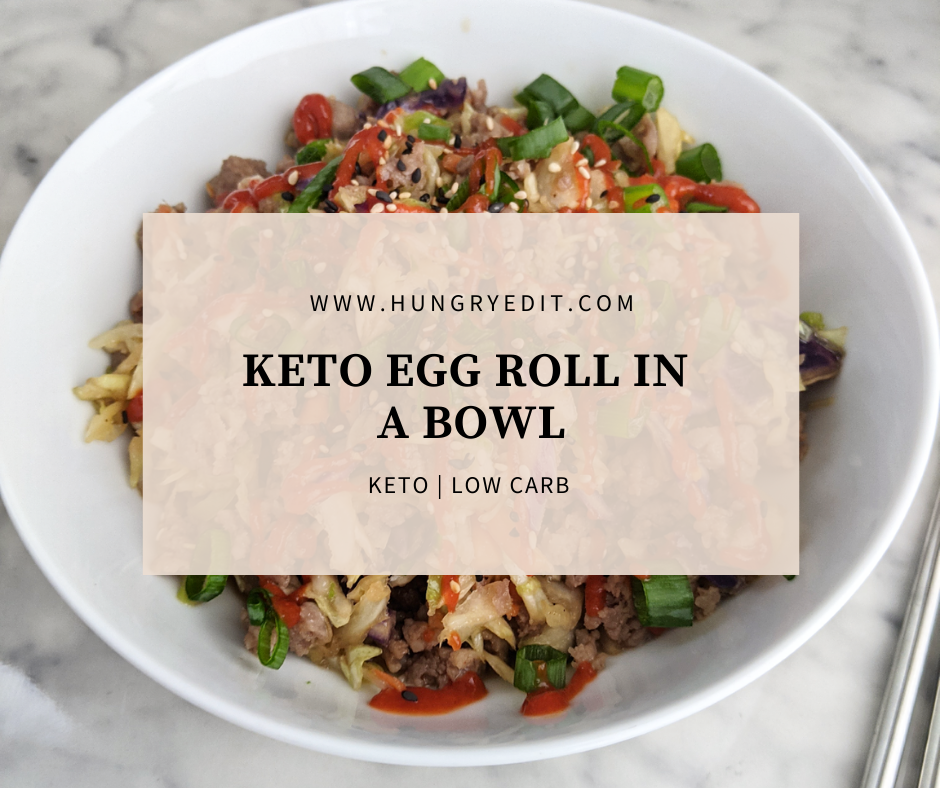 This easy one pot dinner is a keto classic! For our Keto Egg Roll in a Bowl we add a few extra ingredients for flavor and surprisingly use pork breakfast sausage for additional flavor. Although this is an easy meal, we have always felt that the classic recipe lacked in flavor or needed more time to marinate. The pre-seasoned breakfast sausage and extra ingredients adds way more flavor to the dish. It is one of our favorite meals! This meal is ready in less than 30 minutes, making it perfect for busy weeknights or meal prep.
Protein
Keto Egg Roll in a Bowl or otherwise known as "crack slaw", is usually made with ground pork. We like to use pork breakfast sausage as it has way more flavor. It might sound a bit odd, but trust us on this! If you're not into pork, you can use any protein of your choice; such as ground beef, chicken or tofu. Even a scrambled egg would be lovely in here! If you're opting for the breakfast sausage option, pay attention to the labels as the carb content can greatly vary depending on the brand. To use breakfast sausage in this recipe, remove the casing and break apart with your spatula.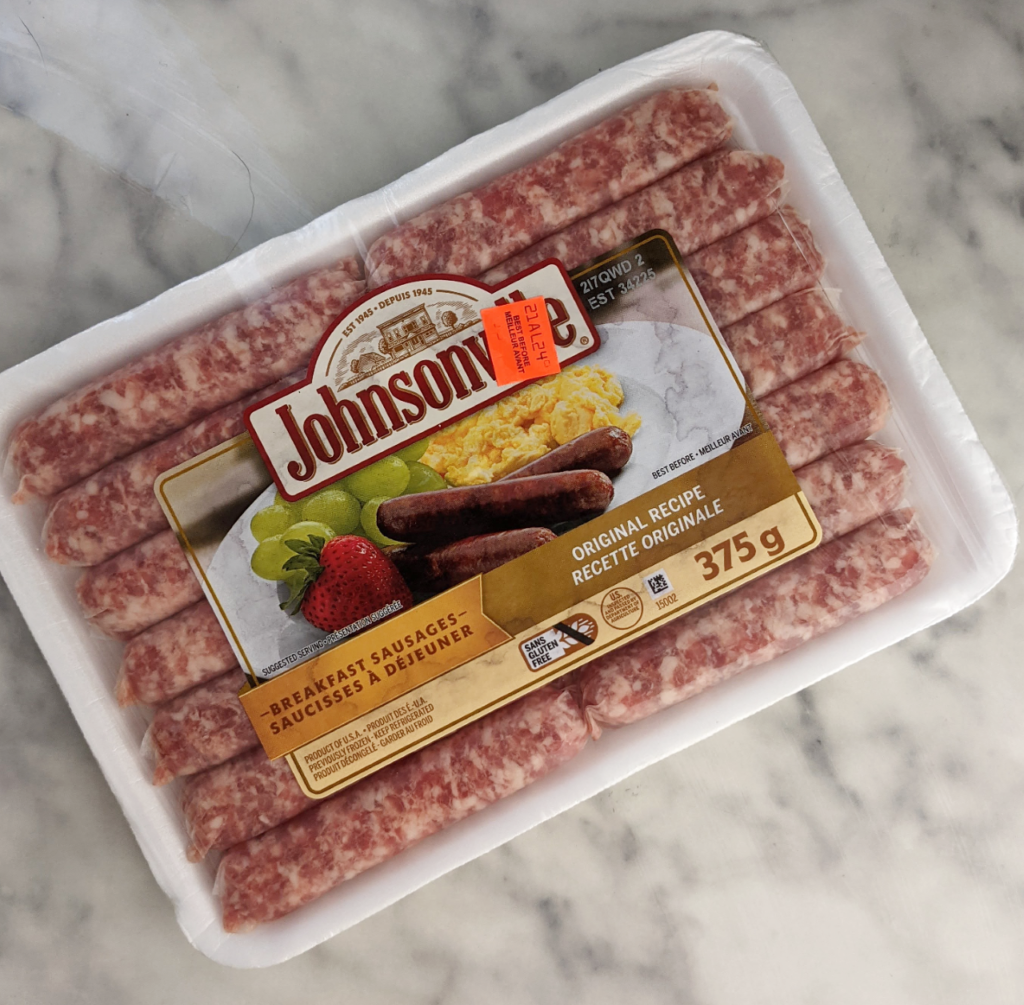 Sauces
Sauces are what make this dish delicious! Unlike most recipes, we opt to add fish sauce into the stir fry. Not all fish sauce brands are created equal. We recommend buying the Three Crabs Fish Sauce or the Squid Brand Fish Sauce for the best results. You should easily be able to find these are your local Asian grocery store.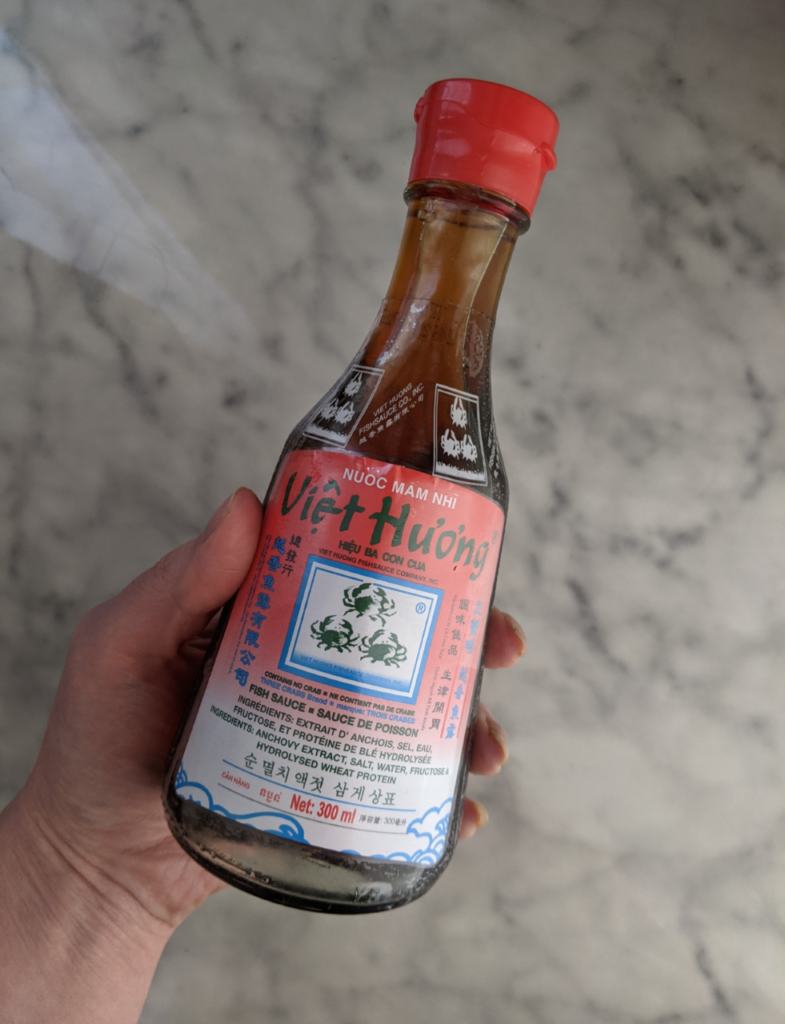 Vegetables
Traditional egg rolls use shredded cabbage, savoy cabbage, and carrot. For our Keto Egg Roll in a Bowl we use a bag of coleslaw mix. This recipe is meant to be easy! Using the coleslaw mix saves a ton of time. Of course, you can always chop your own cabbage or carrot for this recipe. Luckily, cabbage is low in carbs, making it perfect for a keto diet. One cup of shredded cabbage has only 4.1 grams of carbs and 1.8 grams of fiber. It is also high in Vitamin C, Potassium, Magnesium, Vitamin K and A.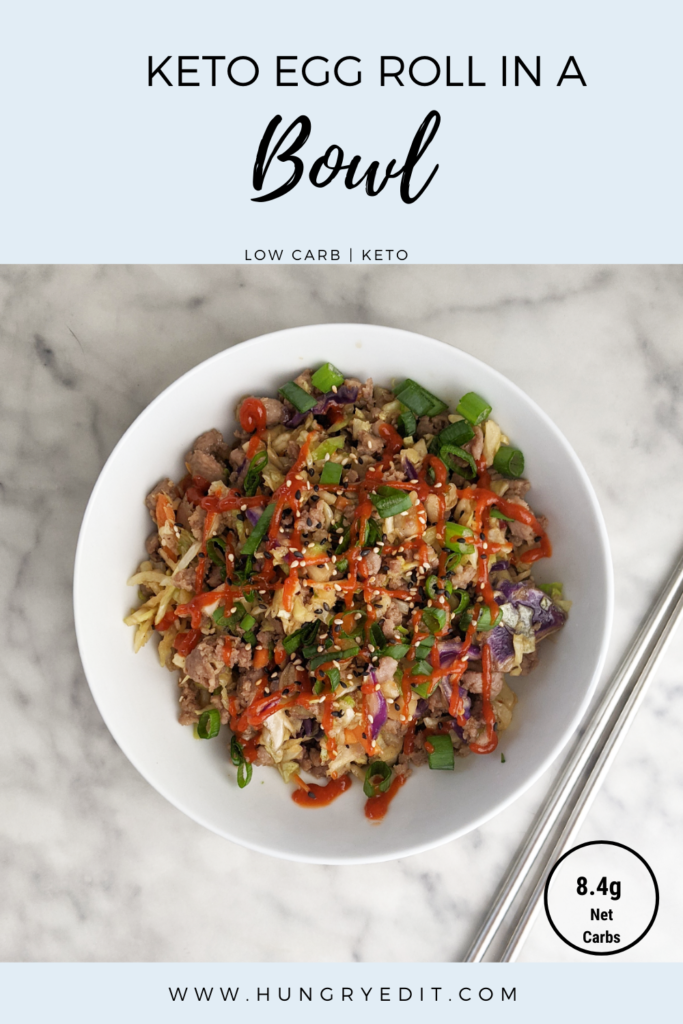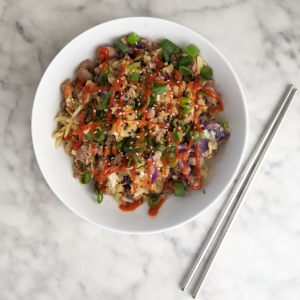 Keto Egg Roll in a Bowl
Ingredients
1

lbs

Pork Breakfast Sausage (Recommended)

Or Ground Beef, Pork or Chicken.

4

cups

Coleslaw Mix

Or Chopped Cabbage.

1

tbsp

Sesame Oil

1

tbsp

Keto Friendly Soy Sauce

Coconut Aminos or Tamari Soy Sauce.

1

tbsp

Fish Sauce

1

tsp

Minced Garlic

1

tsp

Minced Ginger

1/8-1/4

tsp

Chili Garlic

Optional.

Salt

To Taste.

Pepper

To Taste.
Topping (Optional)
2

tbsp

Chopped Green Onion

1

Tsp

Toasted Sesame Seeds

Sriracha
Instructions
Heat 1 tbsp of sesame oil in a large pan over medium-high heat.

Add minced garlic and ginger and sauté for 1 minute.

If using breakfast sausage, removing the casing and break up. Add to the preheated skillet.

Brown the minced meat for about 5 minutes.

Add the soy sauce, fish sauce and chili garlic (optional). Cook for 2-3 minutes.

Add the coleslaw mix to the pot and cook for another 8-10 minutes until cabbage has softened and flavors develop.

Top with chopped green onion, sesame seeds and sriracha or sauce of your choice.
Notes
Nutrition Information (4 Servings): 
438 Calories 
10.6g Carbohydrates 
2.2g Fiber 
35g Fat 
21.2g Protein 
Net Carbs 8.4g / Serving 
Let us know in the comments below if you've tried our version of the popular Keto Egg Roll in a Bowl. If you're looking for more keto recipes, visit our recipe page!