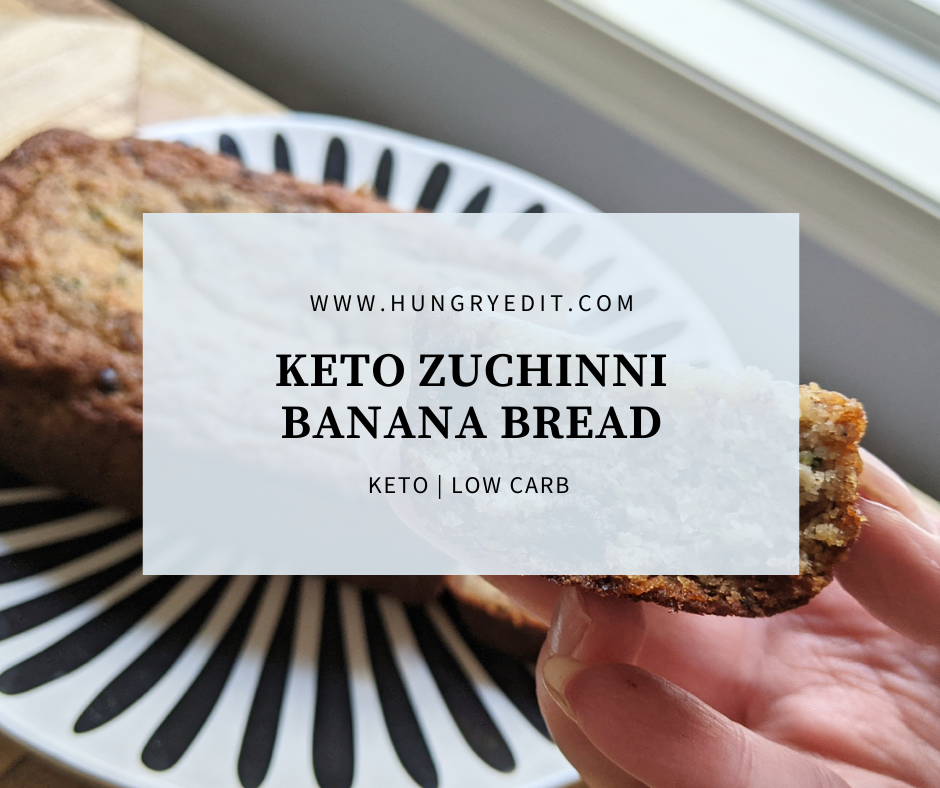 I know that many of you (including myself) miss the taste of bananas on a keto diet. For most of us, we miss banana bread. I've tried various recipes throughout the years that use banana flavoring. Unfortunately, it just doesn't cut it. Banana flavoring doesn't taste anything like the real thing. Luckily, this Keto Zucchini Banana Bread is just like the real thing!
Bananas
I've always approached keto by not labelling food as good, bad or off limits. Especially when it comes to fruits and vegetables. Bananas are very high in natural sugars and carbs. One medium banana is 27g of carbs with only 3.1g of fiber. Luckily, bananas are very flavorful. So for our Keto Zucchini Banana Bread, we only need one banana for the whole loaf. This works out to be only 5.9g of net carbs per serving. Making this the perfect snack, dessert or breakfast!
Since we can only use one banana for this recipe, we add shredded zucchini to the recipe. Zucchini bread is wonderful on it's own and if you're not a fan of zucchini, don't worry, you can hardly taste it. Bananas are high in potassium, Vitamin B6, Vitamin C and magnesium. While zucchini is Vitamin C and Vitamin B6. Making this keto bread, packed with nutrients!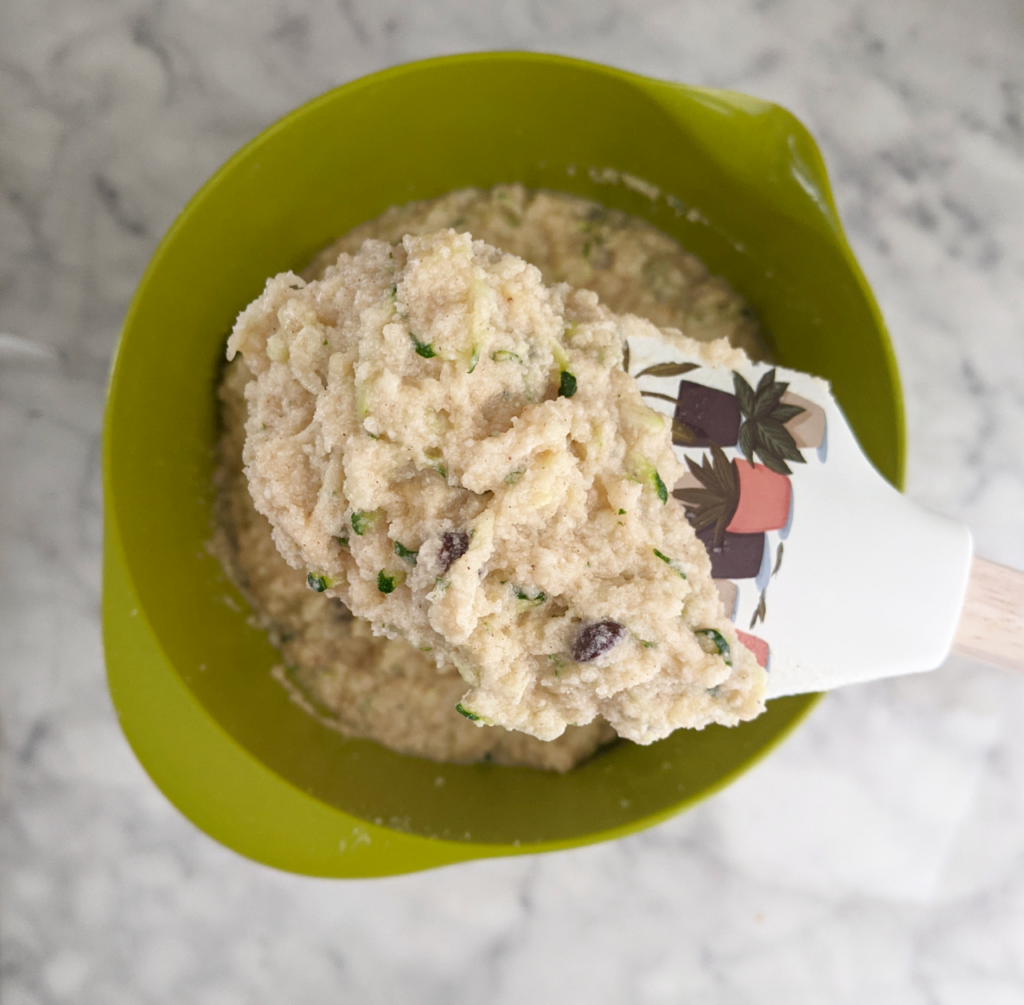 (All Ingredients Mixed Together)
Zucchini
The most important step to getting the perfect Keto Zucchini Banana Bread is to squeeze out the moisture from the zucchini. We use a fine cheese grater to grate the zucchini. Once grated, use a kitchen towel to squeeze out as much moisture as possible. You will need to repeat this step a few times until most of the water is drained.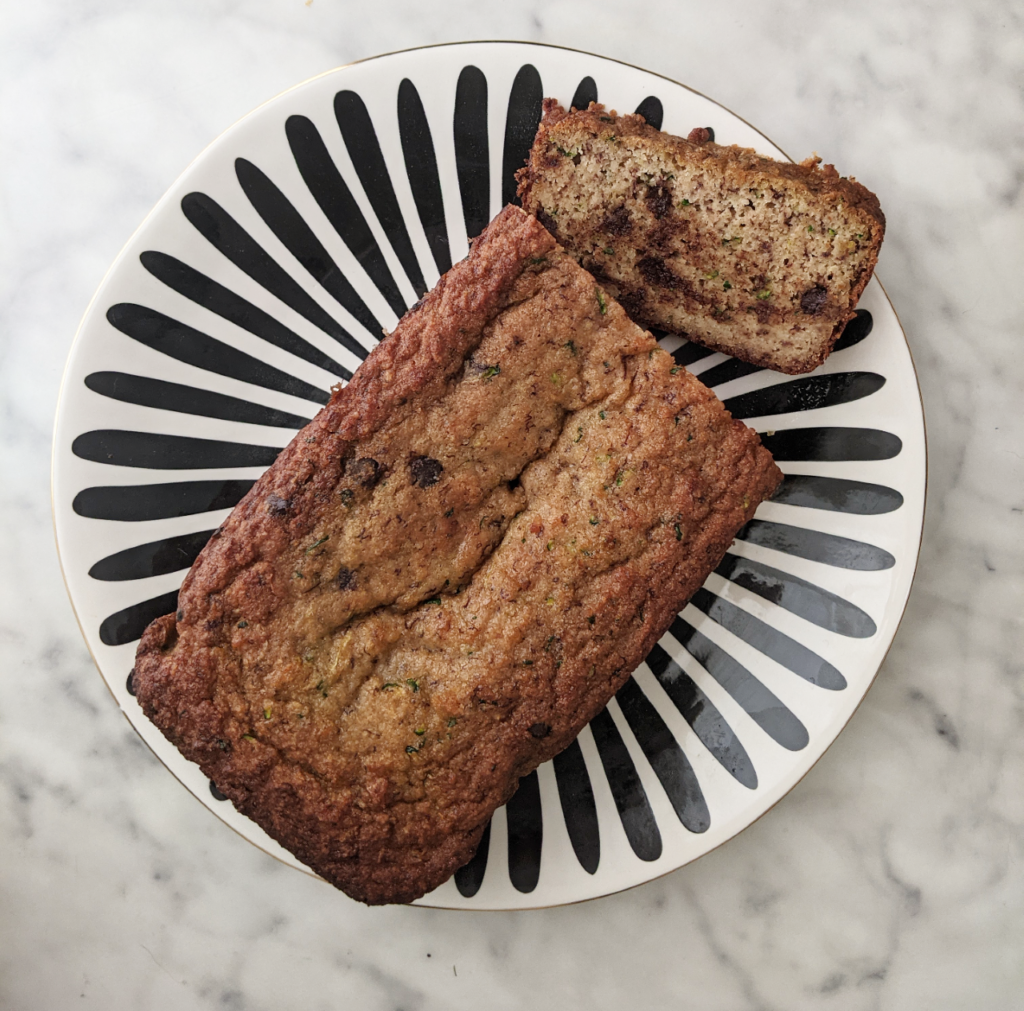 The Method
This Keto Zucchini Banana Bread is very easy to make. Once you have prepped the zucchini. Combine all of the dry ingredients into a mixing bowl and whisk together. In a separate large bowl whisk together the eggs and vanilla extract. Stir in the mashed banana.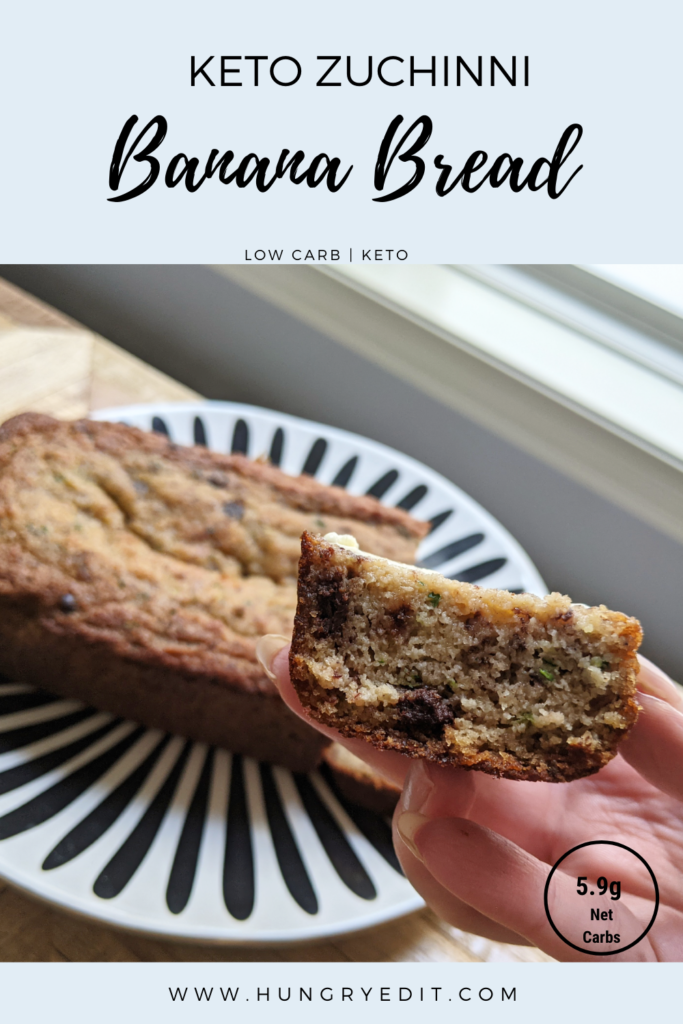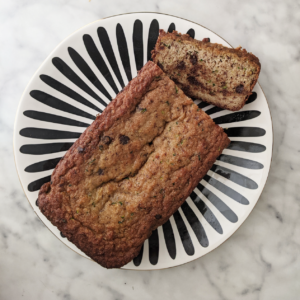 Keto Zucchini Banana Bread (With Chocolate Chips)
Ingredients
2

Cups

Almond Flour

2

Tbsp

Coconut Flour

1

Medium Zucchini

Shredded, Approx 150 Grams (weight after water is drained).

1

Ripe Medium Banana

2

Large Eggs

1/2

Cup

Erythritol

Example. Swerve Granulated Sweetener or Lakanto Monk Fruit Sweetener.

1/4

Cup

Melted Butter

1/4

Cup

Lily's Dark Chocolate Chips

1

Tsp

Pure Vanilla Extract

1

Tsp

Baking Soda

1

Tsp

Baking Powder

1/2

Tsp

Cinnamon

1/2

Tsp

Salt
Instructions
Grate the zucchini and squeeze out as much moisture as possible, set aside.

Combine all dry ingredients in a mixing bowl and combine thoroughly with a whisk.

Add the eggs, melted butter and pure vanilla extract into a large mixing bowl and whisk together.

Mash the ripe banana and stir it into the wet ingredients.

Slowly add in the dry ingredients into the wet ingredients and whisk together.

Fold in the shredded zucchini and chocolate chips.

Place the mixture into a lined 5" x 9" Loaf Pan.

Bake in a preheated oven for 50-60 minutes.

After 30 minutes, remove from the oven and loseley cover with aluminum foil for the last 30 minutes.

Remove from oven and allow to cool for about 20 minutes.
Notes
Nutrition Information (8 Servings):
295 Calories 
11.1g Carbohydrates 
5.2g Fiber 
23.8g Fat 
9.4g Protein
5.9g Net Carbs / Servings 
Let us know in the comments below if you've tried our Keto Zucchini Banana Bread. If you're looking for more keto recipes, visit our recipe page!