If I had to choose only one soup to eat for the rest of my life it would without a question be Cream of Mushroom. Surprisingly it is very simple to make this soup fit within a low carb or ketogenic diet. This Keto Cream of Mushroom Soup takes a few extra steps to elevate the flavor but is still ready in less than an hour. This recipe uses fresh herbs that you can customize to your liking. It is a rich soup that can be served as a meal on it's own or as a side with a low carb sandwich or salad.
Fresh Herbs
For this soup, I like to flavor my butter with chopped fresh sage. The fresh herbs can definitely be changed depending on your tastes or what's available. This Keto Cream of Mushroom Soup also goes perfectly with fresh thyme or fresh tarragon. If using these herbs, you can add them in along with the broth to incorporate the flavor into the soup. Another option is to stir in fresh parsley once the soup is done cooking. This will give the soup a nice variation in color!
Cream
Cream is always added at the end when incorporating it to any dish. We do this because we don't want the cream to curdle. For this recipe we flavor the cream with half an onion (left whole), a pinch of nutmeg, bay leaves, salt and pepper. This extra step adds an extra layer of flavor to the soup. Be sure to slowly heat up the cream and lightly simmer (do not boil) to allow the flavors to blend.
Thickener
In this recipe, we left out adding a thickener. We felt with the amount of blended mushrooms and heavy cream, this made the soup thick enough. If you want a thicker soup, try adding 1/8-1/4 tsp of konjac flour or xanthum gum. These thickeners are interchangeable, no matter which one you use, you shouldn't need anymore than 1/4 tsp.
Garnish
As mentioned above, fresh parsley would be a great addition as a garnish. We also like adding a drizzle of flavoured oil to the soup. Flavored oil such as tarragon olive oil works nicely here. If following a keto diet, this is a great way to get some extra fats in!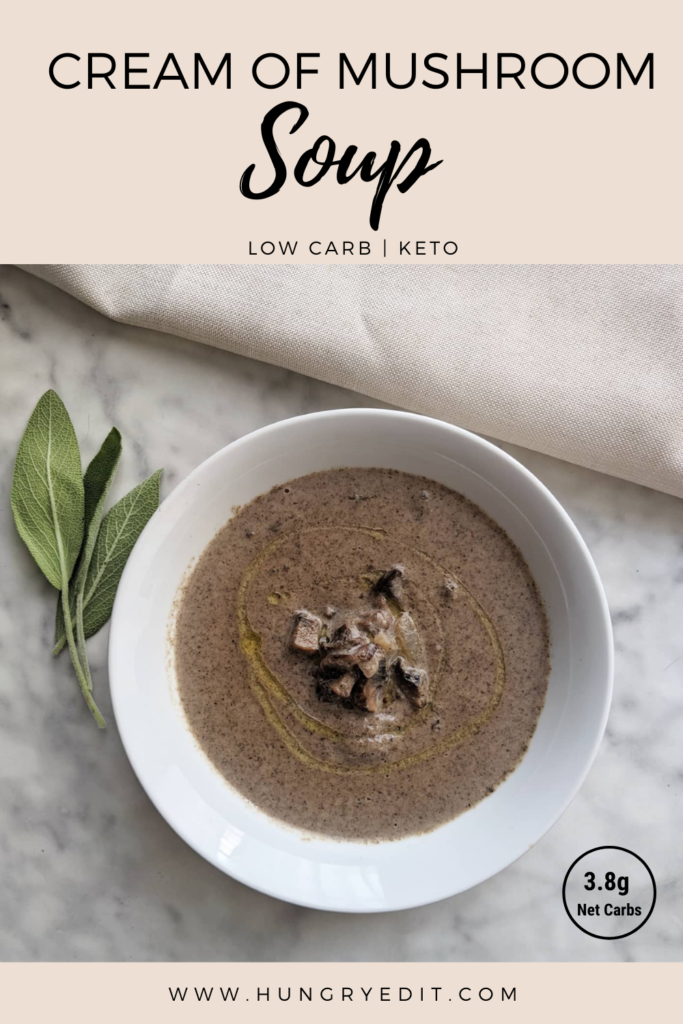 Keto Cream of Mushroom Soup
Equipment
1 Large Stock Pot

1 Small Saucepan
Ingredients
Ingredients for Soup Base
4

tbsp

Butter

2

tbsp

Chopped Fresh Sage

Optional.

50

grams

Yellow Onion

Diced.

1

Garlic Clove

Minced.

500g

White or Brown Mushrooms

Diced.

1/2

tsp

Salt

Or to taste.

1/4

tsp

Black Pepper

Or to taste.

2

cups

Chicken or Vegetable Broth
Ingredients for Cream Base
1

cup

Heavy Whipping Cream

1-2

Bay Leaves

1/8

tsp

Ground Nutmeg

1/2

Yellow or White Onion

Peeled and cut in half chopped. This is used to flavor the cream and will be removed once done cooking.

1/4

tsp

Black Pepper

Or to taste.

1/2

tsp

Salt

Or to taste.
Instructions
Heat butter in a large pot over medium heat.

Add chopped sage and cook for 3-4 minutes. (This step can be skipped if not using sage).

Add diced yellow onion and minced garlic to the pot and cook until translucent, 2-3 minutes.

Add diced mushrooms, salt and pepper to the pot and cook until mushrooms are softened and have released their water. About 8-10 minutes.

While mushrooms are cooking, in a separate small saucepan, heat cream over medium heat.

Add bay leaves, nutmeg, half chopped onion, salt and pepper to the cream and gently simmer for 5 minutes (do not boil). Turn off heat once done simmering.

Once mushrooms are cooked (making sure the water from the mushrooms has reduced), add the chicken broth to the pot and simmer for 5 minutes. (If you are using other fresh herbs such as tyme, you can add them to the soup base now).

Once the mushrooms are done simmering. Remove the bay leaves, and chopped onion from the cream.

Slowly add the cream to the mushrooms and stir until combined.

Transfer the soup to a blender and blend until combined.

Note: Drizzle a bit of oil on top of the mushroom soup for additional flavor. Tarragon flavoured olive oil works nicely here.
Notes
Nutrition Information (6 Servings):
359 Calories
5.5g Carbohydrates
1.7g Fiber 
35g Fat 
5.6g Protein 
Net Carbs: 3.8g / Serving
What's your favorite soup? Let us know if you've tried this Keto Cream of Mushroom Soup in the comments below!