Our Keto Lebanese Stuffed Zucchini in Yogurt (Kousa Bil Laban) is made with spiced ground beef and cauliflower rice. It is topped with a mint yogurt sauce and roasted pine nuts!
Is Stuffed Zucchini Keto?
Yes! Zucchini is a low carb veggie with 2.1g of net carbs per 100 grams. We keto-fy this traditional recipe by replacing the rice with cauliflower rice. Also cornstarch is typically used to thicken the mint yogurt sauce, we skip this step to keep it keto.
Grey Zucchini
Our Keto Lebanese Stuffed Zucchini uses grey zucchini which is very similar to green zucchini. Grey zucchini is more stocky with a rounded end. The taste is very similar to a green zucchini.
In this recipe we hallow out the zucchini to stuff it with a spiced beef / cauliflower rice mixture. Save the pulp from the zucchini as it delicious with scrambled eggs and cheese!
Pine Nuts
To toast the pine nuts, add them to a small pan and turn the heat to medium low. Stir constantly or toss the skillet to not burn the pine nuts. It will take approximately 3-5 minutes to toast them.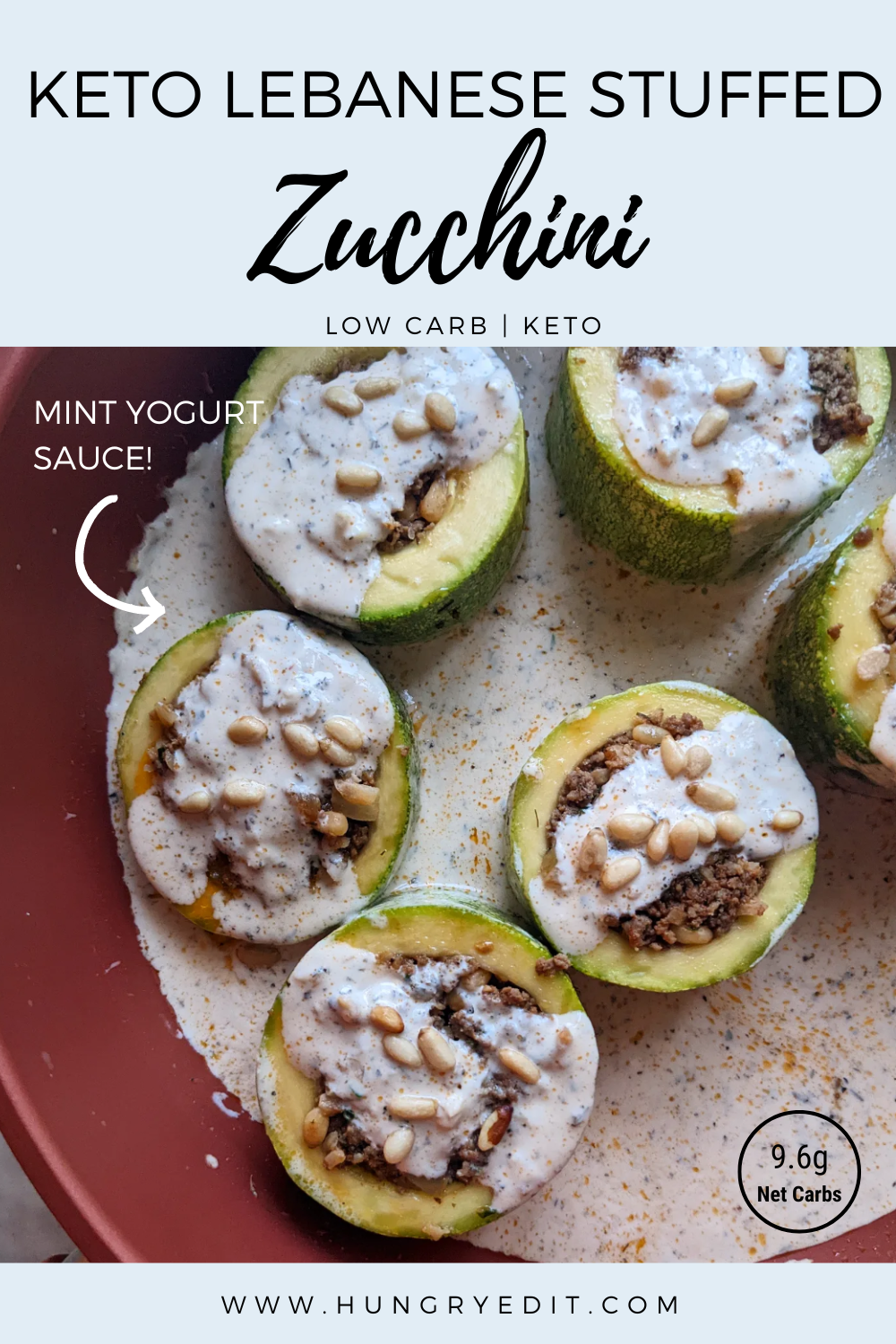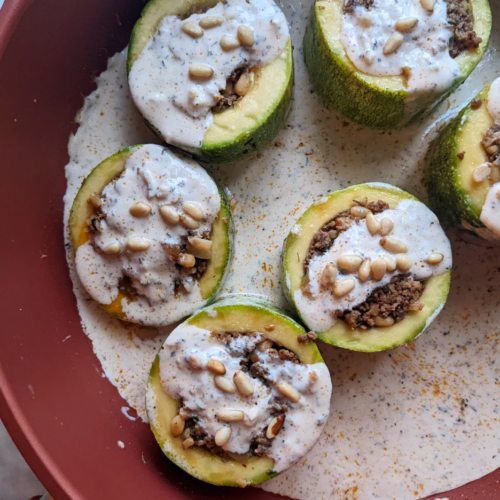 Keto Lebanese Stuffed Zucchini in Yogurt (Kousa Bil Laban)
Ingredients
750

Grams

Grey Zuchinni

Top Removed, Hallowed Out. Approx. 4-5 Medium Zuchinni

300

Grams

Regular Ground Beef

100

Grams

Frozen Cauliflower Rice

Drained.

50

Grams

White Onion

Diced.

25

Grams

Pine Nuts

1

Egg

2

Tbsp

Olive Oil

Divided.

1

Tbsp

Tomato Paste

1/4

Cup

Fresh Parsley

3/4

Tsp

7 Spice

Or All Spice.

3/4

Tsp

Dried Dill

1/2-1

Tsp

Salt

To Taste.

2-4

Cups

Chicken or Vegetable Broth

Enough to fill the pot halfway with the zucchini.
Yogurt
1

Cup

Full Fat Plain Yogurt

3/4

Tsp

Dried Mint

1

Garlic Clove

Minced.

Salt

To Taste.

25

Grams

Pine Nuts

Garnish.
Instructions
Remove the stem top off of the zucchini and carefully hallow out. Set aside.

Heat the cauliflower rice in a pan or in the microwave. Allow to cool and squeeze out the moisture with a kitchen towel.

Gently toast pine nuts and set aside; about 3-5 minutes.

In a pan, heat 1 tbsp of olive oil over medium-high heat. Sauté diced onions until translucent, about 5 minutes.

Stir in 1 tbsp of tomato paste and sauté for 1-2 minutes. Remove the cooked onions and tomato paste from heat and allow to cool.

In a large bowl thoroughly combine drained cauliflower rice, cooked onions with tomato paste, ground beef, salt, 7 spice, dried dill, fresh parsley, 25 grams toasted pine nuts, egg, and 1 tbsp of olive oil.

Fill the hallowed out zucchini with the beef mixture.

Place the stuffed zucchini in a large pot.

Fill the large pot halfway with chicken or vegetable broth. Bring to a boil. Cover, reduce the heat to low and allow to simmer for 20-30 minutes until zucchini is tender and meat is cooked through. The stuffed zuccchini will continue to cook for another 10 minutes in the yogurt sauce.

Meanwhile, combine the yogurt, dried mint, garlic and salt to a large skillet and heat through.

When the stuffed zucchini is done cooking in the broth, carefully place the stuffed zucchini in the yogurt sauce. Cook for another 10 minutes.

Serve the stuffed zucchini with the yogurt sauce and extra toasted pine nuts.
Notes
Nutrition Information (4 Servings):
417 Calories 
14.3g Carbohydrates
4.7g Fiber
30.4g Fat
26.7g Protein
Net Carbs: 9.6g / Serving
Let us know in the comments below if you've tried our Keto Lebanese Stuffed Zucchini in Yogurt! If you liked this recipe, try our