These Keto Stuffed Onions are based off of Middle Eastern recipes that typically uses ground meat (lamb or beef), spices and rice. For our keto version, we substitute the rice with cauliflower rice and make a few small changes.
Dolma refers to a stuffed vegetable such as grape leaves (try our Dolmades!), zucchini, eggplant, tomatoes, or in this case, onions. These Keto Stuffed Onions are so simple to make yet they are packed with flavor! They're easy enough to make for a weeknight dinner but this is also a great dish for dinner party as they look fantastic plated!
Cauliflower Rice
I'll admit, I used to be one of those people that would roll their eyes when people would use cauliflower as a substitute for almost everything! It took me a while to learn proper cooking methods and the right products to buy when using cauliflower as a substitute. My advice for cauliflower rice is to buy pre-frozen riced cauliflower or pre-packaged cauliflower rice such as the Nature's Earthly Choice Cauliflower Rice. You can find this on Amazon and at most grocery stores including Costco.
Some grocery stores sell fresh packaged riced cauliflower. I tend to stay away from this. In my experience the cauliflower tends to go bad faster. When cauliflower turns, it could look and feel fine but it will start to get a strong odor. You'll know that your cauliflower is fresh when it was a very mild smell, almost nonexistent. You can of course make your own riced cauliflower with a fresh head of cauliflower, but this is more labor intensive.
Cauliflower rice is a great substitute for rice because it is low in carbs while being high in fiber and Vitamin C! It however doesn't help the filling stick together like regular rice. To get the filling to stick together I always use full fat ground meat (never lean!). This works great on it's own but you can also add an egg to help the filling stick together. In the filling, the cauliflower will have no taste, you won't notice that it's there but it's a great way to add in some extra veggies.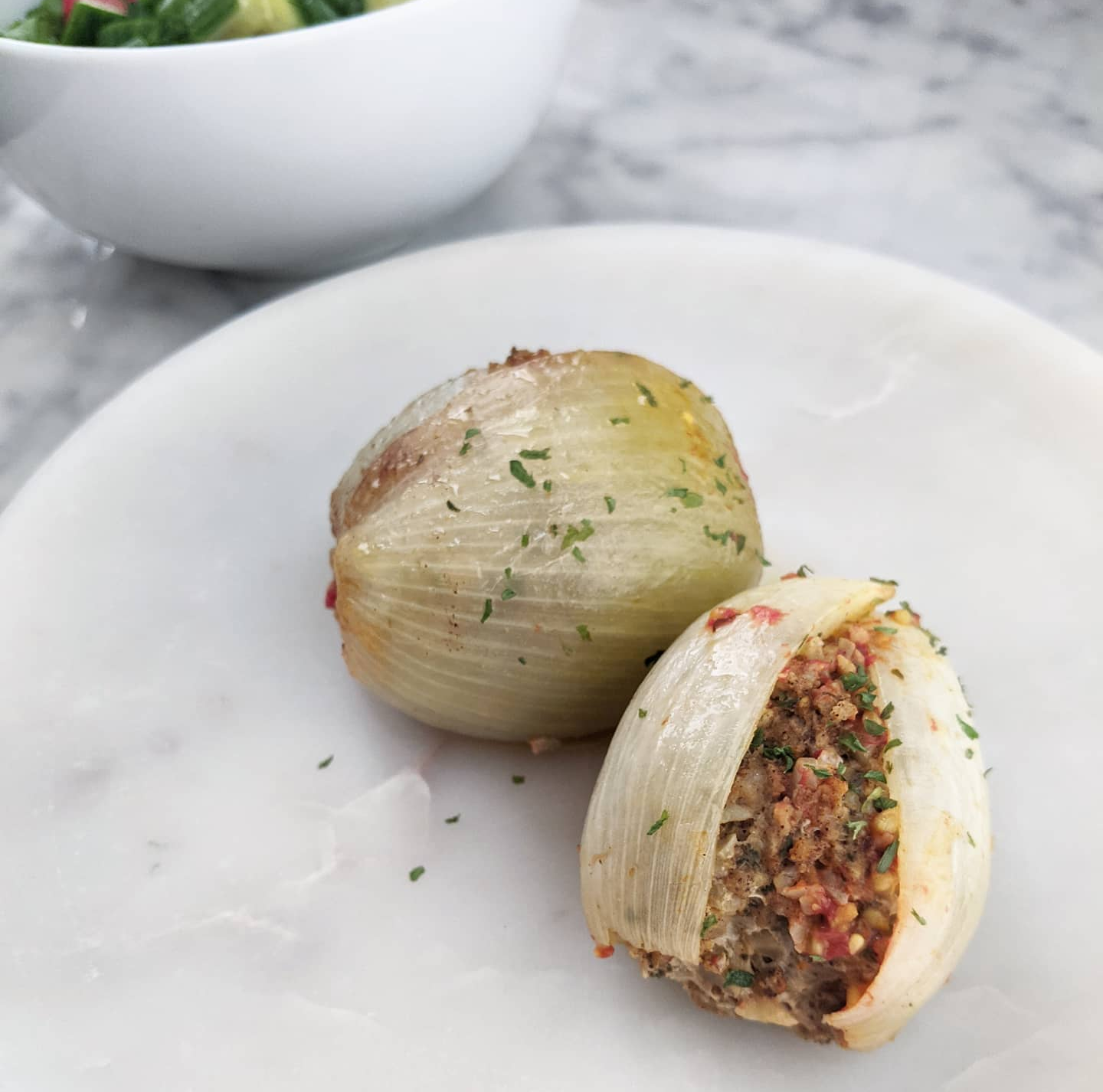 Ground Meat
Dolma's are stuffed vegetables that are made with or without meat. I've always prefered the flavor of adding meat to my stuffed vegetables as it adds so much more flavor. Since these stuffed onions are typically found in Middle Eastern cuisines, they usually are vegetarian or use ground beef or lamb. I haven't seen a recipe using pork (this could be for religious reasons) but I've used ground pork in this dish and it turned out fantastic! Use whatever ground meat you like, it will taste great!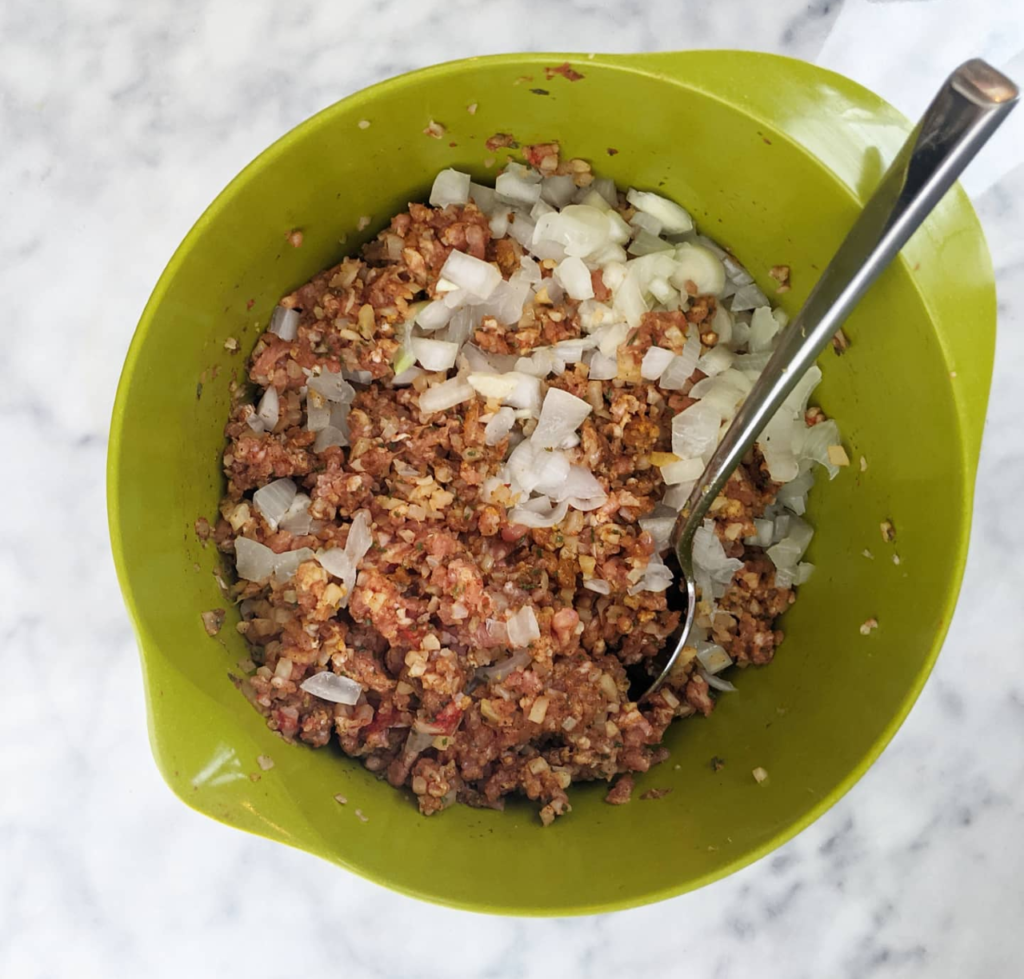 Stevia / Sweetener
I've seen quite a few Iraqi recipes that use pomegranate molasses in the cooking processes. This adds another layer of flavor but would add too many carbs to our dish. In our keto version, I've swapped out the pomegranate molasses for liquid stevia. The Keto Stuffed Onions are added to a large saucepan or dutch oven and browned for a few minutes in olive oil and butter. Once browned, add 2 tablespoons of vinegar and a few drops of stevia to the pot. Don't add too much stevia to the dish! We only need a very subtle hint of sweetness, 4 drops should accomplish this. NOTE. If not you're not following a low carb or keto diet, feel free to sprinkle a small amount of sugar on top of the onions before simmering.
Another method that I add to the dish for a subtle sweetness, is to add tomatoes to the pot when simmering. This is a trick that I use for my Lebanese Stuffed Grape Leaves (recipe coming soon!). The addition of the tomatoes works wonderfully with the spices and adds that extra flavor that we are missing from the pomegranate molasses. I thinly slice the tomatoes and place them on top of the stuffed onions. This step is optional but I recommend it!
Onions
In order to peel the onion layers, first boil the whole onion for about 10 minutes. Remove the ends and the paper exterior before boiling. You can leave the onion as is or make a deep cut down the side of the onion. This will make the onion easier to peel once boiled. It also makes it easier to roll the filling.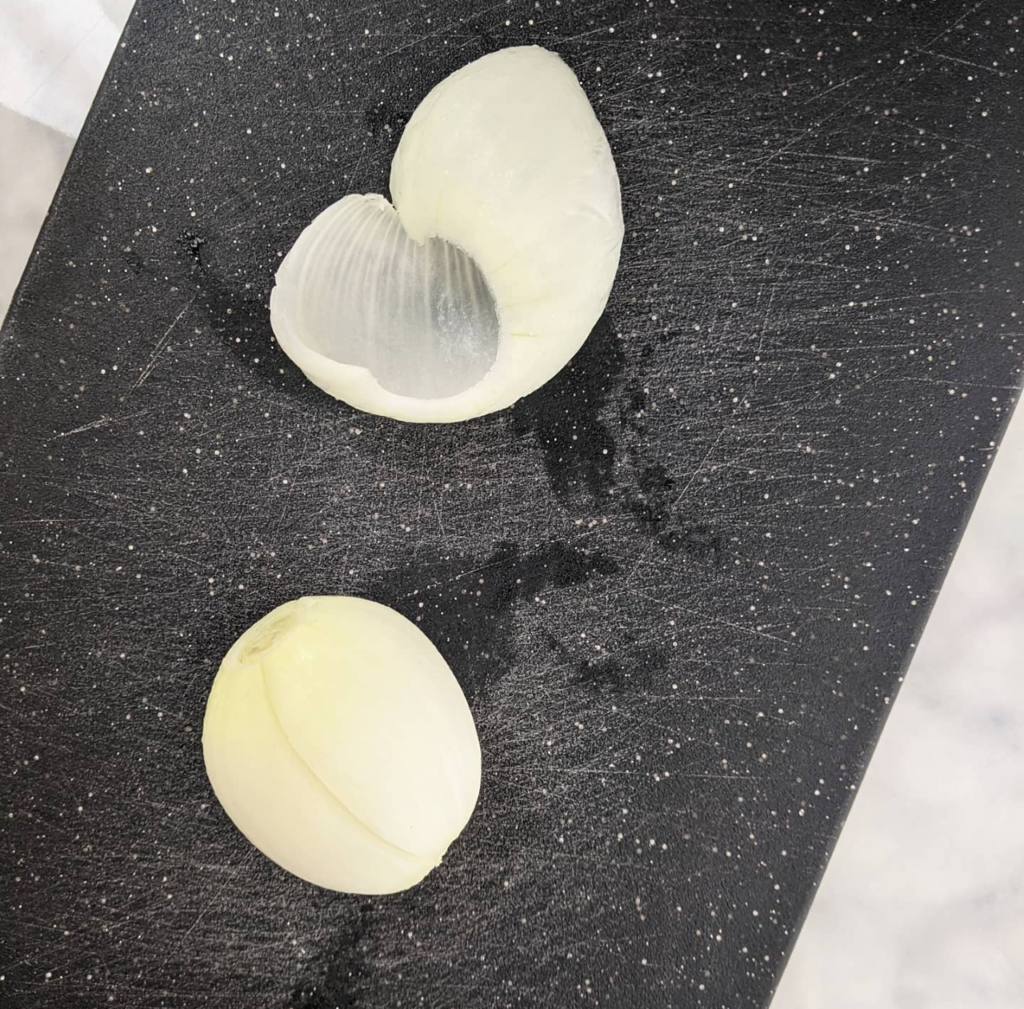 For the filling take 50 grams of the onion bulb (center of the onion), finely dice and add to the filling.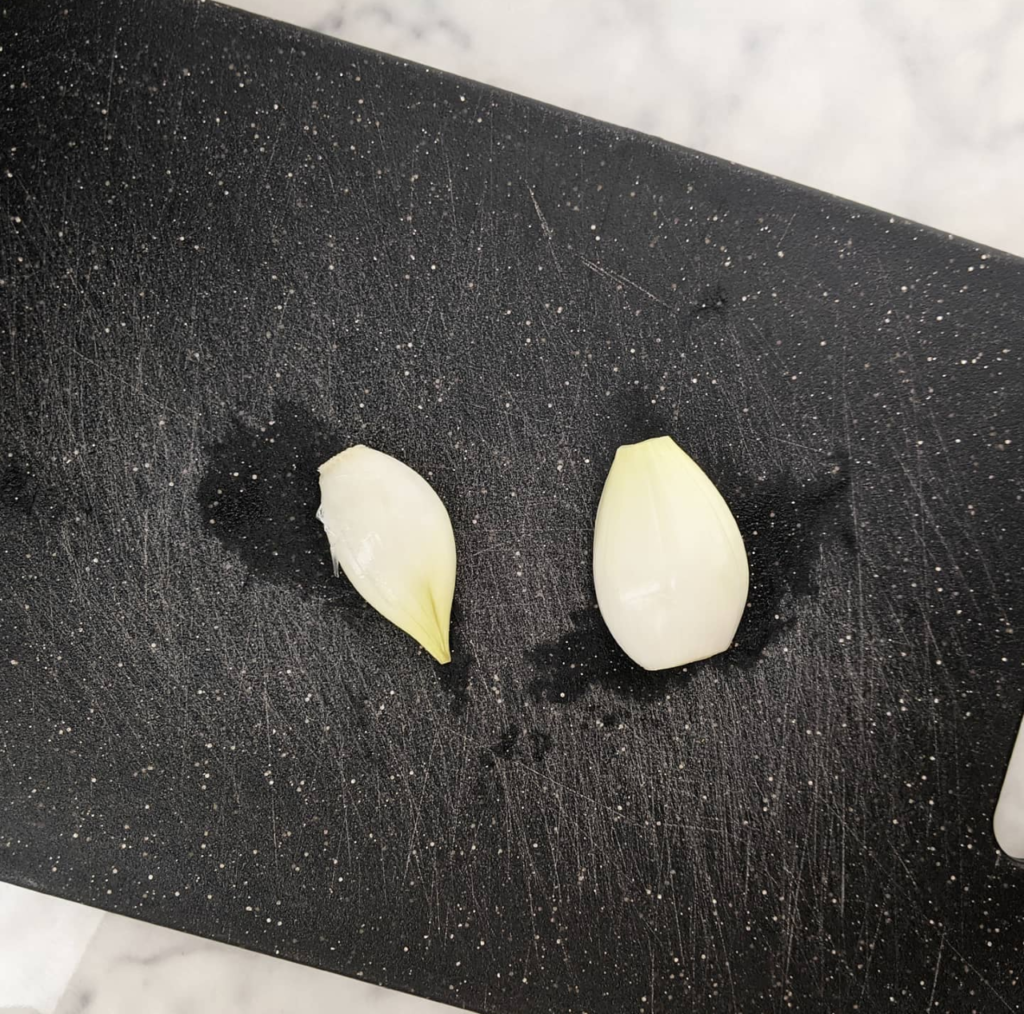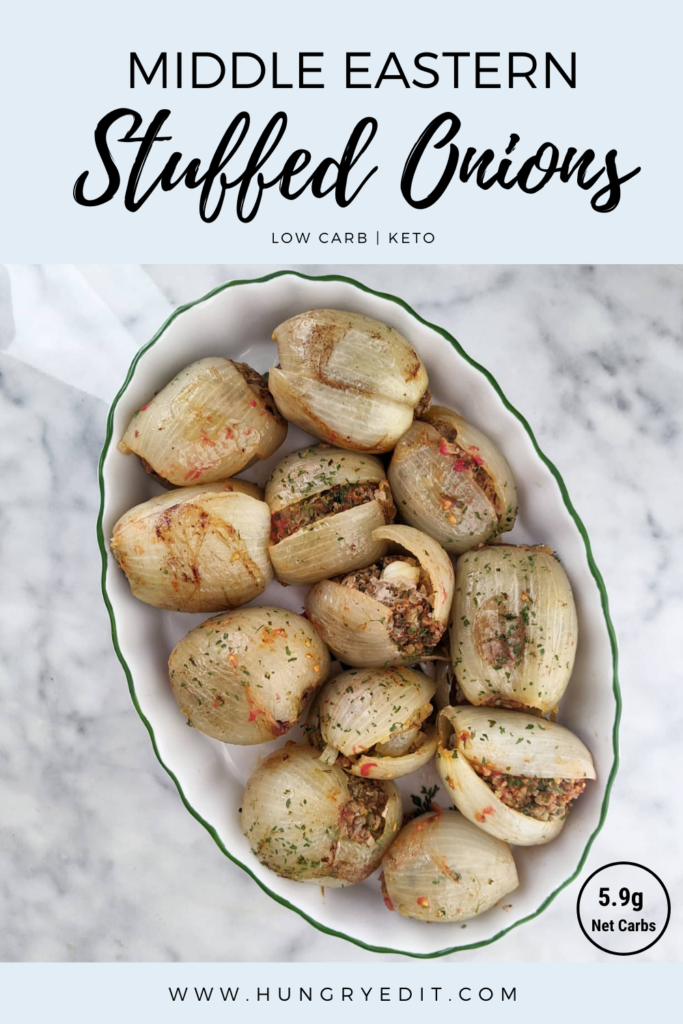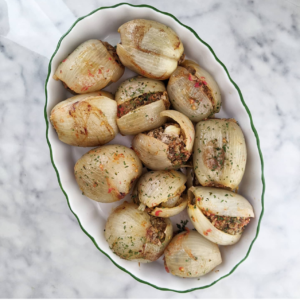 Keto Middle Eastern Stuffed Onions (Dolma)
Ingredients
1

lbs

Ground Meat (Pork, Beef or Lamb)

3-4

Large Yellow Onions

241

grams

Cauliflower Rice

1/4

Cup

Fresh Parsley.

Finely Chopped.

1

Egg

Optional. This will help the filling stick together.

2

tbsp

Olive Oil

2

tbsp

Butter

2

tbsp

White or Apple Cider Vinegar

Or a combination of the two!

3-4

Drops of Stevia

3

tbsp

Tomato Paste

1

tsp

Salt

1/2

tsp

Black Pepper

1

tsp

Turmeric

1/8

Tsp

Nutmeg

2-3

Sliced Tomatoes

Optional.
Instructions
Cut the top and bottom of the onion and remove the paper exterior.

Make a deep cut down the side of the onion (this will make them easier to peel).

Boil the onions for 10 minutes or until the onions soften and the layers can be easily separated.

When the onions are boiling, prepare the filling.

Once softened, remove the onions from the boiling water and allow to slightly cool.

Take 50 grams of the onion bulb (center of onion) and dice.

Combine the ground meat, cauliflower rice, diced onion, tomato paste, spices including fresh parsley and egg (optional) in a large mixing bowl.

Seperate the layers of the onion.

Tightly place the filling in the onion layer and wrap.

Repeat until all of the filling is used.

In a large pan or dutch oven, heat olive oil and butter over medium high heat.

Once pan is hot, gently place the onions seam side down.

Cook for 3-5 minutes until browned.

Mix stevia with vinegar and pour over the stuffed onions.

Placed sliced tomatoes on top of the stuffed onions (optional).

Cover, turn the heat down to medium and cook for 40-50 minutes. Or until onions are soft and filling is cooked. Turn the stuffed onions halfway through.
Notes
Nutrition Information (6 Servings): 
243 Calories
8.1g Carbohydrates
2.2g Fiber 
16.2g Fat 
17.1g Protein
Net Carbs: 5.9g / Serving 
I'm including the nutrition information for all of the ingredients. You can divide this between how many stuffed onions you make! This of course might vary slightly depending on how many onions you use. 
Nutrition Information: Per Batch
1461 Calories
48.9g Carbohydrates
13.2g Fiber
97.5g Fat 
102.6g Protein 
Net Carbs: 35.7g / Batch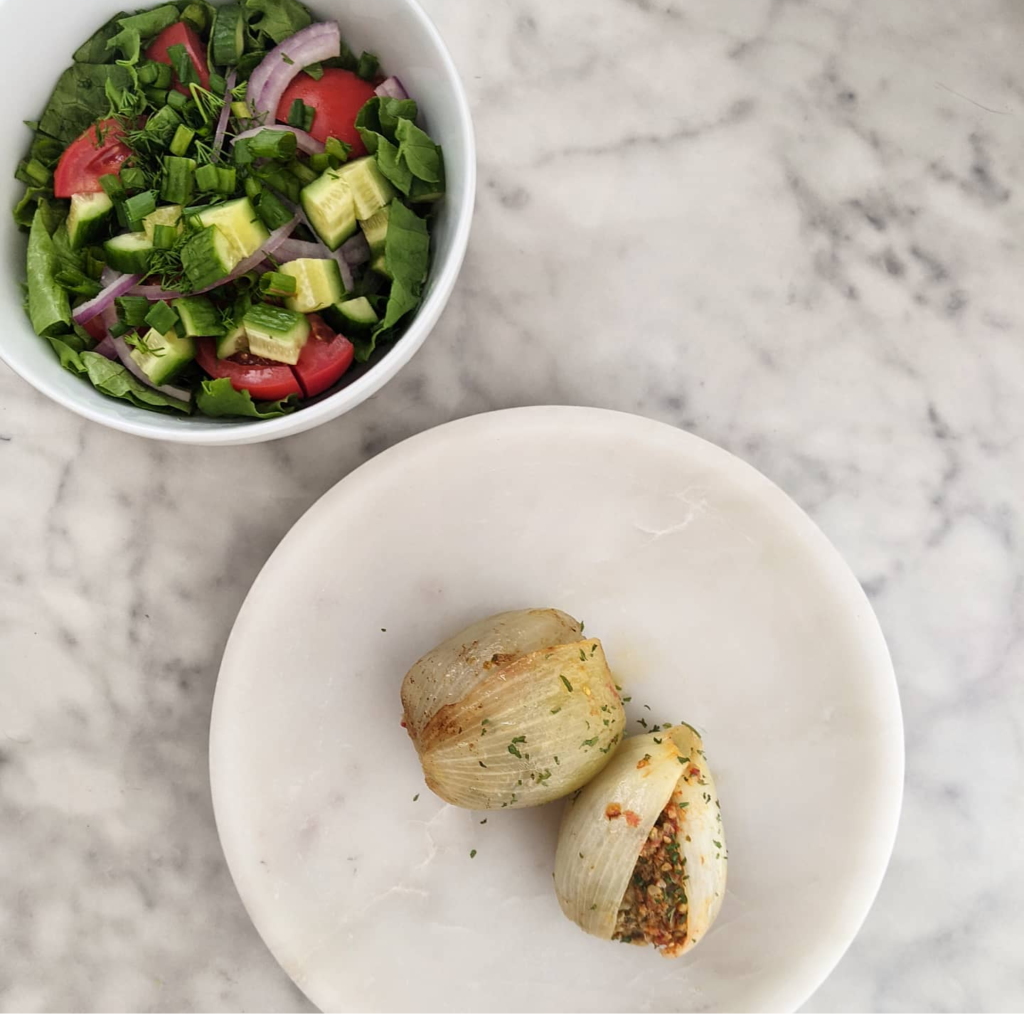 Have you tried our Keto Stuffed Onions? Let us know your thoughts in the comments below!
Looking for more stuffed vegetable recipes? Try our Greek Dolmades and Ukrainian Sour Cabbage Rolls!