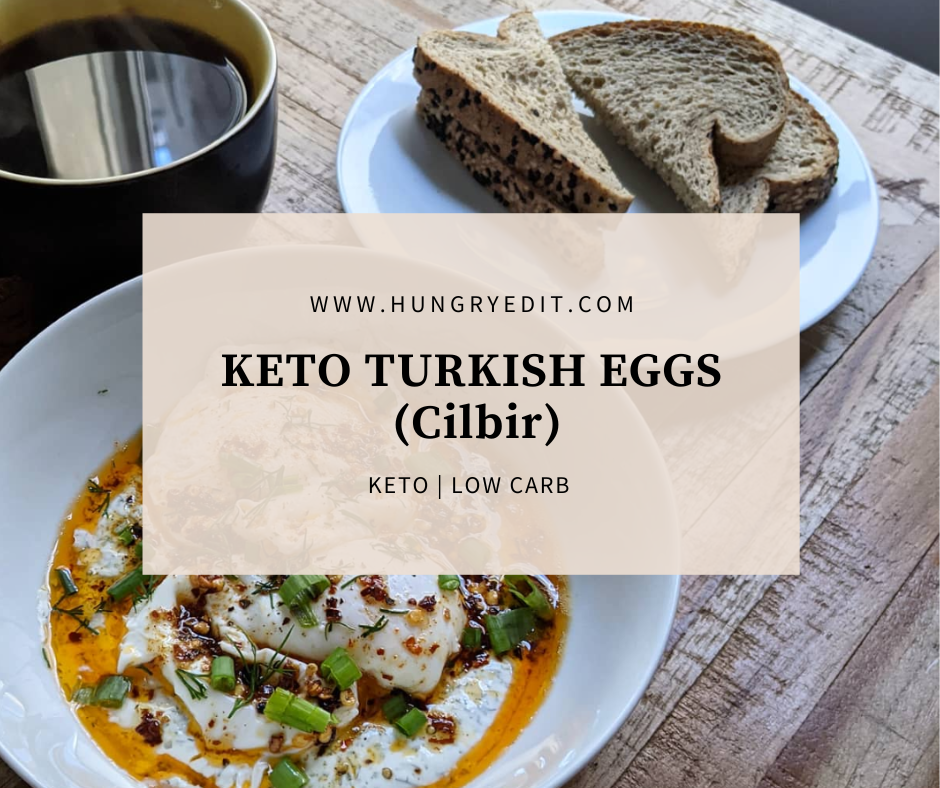 Jump to Recipe
These Keto Turkish Eggs are the perfect brunch recipe. They are easy to make but packed with flavor. Traditionally called "cilbir" this recipe starts with a garlicky, warm full-fat plain greek yogurt.It is topped with poached eggs and finished with spicy chili butter. 
How to Poach Eggs:  
If you've never poached an egg before, it might seem daunting and it honestly might take you a few tries to get it right. But once you get the hang of it, it's very easy! Bring a pot of water to a low boil. In the meantime, crack eggs into separate bowls. Once the water is boiling (making sure that it's not a rapid boil), create a whirlpool with a large spoon. Gently add in your eggs (1 at a time). Cook for 2.5-3 minutes (soft-poached egg) or 3.5-4 minutes (medium poached egg). We want the egg yolks to still be runny. Gently remove with a slotted spoon. 
The best tip for successful poached eggs is to add vinegar or lemon juice to the water. I used to be against this for the longest time, as I feared it would end of flavoring my eggs. Thankfully the addition of vinegar doesn't affect the flavor of the eggs but it makes poaching them a lot easier! Add 1 tbsp of vinegar to the boiling water before adding your eggs. This will help the egg stay together during poaching.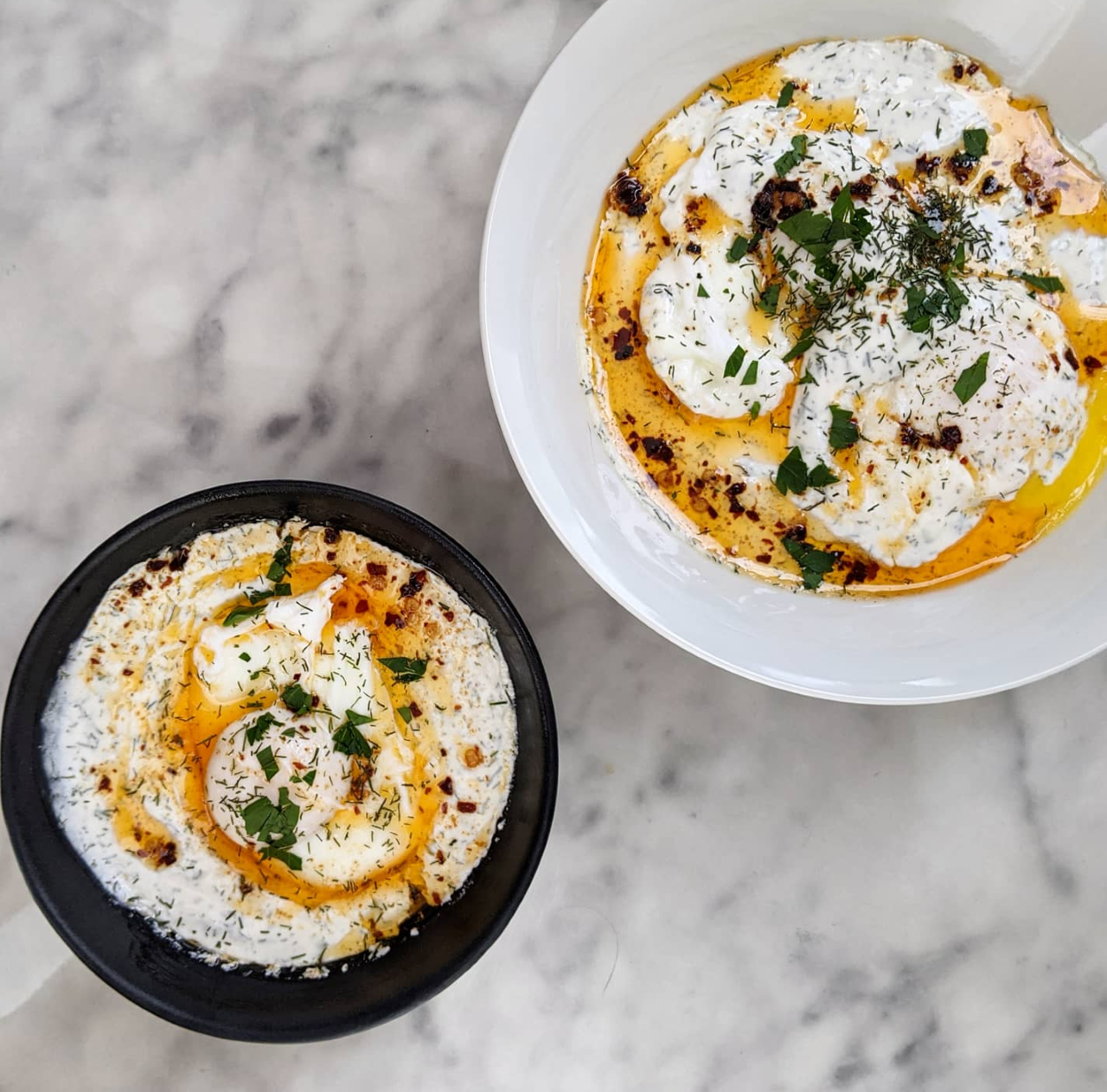 Yogurt:
I like to prepare the yogurt an hour before serving the meal or even the night before. This really allows the flavors to blend together. Typically yogurt isn't consumed on a keto diet, as many yogurts available here in North America are filled with sugar. However, if you find full-fat plain yogurt you'll notice that the carbs are surprisingly very low! I usually buy the Liberté Méditerranée Plain 10% which only has 5 net carbs for 3/4 cup (175g). You should be able to find something similar at your local grocery store. 
Chili Butter: 
This step is very easy. Add the butter to a saucepan and heat over medium heat. Once the butter starts to sizzle and turn brown, add the chili flakes and oil. Stir until the chili infuses with the oil and butter. Set aside. 
Serving: 
This dish is traditionally eaten with a pita bread or toast. For our Keto Turkish Eggs, feel free to enjoy these with keto-friendly bread or eat on its' own. It's so flavorful that either choice is great!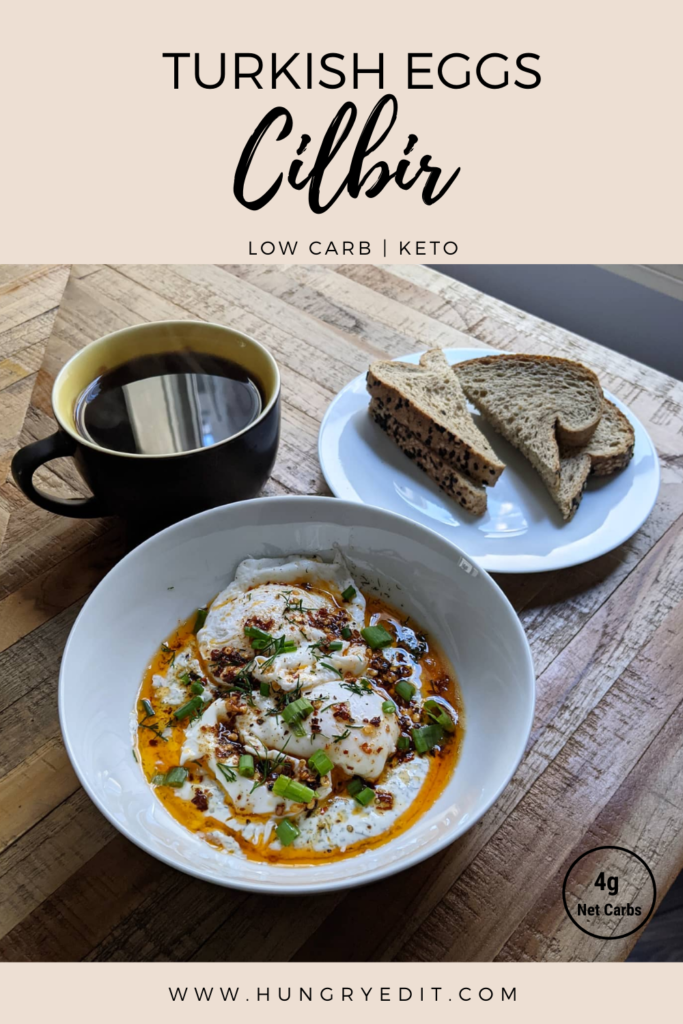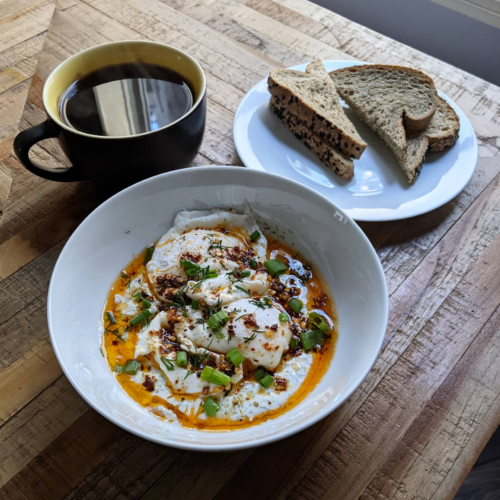 Turkish Eggs (Cilbir)
Ingredients
3/4

Cup

Full-Fat Plain Greek Yogurt

Room Temperature.

2

Large Eggs

1/2

Tbsp

Dried Dill

Or 2-3 tbsp of chopped fresh dill. To Taste.

1

Garlic Clove

Minced.

1/4

Tsp

Salt

2

Tbsp

Butter

1

Tbsp

Olive Oil

1

Tsp

Red Pepper Flakes

1/8

Tsp

Black Pepper

Chopped Chives or Chopped Parsley

Garnish.

1

Tbsp

Vinager

Optional, to poach eggs.
Instructions
Combine minced garlic, dill and salt to room temperature yogurt. Set aside at room temperature.

Bring a large pot of water to a low boil.

Melt butter in a saucepan over medium heat. Once the butter starts to sizzle and turn brown, add chili flakes and olive oil. Stir until the chili infuse with the butter and oil. Remove from heat and set aside.

Crack eggs into separate bowls.

Once water is boiling, reduce heat to medium-low, pour in vinegar (if using),and create a whirlpool. Gently place the egg into the water.

Cook the eggs for 2.5-3 minutes (soft-poached egg) or 3.5-4 minutes (medium poached egg) and remove with a slotted spoon. Drain on a kitchen paper, then place on top of the yogurt.

Drizzle the melted chili butter on top of the yogurt & egg mixture.

Serve as is or enjoy with keto-friendly toast!
Notes
Nutrition Information (2 Servings): 
337 Calories
4.2g Carbohydrates
0.2g Fiber 
31.6g Fat 
9.7g Protein 
Net Carb: 4 / Serving 
Let us know in the comments below if you've tried these Keto Turkish Eggs! We'd love to hear your thoughts. 
Looking for more Keto Breakfast ideas? Visit our recipe page!