Cabbage rolls are the perfect comfort food! They are a family favorite while using healthy and inexpensive ingredients. Cabbage rolls are very popular in my area which I mentioned in my Ukrainian Sour Cabbage Roll recipe. These Keto Cabbage Rolls use traditional Ukrainian and Russian ingredients except for the rice which we replace with cauliflower rice (trust me, you won't notice the difference!). I also prefer to cook my cabbage rolls in the instant pot as they turn out perfect with less cooking time. Below I will also include the oven method as well.
Cabbage rolls are delicious but they take some time to make. This means that they are usually served during the holiday season or for special occasions. Luckily, cabbage rolls freeze really well! Once they are at room temperature you can divide them, add sauce to the container and freeze. You can reheat them in the oven or on a skillet with a bit of oil or butter.
Filling:
For the filling, we pre-cook the ingredients (except for the meat) in a skillet to allow the flavors to come together. You'll want to use the smallest size grater for your onion and carrot. For the cauliflower rice, I always prefer to use frozen or pre-packaged cauliflower rice such as the Nature's Earthly Choice Cauliflower Rice. You can find this on Amazon and at most grocery stores including Costco. If you're using the pre-packaged cauliflower rice, you'll want to rinse it before cooking. Once the vegetables are cooked, allow to slightly cool, then add all ingredients into a mixing bowl and combine.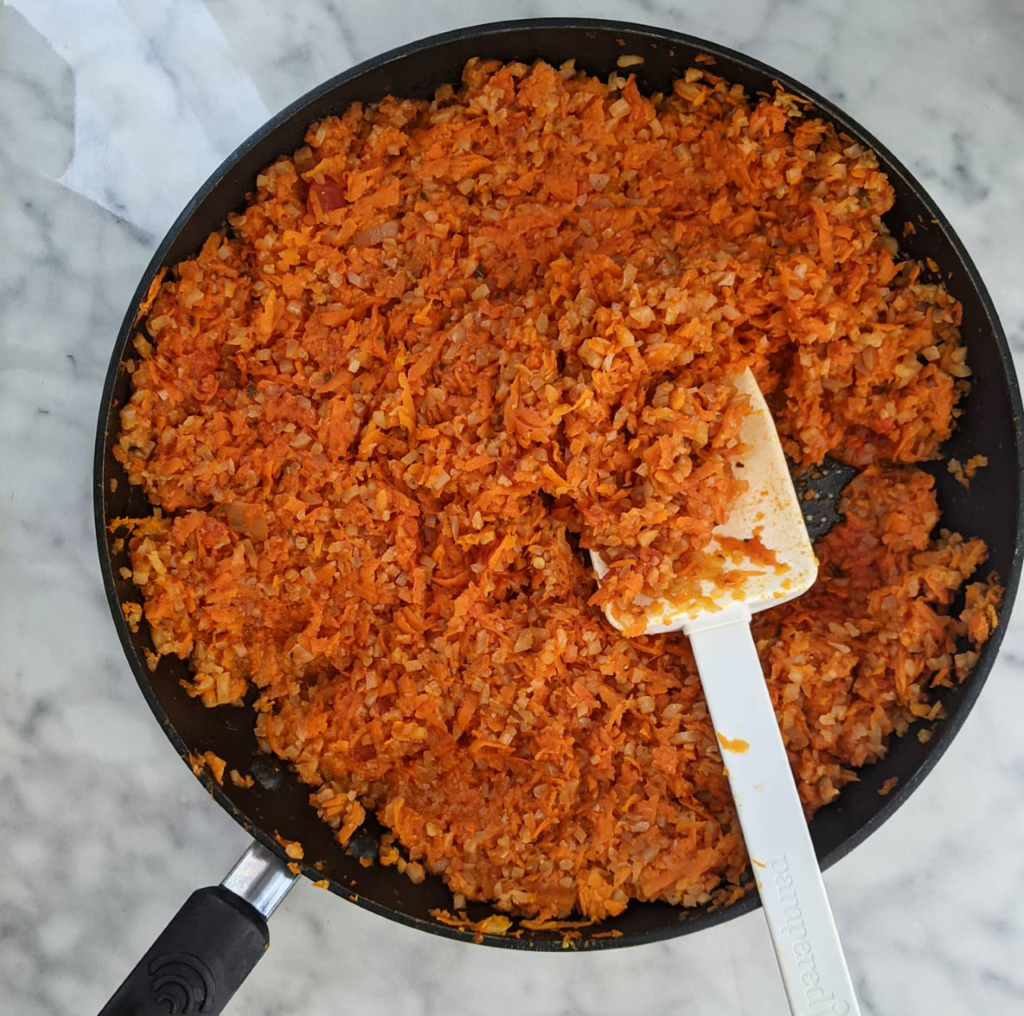 Rolling Technique:
There are two different ways to roll stuffed cabbage depending on the size of the leaf.
Large Leaves: Cut the leaf in half and remove the tough center stem.
Small Leaves: With a knife, slice off the raised center stem of the cabbage leaf. This will flatten the leaf and make it easier to roll.
How to Roll: Once the filling is placed onto the cabbage leaf(about 1 tbsp), tightly roll into a cone. Once rolled, use your thumb to push in the sides (this might take some practice, but don't worry it will work!).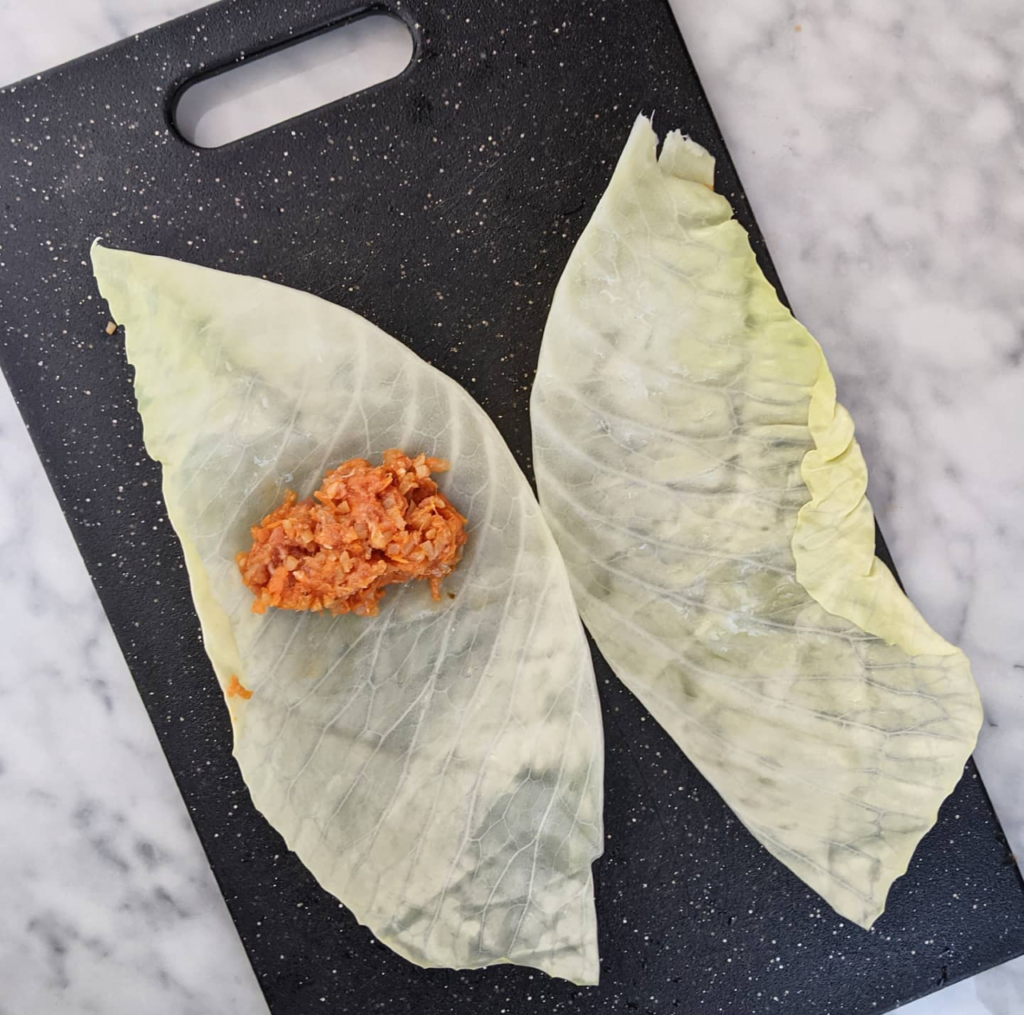 Cooking Method:
For these Keto Cabbage Rolls, we use the instant pot for a faster cooking method. Just like our Ukrainian Sour Cabbage Rolls, you'll want to place the cabbage rolls tightly in the Instant Pot to help secure them. Set the instant pot on high pressure and cook for 20 minutes.
If using a casserole dish or dutch oven, cover and bake at 375°F for 2 hours.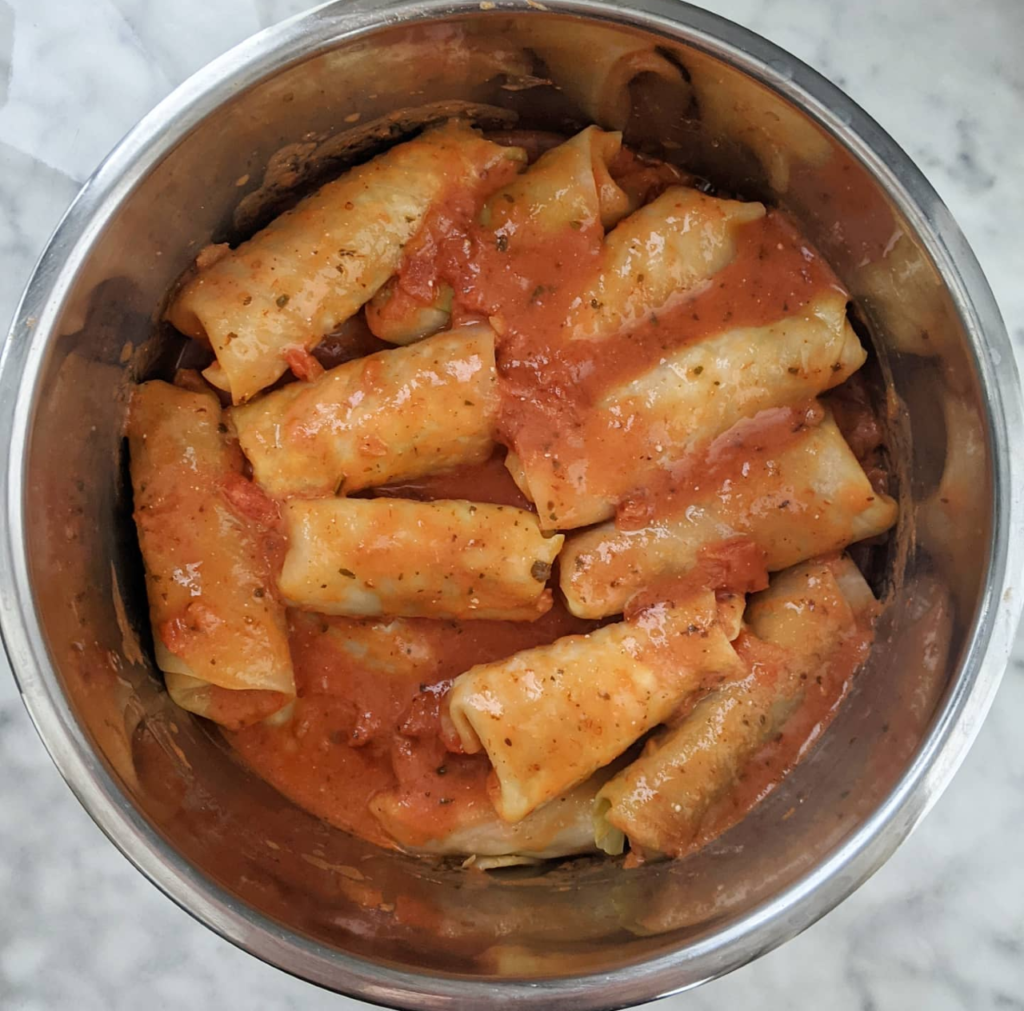 Serving:
These cabbage rolls are best served with sour cream! Eat as a main dish or as an appetizer.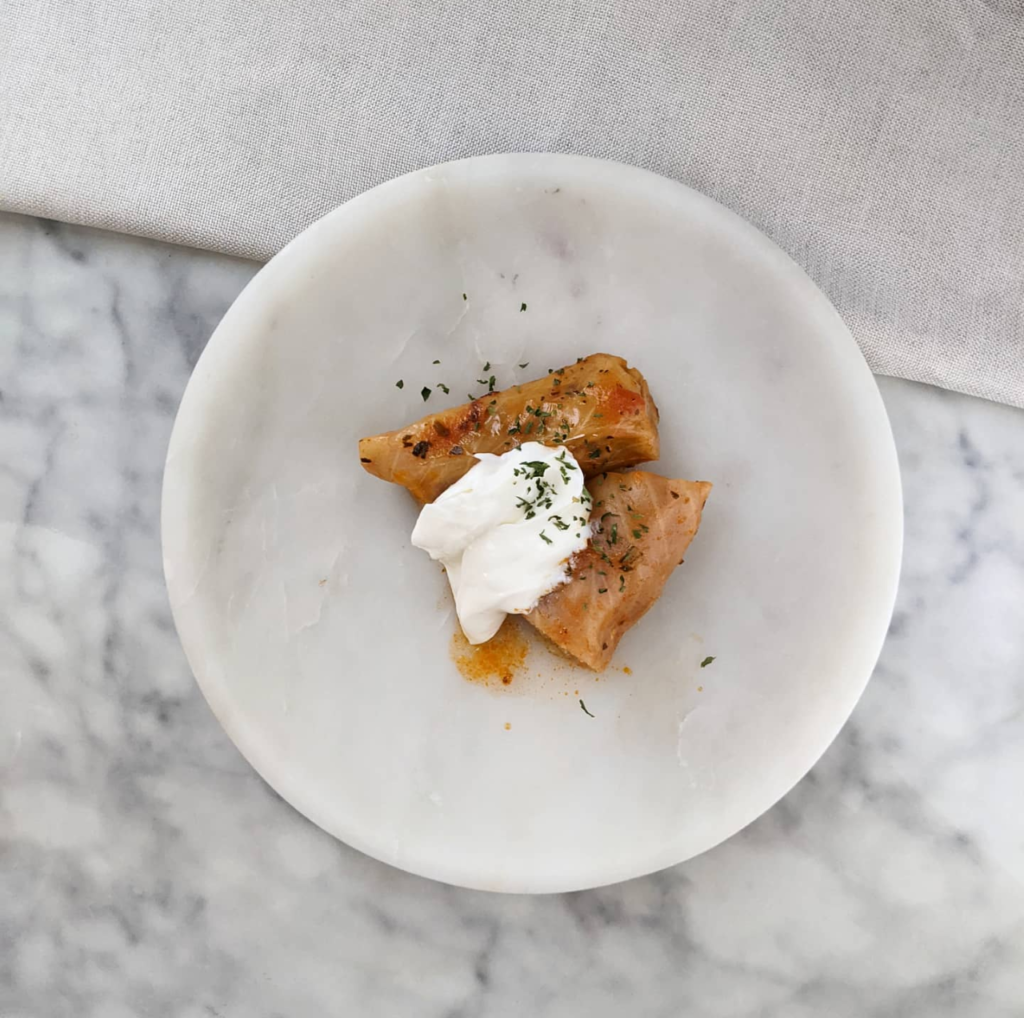 To Freeze:
These are great to make ahead and freeze! Once cooked, allow the cabbage rolls to come to room temperature and divide them into freezer safe containers. To reheat, allow to thaw completely and warm them in a skillet or preheated oven.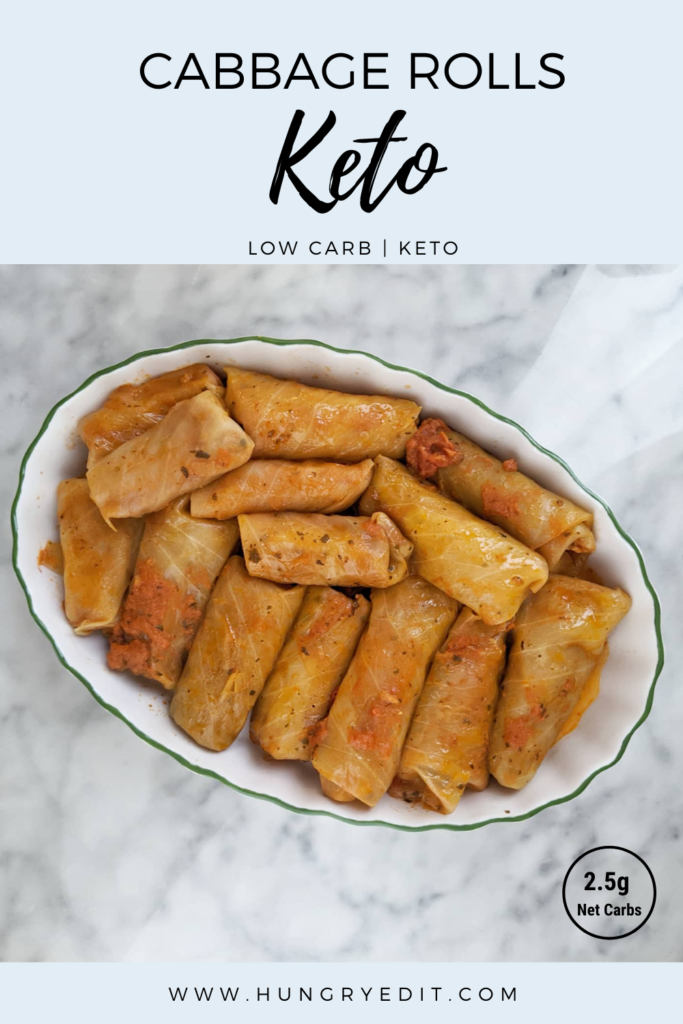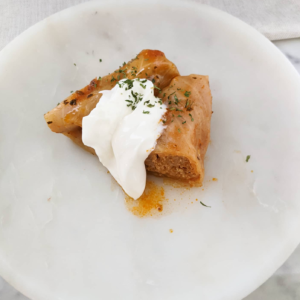 Keto Stuffed Cabbage Rolls (Golubtsi)
Equipment
Instant Pot, Dutch Oven, or Large Casserole Dish
Ingredients
Cabbage Preparation
2

Cabbages (Medium)

Or 1 large cabbage head.

3

tbsp

White Vinegar

Pinch of Salt
Filling
2

lbs

Ground Pork

Optional, 1 lbs ground pork & 1lbs ground beef.

2

cups

Cauliflower Rice

2

tbsp

Butter

2

tbsp

Olive Oil

3

Finely Grated Carrots

Approx. 450-500 grams.

50

grams

Finely Grated Onion

1

cups

Tomato Sauce

Or crushed tomatoes.

2

Eggs

1/2

tsp

Johnny's Chicken & Pork Seasoning

Or equivalent such as Mrs. Dash.

1/2

tsp

Salt

Or to taste.

1/4

tsp

Pepper

Or to taste.
Sauce
3

tbsp

Sour Cream

2

Cups

Tomato Sauce

2

Cups

Reserve Cooking Water from Cabbage
Instructions
Cabbage Preparation
In a large pot, fill the pot with 2/3 of water and boil with 3 tbsp of vinegar and a pinch of salt.

While the water is coming to a boil, remove the core from the cabbage and outer leaves.

Place the whole cabbage into the pot (stem side down) and simmer for about 5 minutes.

Once the cabbage has cooked for 5 minutes, flip it over and cook for another 5 minutes.

While the cabbage is cooking, gently pull the leaves apart slightly so that the cabbage cooks more evenly.

Once the cabbage is done cooking, remove from water and set aside. Keep the pot with water on the stove (we will use the reserved cooking water for making the sauce). While making the cabbage rolls, you might find that you need to re-cook the cabbage leaves that are close to the core. You'll know if they need to be re-cooked if they are tough and hard to roll.
Filling Preparation
While the cabbage is cooking, in a large skillet over medium-high heat add 2 tbsp of olive oil and 2 tbsp of butter to the pan.

Add grated onion and sauté for about 3 minutes. Next add the grated carrot and sauté  for another 5 minutes or until softened.

Add 2 cups of cauliflower rice to the carrot and onion mixture and sauté  for a few minutes.

Finally add 1 cup of tomato sauce to the skillet and cook for about 2-3 minutes.

Once done cooking, remove skillet and allow the filling to slightly cool.

In a large mixing bowl, add ground meat, 2 eggs, 1/2 tsp salt, 1/2 tsp of chicken & pork seasoning, and 1/4 tsp of ground pepper. Mix thoroughly.

Once carrot and onion mixture has slightly cooled, add it to the meat mixture and combine thoroughly.
Making the Stuffed Cabbage
For the large cabbage leaves, cut the leaf down the center and remove the tough stem.

For the smaller leaves, carefully slice off the raised tough surface of the stem. Keeping the cabbage leaf whole.

Depending on the size of your cabbage leaf, place about 1-2 tbsp of the meat mixture onto the leaf.

Roll the cabbage leaf into a cone. Once rolled, use your thumb to push in the sides (this might take some practice, but don't worry it will work!). Alternatively. you can also roll these like a burrito!

Repeat the process until all of the cabbage and filling is used up .

Tightly place cabbage rolls in a large dutch oven or casserole dish.
Making the Sauce
Heat 2 cups of tomato sauce in a large skillet or saucepan over medium heat.

Add 2 cups of reserved cooking water to the sauce. Gently heat for about 2-3 minutes.

Add 3 tbsp of sour cream and stir until combined.
Instant Pot Cooking Method
Place 1/2 cup of sauce on bottom of Instant Pot.

Place the cabbage rolls on the bottom of the instant pot. Once the covered, add some more sauce over the rolls and repeat layering until complete.

Pour remaining sauce over cabbage rolls.

Optional: Place a plate on top of the cabbage rolls to secure them in place. This step is optional but it helps the cabbage rolls to stay together during the cooking process.

Lock the lid in place and select high pressure for 20 minutes. Once done cooking, turn to value to a quick release.

Once done cooking, open the lid and allow the cabbage rolls to cool for 15-20 minutes.

Serve with sour cream and enjoy!
Oven Cooking Method
Arrange cabbage rolls in dutch oven or baking dish and cover with sauce.

Cover with lid or aluminum foil.

Bake in the oven for 2 hours.

Once done cooking, allow the cabbage rolls to cool for 15-20 minutes.

Serve with sour cream and enjoy!
Notes
Nutrition Information (Per Cabbage Roll): 
Makes Approx. 45 Cabbage Rolls
98 Calories
3.9g Carbohydrates
1.4g Fiber
6.4g Fat
6.2g Protein 
Net Carbs: 2.5g / Cabbage Roll 
Nutrition Information (Per Batch):
4390 Calories 
174.8g Carbohydrates
64.9g Fiber
287.4g Fat
279.5g Protein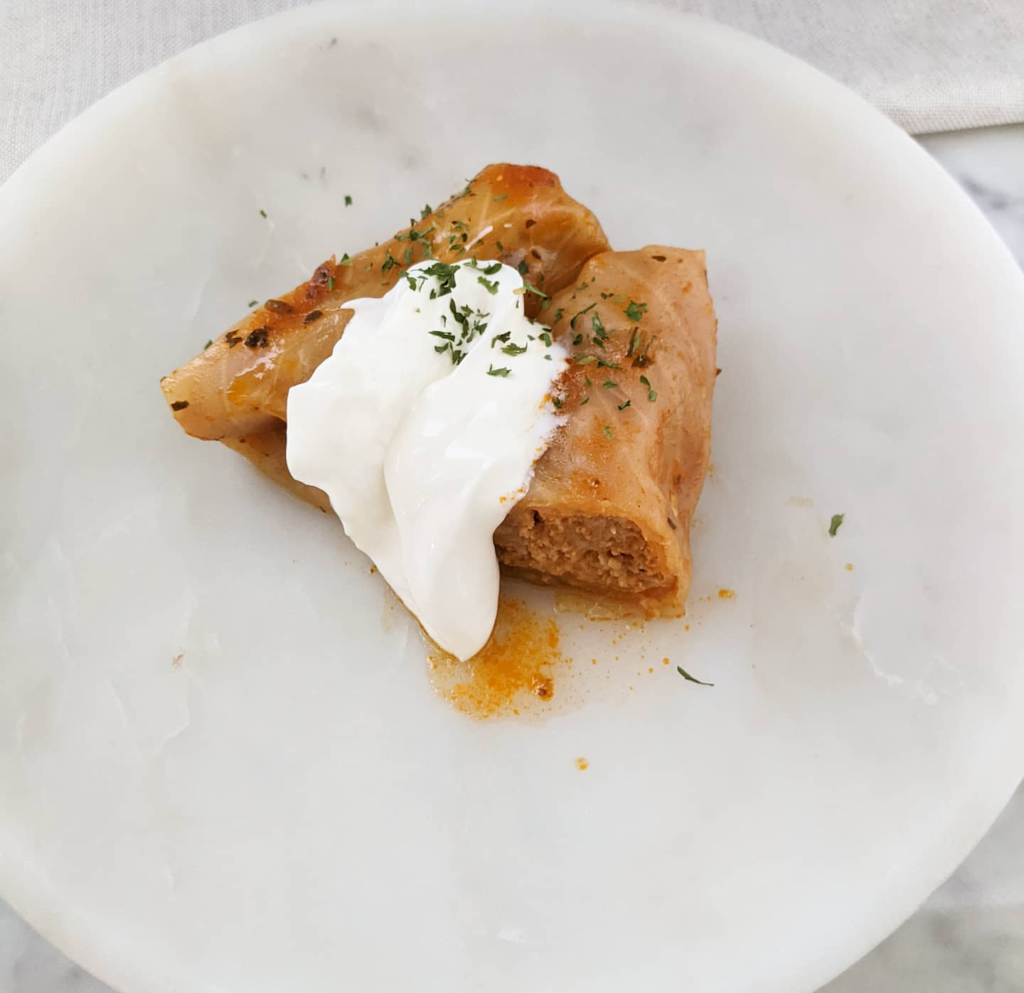 Let us know in the comments below if you've tried these Keto Cabbage Rolls. We'd love to hear your thoughts!