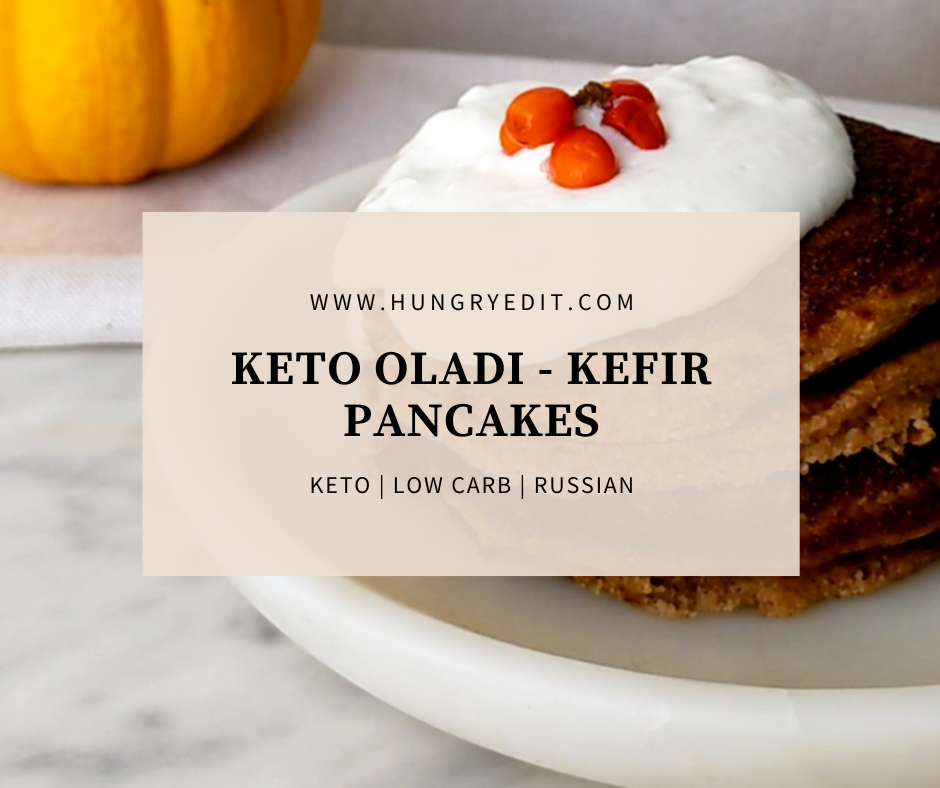 Jump to Recipe
Oladi (Оладики) is Russia's version of buttermilk pancakes. These Keto Russian Kefir Pancakes are gluten-free and slightly less sweet than American pancakes. They are slightly tangy and best served with some sweetened sour cream and fresh berries.
Oladi (Оладики)
Russia is famous for their Blini which is a thin crepe like pancake. Oladi are equally as delicious but are thick and fluffy. For our Keto Russian Kefir Pancakes, we replace regular flour with a mixture of almond flour and coconut flour. Another difference is that these pancakes are fried in oil, as opposed to American pancakes which are usually fried in butter.
Kefir
For a long time, most people in Canada or the US haven't heard of Kefir. However, it has gained a lot of popularity within the past few years. Kefir has become popular due to it's health benefits. It is a fermented yogurt like drink that is filled with probiotics. You can easily find kefir in most grocery stores. Make sure that you buy plain kefir for these kefir pancakes (no added sugars or flavors)! If you don't have access for kefir, you can substitute with buttermilk.
Pumpkin
While pumpkin isn't traditionally used in Oladi, we thought that this would be a nice addition (especially since it's October)! Pumpkin is low in carbs, high in vitamin A, and potassium (important for a keto diet). If you don't want to use pumpkin in your keto kefir pancakes, you can omit it. However, you will likely need to add more kefir to the mixture so that it isn't too dry.
Serving
Unlike traditional American style pancakes, Oladi is best served with sour cream and some fresh berries. We like to sweeten our sour cream with a bit of powdered swerve. The tangy sour cream pairs well with the tanginess of the kefir.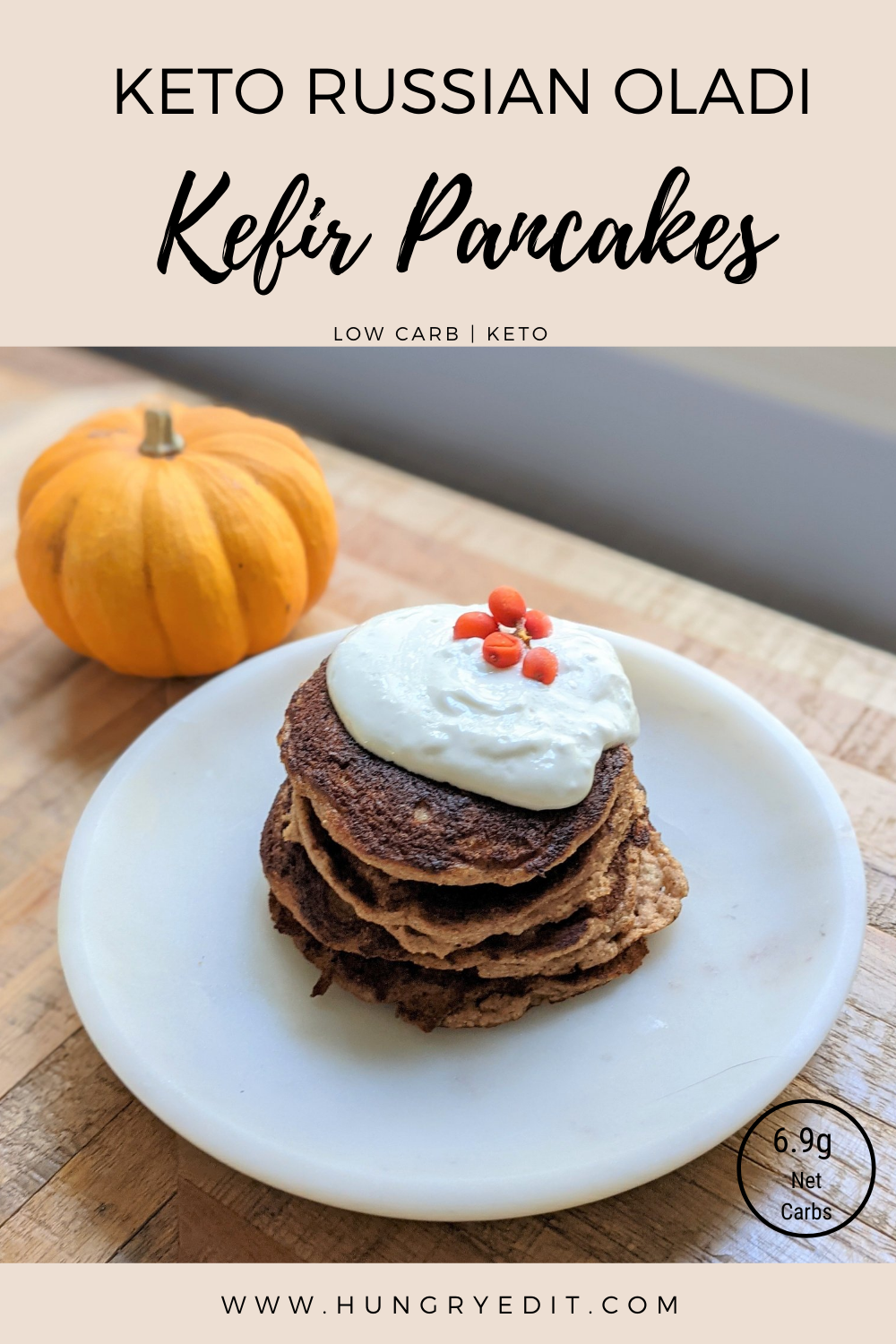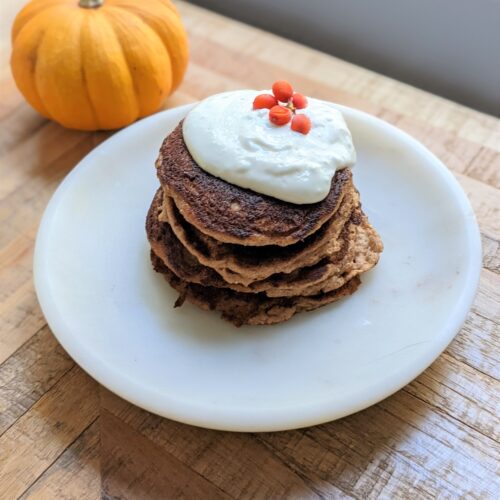 Keto Oladi - Russian Kefir Pumpkin Pancakes
Ingredients
1/2

Cup

Almond Flour

1/4

Cup

Plain Kefir

2

Large Eggs

2

Tbsp

Coconut Flour

2

Tbsp

Pumpkin Purée

1-2

Tbsp

Sweetener

1

Tsp

Baking Soda

1

Tsp

Pumpkin Spice

Optional.

Pinch of Salt

Oil

For Frying.

Sweetened Sour Cream

For Serving.
Instructions
In a large bowl whisk together eggs, plain kefir and pumpkin purée.

In another large bowl, whisk together almond flour, coconut flour, sweetener, salt and pumpkin spice.

Slowly add the wet ingredients to the dry ingredients and mix until thoroughly combined (the batter will be thick!).

Let the batter sit for 10-15 minutes to thicken.

Heat a non-stick pan over medium heat and oil.

Carefully ladle the batter into the pan and cook for about 4-5 minutes until you can easily flip the pancake.

Cook the second side for 1-2 minutes.

Serve with sweetened sour cream.
Notes
Nutrition Information (2 Servings):
278 Calories 
12.4 Carbohydrates 
5.5g Fiber
20g Fat
14.7g Protein 
Net Carbs: 6.9g / Serving 
*Nutrition information does not include oil or sour cream for serving* 
Let us know in the comments below if you've tried our Keto Russian Kefir Pancakes! If you're looking for more keto recipes, visit our recipe page.