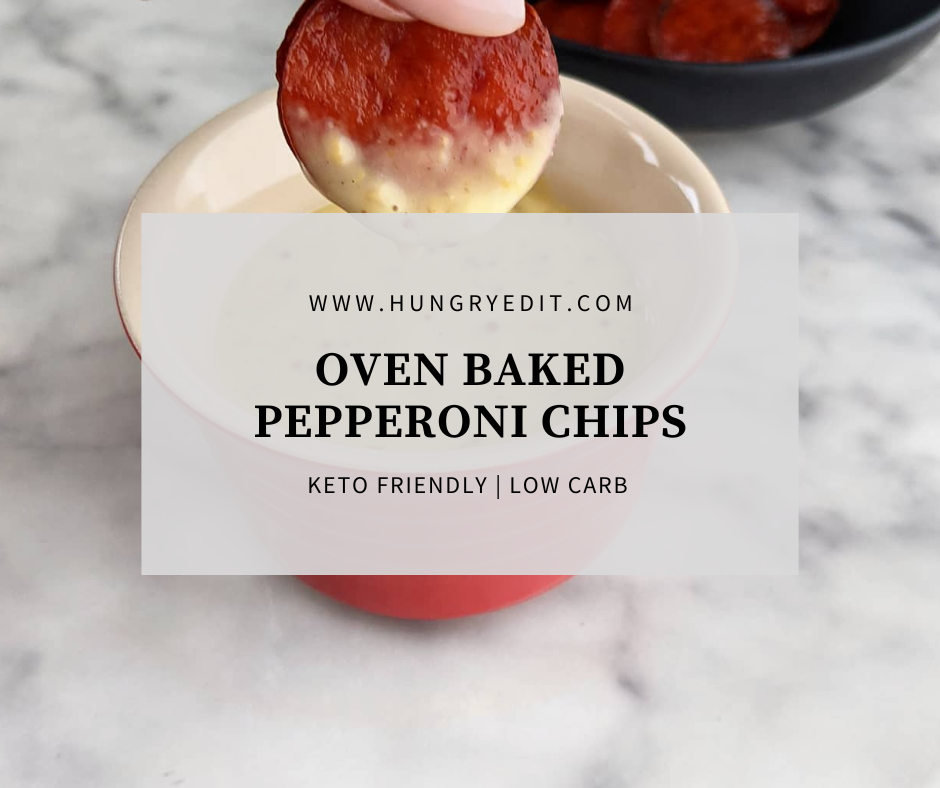 Jump to Recipe
These Keto Pepperoni Chips are so easy to make! They're the perfect snack that's great for entertaining or Game Day. The best part is that these take less than 15 minutes to make. We serve our crispy pepperoni chips with homemade keto honey mustard! It's the perfect compliment to these savory chips.
The Method
To get crispy pepperoni slices, you'll want to place the pepperoni on a Oven-safe Cooling Rack with a baking tray underneath to catch the grease. This will allow the pepperoni slices to crisp up evenly on all sides. Bake at 400° for 7-9 minutes until crispy. Note that they will crisp up a little bit more as they cool.
Keto "Honey" Mustard
Feel free to use any dip of your choice for the pepperoni chips. But for us, the perfect pairing to these savory Keto Pepperoni Chips is honey mustard! We got this idea from one of our favorite local breweries. Of course honey mustard isn't keto, but we can easily make an identical tasting replacement.
For the sauce, our preferred way is to use a keto honey substitute, like the Nature's Hollow Sugar-Free Honey Substitute. If you don't have access to a sugar-free honey replacement, you can easily add any sweetener to the sauce such as granulated stevia, erythritol, etc. Add all ingredients to a bowl and mix thoroughly with a fork or whisk. And that's it!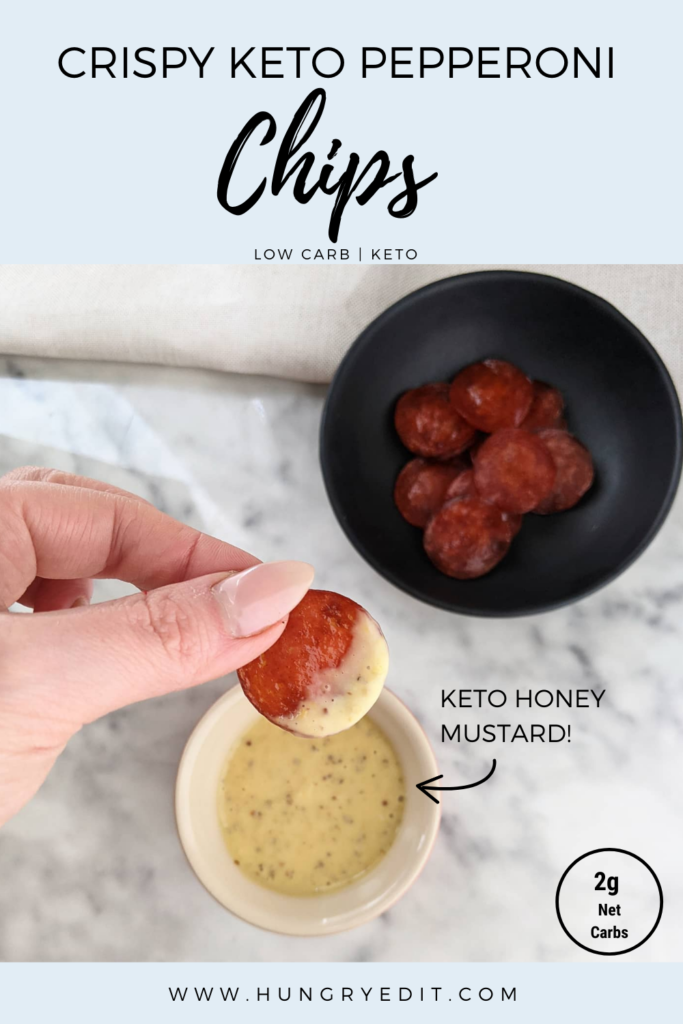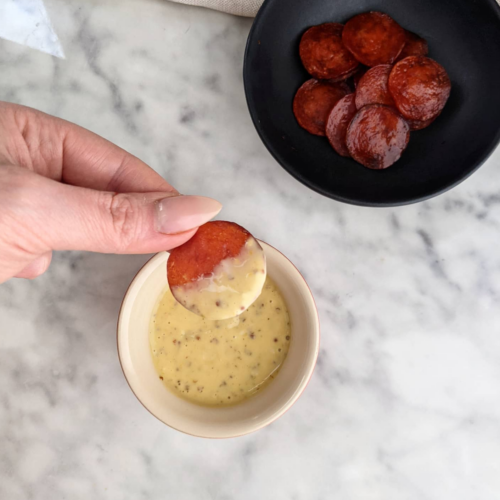 Keto Pepperoni Chips with Keto Honey Mustard Dip
Equipment
Oven-safe Cooling Rack 

Baking Sheet
Ingredients
Keto Honey Mustard
2

tbsp

Dijon Mustard

2

tbsp

Mayo

1

tsp

Yellow Mustard

1

tsp

Apple Cider Vinegar

2

tbsp

Keto Honey (Nature's Hollow Honey Substitute) or Granulated Stevia, Erythritol etc.
Instructions
Arrange pepperoni slices on wire rack with a baking sheet below to catch the grease.

Bake for 7-9 minutes until crispy (they will crisp up more once they cool).

While the pepperoni slices are baking, prepare the sauce.

Add all ingredients together into a bowl and mix with a fork or whisk until combined.
Notes
Nutrition Information (4 Servings): 
101 Calories 
7g Carbs (Includes sugar alcohols) 
7.3g Fat 
0.0g Fiber
5g Sugar Alcohols 
4g Protein
Net Carbs: 2g / Serving (4 Servings) 
Nutrition Information Per Serving (Pepperoni Slices): 
60 Calories (10 slices per serving) 
1.5g Carbs (This will depend on the brand/type of pepperoni you buy)
0g Fiber
4.5g Fat 
3.5g Protein 
Nutrition Information Per Serving (Keto Honey Mustard): 1.5-2 tbsp / Serving 
48 Calories 
5.5g Carbs
0g Fiber 
2.8g Fat 
5g Sugar Alcohols 
0.5g Protein 
Net Carbs: 0.5g / Serving 
Let us know in the comments if you've tried these Keto Pepperoni Chips!
If you're looking for more keto & low carb recipes, visit our recipe page.