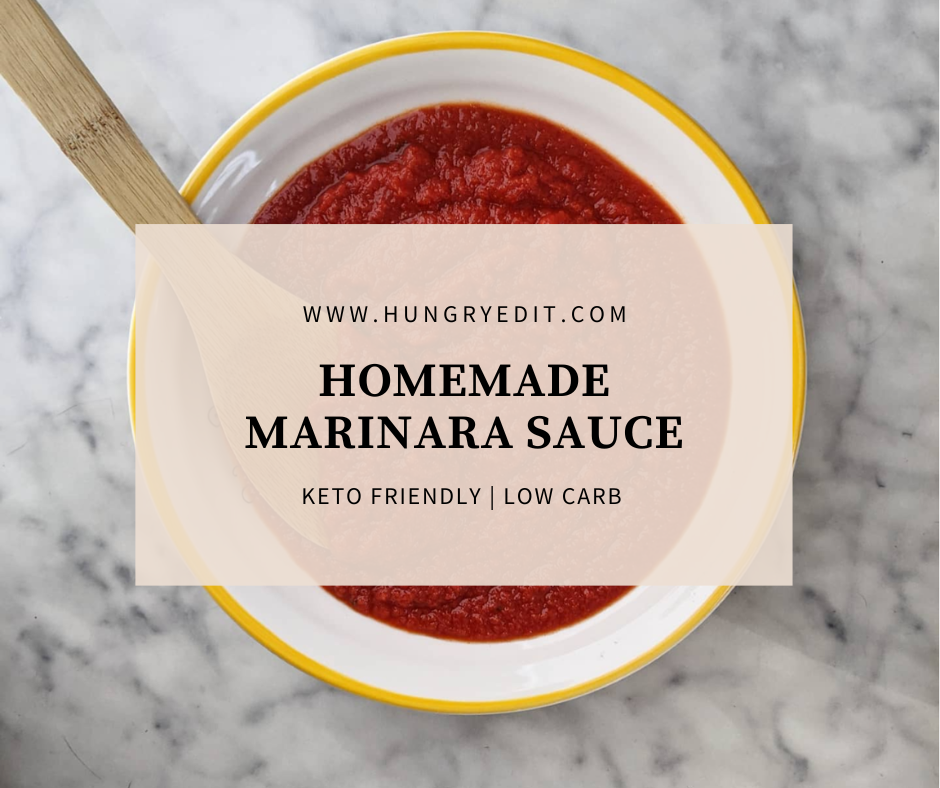 Jump to Recipe
The key to a classic homemade marinara sauce is simplicity and time. You'll want to find the best quality of canned tomatoes with pure ingredients and a simple ingredient list. Homemade marinara sauce (sugo al pomodoro) is naturally low in carbs. Our Homemade Keto Marinara Sauce is mostly hands-off and only requires a few hours to sit on the stove.
Keto Diet and Tomato Sauce
A lot of store bought canned tomato sauces contain extra, unnecessary ingredients and have a ton of carbs. There are a few keto-friendly pre made tomato sauces that you can buy, but they can become quite pricey. We highly recommend making your own marinara sauce. Its very easy to make! You can make a huge batch on a Sunday afternoon and freeze the extra portions.
Canned Tomatoes
The key to a perfect keto homemade marinara sauce is good quality canned tomatoes. It's best to look for canned tomatoes from Italy with minimal ingredients. The type of tomato should have the right balance between sweetness and acidity. The best canned tomatoes to use are San Marzano Tomatoes as they have a strong tomato flavor and the right balance. This brand comes with basil already inside the can. If your canned tomatoes do not come with basil, you can add your own fresh basil to the sauce (not dried).
For our sauce, we use a similar brand of canned tomatoes. We are lucky enough to live with a speciality Italian Market that produces their own canned tomatoes in Italy. I'm not sure if you can get the brand outside of Edmonton or Calgary, but the brand is La Pavoncella Italian Peeled Tomatoes (grown and packed near naples for Italian Center Shop Ltd).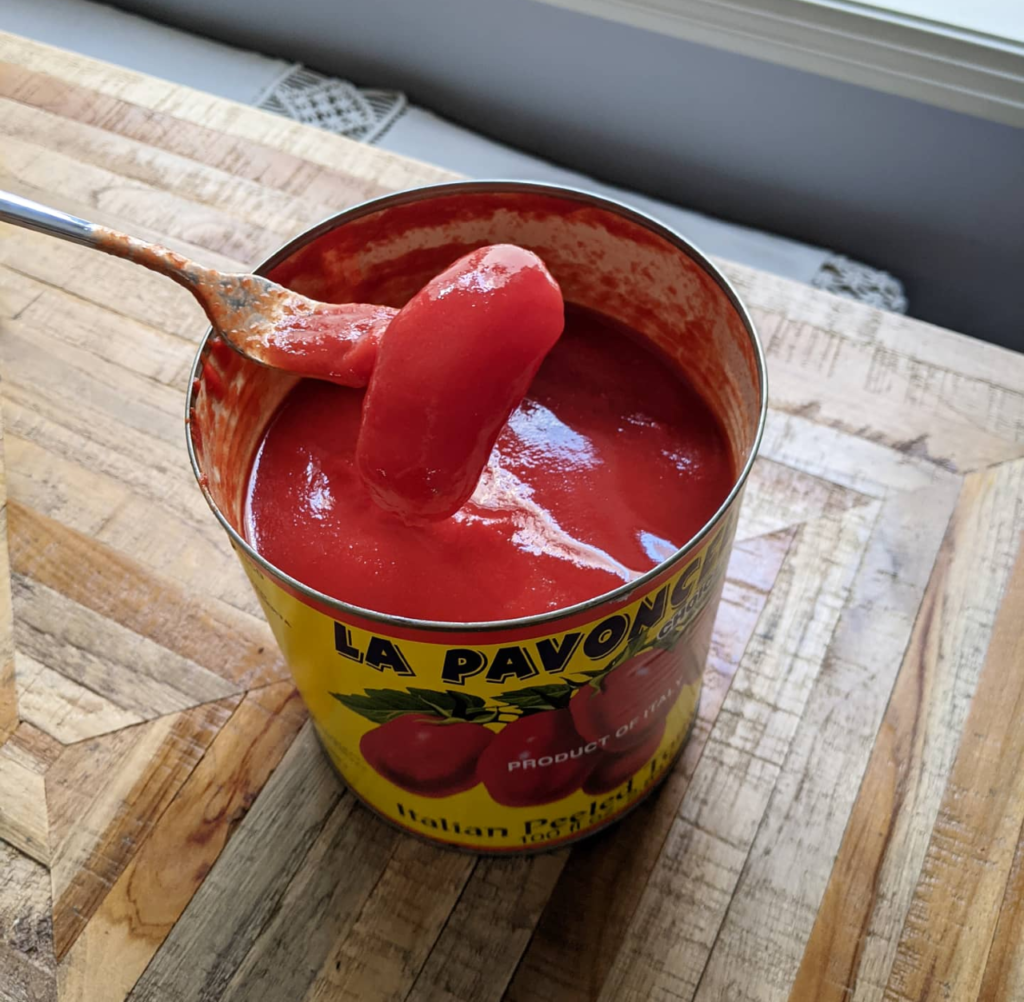 The Method
To start, place the canned tomatoes in a blender and purée (if the tomatoes are whole and not crushed). Add the puréed tomatoes to your large pot and bring to a boil with olive oil and salt. I always start with about 1 tsp of salt and adjust throughout the cooking process as needed. I typically use 1 tbsp of salt for the batch. Once the sauce has come to a boil, reduce the heat and partially cover. Simmer the sauce for about 4 hours until it has thickened and reduced.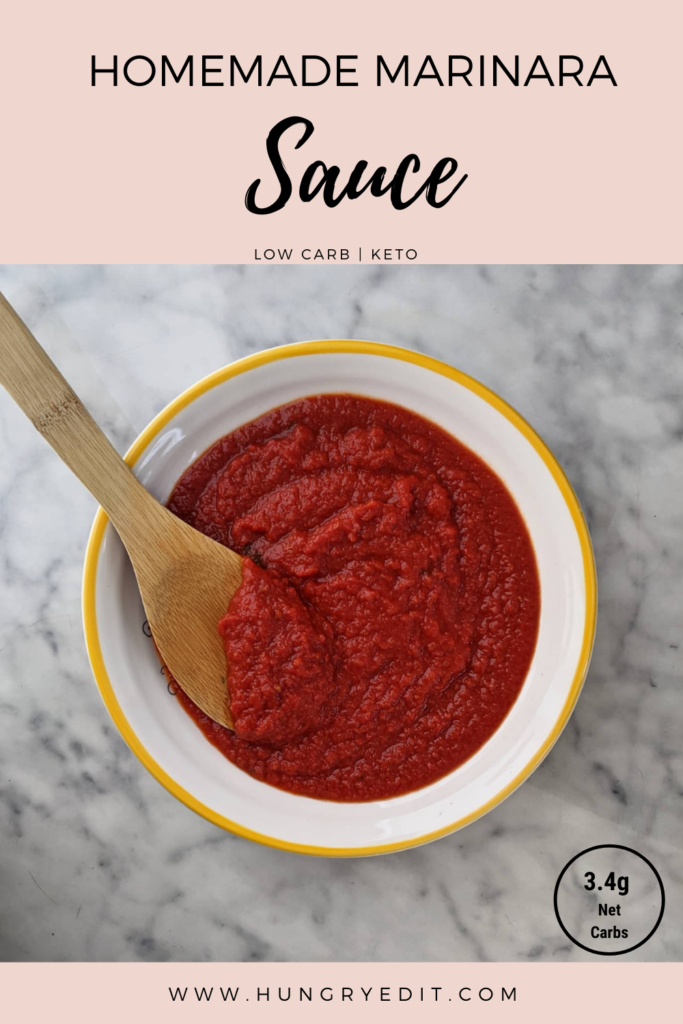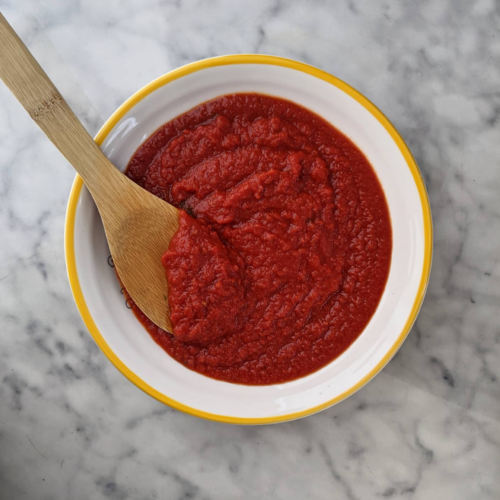 Homemade Classic Tomato Sauce
Equipment
4 QT Pot

Large Wooden Spoon
Ingredients
4

28 oz - 796 ml

La Pavoncella Italian Peeled Tomato's.

Can use any good quality canned tomatoes. The sauce in the can should be thick and not watery.

1/4

Cup

Olive Oil.

1

tbsp

Salt.

Start with 1 tsp and adjust to taste as needed. Can add more than 1 tbsp total if needed.

3-4

Garlic Cloves.

Peeled, Whole.

Fresh Basil Leaves.

Optional, to Taste.
Instructions
Start by blending the canned tomatoes if the tomatoes are whole.

Add the puréed tomatoes to a large pot along with the olive oil, salt, whole garlic cloves and basil (if using) .

Over high heat bring the sauce to a boil.

Once the sauce is boiling, reduce the heat to medium-low, and partially cover with a lid.

Allow the sauce to simmer and reduce for about 4 hours.
Notes
Nutrition Information (24 Servings 1/2 Cup):
49 Calories
4.5g Carbohydrates. 
1.1g Fiber.
2.5g Fat. 
2.2g Protein. 
Net Carbs: 3.4g / Serving   
*Nutrition information will vary depending on brand of canned tomatoes and how much you reduce the sauce* 
If you're looking to use fresh tomatoes instead of canned, see our recipe for Homemade Tomato Sauce with Garden Tomatoes!