I'll start this off by noting that this recipe is a hybrid between a Kimchi Jjigae and Korean Army Stew. In this recipe, we use more kimchi than what is normally used in the Army Stew. The amount of kimchi used, is similar to what you'd see in a kimchi jjigae. This makes the stew bursting with flavor and full of nutrition (kimchi is loaded with probiotics)! Kimchi keeps the carb content low while adding more substance to the stew.
What is Jjigae?
Jjigae is a Korean stew or soup that is made with meat, seafood and vegetables. It is seasoned with gochujang, which is a Korean red pepper paste. This paste can easily be found online or at your local Asian supermarket such as H-Mart.
Low Carb Swaps
In this recipe we've provided options for low carb alternatives. For example, instead of using ramen, you can use Konjac Noodles which are keto friendly. If you don't want to use noodles, you can use cauliflower rice as a low carb option for rice. Alternatively, you can go without and enjoy this as a soup on it's own!
Can I Make Low Carb Korean Budae Jjigae Keto?
While we've already provided low carb alternatives to this dish, there are some ways we can make this dish even lower in carbs. If you're aiming to fit this within the keto diet, I suggest leaving out the Mirin. Mirin is a rice wine that adds to the overall flavor of the dish but it is higher in carbs with about 14g of carbs per 2 tbsp.
The main flavor of this dish comes from the Korean red pepper paste, gochujang. Depending on which brand you buy, the carb content can range from 12-20g / 2 tbsp. To cut down on the carbs, you can try making your own Keto Red Pepper Paste. There are a few examples that come up with a quick google search, but this one from Simply By Elle has good reviews!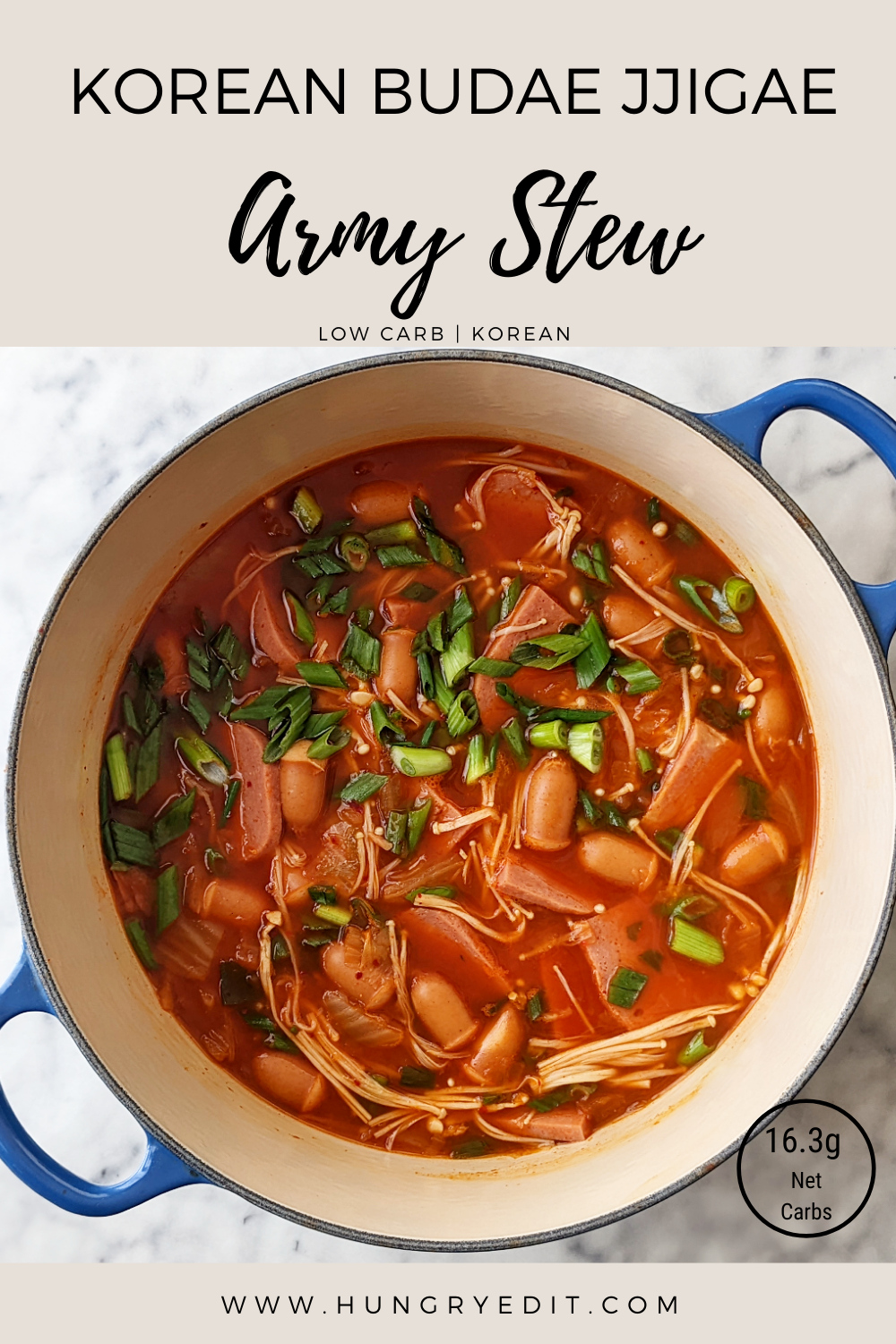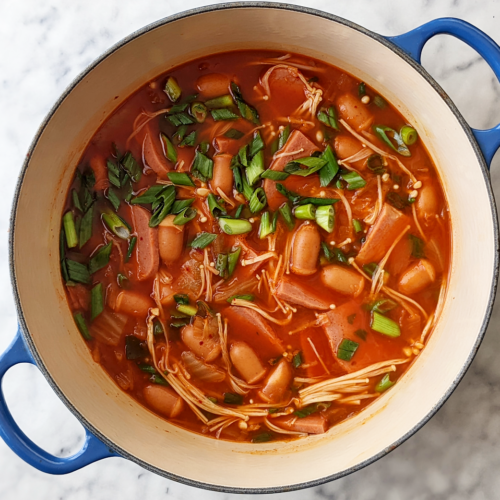 Low Carb Korean Budae Jjigae (Army Stew)
Ingredients
4

Cups

Chicken Stock, Vegtable Stock or Water

2

Cups

Kimchi

Cut Into Bite Size Pieces.

1

Can

Spam

340g. Thinly Sliced.

120

Grams

European Cocktail Sausages

Leave Whole or Cut Into Bite Size Pieces.

1/2

Cup

Extra-Firm Tofu

Optional.

100

Grams

Enoki Mushrooms

Base Stem Removed, Gently Washed in Cold Water.

2

Green Onions

1

Tbsp

Dashi Concentrate

Optional, but recommended.

Konjac Noodles or Cauliflower Rice

Optional.
Jjigae base
2

Tbsp

Korean Gochujang

Red Pepper Paste.

1

Tbsp

Soy Sauce

1

Garlic Clove

Minced.

2

Tbsp

Mirin

Optional, but recommended.

1/2

Tsp

Sweetener

Granulated Stevia or Equivalent.
Instructions
Mix together all ingredients listed for the jjigae base and set aside.

In a large pot over medium heat, add the kimchi (cut into bite size pieces) and jjigae base. Sauté for about 5 minutes.

Add your stock or water to the pot and bring to a boil. Here you can add the dashi concentrate if using.

Once boiling, add your sausages, spam and tofu (optional) to the pot and simmer for 8-10 minutes. Here you can add your konjac noodles if using.

Remove from heat. Add the chopped green onion and enoki mushrooms to the pot.

Serve on its own or with cauliflower rice.
Notes
Nutrition Information (4 Servings) 
427 Calories 
21.7g Carbohydrates
5.4g Fiber
31.3g Fat 
16.5g Protein 
Net Carbs: 16.3g / Serving 
*Tofu, konjac noodle and cauliflower rice are not included in the nutritional information. 
Carb content will vary depending on which brand of red pepper paste you use.
Let us know in the comments below if you've tried our Low Carb Korean Budae Jjigae. If you're looking for more low carb or keto recipes, visit our recipe page!