Pastelón is a Puerto Rican casserole style lasagna with plantains! Plantains are higher in carbohydrates, so for our Low Carb Pastelón we use half the amount plantains and substitute with sliced zucchini. This is the perfect meal for a Sunday family dinner and even makes great leftovers. Although this isn't a keto recipe, low carb recipes are a great way to indulge in our favorite recipes without going completely off plan. Low carb meals are also great if you're carb cycling or are slowly starting off with a low carb diet.
Plantains
Plantains look similar to bananas but they are more like a vegetable. They are strachier and are a great replacement for potatoes. Plantains are a great source of potassium, which is great when you're transitioning to a keto or low carb diet. However, just keep in mind that plantains are still high in carbs. Infact 1 plantain is about 53 grams of net carbs.
Not to worry though! For this entire casserole we only use 2 plantains. While this doesn't make the dish keto, it is still relatively low in carbs. For the Pastelón, look for ripe plantains with a few black spots.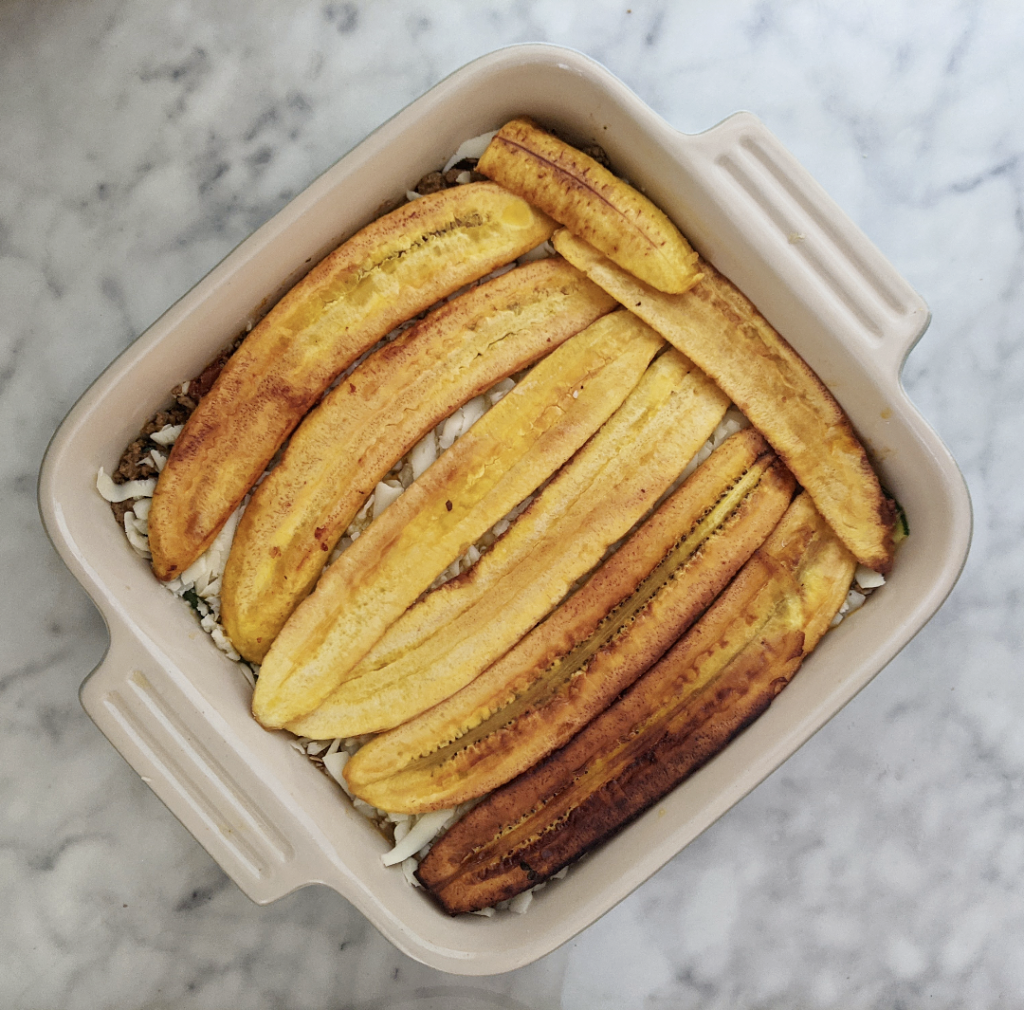 Zucchini
Zucchinis are commonly used in low carb lasagna recipes. They are a great alternative because they hold up the casserole and have a mild flavor. Zucchini's hold a lot of moisture, so we always recommend baking the zucchini slices prior to assembling the "lasagna". These are great for a low carb diet because they are only 2 net carbs per 100 grams. They are also a great source for Vitamin A and Vitamin C.
Sofrito
Sofrito is a cooking base made of culantro (not a typo!), onions, garlic and peppers. The mixture is blended together with a food processor or blender. Culantro can be found at most Hispanic grocery stores.
Here in Canada, it is very hard to find culantro. So for our sofrito I I use a blend of cilantro and parsley. Not authentic, but the flavor is great! You can also add capers or olives to your sofrito.
Make a big batch of sofrito to use in the pastelón and freeze the remainder. Tip! Freeze them into ice cube trays to have portioned serving sizes.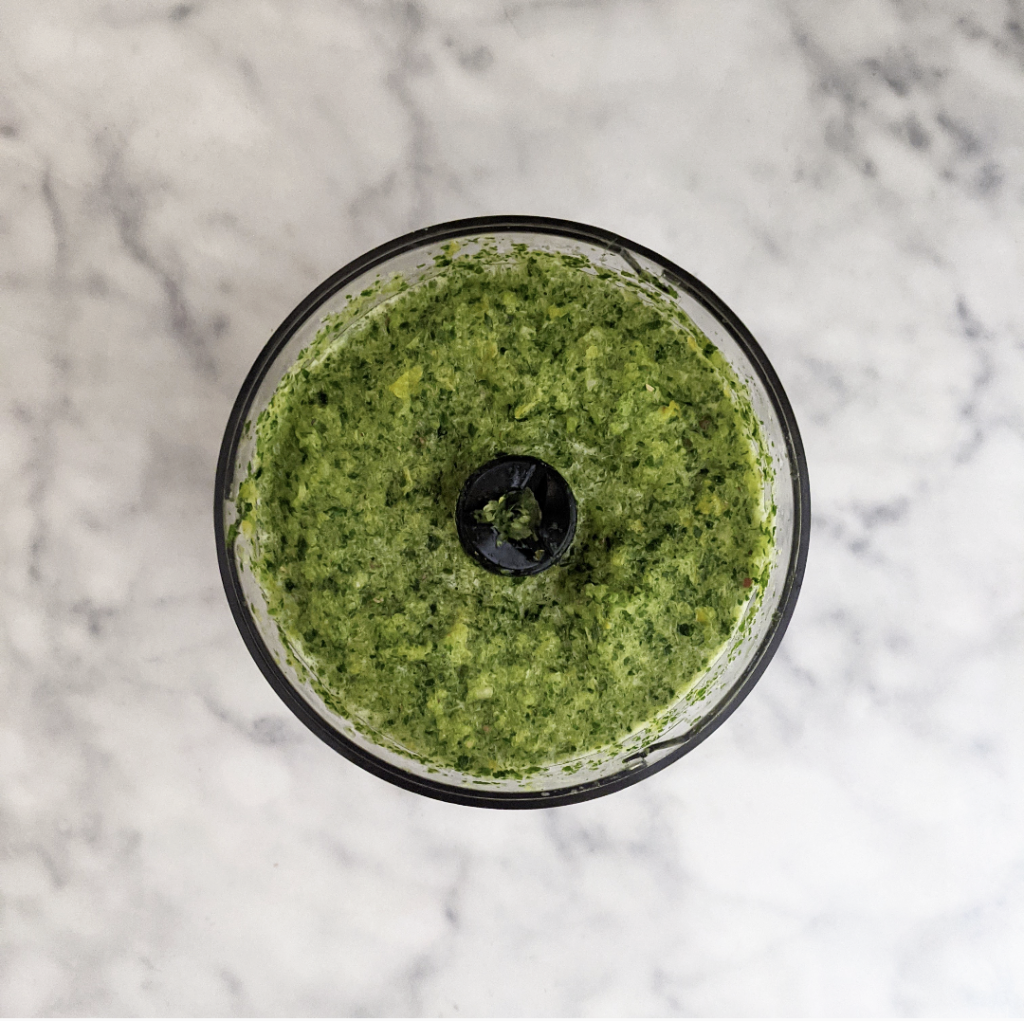 The Cheese Debate
Everyone's pastelón is different. Some people swear that the authentic version doesn't have cheese, while some people cannot eat pastelón without it! We personally love the cheese. We use mozzarella, but feel free to use cheddar or monterey jack.
What is Adobo Seasoning?
Adobo seasoning is used in a lot of Puerto Rican/Hispanic dishes. It is a mix of dried garlic, oregano, black pepper and turmeric. You can find this online or at Latin markets.
Assembly
For our Low Carb Pastelón, we first layer the cooked and dried zucchini slices in a casserole dish. Then we top it with half of the cooked beef mixture, followed with half of the scrambled egg and half of the cheese. We then layer the fried plantain slices, the remaining beef mixture, scrambled egg and final layer of cheese. I believe that our version has less layers than the original, but this helps us lower the carb content for our Low Carb Pastelón.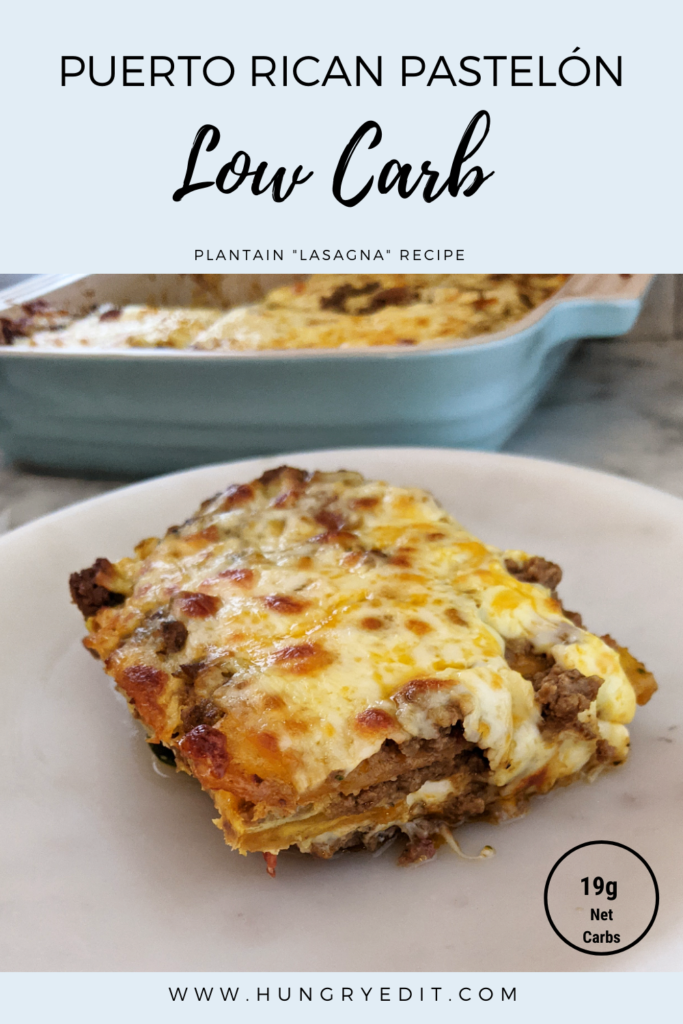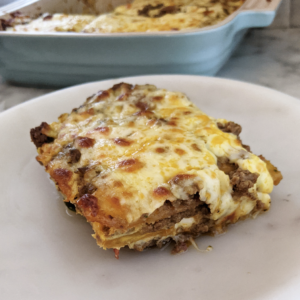 Low Carb Pastelón (Puerto Rican Plantain "Lasagna")
Ingredients
Pastelón
1

Lb

Regular Ground Beef

2

Ripe Plantains

Approx. 300 grams.

1-2

Zucchini

Approx. 400 grams.

2

Large Eggs

Whisked.

250

Grams

Grated Cheese

Mozzarella, Cheddar or Monterey Jack,

1

Cup

Diced Tomatoes

Or low carb tomato sauce.

2-4

Tbsp

Sofrito

To Taste.

1-2

Tbsp

Tomato Paste

Optional, but recommended if using fresh diced tomatoes.

1/2

Beef Bouillon

I use 1 tsp Better than Bouillon. Dissolve bouillon in a bit of hot water.

1/3

Cup

Canola Oil

For frying the plantains.

3

Tbsp

Canola Oil

Divided.

1-2

Tsp

Adobo Seasoning

Salt

To Taste.

Pepper

To Taste.
Sofrito
1

Handful of Cilantro

Approx. 25 grams.

1

Handful of Culantro

Approx. 25 grams. Note: If you cannot find this, I've substituted this with fresh flat leaf parsley. Different flavor, but it works!

1/2

Red Onion

Approx. 50 grams.

4

Garlic Cloves

1

Red Pepper

1

Green Pepper

1

Tsp

Dried Oregano

1/2

Tsp

Cumin

1/4

Tsp

Salt
Instructions
Preheat oven to 400°F; then reduce to 350°F (after zucchini is cooked).

Prepare the sofrito by combining all ingredients (roughly chopped) into a food processor. Pulse until combined. Set aside.

Slice the zucchini lengthwise so that they are 1/2" thick.

Place the sliced zucchini on a lined baking sheet, brush with 1 tbsp of olive oil and season with salt and pepper.

Bake the sliced zucchini in a preheated oven for 20 minutes.

Once the zucchini is done cooking, transfer to a paper towel to remove the excess moisture. Reduce the oven temperature to 350°F.

Meanwhile, prepare the filling.

Heat 2 tbsp of canola oil in a large pan over medium-high heat. Add 2-4 tablespoons of the sofrito (to taste) and cook for 1-2 minutes until fragrant.

Add the ground beef and cook until lightly browned. Add adobo seasoning and continue to cook until fully browned.

Add dissolved bouillon cube to the beef and combine.

Stir in diced tomatoes (or low carb tomato sauce).

Add tomato paste (optional, but recommended if uses fresh diced tomatoes).

Reduce heat to medium and let simmer for approx. 10 minutes, or until most of the liquid is reduced.

Meanwhile, prepare the plantains.

Heat 1/3 cup of canola oil in pan over medium-high heat.

Peel the plantains and slice lengthwise. You should get about 3-4 slices per plantain.

Once the oil is hot, fry the plantains in batches until both sides are golden brown.

Transfer to a paper towel.

Assemble the Pastelón

Layer the cooked zucchini on the bottom of the baking dish.

Top with half of the meat mixture and then half of the whisked egg mixture.

Add half of the grated cheese.

Assemble the fried plantains on top of the mixture.

Finish off the Pastelón with the remaining ground beef mixture and whisked egg (final layer of mozzarella will be added later).

Cover with aluminum foil and bake for 25 minutes.

After 25 minutes, remove the aluminum foil and add the final layer of mozzarella cheese.

Bake uncovered for 10 minutes. Optional, broil at the last few minutes to brown the cheese.

Once the Pastelón is done cooking, remove from oven and let it rest for 15 minutes.
Notes
Nutrition Information (6 Servings):
432 Calories
21.4g Carbohydrates 
2.4g Fiber
27.3g Fat
26.4g Protein 
Net Carbs: 19g Net Carbs / Serving 
Let us know how you like your pastelón in the comments below! Don't forget to share and write a comment if you try this recipe. If you're looking for more low carb recipes, visit our recipe page.