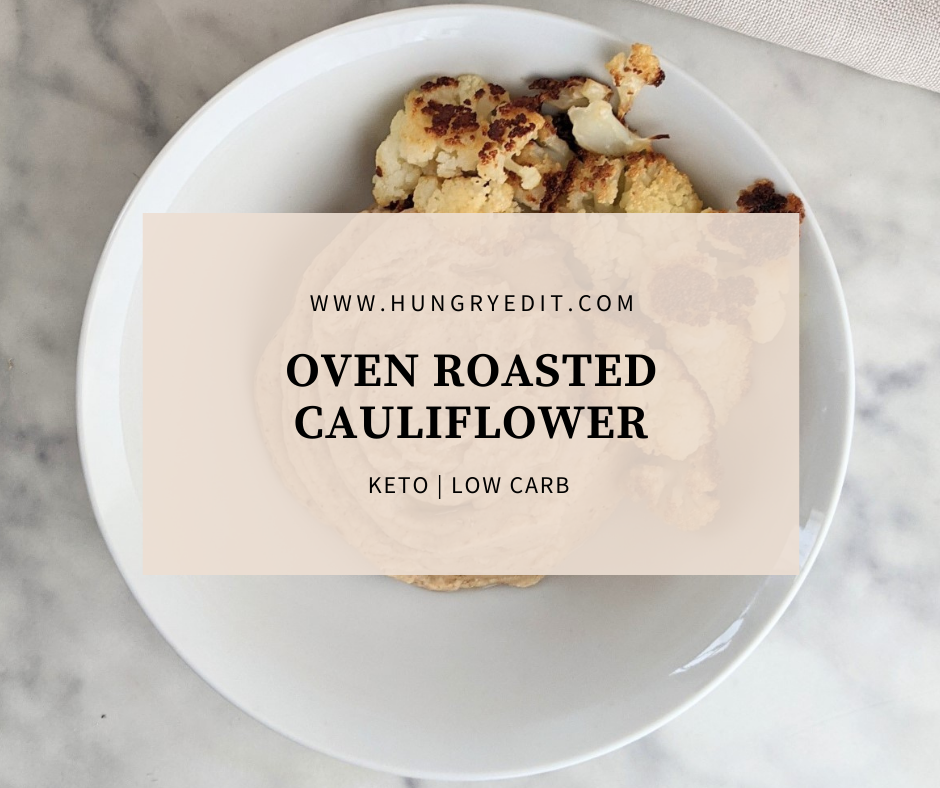 Jump to Recipe
I don't want to be dramatic, but this Oven Roasted Cauliflower will change your life! This is my new favorite way to enjoy cauliflower. In this recipe we leave some bite sized cauliflower florets and purée the rest for a unique twist on cauliflower mash.
The Method
Preheat your oven to 450°F. While the oven is preheating wash and prepare your cauliflower. Cut the cauliflower in half and remove the core. To cut the cauliflower into bite size florets, twist your knife into the cauliflower. This will leave a more organic shape to the cauliflower, instead of having straight lines from your knife. This step is optional and just for presentation.
Toss the cauliflower in neutral oil with a high smoke point such as canola or grapeseed oil. Season with salt, to taste. Optional to season with a pinch of granulated sweetener.
Roasted the cauliflower in a preheated oven until slightly charred. For my oven this takes about 20-25 minutes. Each oven is different, so start watching at about 15 minutes.
Purée
For this recipe, once the cauliflower is done roasting, we like to take 3/4 of the cauliflower and purée it. This step is optional, but trust me, this is the part that will change your life!
To purée the cauliflower, add the roasted florets into a blender along with 1 tablespoon of freshly squeeze lemon juice. Blend until combined and smooth. Taste and adjust the seasoning if required. You can also add an additional tablespoon of lemon juice, to taste. I wouldn't go above 2 total tablespoons of lemon juice.
Enjoy as a side or use the oven roasted cauliflower purée as a topping for recipes like our Keto Shepherd's Pie.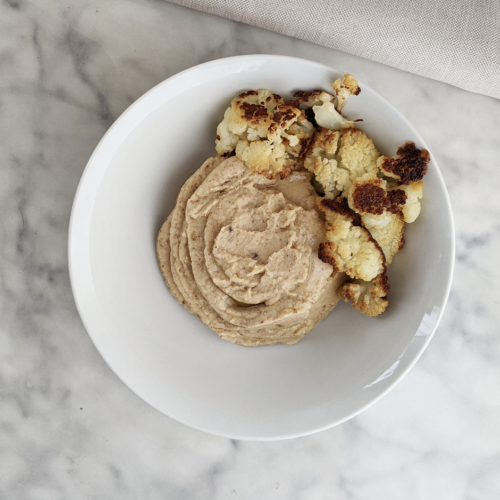 Oven Roasted Cauliflower
Equipment
Blender, Optional.

Large Baking Tray
Ingredients
1

Medium - Large Head of Cauliflower

Cut into florets. About 700 grams.

4

tbsp

Canola Oil

Or any neutral oil.

1-2

tbsp

Lemon Juice

Salt

To taste.

Pinch of Sweetener

Optional, to taste. 1/16 - 18 tsp.
Instructions
Cut cauliflower into florets and remove the core.

Placed cauliflower on a aluminum lined baking sheet, toss in canola oil and season with salt and optional sweetener. Be careful not to overcrowd the pan.

Roast cauliflower in the oven for about 20-25 minutes until slightly burnt. Note: Cooking time may vary depending on your oven.

Once the cauliflower is done roasting, enjoy as is or purée. Note: We like to save 1/4 of the cauliflower florets for texture and purée the remaining.

To purée the cauliflower, add to a blender along with 1 tbsp of lemon juice. Once the cauliflower is puréed, taste and adjust seasoning if needed. You can also add an additional tablespoon of lemon juice if desired.

Serve as a side dish and enjoy!
Notes
Nutrition Information (4 Servings): 
166 Calories
7.7g Carbohydrates 
3.1g Fiber
13.5g Fat 
3.1g Protein
Net Carbs: 4.7g / Serving 
*Nutrition Information based on 700g of cauliflower* 
Let us know in the comments below if you've tried our Oven Roasted Cauliflower. Seriously guys, this recipe is so good. We make this at least once a week at our house!