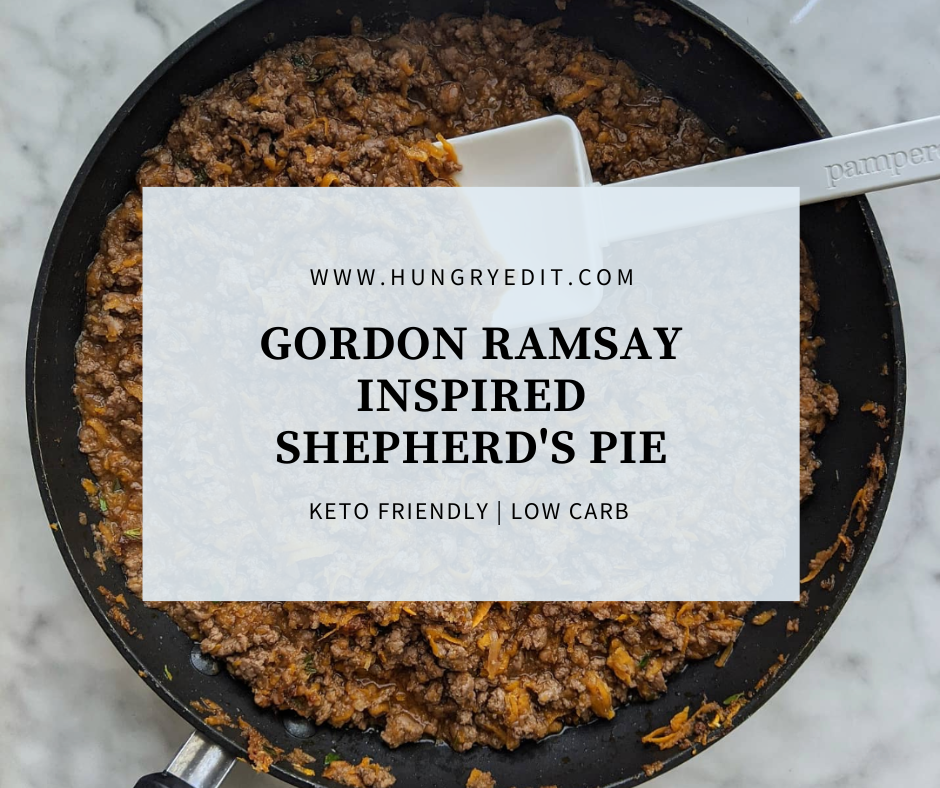 Jump to Recipe
[Recipe Updated October 25, 2022]
Shepherd's Pie is a classic comfort food. In this recipe I've taken inspiration from Gordon Ramsay's famous dish and have made it suitable to fit within a keto diet. For our Keto Shepherd's Pie we use ground lamb mixed with fresh herbs and veggies. We also top it with our Keto Cauliflower Mash! This recipe is very easy to make, but it's packed with flavor!
Beef vs. Lamb
A classic Shepherd's Pie is made with ground lamb. You can of course use ground beef, but then this would be a Cottage Pie.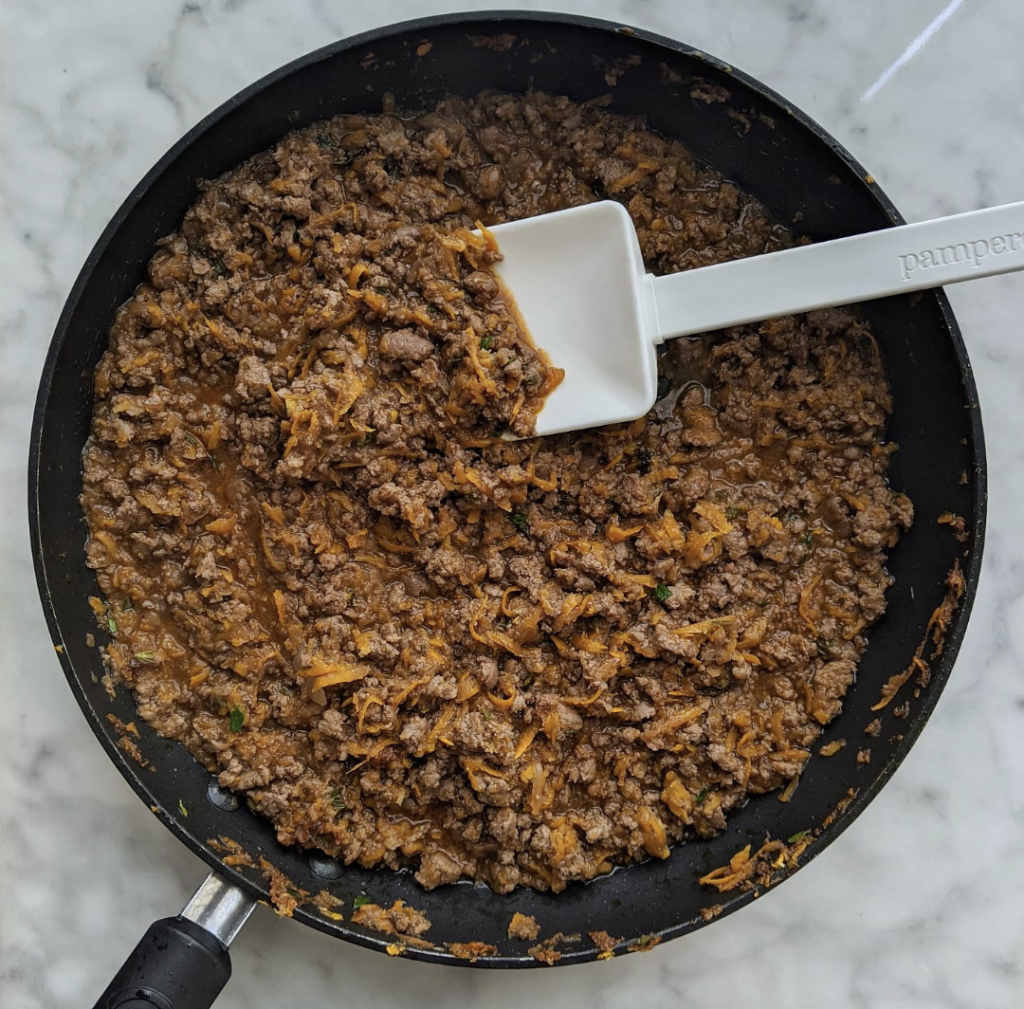 The Filling
For this filling we add grated carrot, grated onion and minced garlic into the mince. To amp up the flavor we use fresh thyme and rosemary. You can use dried herbs, but fresh herbs will result in a better flavor. The trick to this recipe is grating the vegetables instead of chopping them. This allows the vegetables to melt into the mixture, adding a ton of flavor.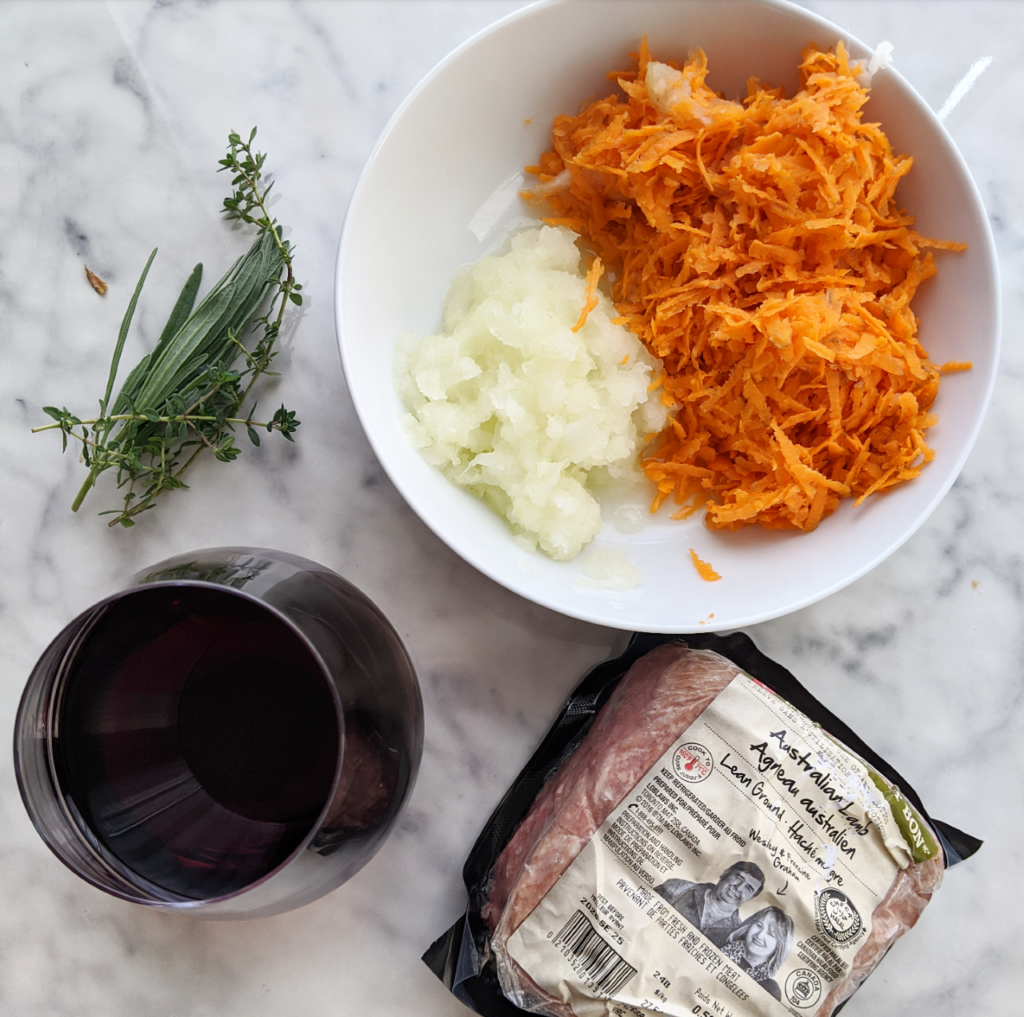 The Mash
Cauliflower tastes best when roasted in the oven. We bake ours at with a bit of salt and olive oil. Bake until some of the edges become burnt. Trust us on this! This completely changes and adds to the flavour of the cauliflower. Add the roasted cauliflower to a blender along with butter, egg yolk and half of the pecorino romano cheese. Adjust the seasoning if desired. Blend until you have a smooth consistency.
[Recipe Updated October 25, 2022]
Below is how we used to make our cauliflower mash.
For our Keto Shepherd's Pie, we use cauliflower mash as a topping. Now, cauliflower mash can become quite watery. The trick to making this is to first cut the cauliflower into florets and place them into a microwave safe bowl. Cook the cauliflower for 10-12 minutes on high. Do not add water. Once slightly cool, pat dry with an paper towel to remove the excess moisture. Place Cooked Cauliflower to a Blender or Food Processor with egg yolk, salt, pepper, and butter. Blend until combined.
Assembly
First layer the filling on the bottom of your casserole dish, top with cauliflower mash and finally a sprinkling of grated Pecorino Romano. Pecorino Romano is similar to parmesan reggiano. It not only adds a ton of flavor, but it creates a nice and crispy brown topping. Pecorino Romano is made from sheep's milk instead of cows milk. It has a saltier and more tangy taste than parmesan. We've tried both pecorino romano and parmesan reggiano with this recipe, both are good but we prefer the pecorino romano, You can also incorporate half of the grated parmesan into the cauliflower mash, and use the remaining half for the final topping.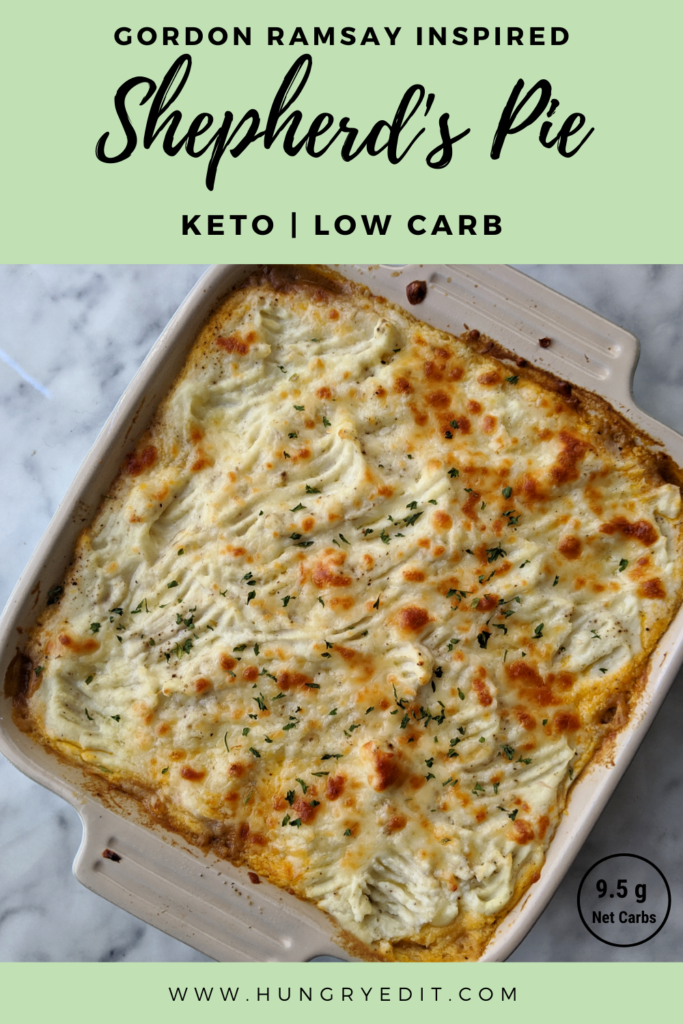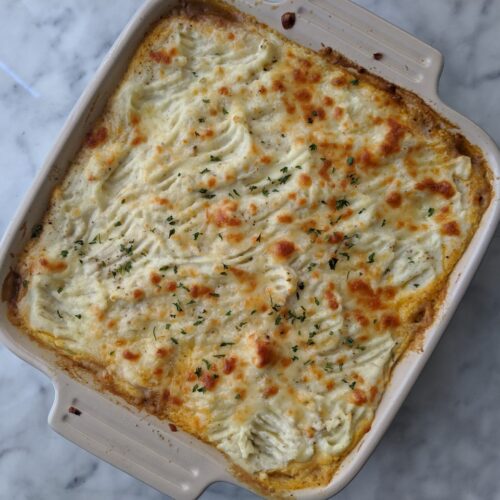 Keto Gordon Ramsay Inspired Shepard's Pie
Ingredients
The Filling
500

grams

Lean Ground Lamb.

1

tbsp

Olive Oil.

1

tbsp

Butter

3

Garlic Cloves.

Minced.

100

grams

White Onion.

Finley Grated.

100

grams

Carrot.

Finley Grated.

2

tbsp

Worcestershire.

1

tbsp

Tomato Paste.

2-3

Springs of Fresh Thyme .

2-3

Springs of Fresh Rosemary.

Finley Chopped.

1

cup

Dry Red Wine.

1/4

cup

Beef Broth

Low Sodium.

Salt

To Taste.

Pepper

To Taste.

Dried Parsley.

Garnish.
Instructions
The Filling
In a large pan over medium high heat add 1 tbsp of olive oil and 1 tbsp butter. Brown the ground lamb for about 3-5 minutes. Season with salt and pepper.

Add finely grated carrots, onion and garlic to the pan. Cook for about 2-3 minutes.

Stir in tomato paste and Worcestershire sauce. Cook for 1 minute.

Add red wine and herbs. Simmer for approx. 15 minutes until wine is completely reduced.

Add beef broth to the mince and cook down for about 3-4 minutes until reduced.
The Mash
Remove core and cut the cauliflower into florets.

Toss cauliflower florets in 1 tbsp of olive oil and a bit of salt.

Bake the cauliflower for 30 minutes until the edges are slightly charred.

Place cauliflower into a blender with egg yolk, butter and half of the grated pecorino romano cheese. Adjust seasoning if needed.
Assembly
Using a slotted spoon, transfer the filling to a 9x9 baking dish.

Top with the blended cauliflower mash followed with the remainder of the pecorino romano cheese.

Bake for 25 minutes. Optional: Broil for the last couple of minutes to brown the top.
Notes
Nutrition Information (6 Servings) 
384 Calories
10.4 Carbohydrates
3g Fiber
25.1g Fat 
22.3g Protein
Net Carbs: 7.4g / Serving
Let us know in the comments below if you've tried our Keto Shepherd's Pie! If you're looking for more keto or low carb recipes, visit our recipe page.