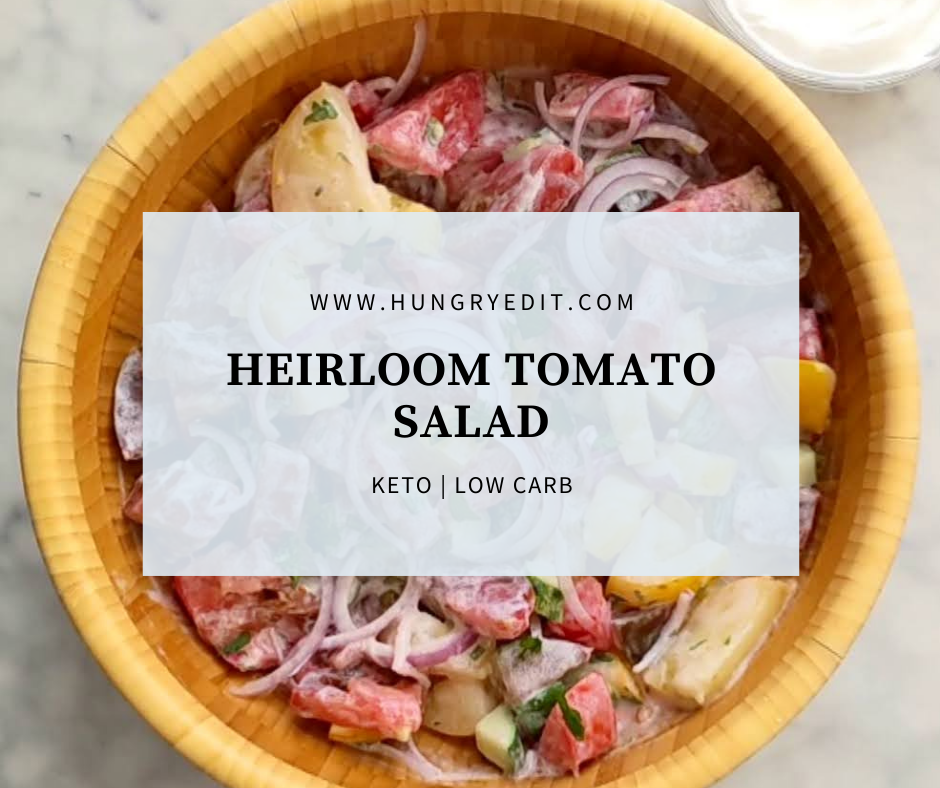 It is tomato season! There's nothing better than locally grown tomatoes. Our family grows tomatoes during the summer months and they are ready for harvest in August. This leaves us with tomato based recipes for all of August, September and sometimes October. Our Simple Heirloom Tomato Salad is an easy 5 minute recipe that's the perfect side dish to any meal. It is low in carbs, calories, and is made with simple, fresh ingredients.
Fresh Summer Tomato Salad
In this salad we use fresh homegrown vegetables or vegetables from the farmers market. This will yield the best results as the vegetables have so much more flavor! In this salad we use:
Heirloom Tomatoes or Beefsteak Tomatoes (in-season)
Fresh Cucumber
Red Onion
Fresh Parsley
Sour Cream
Salt (to taste)
What Type of Tomatoes?
Ultimately you can use any type of tomato that you prefer. The most important step is to use in-season tomatoes. We highly suggest buying these from the farmers market or growing them yourself! Often, we find that store-bought tomatoes from large grocery stores don't taste the same. They are often watery and lack in flavor. Homegrown tomatoes are juicer and sweeter. We like to use tomatoes that vary in color and shape.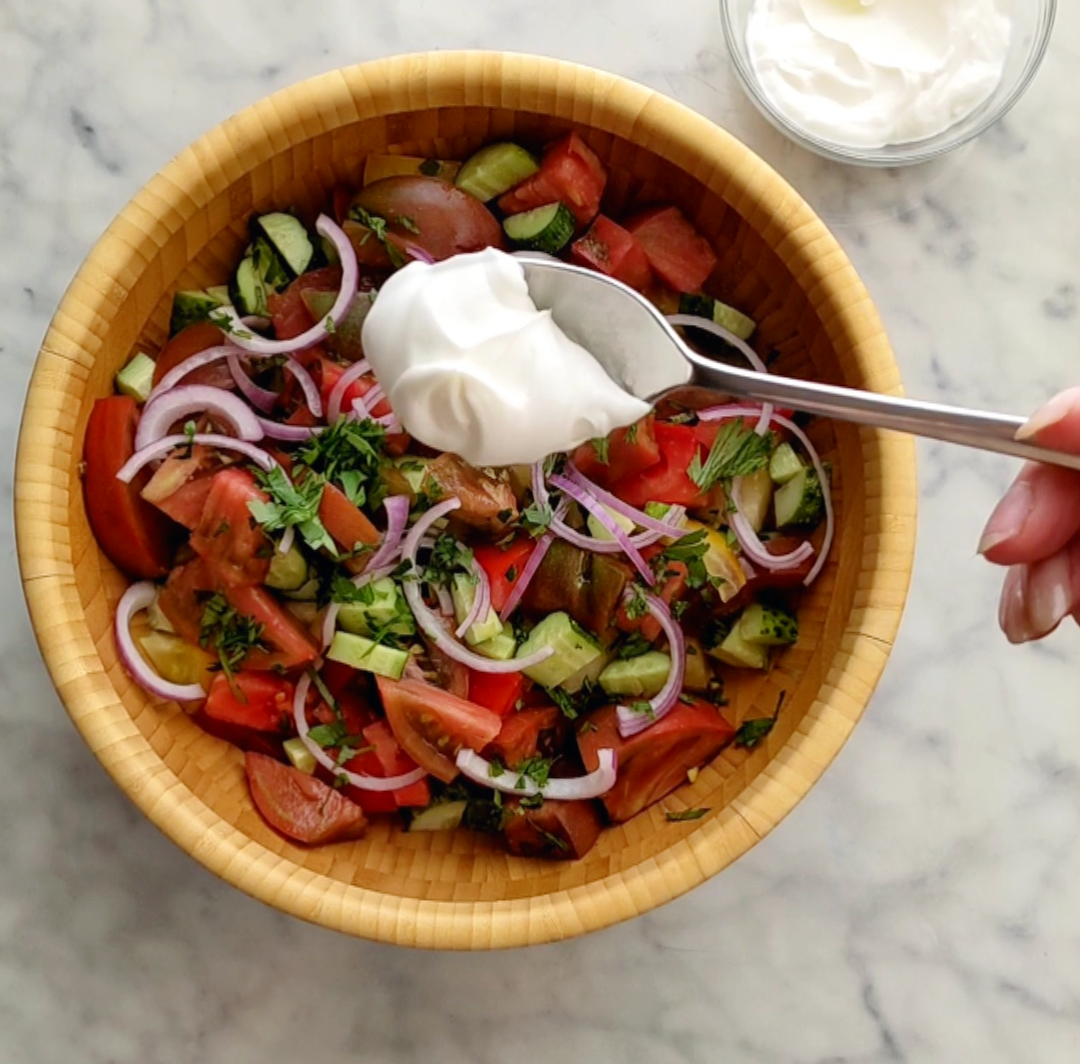 Dressing
For salads, we always prefer to keep our dressing simple. We much prefer this over store-bought dressings as it's healthier and tastier. Typically we use olive oil and a bit of vinegar. Surprisingly for this salad we use sour cream! The tanginess pairs wonderfully with the sweetness of the tomatoes. It melts with the juices of the tomato, creating this wonderfully balanced flavor.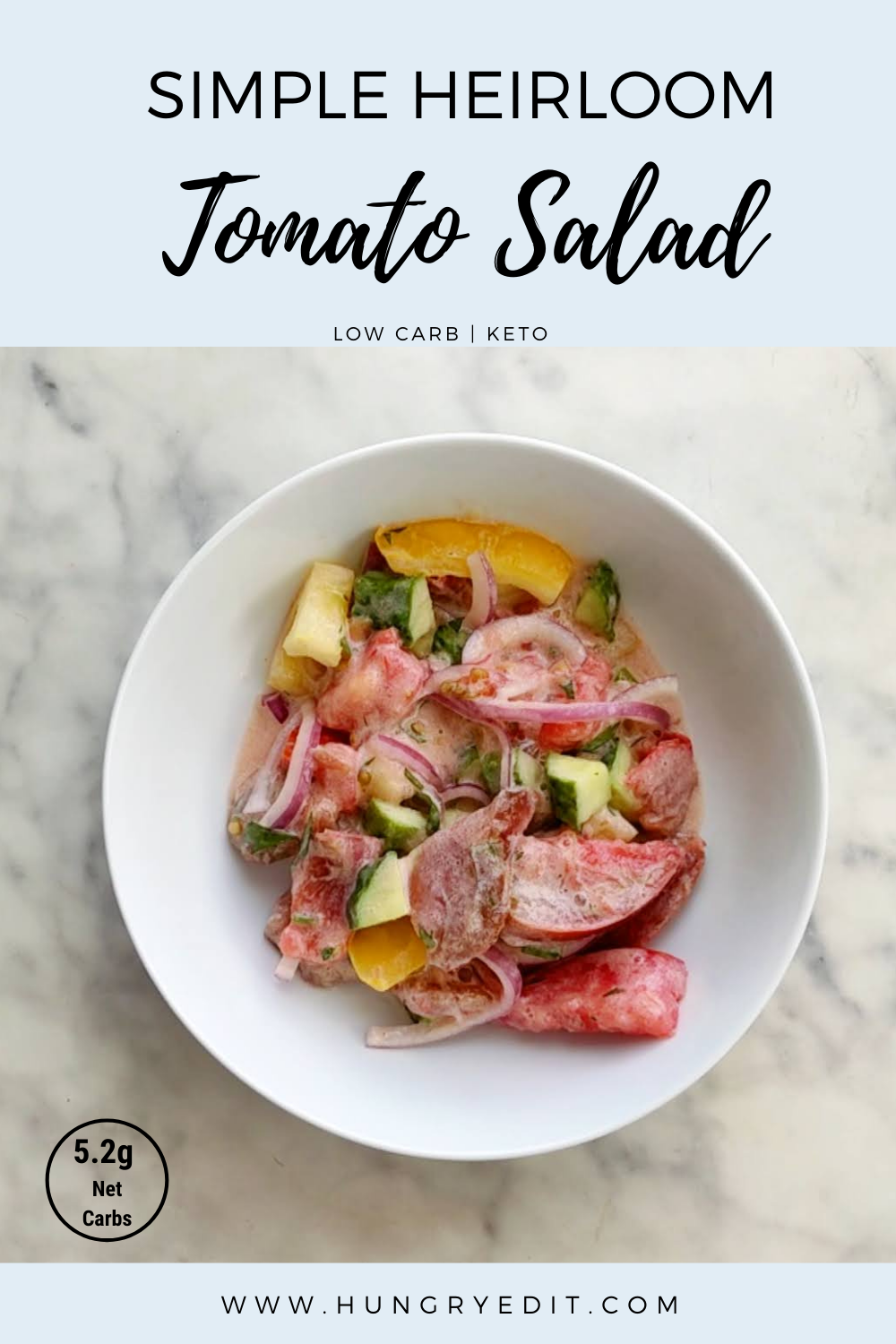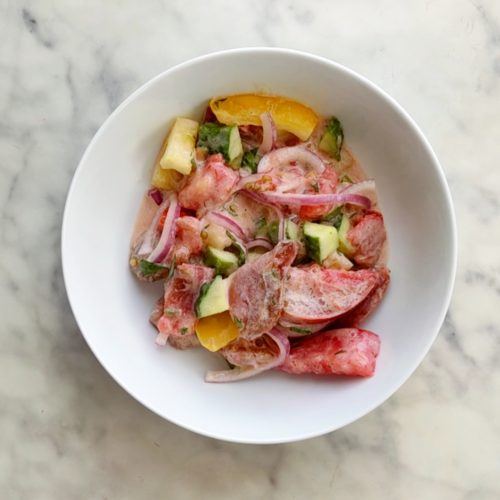 Simple Heirloom Tomato Salad
Ingredients
1

lbs

Heirloom Tomatoes

Cut into 1/2-inch wedges.

100

Grams

Cucumber

Quartered.

25

Grams

Red Onion

Thinly Sliced.

1

Dollop

Sour Cream

About 2 tbsp, to taste.

Salt

To Taste.

Fresh Parsley

Garnish.
Instructions
Add all ingredients to a large bowl and mix thoroughly.

Allow to sit for a min. of 5 minutes to allow the juices and sour cream to combine.
Notes
Nutrition Information (4 Servings): 
41 Calories
6.8g Carbohydrates 
1.6g Fiber
1.5g Fat 
1.5g Protein
Net Carbs: 5.2g / Serving 
Let us know in the comments below if you've tried our Simple Heirloom Tomato Salad. If you're looking for more keto or low carb recipes, visit our recipe page!