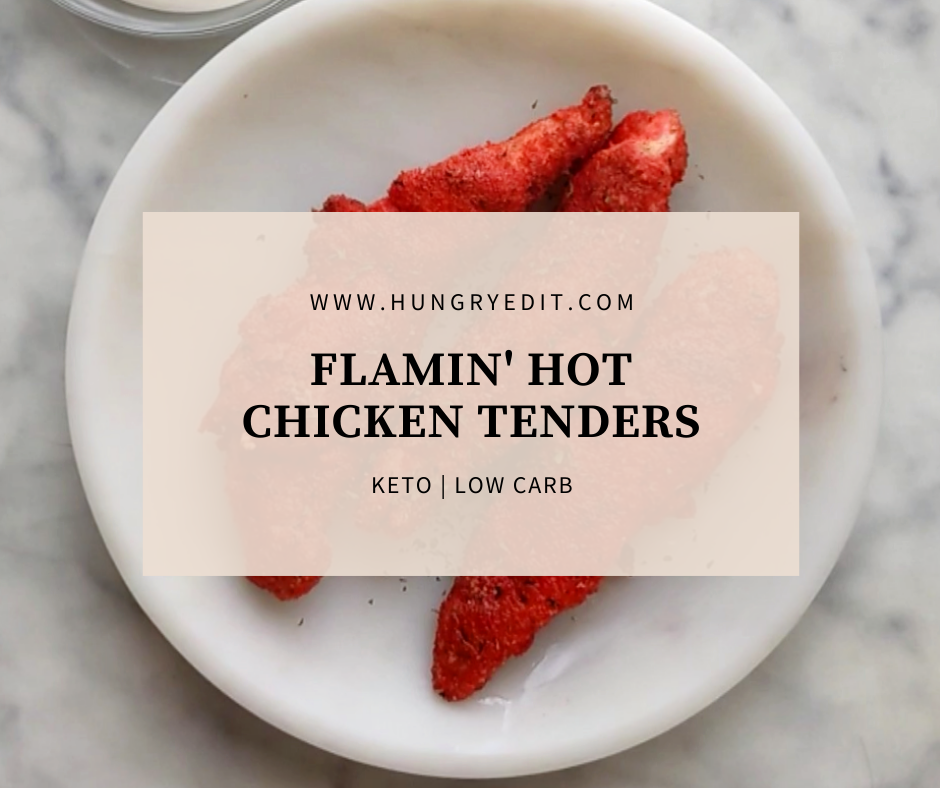 Jump to Recipe
A twist on traditional chicken tenders! These Keto Flamin' Hot Chicken Tenders are crispy on the outside, mildly spicy and cheesy. They're easy to make while being gluten-free and low in carbs!
Flamin' Hot
Non-keto recipes for flamin' hot chicken use crushed Hot Cheetos. Of course this doesn't work for a keto diet. So in our recipe we use the flavor packet for the Cheetos Mac n' Cheese Flamin' Hot. You can easily find this online or we found it at Walmart here in Canada. Save the noodles for your non-keto friends or family (don't waste them!).
For the macros, we estimated that the Flamin' Hot flavor packet would have 5g of net carbs per 1/4 of the packet. This estimate is based on the KD Flavor Boost packets.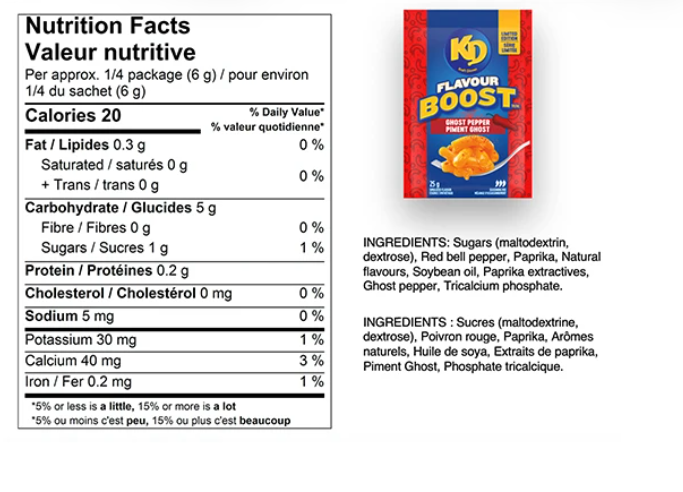 (Image of nutritional information from Kraft website)
Cooking Method
For this recipe, we chose to pan fry our chicken in neutral oil. In our experience, when working with almond flour, this yields the best results for a crispy crust. Below we've provided the nutrition information for the chicken tenders with and without oil. You can definitely try baking these in the oven or using an air fryer as well.
Keto Flamin' Hot Chicken Tenders
Ingredients
1

Packet Cheetos Mac'N Cheese Flamin Hot Flavor

Flavor Packet Only. See notes above for product link.

2

Lbs

Boneless Chicken Breast

150

Grams

Almond Flour

1/2

Cup

Grated Parmesan

2

Large Eggs

Whisked.

1 1/2

Tsp

Dried Parsley Flakes

1

Tsp

Cayenne Pepper

Optional.

1

Tsp

Garlic Powder

1/2

Tsp

Salt

To Taste.

1/4

Tsp

Pepper

To Taste.

Neutral Oil

For Frying.
Instructions
Cut the chicken breast into strips, making sure that they are similar in size and thickness (for even cooking).

Pat chicken dry with a kitchen towel. Season with salt and pepper.

In a bow, whisk together the flamin' hot flavor packet, almond flour, grated parmesan, dried parsley, garlic powder, 1/2 tsp salt, and 1/4 tsp of pepper.

Dip the chicken strip into the egg and then coat with the almond flour mixture. Set aside and repeat.

In a large skillet, heat oil over medium-high heat.

Once oil is heated, place the chicken tenders in the pan (make sure not to overcrowd). Cook for about 5 minutes on each side, until crispy and cooked through.

Set aside and serve with ranch dressing.
Notes
Nutrition Information (Per Serving, Without Oil): 
393 Calories
8.3g Carbohydrates 
2.8g Fiber
18.5g Fat
57.2g Protein 
Net Carbs: 5.5g / Serving 
Nutrition Information (Per Serving, With Oil): 
633 Calories
8.3g Carbohydrates
2.8g Fiber 
45.7g Fat
57.2g Protin 
Net Carbs: 5.5g / Serving
*Nutrition information with oil for frying is approximate. In our testing, the batch of chicken tenders will absorb about 3/4 cup of oil. 
Nutrition information is estimated based on the KD Flavor Boost Packets. Each packet is 5g of net carbs per 1/4 package. 
Let us know in the comments below if you've tried our Keto Flamin' Hot Chicken Tenders. If you're looking for more keto recipes, visit our recipe page!