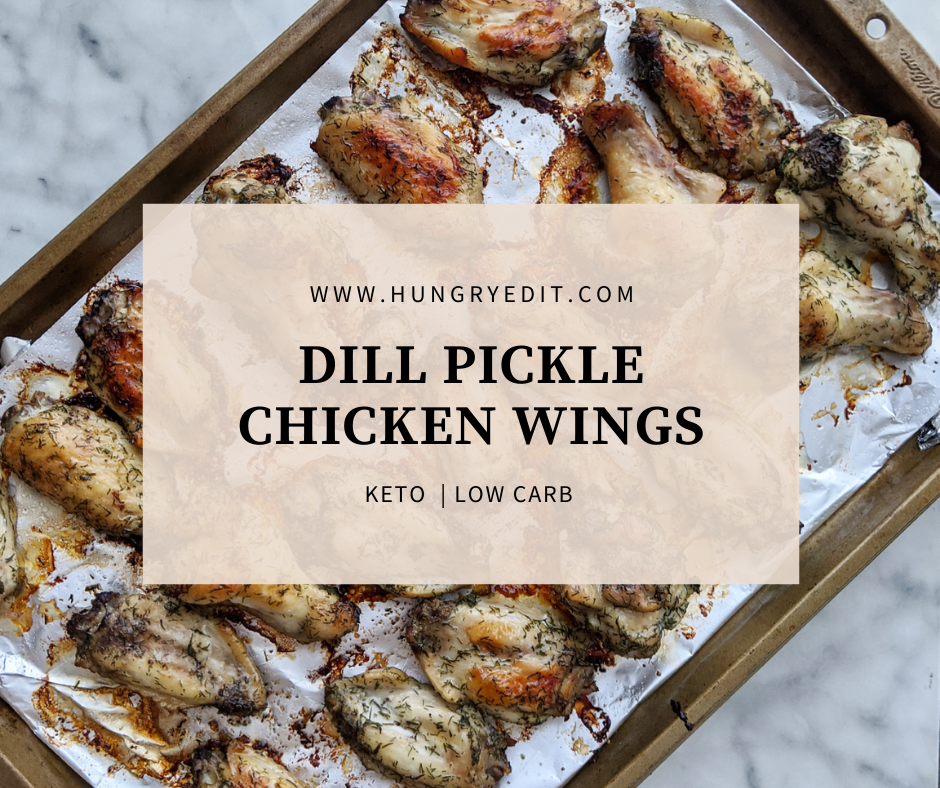 Jump to Recipe
These Dill Pickle Chicken Wings are an easy keto dinner that takes only 5 minutes to prep and is oven baked for a hands-off approach! They're seriously delicious making them perfect for a easy keto weeknight dinner or a special weekend meal (who needs take-out pizza!?).
How to Make Crispy Oven Baked Wings:
You'll find a lot of methods for oven baked wings that promise crispy skin that you can otherwise only get while deep frying. A popular method is to coat the wings in baking powder and salt (1 tbsp of aluminum-free baking powder and 1/2 tsp of salt for every 10 wings). This method draws out the moisture of the chicken and creates a super crispy skin. With this method you'll also want to cook the wings on a cooking rack with a sheet pan. If you like this method of baking your wings, feel free to use this along with the Dill Pickle seasoning mentioned in the recipe.
I prefer to cook wings the old fashioned way. First, pat dry the chicken wings to remove any excess moisture. Place the wings in a mixing bowl with all of the seasoning and mix until combined. Place the wings evenly (do not over crowd) on a baking pan with greased aluminum foil. Note that aluminum foil produces the best results. I've tried parchment paper and the wings don't come out as crispy. With this cooking method, you'll see in my images that the skin of the wings becomes a nice golden brown. Bake at 400°F for 40 minutes, turning once halfway.
Serve with a low carb dressing such as blue cheese dip or ranch. My favorite way to enjoy these is with a side of caesar salad (minus the croutons of course)!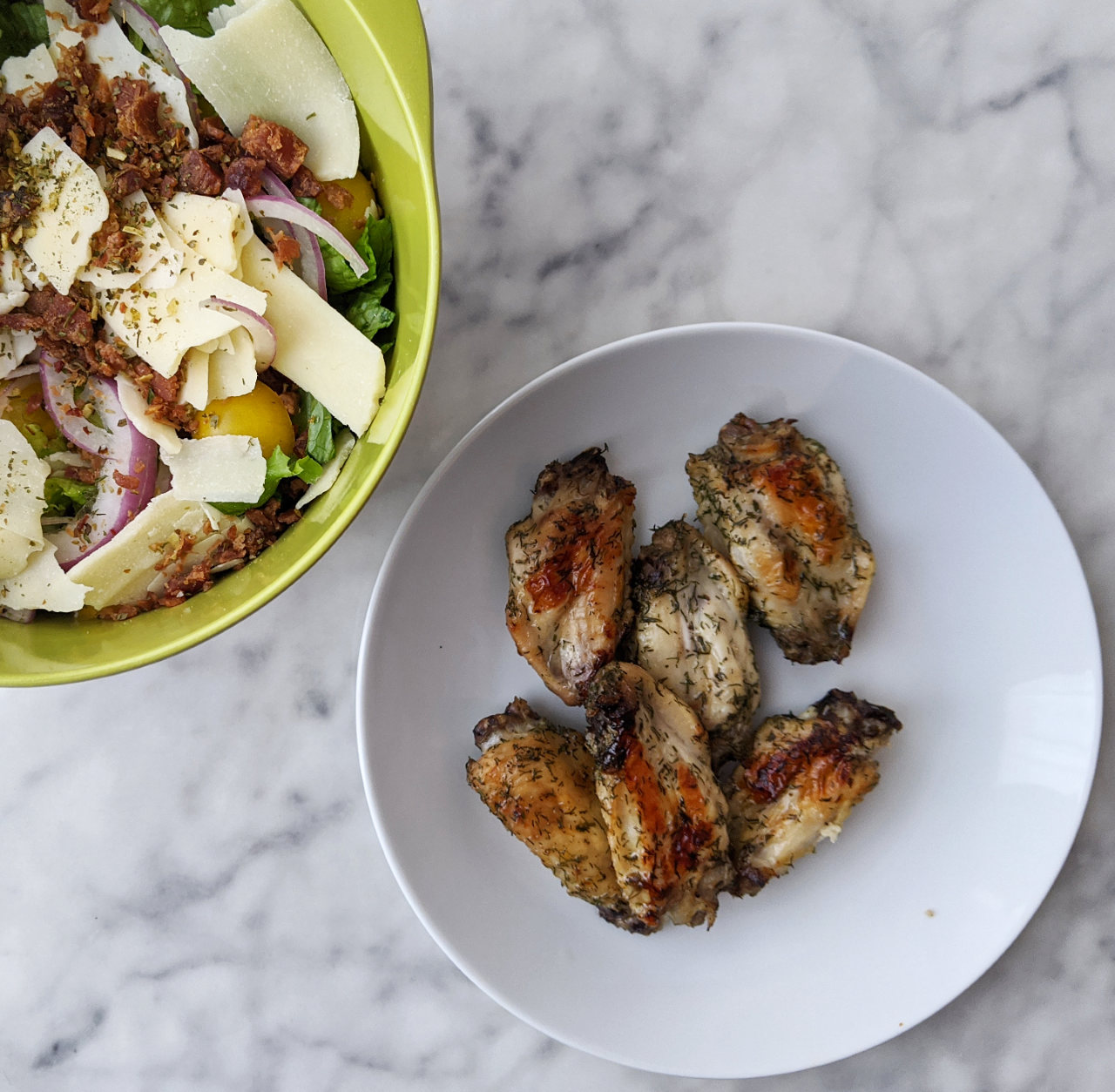 Dill Pickle Seasoning:
For this recipe I use the Kernels Dill Pickle Popcorn Seasoning. This is easy to find in most grocery stores here in Canada, but it's also easy to find through online retailers such as Amazon. You'll notice on the nutrition label shows 4g of carbs / 2 tsp. While this does seem like a lot, we only use 1 tbsp of the seasoning for 2lbs of wings. Per serving we are only having 1.3g of carbs, making this really easy to fit within a keto diet!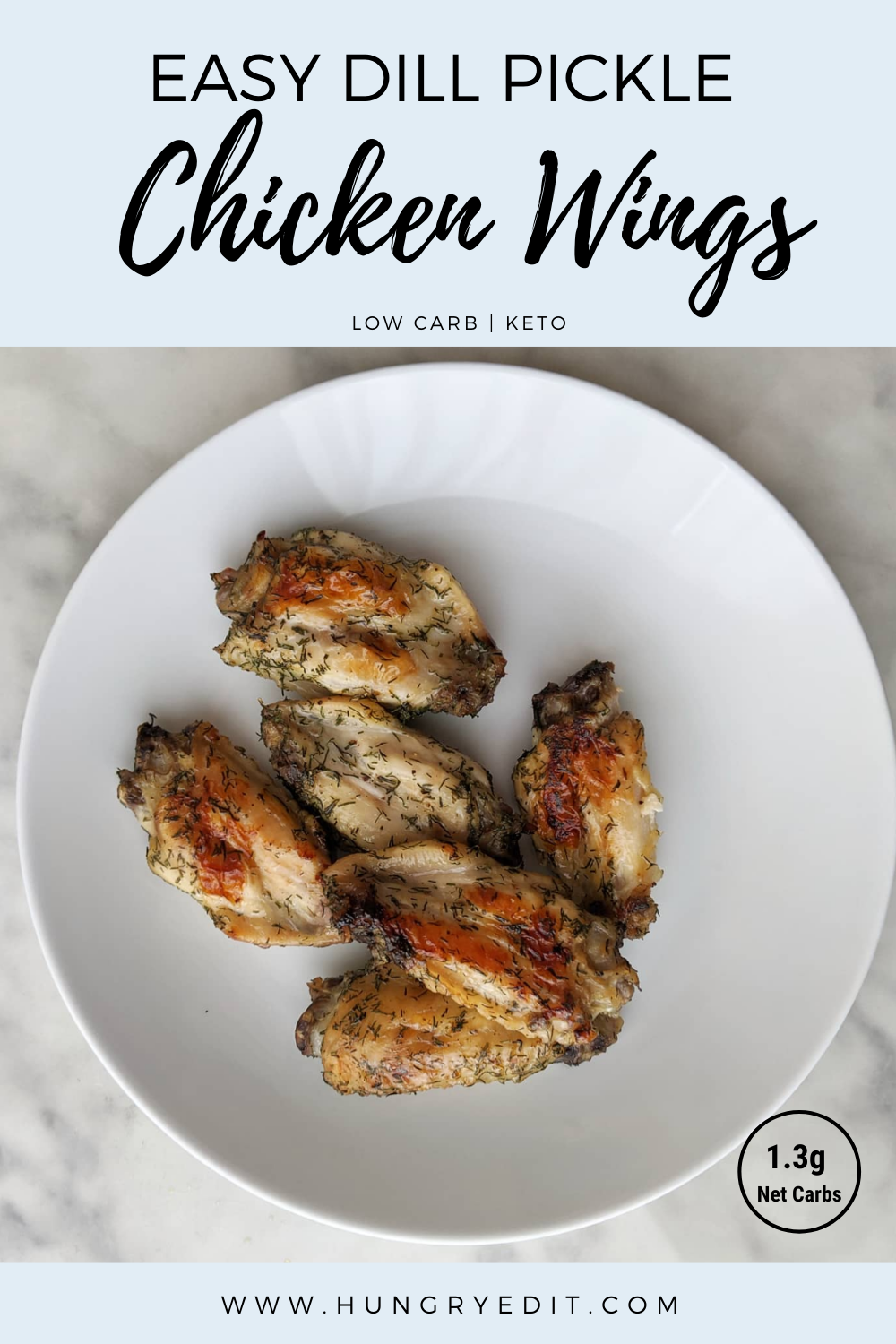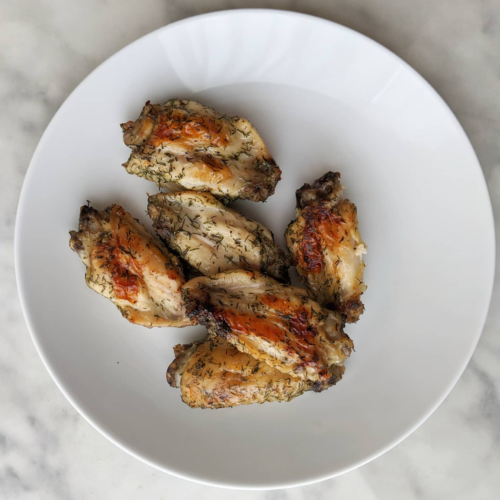 Oven Baked Dill Pickle Wings
Ingredients
2

lbs

Chicken Wings

1

tbsp

Dried Dill

1

tbsp

Kernels Dill Popcorn Seasoning

1/4

Pepper

Or to taste.
Instructions
Pat dry chicken wings with paper towel.

Place wings in mixing bowl with all seasoning and toss until combined.

Evenly distribtute wings onto a baking pan lined with aliminum foil,

Bake wings on the middle rack in oven for 40-45 minutes, turning once halfway.

Once wings are golden and crispy, enjoy!
Notes
Nutrition Information (6 Servings): 
335 Calories
1.3g Carbohydrates
0.0g Fiber
24g Fat
27.2g Protein 
What's your favorite way to cook oven baked wings? Have you tried these dill pickle chicken wings? Let me know in the comments below!