Jump to Recipe
Recipe updated January 2, 2023 for more accurate nutrition information.
I'm on a mission to prove that you don't have to skip out on your favorite recipes if following a ketogenic diet. This French Onion Soup follows as close to the traditional recipe as possible with a few small variations to suit a low carb or keto diet. French cooking is naturally rich with butters and fat so it's easy to transform these classic recipes into a low carb version! This soup is full of flavor and only takes about 1 hour to complete from start to finish.
Onions:
The traditional recipe calls for yellow onions as they are more sweet than white or red onions. This is what I use and is accounted for in the nutrition information below. Sweet yellow onions balance the flavor of the hearty beef broth and dry white wine. You CAN use white onions if you wish or even a mixture of yellow and white.
For my low carb version I use 800 grams of sliced onions. This is closer to the traditional recipe which I believe uses 1 kilogram. If you add this amount (800g), it is still low in carbs (14.7g net carbs per serving) but you may want to lower the carb content if following a keto diet. In that case, reduce the onions to 600 grams and make smaller portions (6 servings instead of 4). Pair the soup with some protein to keep the meal keto and filling.
When first cooking the onions it will seem like alot,but don't worry as they will reduce down when browning.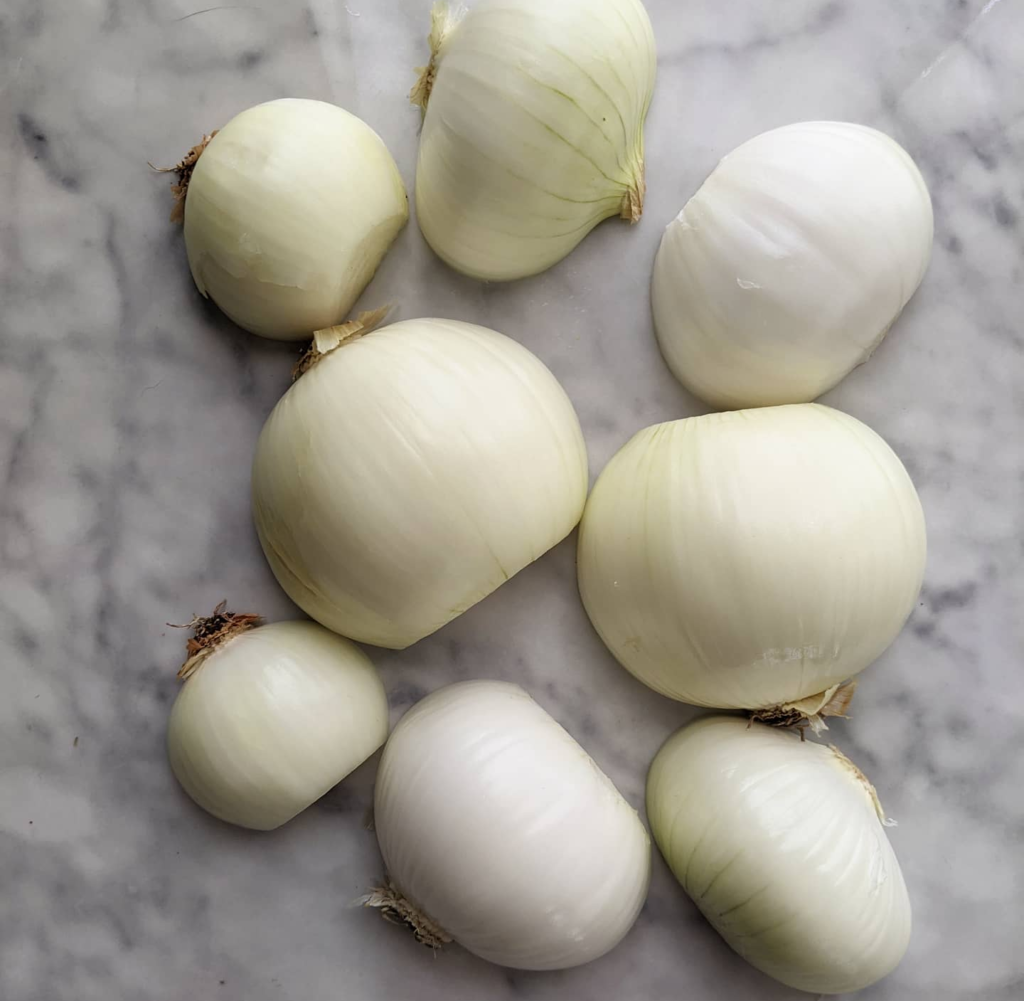 The easiest way to slice onions is by leaving on the root! See the image above.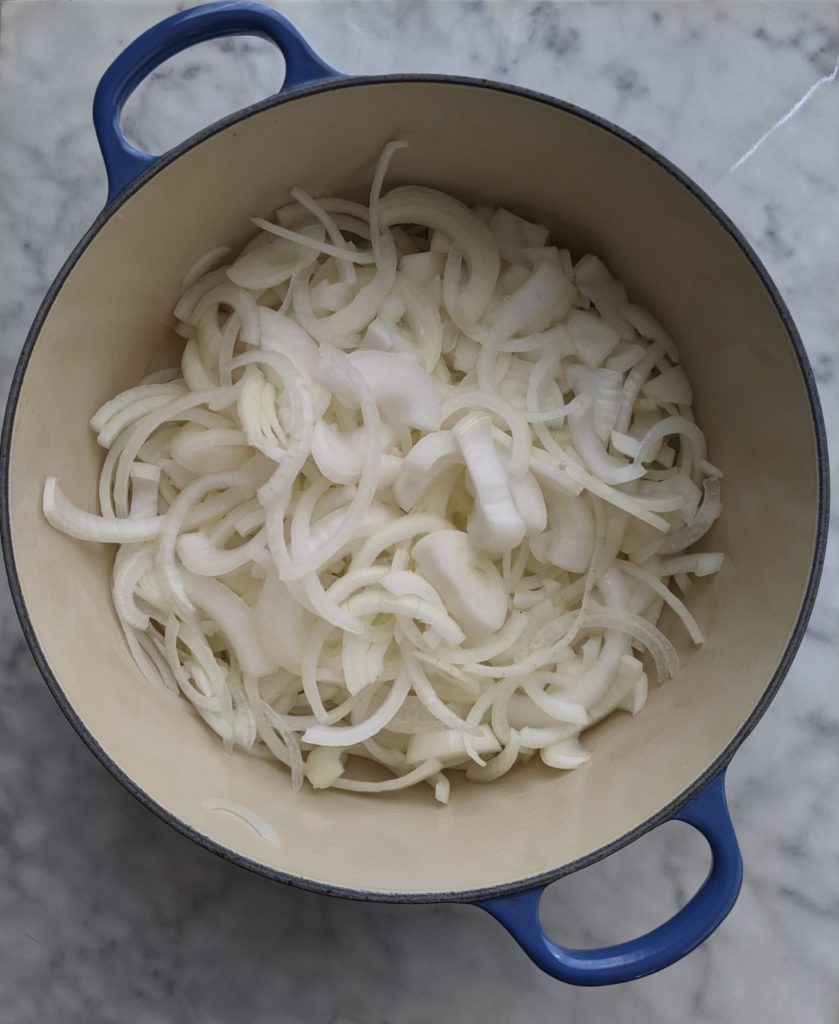 Sliced Onions – Before Cooking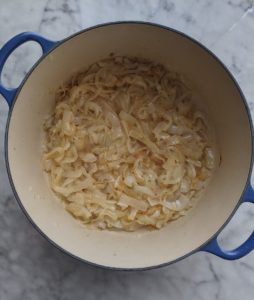 Cooked Onions – After 30 min.
Fat:
French cooking uses a lot of butters and oils in their dishes, making their food great for a keto diet (with a few adjustments of course!). For this recipe I add equal parts butter and oil – the oil will help prevent the butter from burning. I find that this amount (2 tbsp of each) is great if you're using a low carb bread. However, you may want to reduce the oil content slightly if choosing to not use keto bread. I would start by just omitting 1 tbsp of olive oil.
White Wine:
This is a French recipe, of course we're using wine! And honestly, this step cannot be skipped. Once you start adding wine to your soup, you can never go back. Dry white wine has only about 3g of carbs per 5 oz, making it very easy to fit in a keto diet.
Herbs:
In this recipe I use a bouquet garni which you may remember from my Coq Au Vin recipe (chicken and wine). This is an easy way to remove the herbs from the dish once it is done cooking.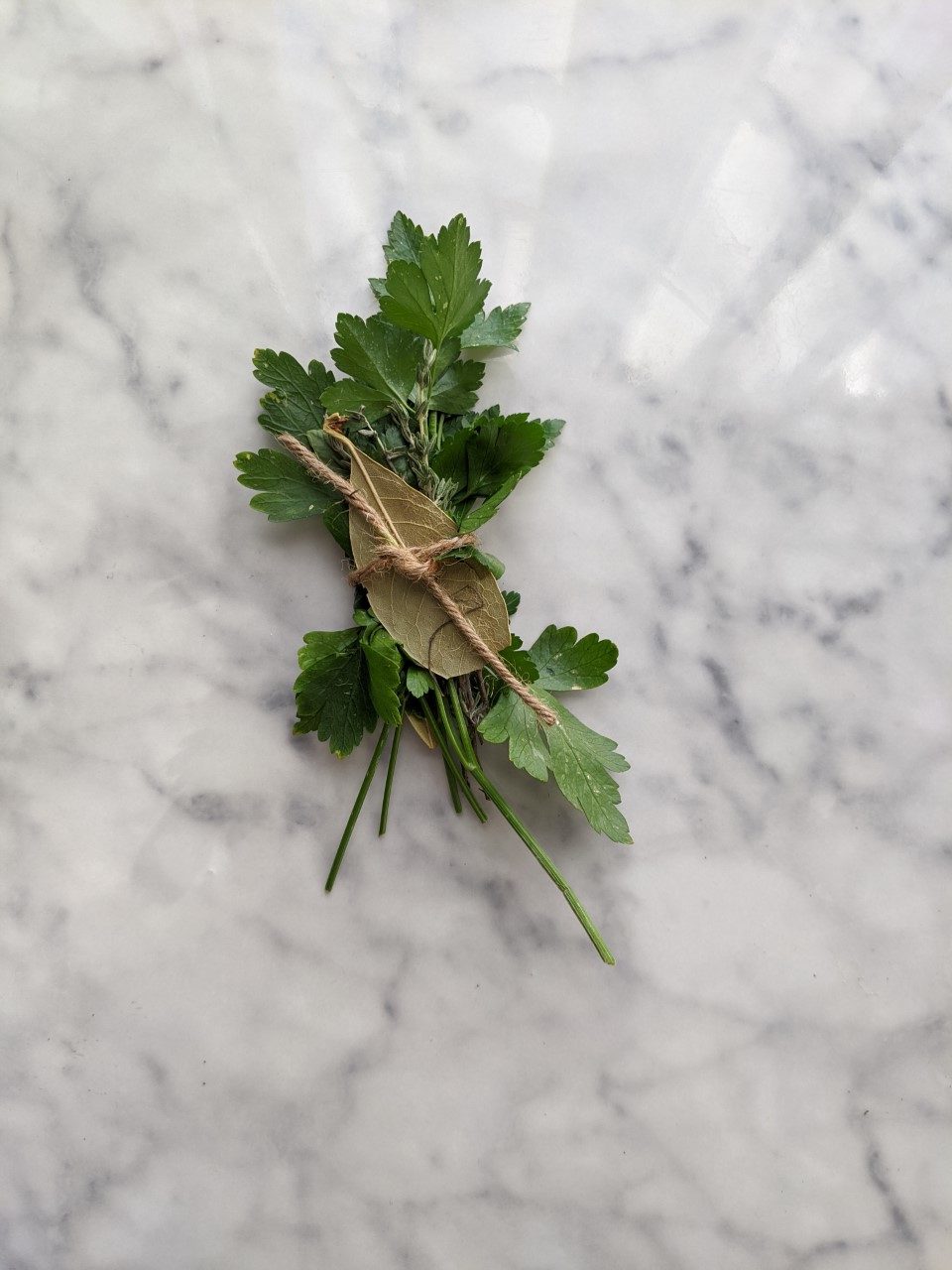 Thickener:
The traditional recipe uses flour as a thickener. To make this low carb, I've replaced flour with either Xanthan Gum or Konjac Flour (Paleo). Both work the same as a thickener. Start with 1/4 tsp. When your soup is simmering, if it isn't thick enough for your liking, you can add another 1/4 tsp (don't add more than a total 1/2 tsp to the soup). Don't have a thickener? See my post on my Top 15 Keto Pantry Essentials.
Cheese:
Here in Canada most of us use Gruyère cheese as it's easier to find. It is delicious but if you want to keep this recipe french – try Comté cheese which is very similar to Gruyère.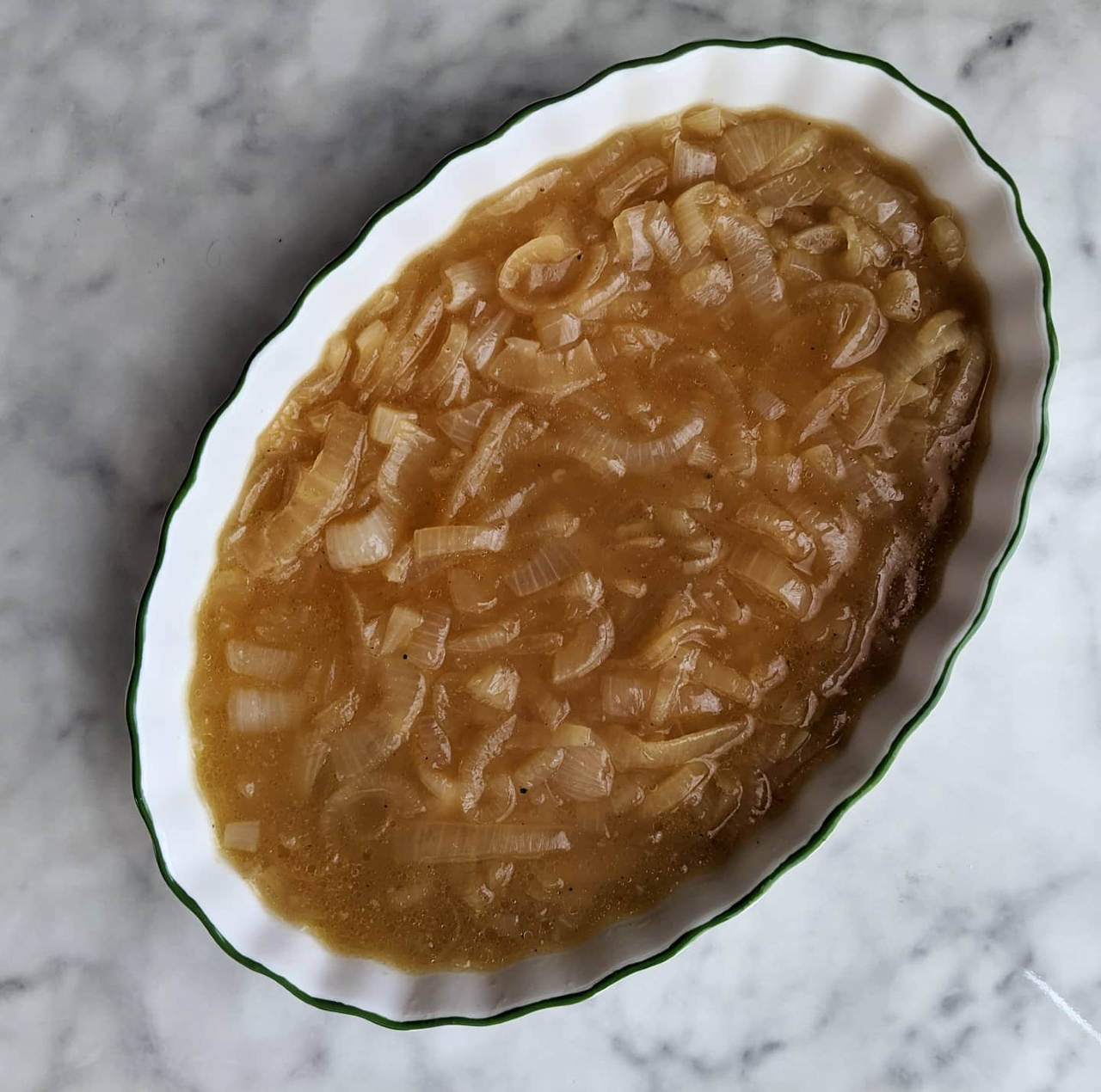 Keto Bread / Topping Options:
Now here is the tricky part – but we have a ton of options! You can eat this soup on it's own without keto bread, but just note that your cheese will fall. You can also use your own keto bread recipe or store bought keto bread. Make sure the bread is toasted and cut into bite size pieces (like croutons!) before adding the cheese.
Store Bought Keto Bread – Canada:
Save on Foods in house Keto Bread. – This grocery store freshly bakes keto bread in their bakery!
Carbonaut Keto Bread – Found at Costco Canada or Superstore. This is our favorite!
Online Keto Bread – Canada:
The last option for a Keto French Onion Soup topping is Parmesan Whisps or Cheese Crisps! You can make your own or you can buy store-bought ones. These are really easy to find online or at Costco.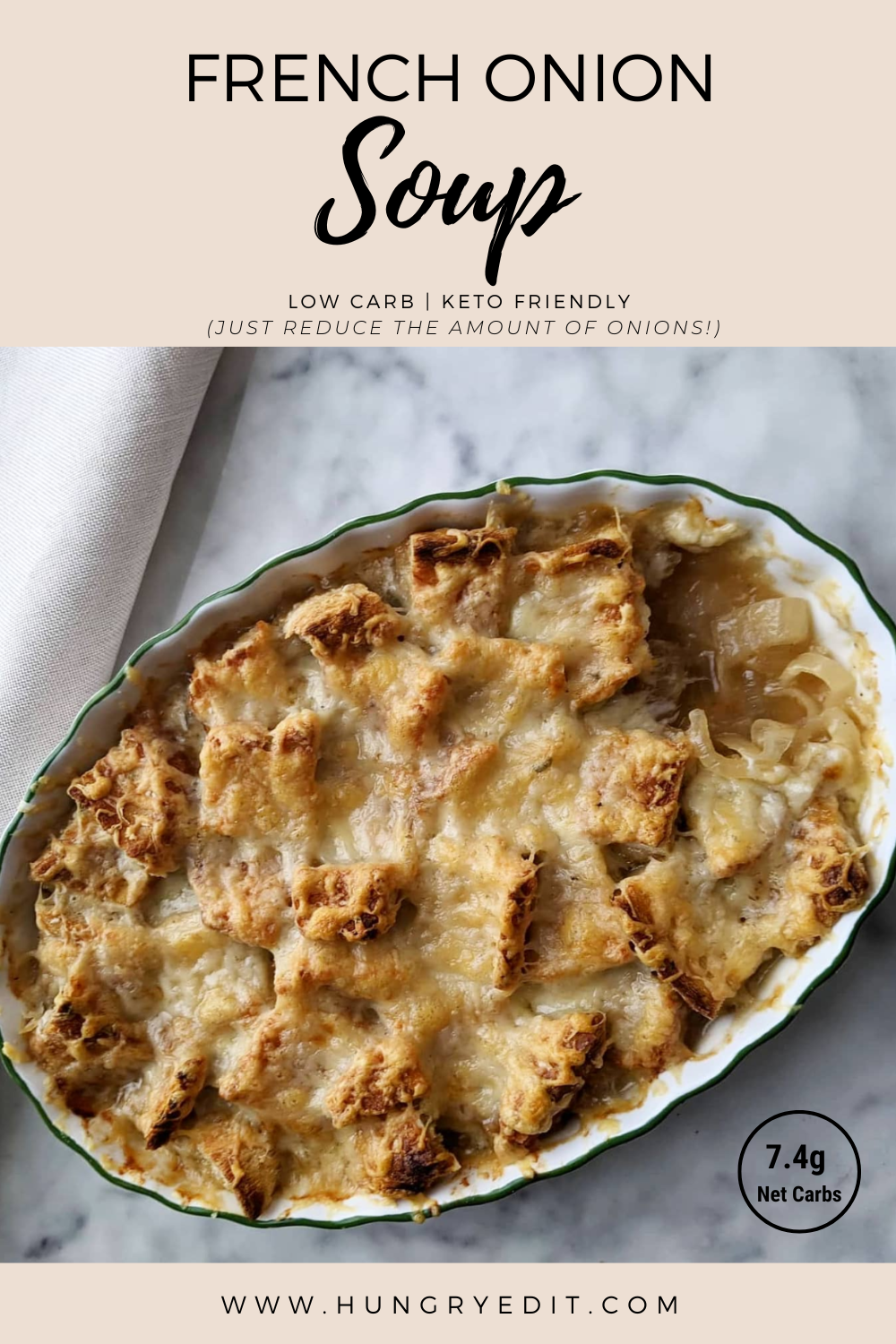 French Onion Soup (Low Carb & Keto Friendly)
Equipment
Large Stockpot or Dutch Oven
Ingredients
800

grams

Yellow or White Onions

Reduce to 600 grams if following the keto version.

2

tbsp

Butter

2

tbsp

Olive Oil

5

fl oz

Dry White Wine

1

Bouquet Garni (Bundle of Herbs)Bouquet Garni

2 Bay Leaves, Fresh Sage and Fresh Parsley.

1/4

tsp

Xanthan Gum or Konjac Flour

4

cups

Beef Broth

1

tsp

Salt

Or to taste.

1

Cup

Gruyère or Comté Cheese

Divided evenly into soup bowls.
Instructions
Soup Base
Heat large pot over medium heat.

Add olive oil and butter to the pot.

Add all of the sliced onions to the pot and season with salt.

Cook for approx 30 minutes, stirring every so often, to brown the onions.

Once the onions are brown, add white wine to deglaze the pan (scrape up the brown bits from the bottom of the pan).

Add 1/4 tsp of konjac flour or xanthum gum to onions and stir.

Add beef broth and herbs to the pot and simmer for 20 minutes.

Once the soup is done cooking, remove the bouquet garni (herbs). Divide the soup into bowls and enjoy!
Topping #1
Sprinkle cheese into each bowl and serve as is.
Topping Option #2
Toast keto bread and cut into small pieces (like croutons)! Divide toasted bread evenly into soup bowls.

Top soup bowls with grated cheese and broil in the oven for a few minutes until cheese is melted and browned.
Topping Option #3
Top soup with parmesan cheese crisps. If following this step it is recommended to skip the addition of Gruyère or Comté Cheese.
Notes
Low Carb Nutrition Information: (4 Servings) 
226 Calories
18.1g Carbohydrates
3.4g Fiber
14.7g Fat
4.3g Protein 
Net Carbs: 14.7g / Serving 
Keto Nutrition Information: (6 Servings)
138 Calories 
9.1g Carbohydrates
1.7g Fiber 
9.8g Fat
2.5g Protein 
Net Carbs: 7.4g / Serving 
Nutrition information does not include optional toppings such as keto bread or cheese crisps.
What's your favorite way to enjoy a classic French Onion Soup? Let me know in the comments below!