The ketogenic diet is a lot more than eating cheese and bacon with the occasional avocado. To be successful on the keto diet you'll need to stock up on these keto pantry essentials. With so much information and misinformation out there it's hard to figure out where you should start. To make things easier, I've gathered together a list of pantry essentials for keto for beginners. Here is my top 15 list.

1. SALT
Salt is the number 1 most important keto pantry essential for beginners. When you've adapted to a ketogenic diet and your body enters a state of ketosis, you'll naturally lose a good amount of water weight. This can lead to low blood sodium levels even when salt consumption is "normal". This is a key factor to the dreaded "keto flu" that many people experience when starting a ketogenic diet. To help combat this, it is recommended that you up your sodium levels with high quality salts such as Himalayan salt or unrefined organic salt.
I know that adding extra salt into your diet can be scary! I really recommend reading The Salt Fix by Dr. James DiNicolantonio.
The Salt Fix
Get it here – Canada
Get it here – US/ International
Redmond Real Salt
Get it here – Canada
Get it here – US/ International
2. ELECTROLYTES
Of course this goes along with salt but adding potassium and magnesium supplements to your keto diet can also be beneficial in helping fight the "keto flu". It is possible to get these electrolytes through diet such as eating spinach or broccoli but it can be challenging especially when first starting out.
Potassium plays a critical role in having normal blood pressure levels while magnesium helps with hormone regulation, muscle function and can even help with sleep and constipation. Be careful because having too much potassium can have negative effects on your body. As always, please consult with a healthcare practitioner before adding supplements to your diet.
Getting enough electrolytes is SO important, especially for keto beginners. Using supplements and/or making sure that your diet consists of dark leafy greens will set you up for long term success on the Ketogenic diet.

Calm Magnesium
Get it here – Canada
Get it here – US/ International
Trace Minerals
Get it here – Canada
Get it here – US/ International
3. ALMOND FLOUR
You need almond flour! This is a must have keto pantry essential for beginners and anyone following a ketogenic diet. Almond flour is great for creating tons of keto desserts or delicious "breaded" recipes such as Low Carb Chicken Parmesan. Almond flour is the perfect keto pantry essential because it's high in fiber, making it low in net carbs.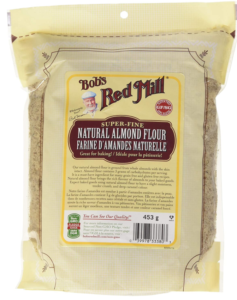 Get it here – Canada
Get it here – US/ International
4. COCONUT FLOUR
If you're allergic to almond flour, coconut flour is a great inexpensive alternative for your keto pantry. It's great to use on its own, or in many recipes you'll find that they use a mixture of almond and coconut flour. One thing to note, is that coconut flour tends to need a lot more moisture when baking. There also is no easy conversion for wheat flour or almond flour to coconut flour. Before experimenting on your own, I would first start with recipes to get used to the conversion.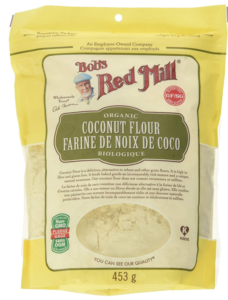 Get it here – Canada
Get it here – US/ International
5. OILS & BUTTER
Oils and butter are a must in any kitchen, but even more so on a ketogenic diet. Eating healthy fats will help you feel full longer and give you long lasting energy. Some staples in my house are coconut oil, avocado oil, olive oil and of course butter. These are definitely a must have keto pantry essentials for beginners.
Avocado Oil
Get it here – Canada
Get it here – US/ International
Coconut Oil
Get it here – Canada
Get it here – US/ International
6. LOW CARB SWEETENER
These are a must have for keto for beginners! There are tons of great low carb and keto friendly sweeteners on the market. Adding these into your pantry will help make the transition to a ketogenic diet so much easier. These can help create delicious ketogenic desserts such as cakes, muffins, pudding and the list goes on! Below are some low carb sweeteners that I keep in my pantry.
Swerve
Get it here – Canada
Get it here – US/ International
Stevia Drops
Get it here – Canada
Get it here – US/ International
Monkfruit Sweetner
Get it here – Canada
Get it here – US/ International
Although more expensive Swerve and Monkfruit Sweetener are great for baking as it measures cup-for-cup just like sugar. Stevia drops are great to sweeten almost anything, I specifically like to use a few drops of this to sweeten sauces.
7. XANTHUM GUM / KONJAC FLOUR
Since traditional all-purpose flour doesn't fit within a ketogenic diet, you'll need some low carb thickeners to help make sauces, soups and stews. While you can use almond and coconut flour to thicken, I prefer to use xanthum gum or konjac flour. Both are high-fiber thickeners that can do almost anything all-purpose flour can. Only a small amount is needed, so both of these will last you a long time!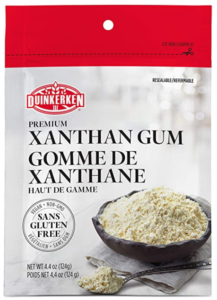 Get it here – Canada
Get it here – US/ International
8. PSYLLIUM HUSK
Psyllium husk is so useful especially for keto for beginners. It is best known for it's fiber content and can help with lowering cholesterol levels, decreasing blood pressure, balancing sugar levels and of course – improving bowel movements. Psyllium husk can also be used for baking purposes! It can be used to make muffins, keto bread and tortillas with a whole grain texture . This ingredient comes in a capsule or powder form – be sure to get the powder to be able to use this for multiple purposes!
9.) LOW CARB TOMATO SAUCE, CANNED TOMATOES & TOMATO PASTE
Okay lets be honest, this isn't just a keto for beginners item. You probably have most of these items in your pantry already. Make sure that your canned tomatoes have no added sugar. Most tomato paste is okay. It is higher in carbs but most recipes only call for 1-2 tbsp making it easy to fit into your macros!
Below is a popular low sugar tomato sauce: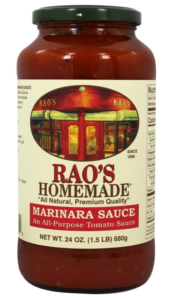 Get it here – Canada
Get it here – US/ International
10. CONDIMENTS
Yes you can still use contaminants while following a low carb keto diet! Adding these to your pantry will help make the transition to a low carb diet even easier.
Here is a list of what we regularly use in my house:
Mayonnaise – Traditional mayo is perfect for a keto diet as it is made with oil, egg yolk, and either vinegar or lemon juice. Make sure to check the label, as some brands can add sugars or other hidden carbs to the ingredients!
Mustard – Almost all types of mustard have zero carbs and are perfect for a keto diet. In my house we have yellow mustard, dijon and a grainy mustard.
Ketchup – Most brands of ketchup has a ton of sugar and hidden carbs. Thankfully there are brands starting to make no sugar added ketchup such as French's and Heinz which have about 1 carb per serving.
Get it here – Canada
Get it here – US/ International
Low Carb Salad Dressing – Salad dressing can be tricky! Always look at the label. As an easy rule try to stick with full-fat dressings such as Ranch or Ceaser. Stay away from vinaigrette as they usually are higher in carbs.
Hot Sauce – Surprisingly hot sauce usually doesn't contain any carbs per serving. In my house we generally always have Frank's Hot Sauce, Sriracha sauce and Chili Garlic Sauce.
11. HERBS & SPICES
This should be a given, even for keto for beginners! Other than the standard, salt, pepper, garlic powder and onion powder I consistently use Italian seasoning, dried dill, and chili powder.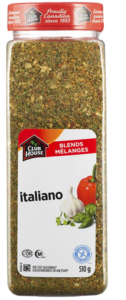 Get it here – Canada
Get it here – US/ International
Get it here – Canada
Get it here – US/ International
14. CANNED MEAT & FISH
Whether or not you're on a ketogenic diet, canned meat & fish can be a great addition to any pantry. These make great easy weekday lunches or dinners. Try canned tuna and even canned chicken.
15. NUTS & SEEDS
These are great for a quick snack but I also use these in a variety of different recipes (a lot of desserts!). Look for cashews, almonds, peanuts, pecans, walnuts, macadamia nuts and sunflower seeds. Watch your intake as the carbs of nuts and seeds can quickly add up. Also ,ale sure that the nuts have no added sugars.
Now, are you wondering what to cook? Visit my Keto Recipes page for ideas!
When you're just starting off on the keto diet it can feel very overwhelming. I hope that this list has helped make the transition easier. If you would like to see more helpful posts on keto for beginners please let me know in the comments below! I would also love to hear what items you have in your pantry. Is there anything that I missed?
Disclaimer: This post contains affiliate links. If you purchase something from the link I get a small commission to help run the blog.