Jump to Recipe
Who knew that you could make delicious oven roasted radishes!? It wasn't until I switched to a keto diet that I discovered the genius of oven baked radishes. Before going low carb, I had only had radishes sliced on top of tacos or fresh in a simple salad with sour cream. These roasted radishes are the perfect side dish for any meal including special occasions like Thanksgiving or Christmas. They have a mild flavor and are a great replacement for potatoes if following a low carb or keto diet.
Why You Should Roast Radishes
Cooking radishes mellows their earthy flavor. Radishes are a root vegetable that have a slightly peppery and earthy flavor. When baked, the flavor becomes more mild, making them easier to eat in the bulk.
They are low in carbohydrates. That's right, radishes are perfect for a keto or low carb diet because they only contain about 1.8g of net carbs per 100g!
Radishes are high in potassium. It's important to keep up with electrolytes while following the keto diet. Doing so can help lessen symptoms of the dreaded "keto flu" when first starting out. If you're just starting out on the keto diet, you'll want to see my 15 Keto Pantry Essentials for Beginners list.
Oven roasted radishes are delicious! Something magical happens when you roast radishes. They become tender and slightly crunchy with a delicious mild flavor that's close to the taste of a turnip. They are a great replacement for roasted baby potatoes if following a low carb or keto diet. You can flavor the radishes however you like but they are great with a bit of garlic and some oil.
It's easy! Seriously, with only 5 minutes prep this is the easiest recipe to prepare on busy weeknights or those big family dinners when you are already cooking a million things. This is a great addition to any meal.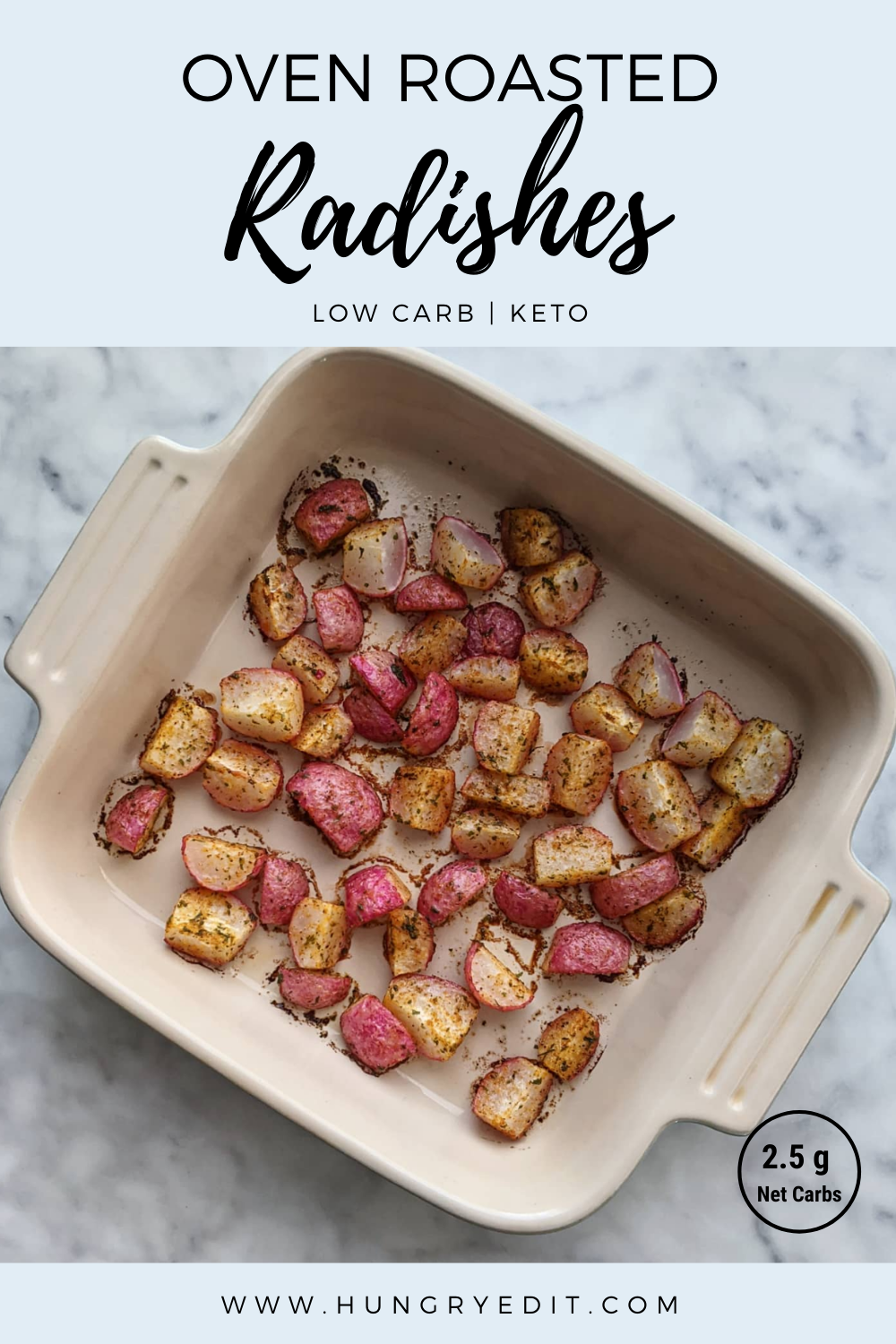 Oven Roasted Radishes
Ingredients
2

lbs

Radishes (Approx. 2 bunches)

Ends Trimmed, Quartered or Halved Depending on Size.

2

tbsp

Olive Oil, Avocado Oil, or Duck Fat

1

tsp

Dried Parsley

Plus more for garnish.

1/2

tsp

Paprika

1/4

tsp

Onion Powder

1/4

tsp

Garlic Powder

Or 1-2 cloves of minced garlic.

1/4

tsp

Salt

1/8

tsp

Black Pepper
Instructions
Cut off the green ends of the radishes and cut in half. Quarter the radish if it is larger.

Toss the radishes in oil and spices.

Spread radishes in a large baking dish. Do not over crowd.

Bake for approximately 25-30 minutes until golden and crispy; turning half way through.

Garnish with parsley and serve as is or with a side of dressing such as ranch and enjoy!
Notes
Nutrition Information: 4 Servings
84 Calories
4.4g Carbohydrates
1.9g Fiber
7.8g Fat
0.9g Protein
Net Carbs: 2.5g / Serving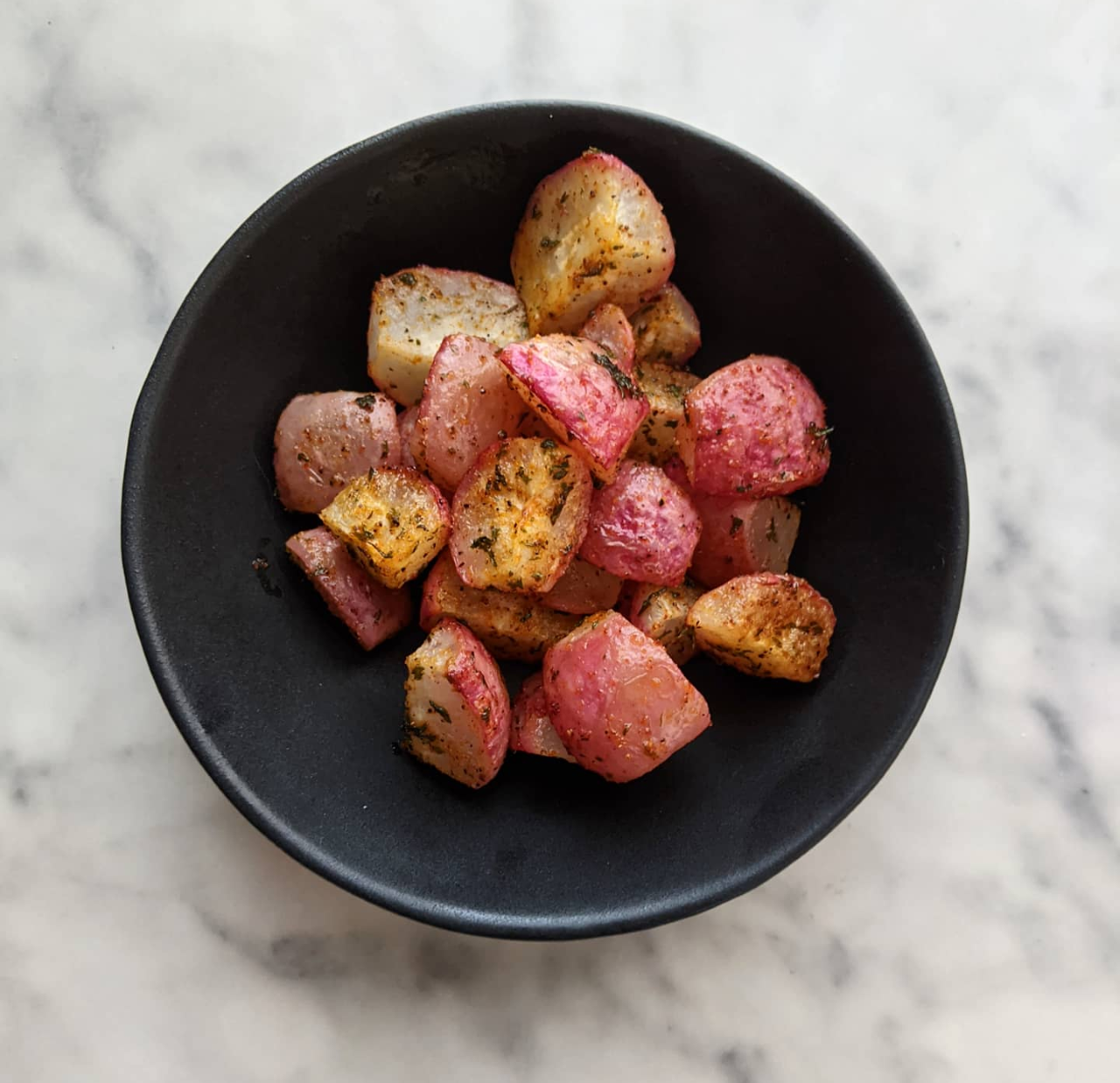 Have you tried oven roasted radishes? I'd love to know what's your favorite way to season them. Let me know in the comments below!