Jump to Recipe
Smoothies can be a difficult thing to incorporate into a keto diet. Most smoothies are too high in sugar or carbs and are likely to knock you out of ketosis. This Blueberry Kefir Smoothie is low in carbs, high in protein and is easily modified to fit in a ketogenic diet. It's great for a quick breakfast, snack or a protein boost after a workout.
Benefits of Kefir
This is the big one. Unsweetened or plain kefir has 13g of carbs and 11g of sugar per 1 cup (250ml). Kefir is a fermented milk drink that is made by adding kefir bacteria culture to milk and then letting the mixture ferment for about 24 hours. Kefir actually originated in Eastern Europe / Russia and is used in a variety of dishes (it can even be used as a marinade for meats). My husbands family is from Ukraine and they came to Canada a few years after the fall of the Soviet Union. They've been incorporating this healthy probiotic into their diet long before it was popularized in Western cultures!
Kefir is high in B vitamins and tryptophan (an essential amino acid). It is great for your gut bacteria due to the fermentation process. Kefir also has low lactose content; my husband who is lactose intolerant can consume this with no issues. Many find that incorporating kefir into their diet actually helps with their lactose sensitivity.
Kefir has many health benefits and can be a great addition to your diet. If you are following a ketogenic diet you'll want to consume less kefir to stay into ketosis. I usually adjust this recipe to have 1/2 cup of plain kefir and only 35g of frozen blueberries.
Benefits of Blueberries
Berries are a great way to incorporate fruit into your low carb or ketogenic diet. They are naturally low in sugar with blueberries only being 4.2g of net carbs / 25 berries. Blueberries are classified as a superfood as they are packed with antioxidants, are high in potassium and vitamin c. If you've read my Keto Beginners Guide, you'll know why adding potassium and other electrolytes into your diet is so important.
The slightly sweet and tart flavor of the berries pairs really nicely with the tanginess of kefir in this Blueberry Kefir Smoothie.
Protein Powder
For this recipe I used vanilla whey protein powder. I typically keep whey protein in my pantry because it's less expensive and generally lower in carbs. The one that I use has 2g of net carbs, although you can find protein powders with less or even no carbs. Feel free to replace the whey protein powder with scoop of keto collagen powder or any protein powder that you prefer.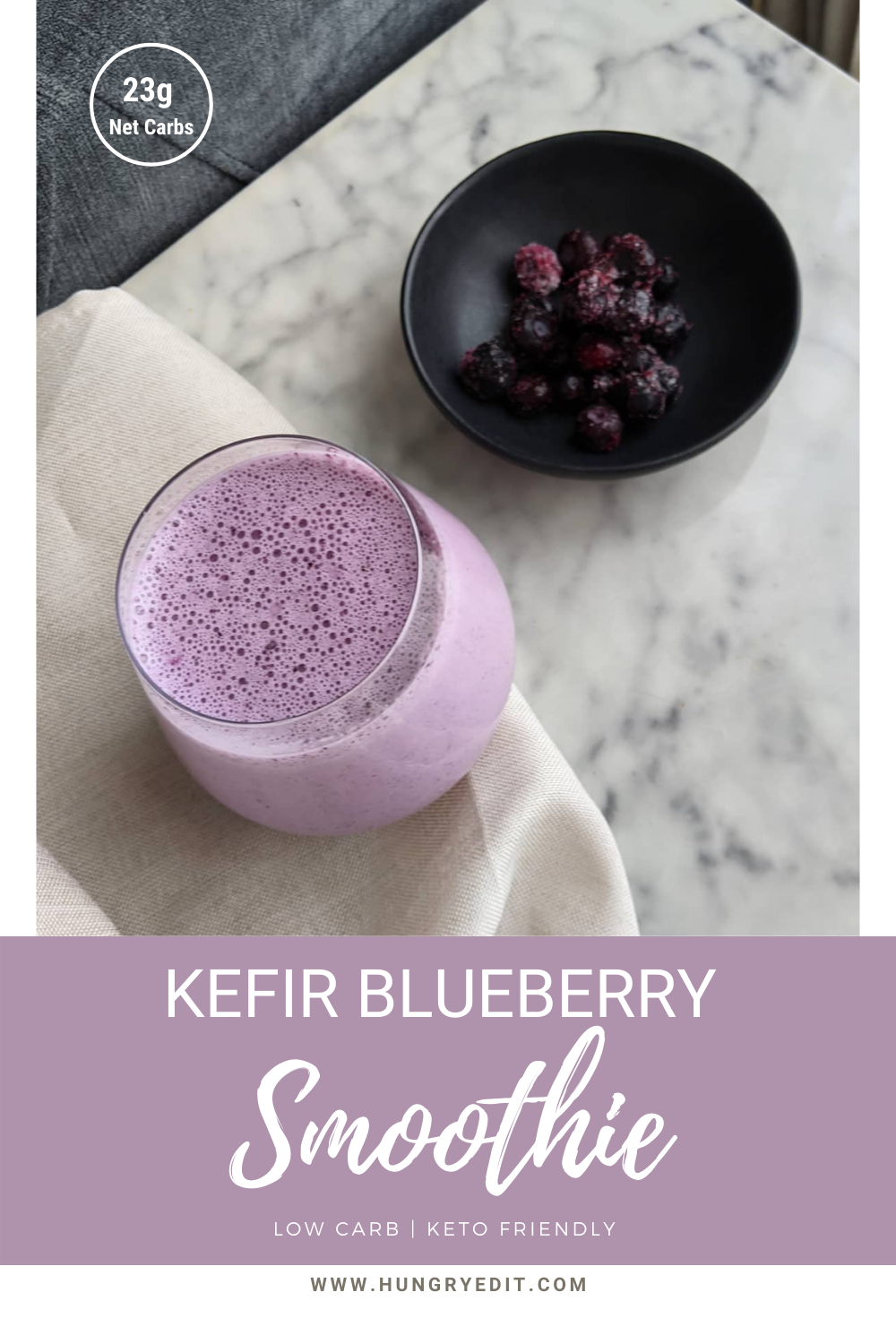 Blueberry Kefir Protein Smoothie
Ingredients
1

Cup

Plain Kefir

70

Grams

Frozen Blueberries

1

Scoop

Vanilla Whey Protein Powder

1/2

Tsp

Vanilla Extract

Optional.

3-5

Drops

Liquid Stevia
Instructions
Place all ingredients into a blender and pulse until combined.
Notes
Nutrition Information: 1 Serving
300 Calories
25g Carbohydrates
2g Fiber
47g Protein 
Net Carbs: 23g Carbs / Serving
Have you tried kefir before? Let me know what you think of this Blueberry Kefir Smoothie! Did you make any changes to the recipe?Let me know in the comments below.