Jump to Recipe
Coq Au Vin is a classic French dish of braised chicken (or rooster) with wine, mushrooms and onions. For my low carb and keto friendly version I keep this Keto Coq Au Vin as close to the traditional recipe as possible. This is a fantastic recipe that I think any home cook should try to attempt. It dish takes some time and preparation but it isn't too complicated! For my Keto Coq Au Vin recipe, I choose a dry red wine. You could use any wine but as Julia Child says, "red is more characteristic" and I completely agree.
Chicken:
Typically most people use a chicken leg quarter but for this recipe I use chicken drumsticks (6). If you are going to use the chicken leg quarter, 4 of these will work nicely with the dish. Dry the chicken thoroughly before browning. This creates a sear that gives the protein a nice charred and roasted flavor.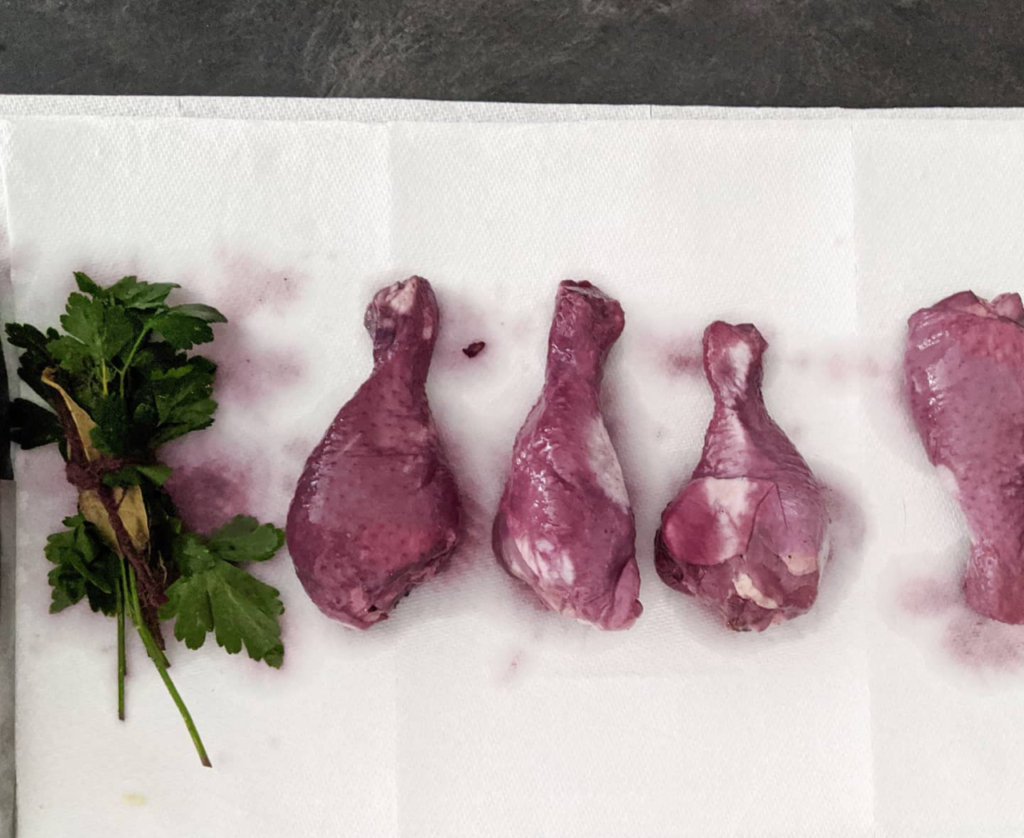 Red Wine:
Use a Burgundy wine (made in the Burgundy region in eastern France) or full-bodied red wine such as Cabernet Sauvignon, Zinfandel, and Shiraz.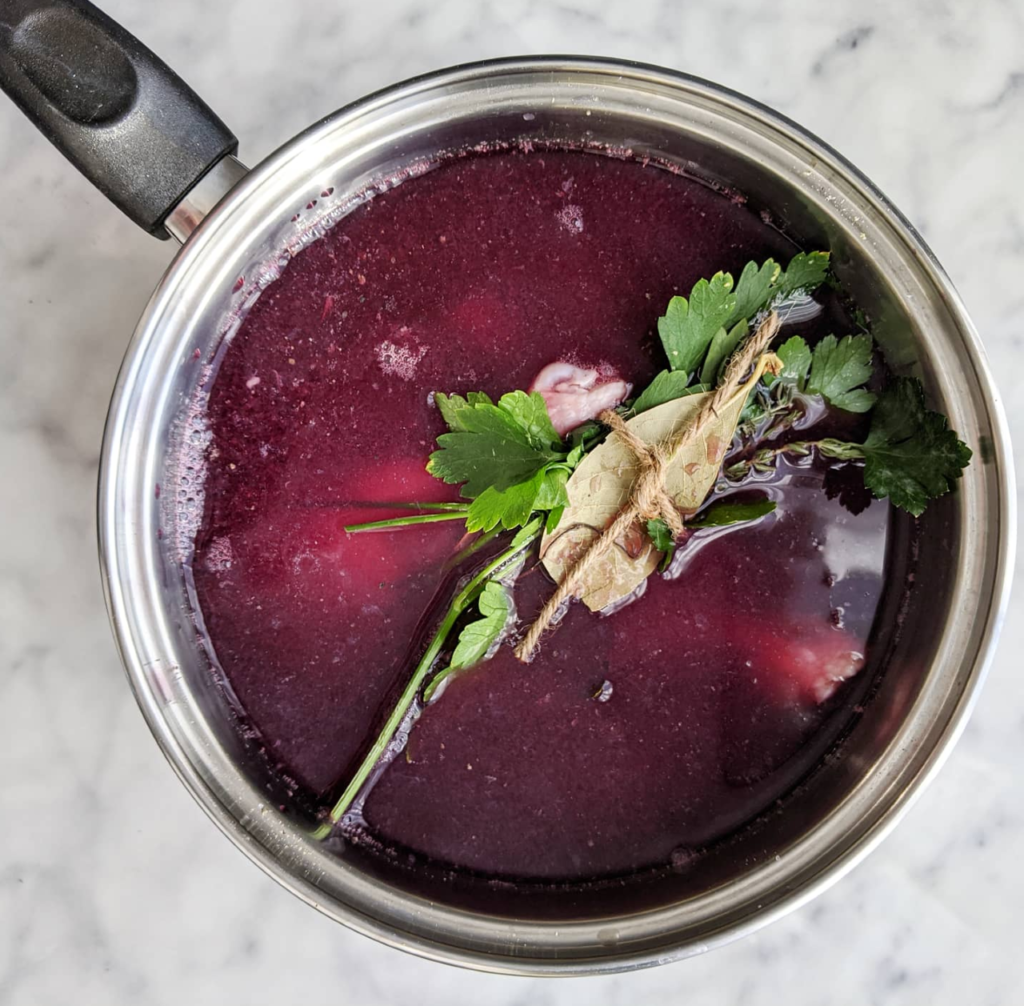 Bacon:

Any bacon will do in this recipe, but the fattier the better! While cooking bring the heat up slowly to render out the fat. This will leave the pot with some flavorful fat to brown the chicken.
Onions:
We have two types of onions in this classic Keto Coq Au Vin recipe. The diced white onions are cooked into the stew and peeled pearl onions are cooked on a separate pan with butter and sweetener to remove the bitterness.
Carrots:

I know! These aren't technically keto, however in small amounts these can add a great amount of flavor to the dish. I highly recommend adding these into your dish but if you're following a strict ketogenic diet you can leave these out. Below, I've added the nutrition information for this dish with and without the carrots.
Mushrooms:

In this dish we have the same type of mushrooms cooked two different ways. One is sliced and cooked in the stew, the other half is quartered and cooked with the pearl onions. This step adds some really nice visual texture to the dish!
Herbs:

Combine the herbs into a classic bouquet garni (bay leaves, parsley and fresh thyme). Bundling up the herbs makes for easy removal.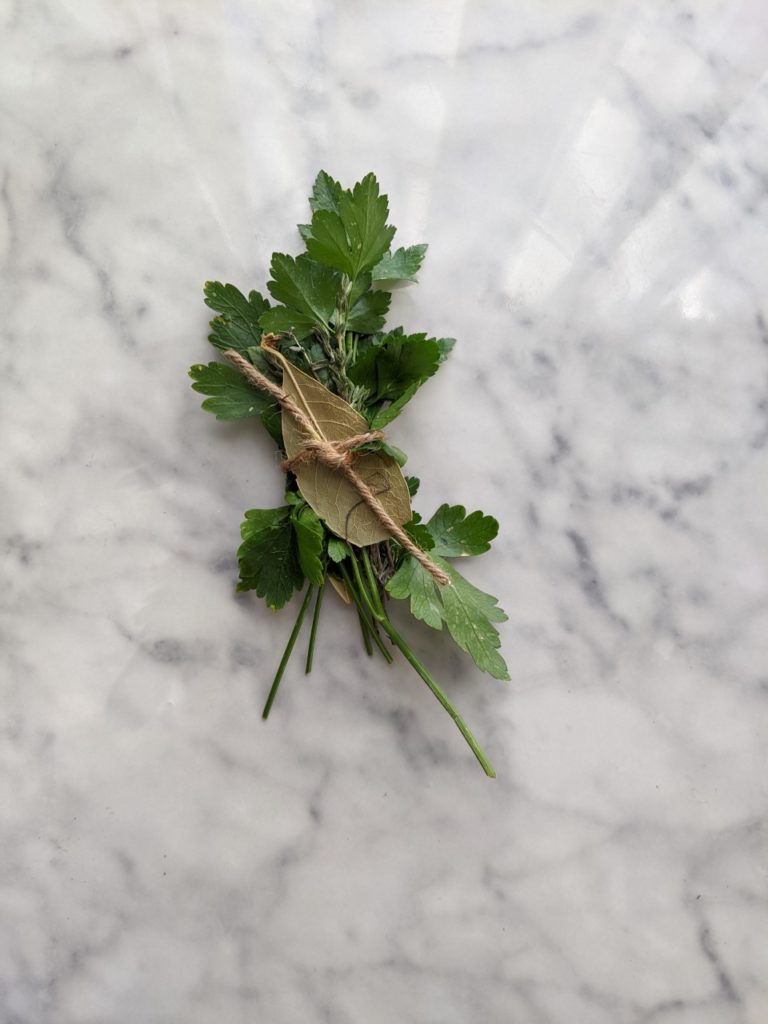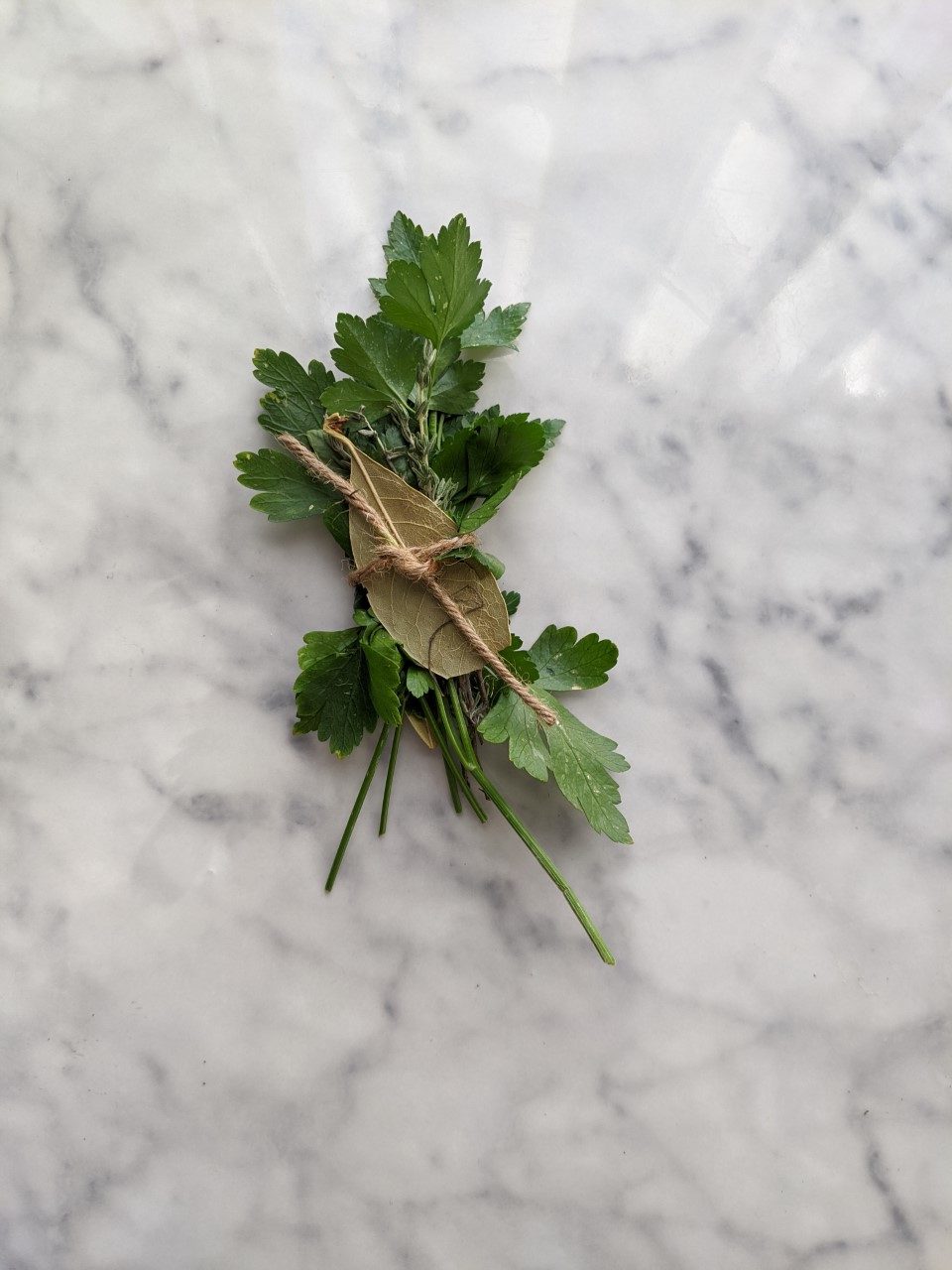 Brandy:

Even though this is technically not keto, this is an important ingredient that cannot be skipped. While pouring the brandy, deglaze the pot to reincorporate the brown bits on the bottom back into the sauce. This adds in a ton of flavor!
Thickener:
Traditionally this recipe uses flour as a thickener. However, to make it keto we will be using Konjac Four (Paleo) or Xanthan Gum. I recommend starting with 1/8 tsp and work your way up as needed (you shouldn't need anymore than 1/2 tsp). You can find Xanthan Gum here. Not sure what Konjac Flour or Xanthan Gum is? See my list of 15 Keto Pantry Essentials.
Coq Au Vin is traditionally served with potatoes but for our Keto Coq Au Vin, a simple salad or a side of Cauliflower Mash would be a great addition.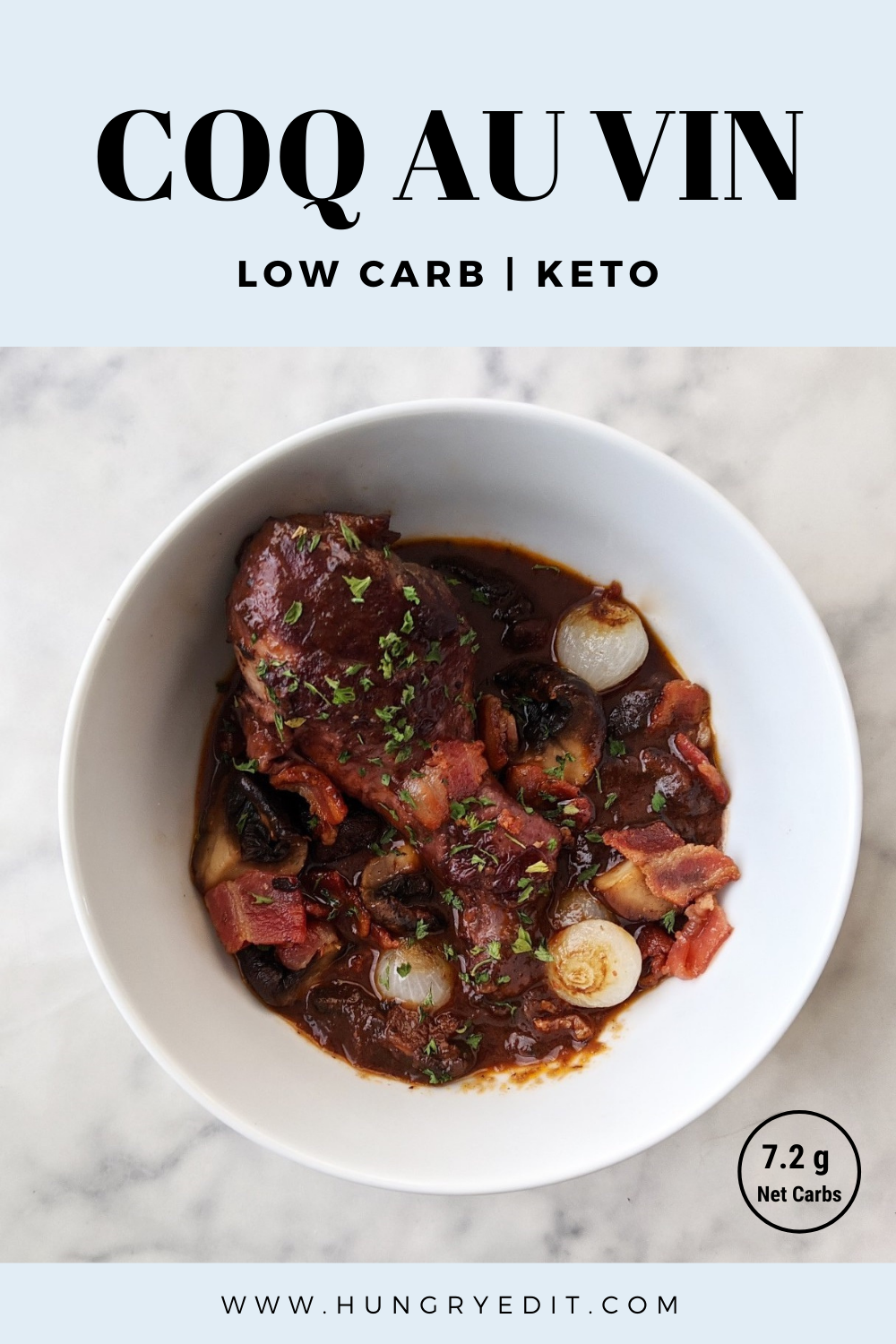 Low Carb Coq Au Vin (Keto Friendly)
Classic French recipe of chicken braised in wine.
Ingredients
6

Bone-in Chicken Legs

Alternative: 4 skin-on chicken leg quarter.

750

ml

Dry Red Wine

1/4

cup

Brandy

3

Springs of Thyme

2

Bay Leaves

1

Bunch of Fresh Parsley

225

grams

Bacon

Approx. 6-8 pieces. Cubed.

200

grams

Cremini Mushrooms

Sliced.

200

grams

Cremini Mushrooms

Quartered.

5

Garlic Cloves

Minced.

2

tbsp

Tomato Paste

2

tbsp

Olive Oil

2

tbsp

Butter

100

grams

White Onion

Diced.

200

grams

Pearl Onions

100

grams

Carrot

Optional. Diced.

1/4

tsp

Konjac Flour or Xanthan Gum

Thickener. Start with 1/8 tsp and work your way up as needed. You shouldn't need anymore than 1/2 tsp.

1/4

cup

Fresh Parsley

Garnish.

powdered stevia or any low carb sweetener

A pinch.

Pepper

To Taste.

Salt

To Taste.
Instructions
Season the chicken with salt and pepper and add to a deep bowl.

Add the bouquet garni to the bowl with the chicken and pour in the red wine. The wine should completely cover the chicken. Cover and marinate overnight.

Add the chopped bacon to a large Dutch oven, while bringing the heat up slowly to render out the fat. Cook for approx. 15 minutes until the bacon is nice and crispy.

Using a slotted spoon, remove the bacon and transfer to a paper towel. Leave the excess fat in the pot.

Remove the chicken from the marinade and thoroughly dry the chicken with paper towel. NOTE: Don't discard the wine.

With the remaining bacon fat, increase to high heat and place chicken in the hot skillet until nicely browned. About 3-4 minutes per side. Remove the chicken from the pot and set aside. NOTE: Work in batches. Be careful not to over crowd the pot, otherwise you won't get a nice sear on the chicken.

Lower the pot to medium-high heat. Add 200g of the sliced mushrooms, 100g diced white onion, minced garlic cloves, and 100g of the diced carrots (optional) to the pot and cook until the vegetables are softened. About 10 minutes.

Stir in tomato paste and cook for about 3 minutes.

Pour brandy into the pot and deglaze the pan by scraping up the brown bits to reincorporate them into the sauce. Cook until liquid has evaporated, approx. 2 minutes.

Add the wine, including the bouquet garni back into the pot. Stir to incorporate and bring the wine to a boil. Cook until wine has reduced by half, approx. 15 minutes.

Sprinkle the thickener to the pot (xanthan gum or konjac flour) and stir to combine. Start with1/8 tsp and work your way up as needed. You shouldn't need anymore than 1/2 tsp. If needed , slowly add more thickener throughout the cooking process. Being careful not to add too much to the stew.

Add the chicken and half the bacon back to the pot and reduce the heat to low. Simmer for 1 hour until the chicken has cooked and the sauce has thickened.

While the stew is simmering, heat olive oil and butter in a large nonstick pan. Add the pearl onions and sweetener. Cover and reduce the heat to low. Cook for 15 minutes, shaking the skillet often to move the onions.

Add 200g of the quartered mushrooms to the pan with the pearl onions. Cook for approx. 7 minutes until softened.

Once the stew has simmered for an hour, add the quartered mushrooms and pearl onions to the Coq Au Vin. Sprinkle on fresh parsley and remaining cooked bacon.

Serve with a simple salad or cauliflower mash. Enjoy!
Notes
Nutrition Information (with Carrots): 
6 Servings
524 Calories / Serving
10.8 Carbs
2.4 Fiber
Net Carbs: 8.4g / Serving
Nutrition Information (Without Carrots): 
6 Servings
517 Calories / Serving
9.1 Carbs
1.9 Fiber
Net Carbs: 7.5g / Serving 
Have you attempted to make this Keto Coq Au Vin? I'd love to hear your thoughts and comments below. Let me know if there are any other classic French recipes that I should try to make keto friendly!