Cauliflower mash is the perfect low carb replacement for mashed potatoes. This is the #1 side dish for any keto dinner including special occasions. We've found the perfect method to cook this keto mashed cauliflower so you'll have a non-soggy, buttery result! This is an easy recipe that's ready in 20 minutes.
Tips for Non-Soggy Mashed Cauliflower:
Cauliflower tends to hold more water than potatoes. Because of this, the best method to cook the cauliflower is steaming. Boiling the cauliflower will add too much water into the vegetable.
There are two methods for steaming cauliflower – microwave or stovetop. If using the microwave, place cauliflower in a microwave safe bowl and cook for 10-12 minutes on high. Do not add water. If using the stovetop method, add 1 inch of water to the bottom of the pot and place cauliflower in a steamer basket and steam for 4-8 minutes, until cauliflower is tender.
For both methods you'll want to cook the cauliflower uncovered to allow the steam to escape. Otherwise the cauliflower will hold onto too much water.
Step 1:
Remove the Core and Cut the Cauliflower into Florets.
Step 2:
Steam the Cauliflower Uncovered, Until Tender.
Step 3:
Pat Dry the Cauliflower with Paper Towel to Remove Excess Moisture.
Step 4:
Place Cooked Cauliflower to a Blender or Food Processor with egg yolk, grated parmesan cheese, butter and seasoning. Blend until combined. NOTE: We use the Ninja Blender to puree our ingredients!
Egg Yolk:
The addition of egg yolk adds a rich creamy texture to the cauliflower mash. Add the egg yolk raw into the blender or food processor. Work quickly so that the heat from the steamed cauliflower, will will warm the egg. If you're worried about using raw egg, this step can be skipped.
Cheese:
The addition of cheese adds a nice depth of flavor to the cauliflower. Parmesan is a saltier cheese that pairs nicely with the cauliflower. For a creamier texture, you can try adding cream cheese instead.
Butter:
The addition of fat adds so much flavor to the cauliflower. This is the #1 ingredient the shouldn't be skipped!
Seasoning:
This step is up to you! You can change this up depending on your family's preference or what you're serving with the cauliflower mash. Try garlic, chives or even bacon!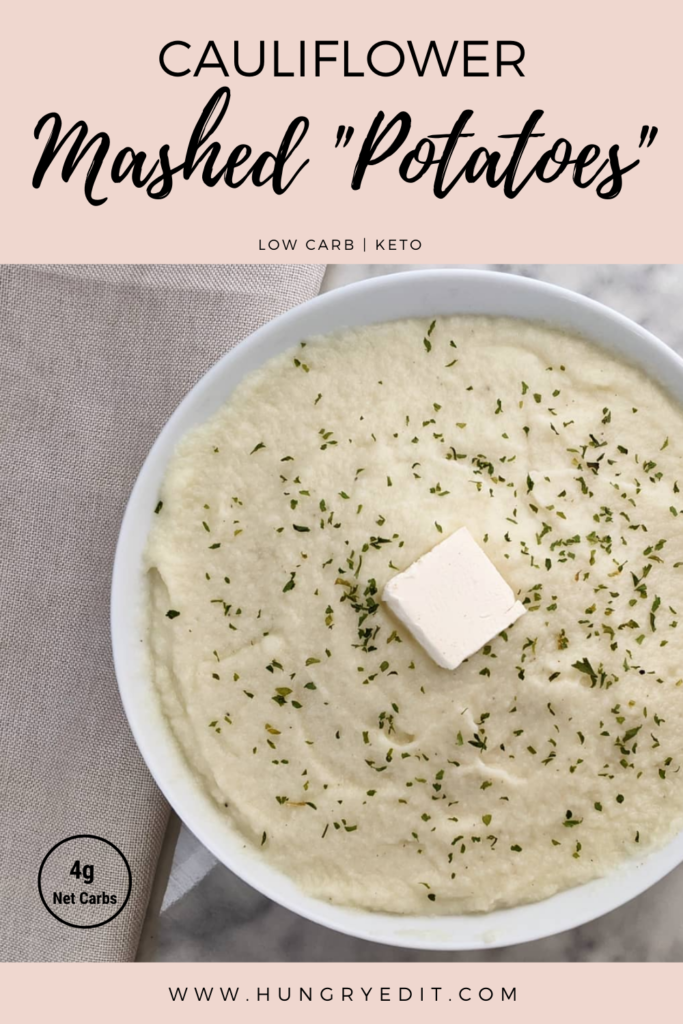 Cauliflower Mashed "Potatoes"
Equipment
Blender or Food Processor
Ingredients
1

Large Head of Cauliflower

Cut into Florets (Approx. 600-700 grams)

3

tbsp

Butter

1/4

cup

Grated Parmesan Cheese

1-2

cloves

Minced Garlic

Optional.

1

Egg Yolk

Optional.

Salt & Pepper

To Taste.
Instructions
Cut out the core and cut the cauliflower into florets.

Steam cauliflower uncovered until tender.

STOVETOP: 4-8 minutes or MICROWAVE 10-12 minutes on high.

Once the cauliflower is done cooking quickly pat dry with a paper towel.

Working quickly, place the cauliflower in a blender or  food processor with all remaining ingredients.

Puree all ingredients until smooth.
Notes
Nutrition Information (6 Servings): 
102 Calories
5.4g Carbohydrates
1.3g Fiber
7.3g Fat 
3.7g Protein 
Net Carb: 4.1g / Serving 
NOTE: Nutrition information will vary, depending on the size of your cauliflower. 
Mashed cauliflower is the perfect side dish to almost any meal! Try this with Keto Coq Au Vin (Chicken and Wine).