Moqueca (pronounced "mo-KEH-kah"), is a simple fish stew that we've adapted to fit within a keto diet. Our Keto Brazilian Fish Stew uses white fish, coconut milk, lime juice and a variety of colorful vegetables. This is a simple dish that's full of flavor!
How to Make Moqueca
We start off this dish by marinating the fish in lime juice and salt. We let this sit in the fridge while preparing the stew. The key to making this stew as flavorful as possible is to sauté all of the vegetables. Sautéing the carrot and red pepper will not only help soften the veggies but give the stew its amazing vibrant color. Once all of the vegetables are soften, it's time to add the seasoning and chicken or fish stock. This soup only needs to simmer for 25 minutes for the flavors to come together and develop. Add coconut milk at the end to help thicken the stew and add its signature flavor.
Seafood
I have seen this dish being made with salmon, shrimp or white fish. For our recipe, we chose to use Basa as it has a very mild flavor. Cod or Halibut will also be great here. Feel free to use any fish that you like.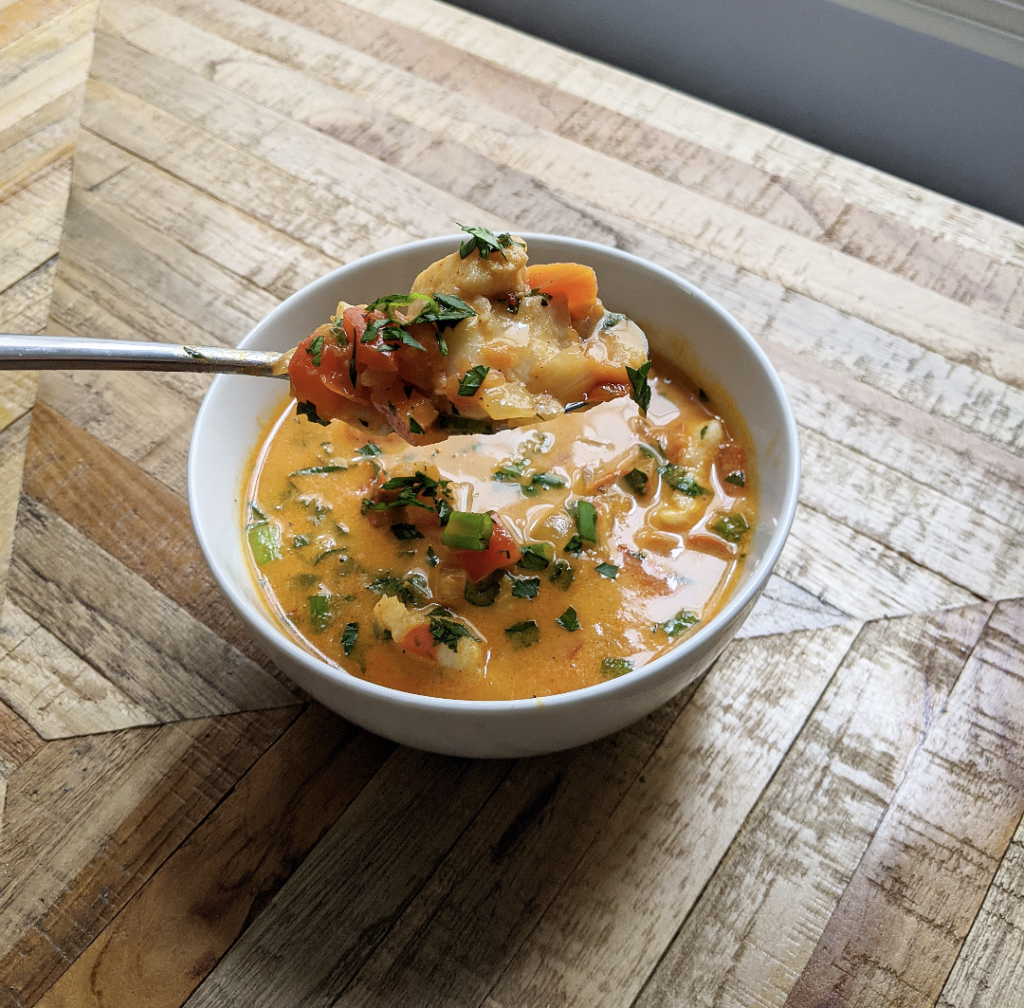 Serving
Moqueca is a stew that is meant to be served with rice. For our Keto Brazilian Fish Stew you can serve this will cauliflower rice or add extra broth and turn this into a soup (this is what we do)! Adjust the seasoning (salt and pepper) accordingly. Once the stew is done cooking, garnish with fresh cilantro, parsley or green onion.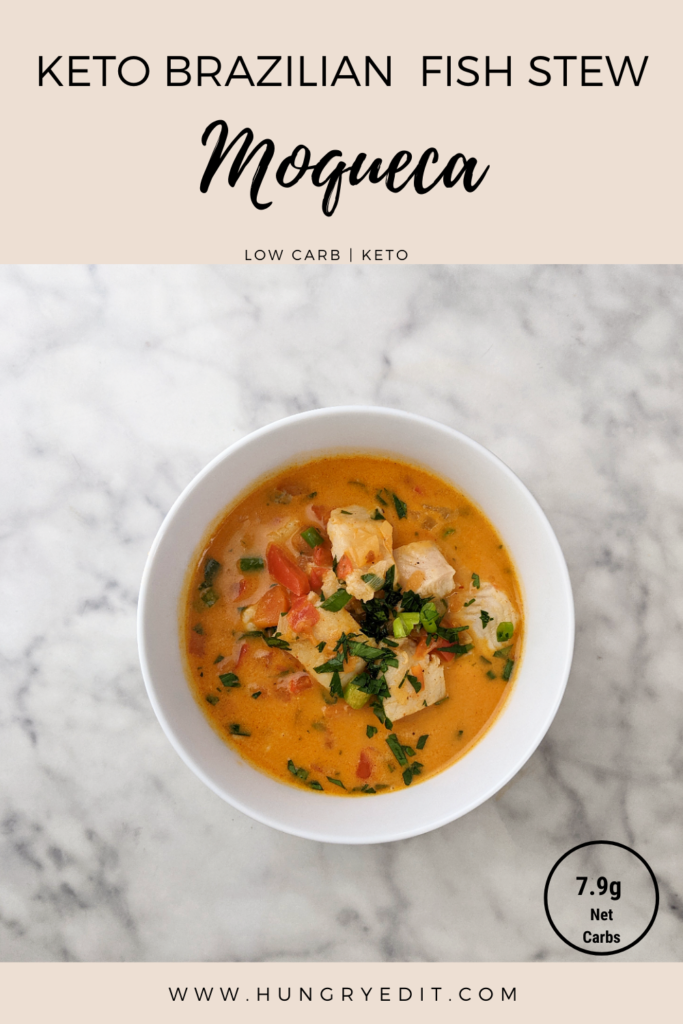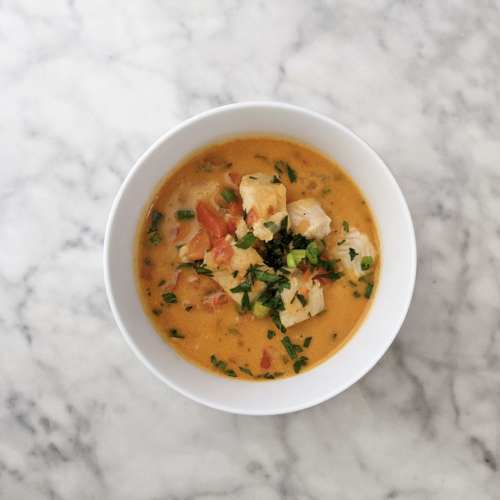 Keto Brazilian Fish Stew (Moqueca)
Ingredients
1 – 1 1/2

lbs

White Fish (Basa, Cod, Halibut etc)

1-2

Limes

Juiced, to marinate the fish.

3

tbsp

Coconut Oil

Or olive oil, canola oil etc.

3

Garlic Cloves

Minced.

100

grams

White or Yellow Onion

Diced.

100

grams

Carrot

Diced.

150

grams

Red Bell Pepper

Diced, about 1 cup.

1

tbsp

Tomato Paste

1

tbsp

Paprika

1/8

tsp

Red Pepper Flakes

275

grams

Tomato

Diced, about 1.5 cups.

1

cup

Chicken or Fish Broth

Optional, add 1 extra cup of broth if you want this to be more of a soup consistency. Adjust seasoning to taste.

1

Lemon

Juiced.

1

Can

Coconut Milk, 398 ml

1/4

Cup

Fresh Cilantro, Parsley or Green Onion

Salt

To Taste.

Pepper

To Taste.
Instructions
In a large pot heat oil over medium heat.

Meanwhile, cut the fish into 2 inch pieces. Marinate with salt and lime juice while the stew is cooking.

Sauté diced onions in the pot until translucent, about 5 minutes.

Add minced garlic and sauté until fragrant, about 1-2 minutes.

Add diced red bell pepper and carrots to the pot and sauté until soft, about 5-7 minutes.

Stir in tomato paste and cook until fragrant, about 1 minute.

Add diced tomatoes and paprika to the pot and cook until tomatoes have softened, about 3-4 minutes.

Add chicken or fish stock along with the red pepper flakes, salt and pepper.

Bring to a boil and allow to simmer for about 15 minutes.

Add 1 can of coconut milk to the pot and simmer for another 10 minutes.

Once the flavors for the stew have developed, add the fish and lemon juice to the pot and cook for about 5 minutes (the fish will cook very quickly).

Turn off the heat and add chopped parsley, cilantro or green onion.

Serve on it's own or with cauliflower rice.
Notes
Nutrition Information (4 Servings): 
442 Calories
11g Carbohydrates 
3.1g Fiber 
33g Fat 
21.5g Protein
Net Carbs: 7.9 g / Serving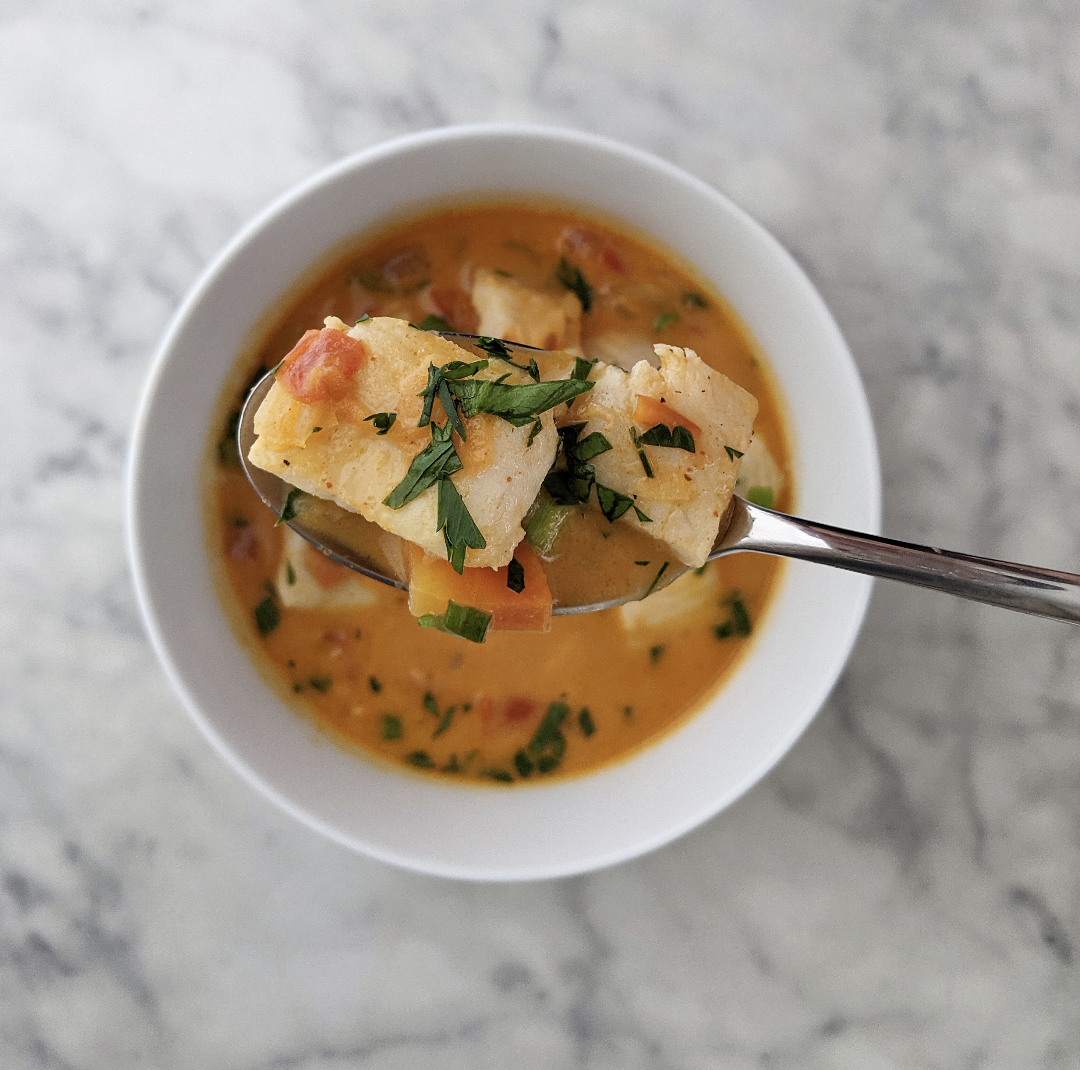 Let us know in the comments below if you've tried our Keto Brazilian Fish Stew (Moqueca ). We'd love to hear your thoughts! If you're looking for more keto & low carb recipes, visit our recipe page!