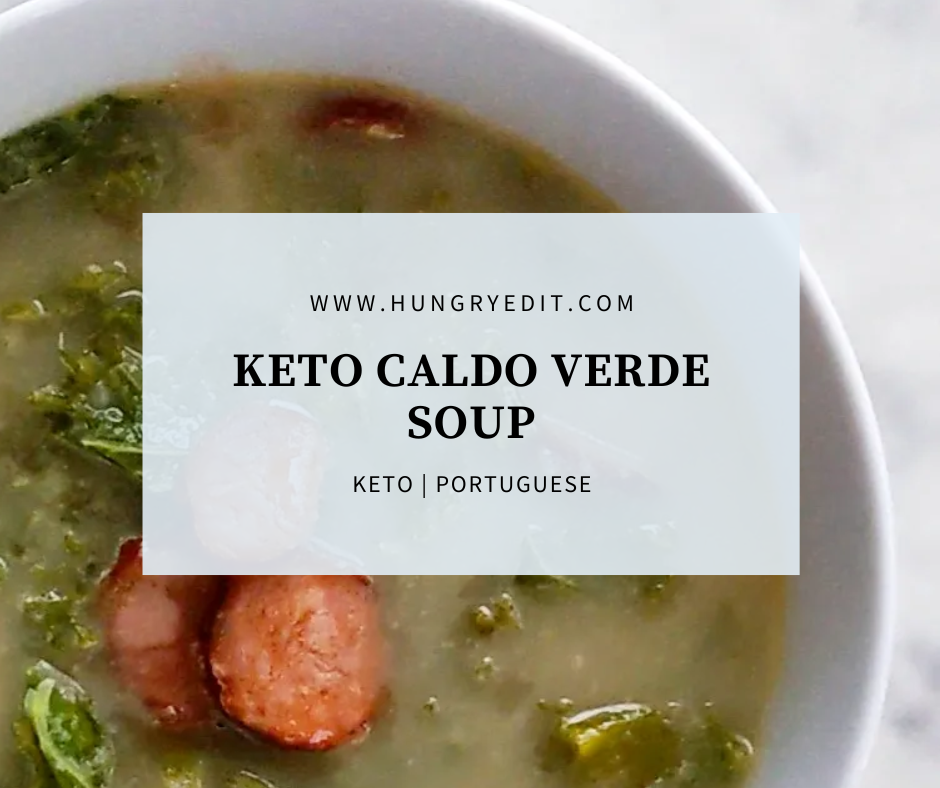 Caldo Verde is a traditional soup from northern Portugal also known as green soup. It is typically made with kale, potatoes and smoked sausage. In our Keto Caldo Verde we keep almost all of the ingredients the same, but we swap the potatoes for cauliflower. This soup is very easy to make and is the perfect recipe for cold and rainy days.
Sausage
This recipe is typically made with a Portuguese sausage called linguiça. If you are unable to find this, any cured lightly smoked sausage will do. We use dried Spanish style chorizo in this recipe, however andouille sausage will also work!
Cauliflower
To make this recipe low carb, we swap out potatoes for cauliflower. Boil the cauliflower in the soup until soft and blend to make the creamy soup base. You can also leave the cauliflower as florets in this recipe, however we find that the texture is nicer when puréed.
Greens
For this Keto Caldo Verde we use kale in the recipe. However, any dark leafy greens such as swiss chard or collard greens would work nicely! If using kale, we recommend removing the tough stem and massaging the kale before adding it to this soup. This will make sure the greens are nice and soft.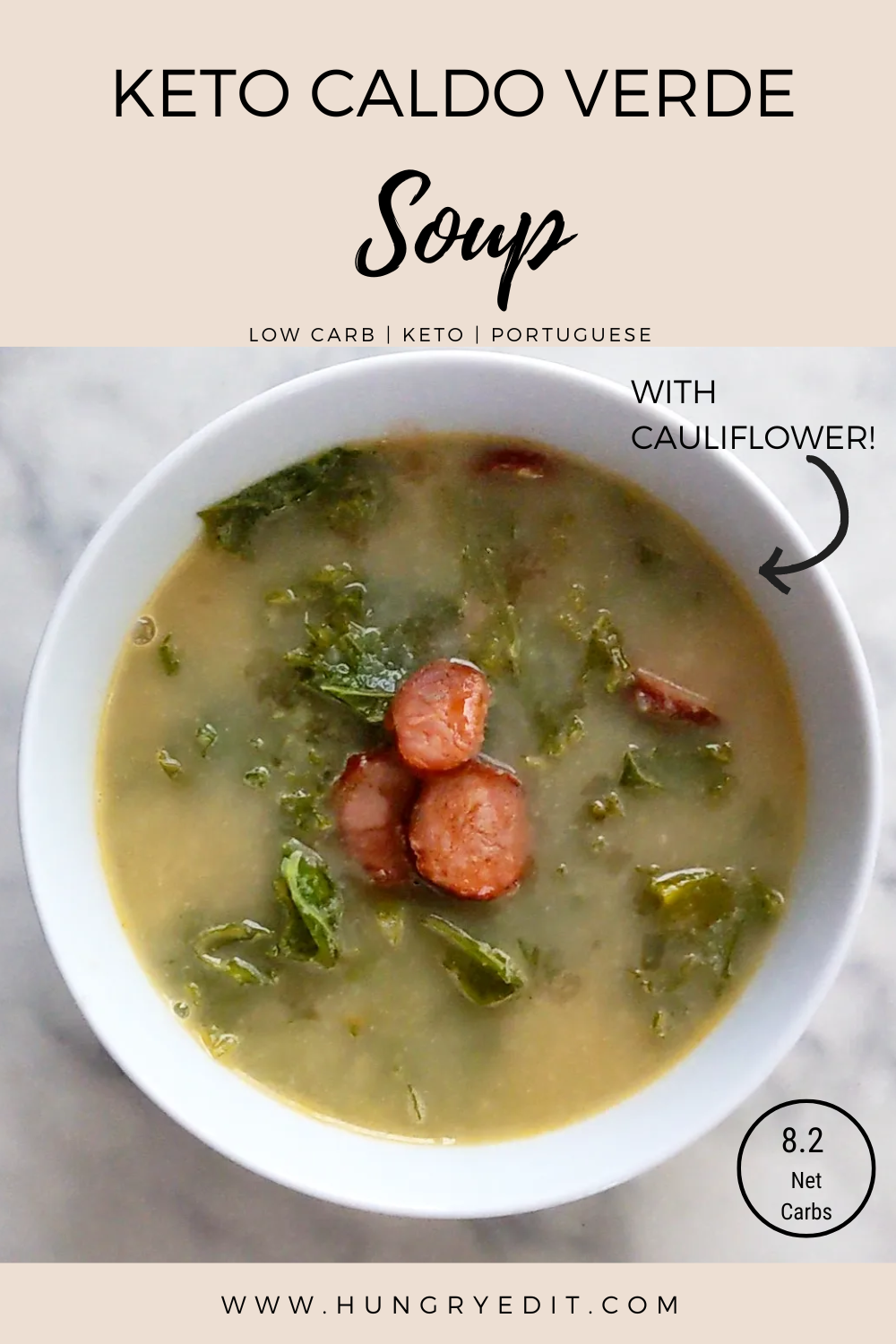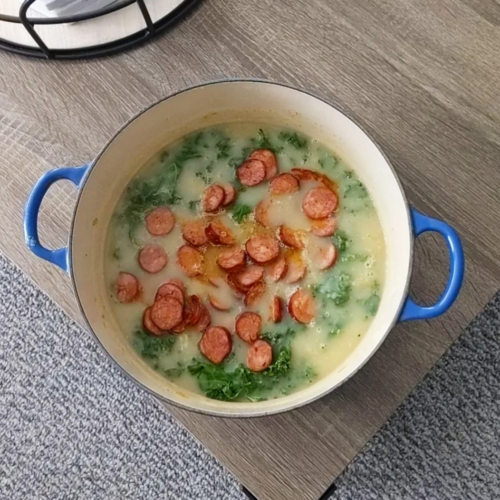 Keto Caldo Verde
Ingredients
1/4

Cup

Olive Oil

250

Grams

Linguiça or Spanish Style Chorizo

Or any cured lightly smoked sausage.

100

Grams

White Onion

Diced.

2

Garlic Cloves

Minced.

8

Cups

Water

Or chicken broth.

350

Grams

Cauliflower

Cut into florets.

150

Grams

Kale, Collard Greens or Swiss Chard

Salt

To taste.

Pepper

To taste.
Instructions
Heat oil in a large pot over medium-high heat.

Slice the sausage and sauté in the pot until the edges are brown; about 3-5 minutes.

Once cooked, remove the sausage with a slotted spoon and set aside.

Reduce heat to medium-low and add diced onions.

Sauté onions until translucent; about 5 minutes.

Add minced garlic and cook until fragrant; about 1 minute.

Add the cauliflower florets to the pot along with water or broth.

Add salt and pepper to taste.

Increase to high heat and bring soup to a boil.

Once simmering, reduce heat to medium low and cook until cauliflower is tender. About 8-10 minutes.

Meanwhile prepare the kale.

Remove the tough stem from the kale and chop into bite size peices.

Once chopped, rinse the kale under cold water and massage gently with your hands. Set aside.

Once the cauliflower is tender, transfer soup to a blender and purée until smooth. Alternatively, you can leave the soup in the pot and use an immersion blender.

Transfer the puréed soup back to the pot and and add the chopped kale. Stir and adjust seasoning if needed.

Add the cooked sausage back to the soup.

Simmer on medium-low until the kale becomes tender; about 15-25 minutes.

Serve immedatly and enjoy!
Notes
Nutrition Information (4 Servings): 
295 Calories 
10.7g

Carbohydrates

2.7g Fiber
20.7g Fat
17.5g Protein
Net Carbs: 8g / Serving
Let us know in the comments below if you've tried our Keto Caldo Verde! If you're looking for more keto recipes, visit our recipe page!