Celeriac remoulade is a popular French dish, similar to coleslaw. Remoulade is a core sauce made from adding dijon mustard to mayonnaise. For our Keto Celery Root Remoulade, we don't have to change anything from the traditional recipe to make this low carb! This is a great side dish to serve with any meal.
Celery Root
Celery root is an ugly vegetable, but don't be discouraged by its appearance. This is a delicious and versatile vegetable that is high in vitamin K, vitamin C and fiber.
Before starting a keto diet, I had no idea that a celery root was even a thing. I think a lot of us in North America grew up with bland steamed or boiled vegetables. We were all taught that fat was bad! We now know that this couldn't be further from the truth. Fat equals flavor, and this is exactly what makes Keto Celery Root Remoulade taste so good!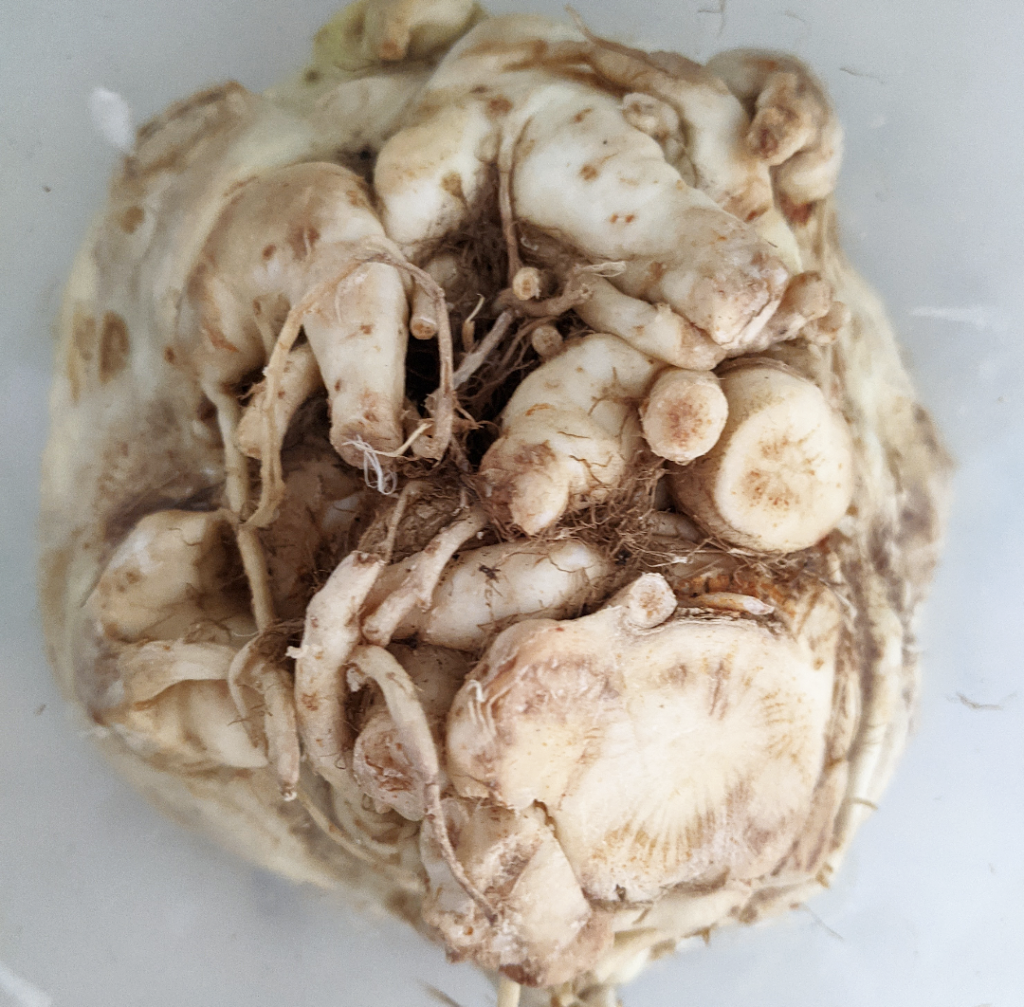 Remoulade
Remoulade is a European core sauce made of mayonnaise, mustard and lemon juice (or vinegar). Making this sauce naturally keto-friendly! This sauce can be eaten as is, or flavoured to your liking. Some flavoring suggestions are:
Curry
Capers
Chives
Tarragon
Shallots
Pickles
Vinegar
Horseradish
Anchovies
Paprika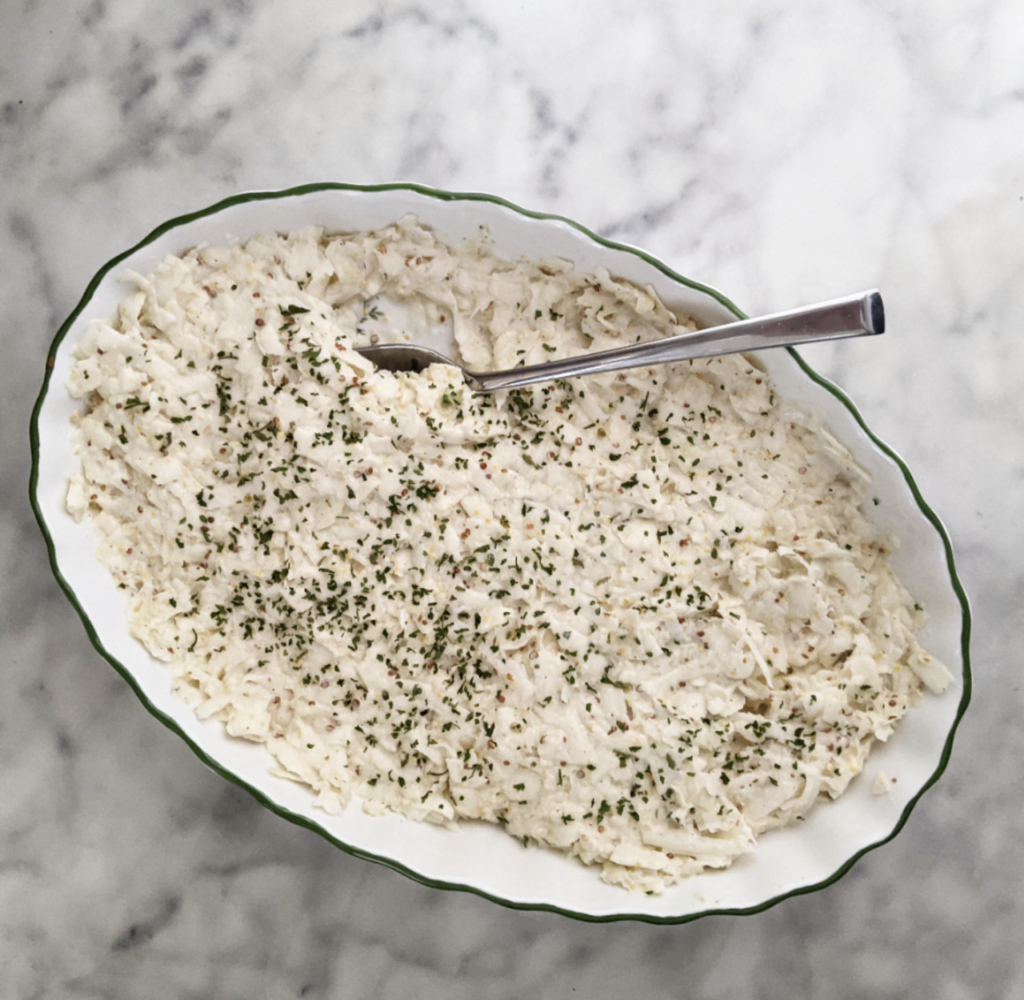 The Process
Our Keto Celery Root Remoulade is very easy to make. Combine the ingredients for the sauce to start and set aside. Working quickly, peel the celery root and grate it coarsely. Have a lemon peel on hand to rub over the celery root as your grating, this will prevent the celeriac from turning brown. Next, coarsely grate the celery root manually or with a food processor. Combine the grated celery root with the sauce and serve immediately or store in an airtight container. This side dish pairs wonderfully with our easy Keto White Wine Chicken.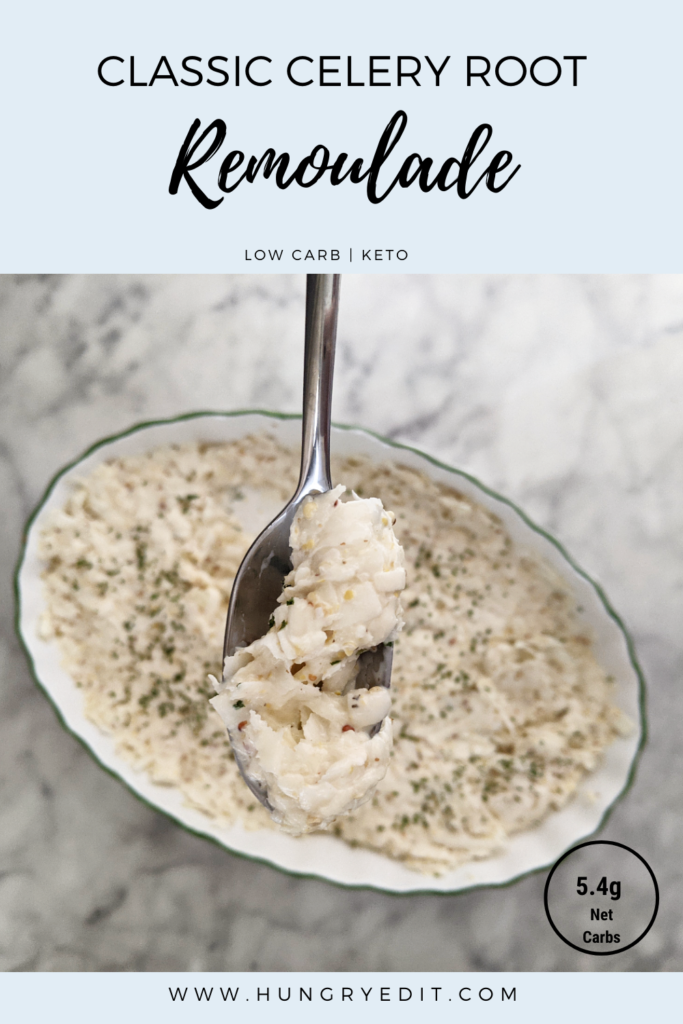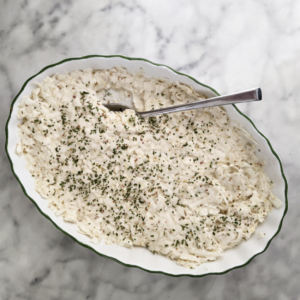 Classic Celery Root Remoulade
Ingredients
1

Celery Root (Celeriac)

Grated, Approx. 450 grams once peeled and root is removed.

1/2

Cup

Mayonnaise

2-2.5

Tbsp

Dijon Mustard

1-2

Tbsp

Lemon Juice

Salt

To Taste.

Black Pepper

To Taste.

Parsley

Garnish.
Optional Toppings:
Capers

Fresh Chives

Fresh Tarragon
Instructions
Prepare the remoulade by combining the mayonnaise, dijon mustard and freshly squeezed lemon juice.

Peel the celery root with a sharp knife.

While peeling the celery root work quickly and rub the lemon peel on the celery root to prevent it from browning.

Working quickly, coarsely grate the celery root or use a food processor.

Mix the dressing (remoulade) with the grated celery root and adjust seasoning (salt and pepper).

Serve immediately or store in an airtight container in the fridge until ready to serve.

Celery Root Remoulade will keep in the fridge for up to 3 day.
Notes
Nutrition Information (6 Servings): 
152 Calories
6.8g Carbohydrates 
1.4g Fiber
13.6g Fat
1.1g Protein 
Net Carbs:5.4g / Serving 
Let us know in the comments below if you've tried our Keto Celery Root Remoulade! For more keto recipes, visit our recipe page.
.