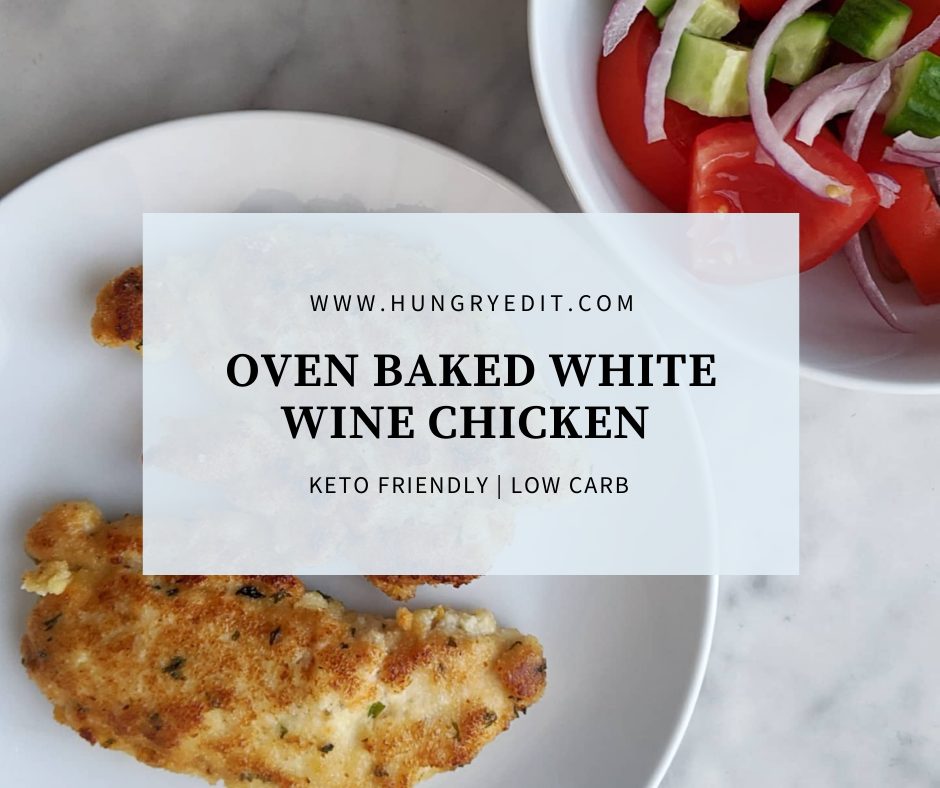 This easy keto dinner recipe is a low carb adaptation of my family's recipe. If you've ever been tired of having dry chicken, this is the recipe for you! This Keto White Wine Chicken is breaded in almond flour and baked with a small amount of white wine for additional flavor. During cooking, we cover the dish with aluminum foil to trap in the moisture, resulting in tender chicken.
The Method:
Honestly this recipe is so easy. It takes regular breaded chicken and transforms it into an elegant dish that can be in your weekly rotation or served for a dinner party. Here's what you make our Keto White Wine Chicken:
Lightly pound your chicken breast so that each piece is about 1/2″ thick. This will ensure even cooking times for all pieces.
Pat dry and season the chicken on all sides with salt and pepper.
Add dried parsley, salt, pepper and optional red pepper flakes to the almond flour mixture.
Coat your chicken in egg and then the almond flour mixture.
Heat a non-stick skillet over medium-high heat with cooking oil.
Lightly brown the sides of the chicken, about 3 minutes per side.
Place the browned chicken in a casserole dish and fill with about 1/4″ cup of dry white wine. The wine should lightly cover the bottom of your baking dish. Adding too much wine will result in soggy chicken.
Cover with aluminium foil and bake for approx. 20-25 minutes. Cooking times will vary depending on the size, thickness if your chicken.
Serve this with a side of veggies or a salad. Enjoy!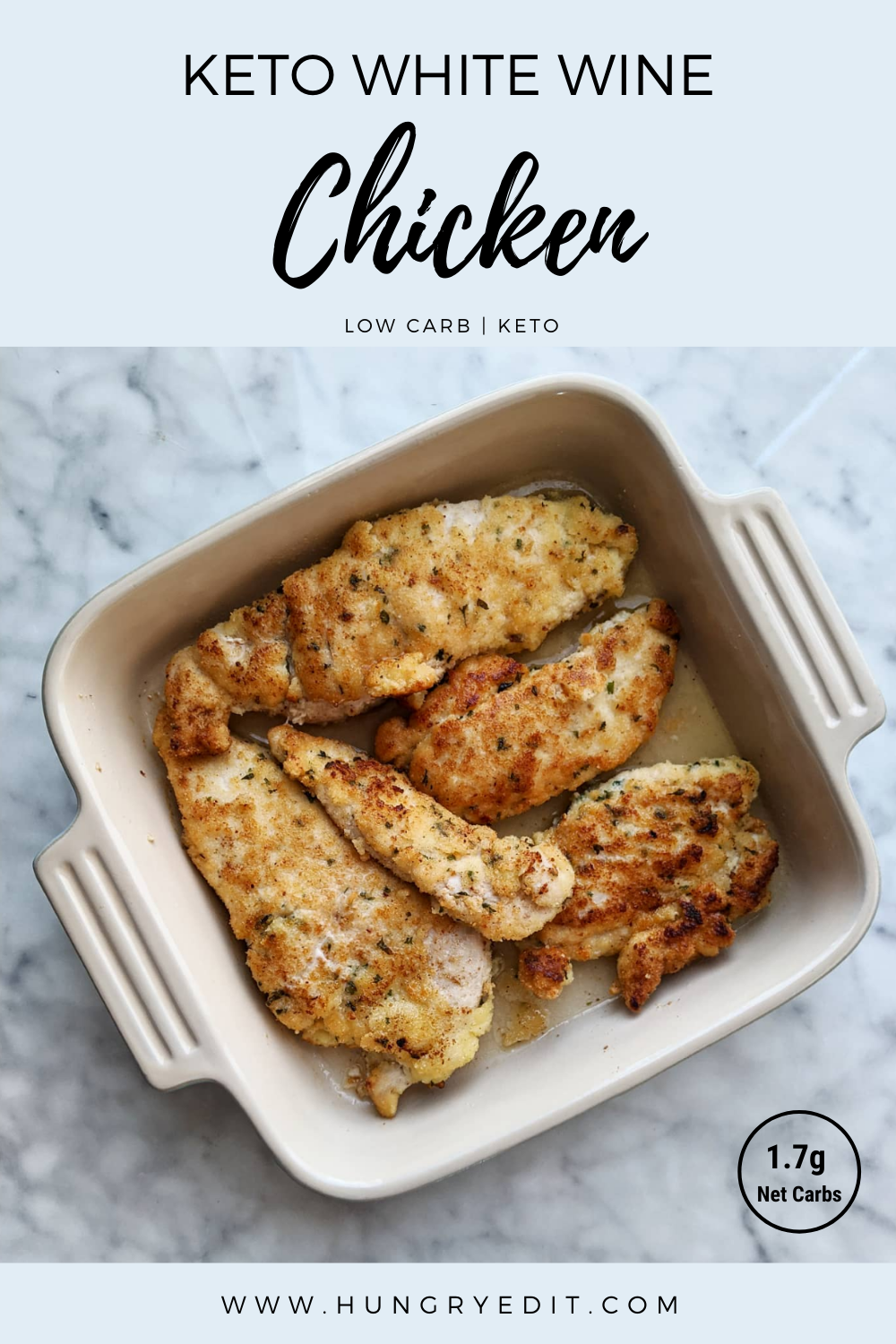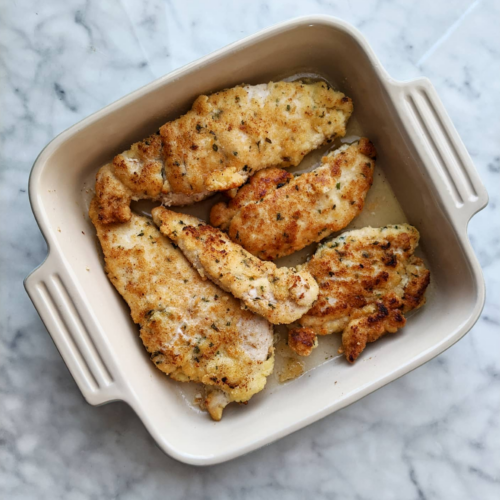 Keto White Wine Chicken
Ingredients
1

lbs

Chicken Breast.

100

grams

Almond Flour.

1

Large Egg.

Lightly Beaten.

1

tsp

Dried Parsley Flakes.

1/4

tsp

Salt.

1/8

tsp

Black Pepper.

1/8

tsp

Red Pepper Flakes.

1/4

Cup

Cooking Oil.

For Frying.

1/4

Cup

Dry White Wine.
Instructions
Lightly pound chicken breasts with a mallet, so that they are of even thickness to ensure consist cooking times. NOTE: Do not over pound. Chicken breast should be approx. 1/2" thick.

Pat dry the chicken and season with salt + pepper.

Crack egg in a bowl and lightly beat with a fork. Set aside.

Measure 100g of almond flour, place in a bowl and add all spices.

Dip chicken breast in beaten egg and roll in flour. Set aside.

Heat cooking oil in a pan on medium high heat and fry for approx. 3 minutes per side. NOTE: Be careful not to overcook. We only want a gold brown coating and do not want to overcook the chicken.

Place lightly fried chicken breast in a baking dish and add the white wine to the bottom of the dish. NOTE: The wine should only lightly cover the bottom. We do not want the chicken to become soggy, only to absorb the flavor of the wine.

Cover baking dish with aluminum foil and bake for about 20-25 minutes, or until chicken is cooked through at 165°F.
Notes
Nutrition Information (4 Servings): 
407 Calories
3.9g Carbohydrates 
2.2g Fiber
27.1g Fat
41.3g Protein
Net Carbs: 1.7g / Serving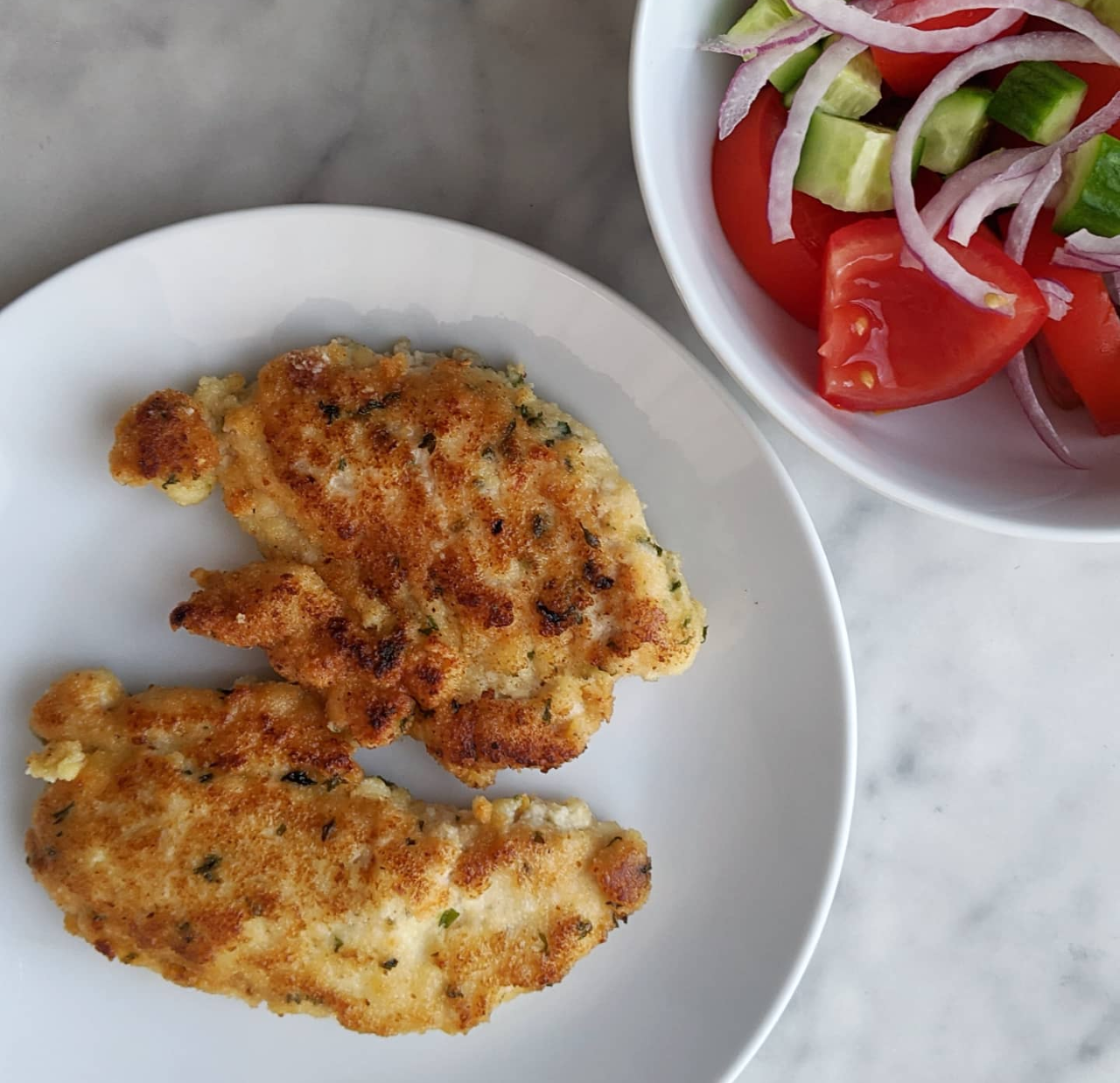 Let us know in the comments below if you've tried our Keto White Wine Chicken! We'd love to hear your thoughts. If you're looking for more Keto Dinner recipes, visit our recipe page!