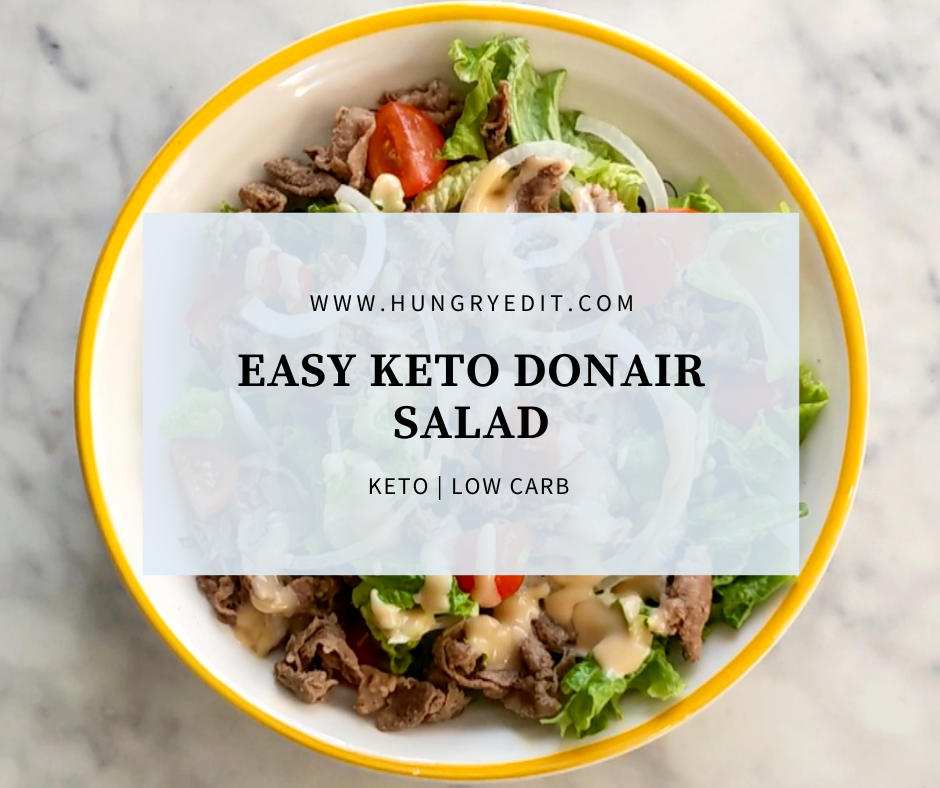 Jump to Recipe
This Keto Donair Salad is an easy low carb take on a Canadian Halifax Donair. This recipe is quick to make and is perfect busy weeknights or meal prep!
Sweet Garlic Sauce
The homemade donair sauce is what makes the difference between a donair and gyro. The is a sweet donair sauce with condensed milk, white vinegar and garlic. While traditional donair sauce isn't keto, we have developed our own keto recipe that tastes the same! The sauce takes about 45 minutes to cook down but it can be stored for up to 1 week in the fridge. Making this sauce perfect for meal for your lunch meal prep!
(Keto Sweet Donair Sauce)
Beef vs. Lamb
Canadian donairs are made with ground beef. The story goes that the Halifax donair was first invented in the 1970s by Peter Gamoulakos. He first started selling gyros with lamb and tzatziki, but wasn't having much success. It wasn't until he swapped the lamb for beef and the tzatziki with the sweet sauce, that it really took off. Now, the donair is a late-night food staple across Canada!
For this recipe, we use thinly sliced beef that you can buy at the store or slice at home. We decided not to make the traditional donair meat with ground beef. We did this because we wanted this to be an easy recipe for meal prep or busy weeknights. Beef is the traditional meat choice for a Canadian donair, but this recipe tastes great with lamb as well.
Cheese
Okay now here is the real controversy! To add cheese or to not add cheese. A lot of donair purists insist that there should be no cheese on a donair, but we disagree. You can't go wrong with cheese, especially if you're following a keto diet. In Canada, if you do add cheese to your donair, mozzarella is the go-to.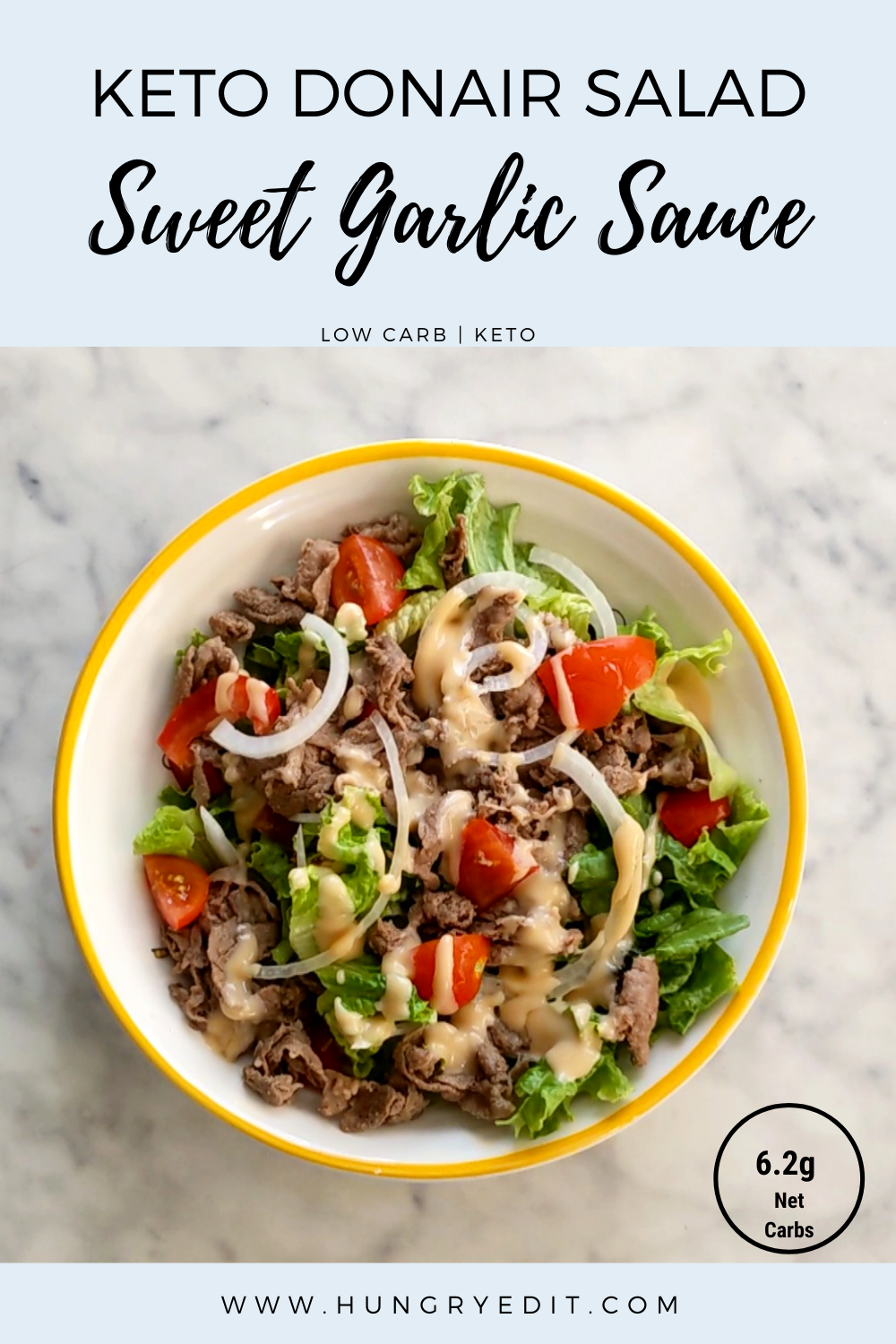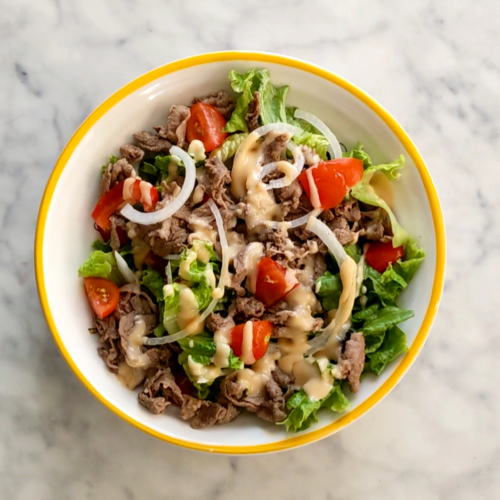 Keto Donair Salad
Ingredients
500

Grams

Thinly Sliced Beef or Lamb

10

Cups

Romain Lettuce

You can add more if desired, lettuce is very low in carbs!

250

Grams

Sliced Tomatoes

150

Grams

Grated Mozzarella Cheese

Optional.

125

Grams

Sliced White Onion

1

Tbsp

Oil

1

Tsp

Onion Powder

1

Tsp

Garlic Powder

1

Tsp

Paprika

1/2

Tsp

Black Pepper

1/2

Tsp

Salt
Keto Sweet Donair Sauce
2 1/2

Cups

Heavy Whipping Cream

3/4

Cup

Sweetener

1/4

Cup

Butter

1/4

Cup

White Vinegar

1/2

Tsp

Garlic Powder

1/2

Tsp

Vanilla Extract

1/8-1/4

Tsp

Xanthan Gum

Optional.
Instructions
Start by creating the sweet garlic sauce.

Add the butter, heavy whipping cream, sweetener and vanilla extract to a saucepan.

Over medium heat, bring the sauce to a boil and simmer over low heat for 30-45 minutes, until thick.

After 45 minutes if your sauce isn't thick enough you may whisk in the xanthan gum. This step is optional. Remember that the sauce will thicken more as it cools.

While the sauce is simmering, prepare your salad.

Wash and chop all vegetables. Set aside.

In a large pan, heat oil over medium heat.

To the pan, add your thinly sliced meat, onion powder, garlic powder, paprika, salt and pepper.

Heat until cooked through. Set aside.

When the keto condensed milk has cooled, stir in the garlic powder and white vinegar.

To your salad, Add the shredded mozzarella, cooked beef (or lamb) and sweet garlic sauce.

Store the extra sauce in an air tight container for up to 1 week in the fridge.
Notes
Nutrition Information (5 Servings): 
780 Calories
8.3g Carbohydrates 
2.1g Fiber
73.1g Fat
22g Protein
Net Carbs: 6.2g / Serving 
Let us know in the comments below if you've tried our Keto Donair Salad with our homemade donair sauce recipe! If you're looking for more keto or low carb recipes, visit our recipe page.