Our Keto Olivier Salad is our take on the classic Russian potato salad. This recipe has all of the traditional ingredients but we swap the boiled potatoes for boiled cauliflower. This swap works perfectly by keeping all of the flavour and texture.
History of Olivier Salad
Olivier Salad was originally invented by Belgian cook, Lucien Olivier. Lucien Olivier was a Chef at the famous Heritage restaurant in Moscow. The Olivier Salad quickly gained popularity at the restaurant and became the restaurants signature dish. The original recipe was a bit different from the version we see today. It originally had capers, olives and crayfish tails.
What is Olivier Potato Salad?
Olivier Salad is a classic Russian dish that is popular in post-Soviet countries. It is a potato salad usually made with boiled potatoes, eggs, peas and dill pickles. The salad can also contain protein such as ham or chicken. This simple salad is mixed with mayonnaise, salt and pepper. Olivier Salad is a classic Slavic recipe that's traditionally served for Christmas and New Years.
Keto Olivier Salad
For our Keto Olivier Salad, we swap the potatoes with boiled cauliflower. I'll admit, I was surprised that this swap worked as well as it did! The end result tastes the same and it even has the same texture as the traditional recipe. The trick is to boil the cauliflower until tender. Once the cauliflower is done cooking, pat dry with a kitchen towel to remove the excess moisture.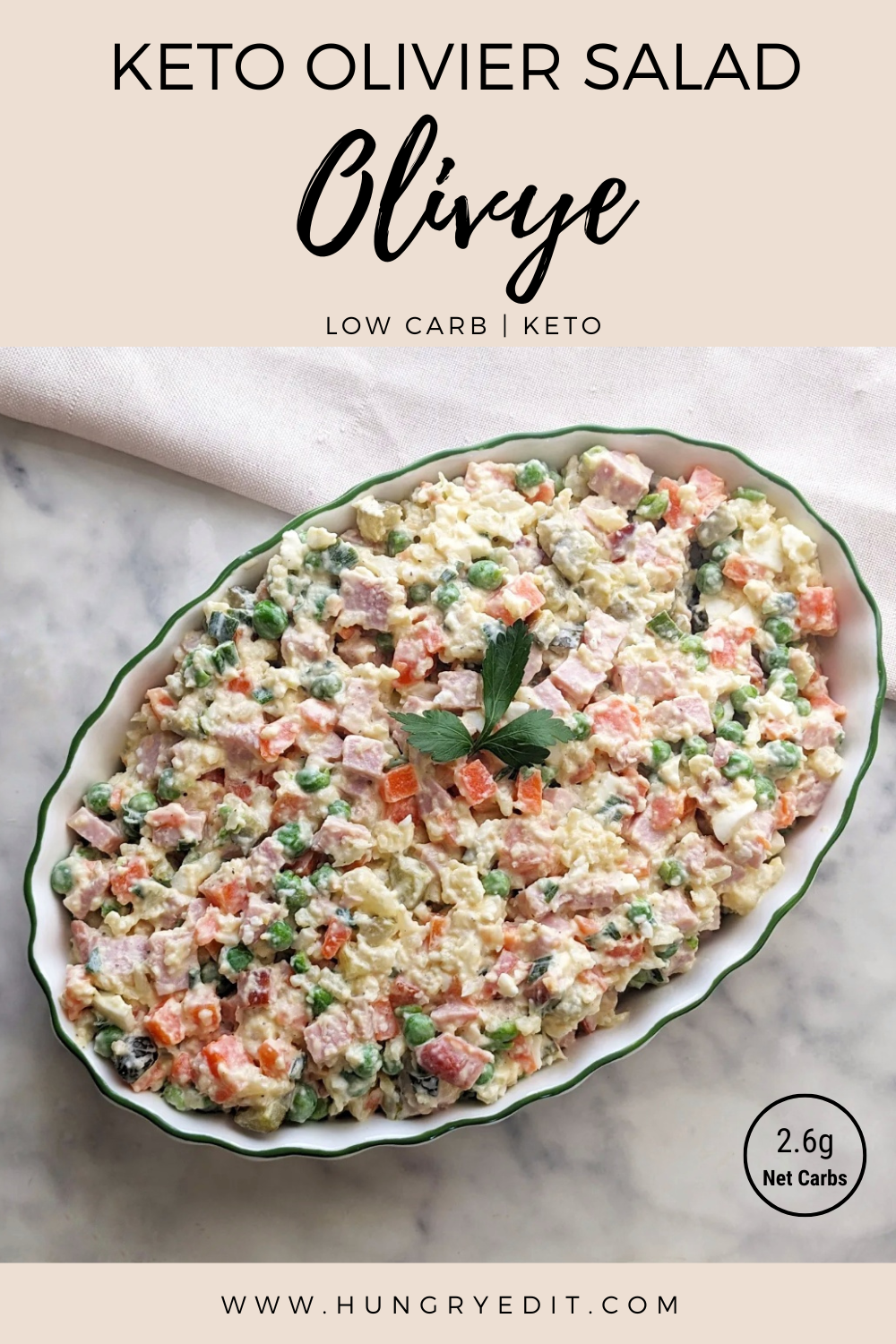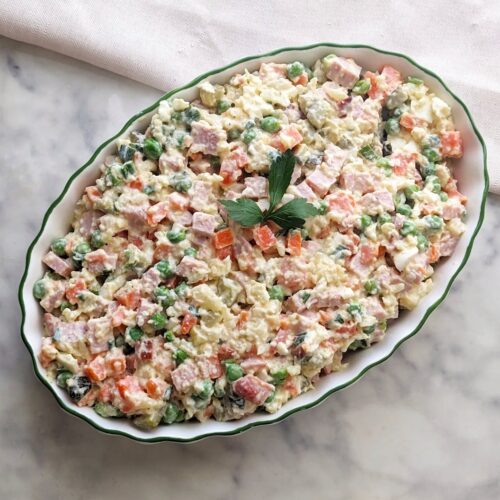 Keto Olivier Salad
Ingredients
1

lb

Ham

Diced.

3/4

cup

Mayonnaise

300

grams

Cauliflower

About Half a Head of Cauliflower.

250

grams

Carrots

About 2 Medium Carrots.

5

large

Eggs

Hard Boiled.

7

fl oz

Peas

Drained, About Half a Can.

5

Dill Pickles

225 Grams.

1/4

cup

Green Onions

Optional.

Salt

To Taste.

Pepper

To Taste.
Instructions
Peel the carrots and roughly chop the cauliflower into large pieces.

Bring a large pot of water to boil. Simmer the cauliflower and carrots until fork tender; about 20-30 minutes.

Boil the eggs for about 10 minutes and immediately run them under cool water to make them easier to peel.

Meanwhile, dice the ham, dill pickles, and green onions into equal small cubes. Add them to a large bowl.

Drain and rinse the peas, add them to the same large bowl.

Once the carrots and cauliflower are done cooking. Remove them from the water and allow them to cool. Pat the cauliflower dry with a kitchen towel. Cut the carrots and cauliflower into small cubes. Combine them into the same large bowl as the rest of the ingredients.

Peel and dice the hard boiled eggs, add them to the large bowl.

Mix all of the chopped ingredients with mayonnaise and season with salt and pepper.

Serve immediately or store in an air-tight container for up to 4 days.
Notes
Nutrition Information (16 Servings, Approx. Half Cup per Serving):
141 Calories
3.5g Carbohydrates 
0.9g Fiber
10.2g Fat
8.7g Protein
Net Carbs: 2.6g / Serving
Let us know in the comments below if you've tried our Keto Olivier Salad! If you liked this recipe, try our Keto Garlic Beet Salad.