Our homemade Keto Coconut Cream Pie has a thick and creamy coconut filling. It is topped with keto whipped cream and toasted coconut flakes. This recipe is easy to follow and features a homemade almond flour pie crust.
Is Coconut Cream Pie Keto?
Yes! This traditional pie was very easy to transform into a keto recipe. It features keto-friendly ingredients such as unsweetened coconut flakes, eggs, coconut flour and heavy whipping cream.
Keto Sweet Pie Crust
Our Keto Sweet Pie Crust is made up of a blend of almond flour and coconut flour. You'll have to pre-bake the pie crust before adding the Coconut Cream Pie filling. You can use our recipe for the pie crust or use your own. There are even keto-friendly pie crusts that you can buy such as the Piccola Cucina Almond Pie Shell.
The Coconut Custard Filling
Making the custard for the coconut cream pie is easy! It is a rich filling that only requires it to cook on the stovetop. The most important step is to temper the eggs so that they don't scramble. This is done by slowly adding bringing the room temperature eggs to the heated temperature of the sauce. We like to slowly add in a bit of the sauce to the whisked eggs and then whisk it into the pot on the stove. This is our fool-proof way to make sure that we don't scramble the eggs. Tempering the eggs into the sauce will give the custard a thick and creamy texture.
What Makes Keto Coconut Cream Pie an Easy Recipe?
What we love about this recipe is that you can pre-bake the pie crust in advance before assembling the pie. The custard takes only a few minutes to come together on the stove and the rest is just waiting for the pie to set in the fridge!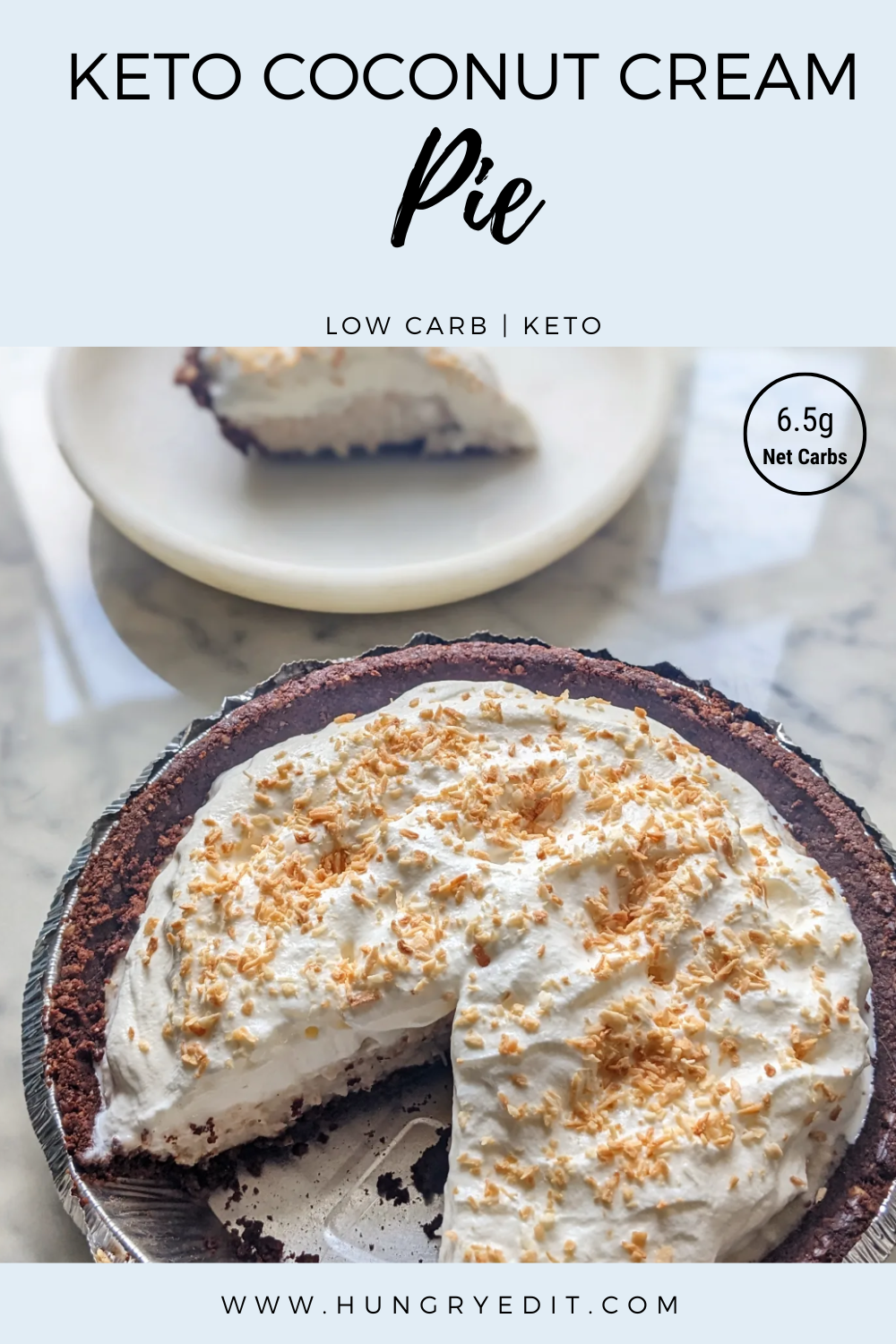 (Picture uses Diamond of California Chocolate Nut Pie Crust
, this is not keto but lower in carbs)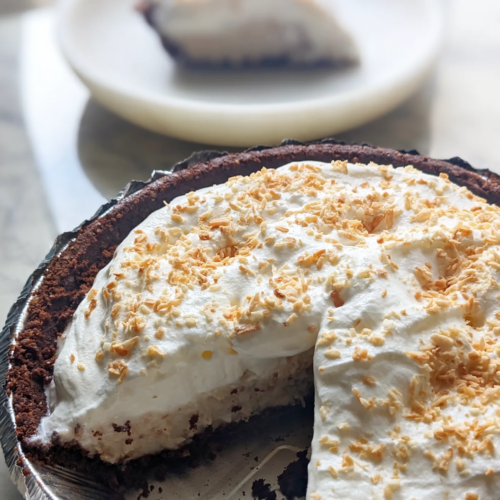 Keto Coconut Cream Pie
Ingredients
Filling
1

Cup

Unsweetened Coconut Flakes

1/2

Cup

Heavy Whipping Cream

3/4

Cup

Sweetener

Swerve Granular Sweetener.

1/4

Cup

Coconut Flour

2

Large

Eggs

1/2

Tsp

Xanthan Gum

1/4

Tsp

Salt
Keto Pie Crust
112

Grams

Almond Flour

Equivalent to 1 cup.

18

Grams

Coconut Flour

Equivalent to 2 tbsp.

1

Large

Egg

 Lightly beaten.

1/4

Tsp

Salt

3

Tbsp

Butter

Cubbed, Cold.

1

Tsp

Swerve

1/4

Cup

Cream Cheese

Softened.
Instructions
Keto Pie Crust
Combine all dry ingredients in a blender or food processor and pulse until combined.

Add the remainder of the ingredients and pulse until mixture is crumbly. Make sure not to over-process the dough.

Remove mixture from the blender or food processor.

Knead the ingredients for a few seconds until thoroughly combined. Combine mixture into a ball. Cover with saran wrap and place in the fridge for 1 hour or freezer for 10-15 minutes.

Once the mixture has cooled. Place the mixture into the pie plate on the bottom and firmly up the sides.

Prick the pie crust all over with a fork before baking

Bake uncovered for 12-15 minutes until slightly golden.
Filling
Spread the coconut flakes on a baking tray lined with parchment paper. Bake in a preheated oven for about 5 minutes until golden. Stir occasionally to prevent browning.

Once done baking, remove from oven and set aside.

Combine the eggs to a mixing bowl and whisk together. Set aside.

In a medium saucepan over low heat, whisk the heavy whipping cream, coconut flour, vanilla extract, salt and sweetener. Continue whisking until simmering and the sauce has slightly thickened (do not boil). About 2 minutes.

Temper the whisked eggs with the heated sauce and then slowly pour the eggs into the sauce pan, continuously whisking to combine.

Finally whisk in 1/4 tsp of xanthan gum. Once the custard has thickened (about 2-3 minutes) remove from heat.

Stir in half a cup of the toasted coconut flakes to the custard.

Pour the custard into the pie shell and chill until firm, about 4 hours.
Topping
Beat together cream and Powdered Swerve Sweetener with a mixer until soft peaks form. Top pie with cream, and sprinkle with toasted coconut. Serve immediately.
Notes
Nutrition Information (without crust): 8 Servings
253 Calories 
6.8g Carbohydrates 
2.6g Fiber
23.2g Fat 
2.8g Protein
Net Carbs: 4.2g / Serving
Nutrition Information (with crust): 8 Servings 
413 Calories 
11.3g Carbohydrates 
4.8g Fiber
37.7g Fat 
7.3g Protein 
Net Carbs: 6.5g / Serving
Let us know in the comments below if you've enjoyed our Keto Coconut Cream Pie! If you liked this recipe, try our