This Keto Slaai (Salad) is a traditional recipe from Eswatini in Africa, formerly known as Swaziland. I'm calling this dish keto, but the truth is that the traditional recipe is already 100% low carb and keto-friendly! This is a simple salad that's very easy to put together. It's a feast for your eyes and taste buds.
The Method
We all know that avocados are the perfect keto food! They are high in fat, low in carbs and are a great source as potassium. In fact, they even have more potassium than bananas. This makes this Keto Slaai, the perfect keto salad.
To start, combine the lemon juice, ginger and salt in a medium bowl. Note, the first time I made this salad, I really thought that it had way too much lemon juice. But the flavors came together so nicely in just a few minutes. Once the dressing is made, gently stir in your diced avocado. Top with chopped peanuts and sliced radishes.
Adaptations
You can really make this recipe your own! I have seen recipes where they use beets instead of radishes, grated carrot and add romaine lettuce. These all sound like great additions to the salad. Be mindful that both beets and carrots are higher in carbs, so use them within moderation. I like the addition of romaine lettuce to this salad. I think this is a great idea to turn this side dish into a full meal, this would make a great lunch!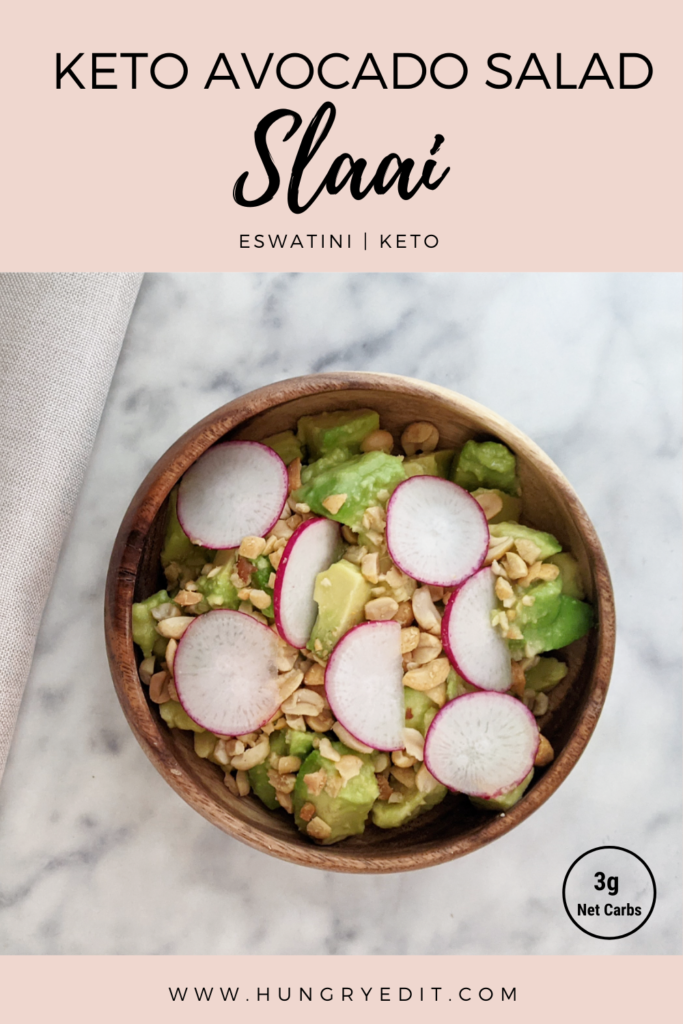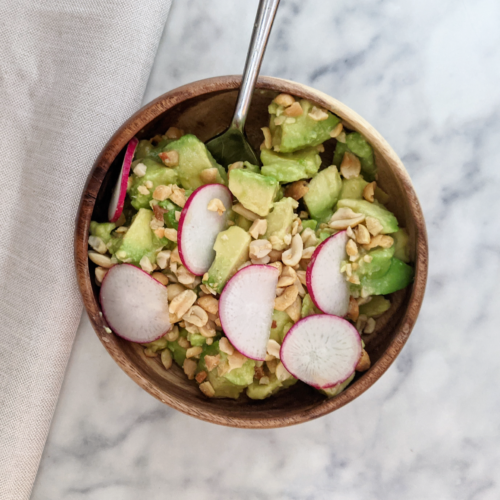 Slaai (Eswatini Salad)
Ingredients
2

Large Avocado

Cut Into Half Inch Cubes.

1

Radish

Thinly Sliced.

1/2

Cup

Chopped Peanuts

Unsalted.

2-3

Tbsp

Lemon Juice

To Taste.

1

Tsp

Freshly Grated Ginger

1/2

Tsp

Salt
Optional Ingredients
Romaine Lettuce

Beets

Grated Carrot
Instructions
In a bowl, combine the lemon juice, salt and grated ginger.

Gently toss the diced avocado in the bowl.

Top with sliced radishes and chopped peanuts.
Notes
Nutrition Information (4 Servings): 
222 Calories 
9.5g Carbohydrates
6.5g Fiber 
19.7g Fat
6.1g Protein
Net Carbs: 3g / Serving
I was so happy to find a traditional Eswatini recipe that was already keto! This salad is so simple, yet it's full of flavor. I'm looking forward to learning more about African and specifically Eswatini cuisine.
Let me know in the comments below if you've tried this recipe. We'd love to hear your thoughts!
If you're looking for more keto recipes, visit our recipe page!