This Keto Thai Omelette is such a simple recipe but it's a very unique way to cook an omelette! It only takes about 15 minutes to make and uses 2 eggs, soy sauce, fish sauce and optional hot sauce (such as sriracha). If you're following a Keto Egg Fast then this is a recipe that you can incorporate into your meal plan.
The Method
What makes a Thai omelette unique is the cooking method. The omelette is essentially deep fried, but don't worry! If your oil is hot enough, it shouldn't absorb much of the oil. I measure the cooking oil before and after; the final product absorbs about 1-2 tbsp of the cooking oil.
Heat a medium skillet over medium-high heat and and add the cooking oil. This is preferable to a large skillet because it will hold the shape of the omelette together. While the skillet is heating, whisk together the eggs, fish sauce and soy sauce. Once the oil is hot (remember we are deep frying the omelette), pour in the whisked egg. Heat for about 5 minutes until the bottom of the omelette is golden brown.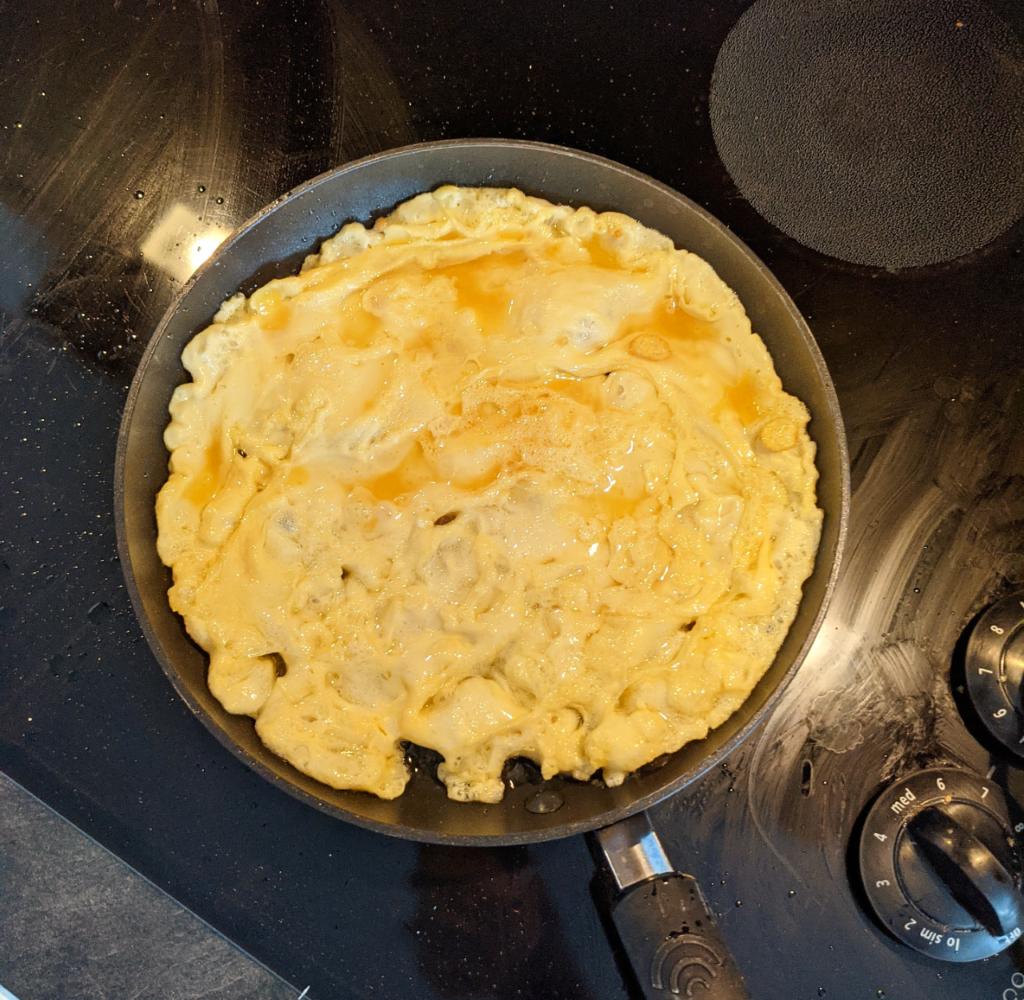 While the omelette is cooking, you'll see it start to puff up and look like a funnel cake! This is fun to watch but just note that the egg will shrink or "deflate" once removed from heat.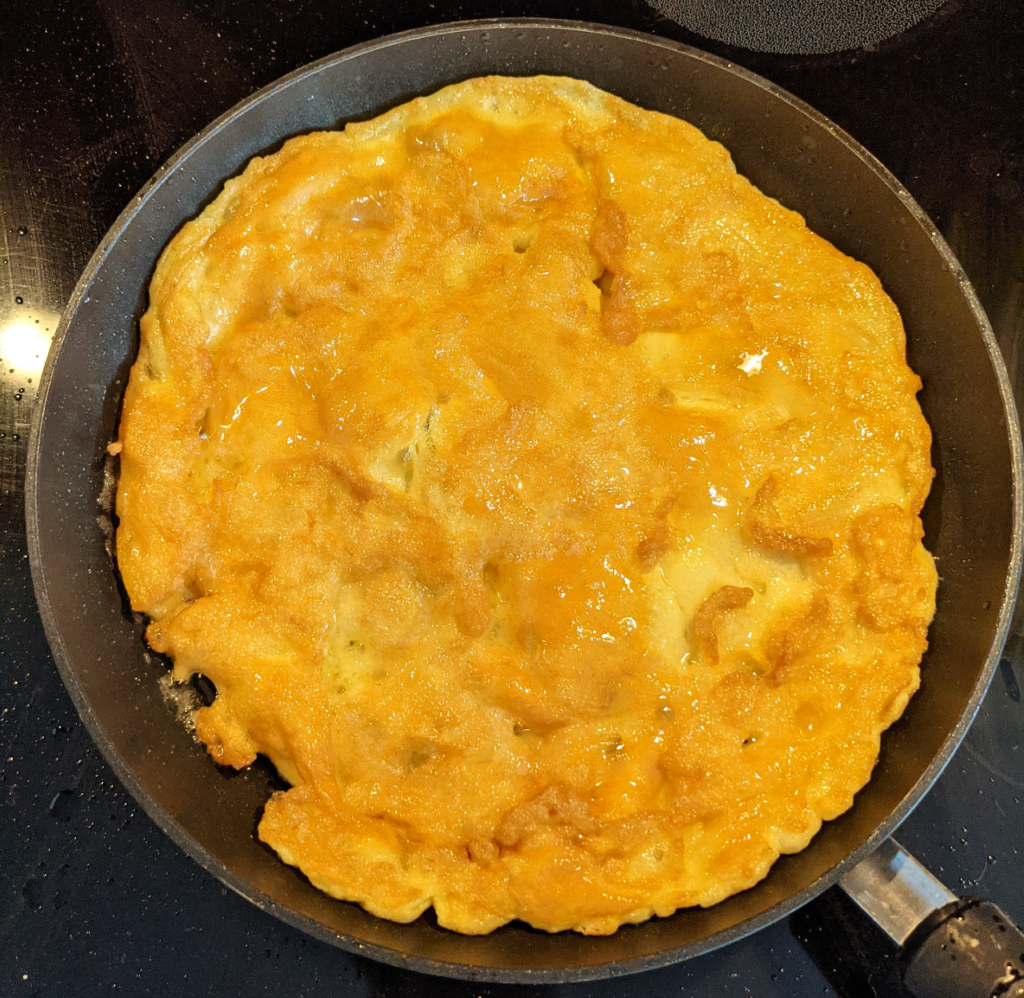 When the bottom of the omelette is a golden brown, flip and cook the second side for about 1-2 minutes. Serve as is or with sauce of your choice such as sriracha. Enjoy!
Egg Fast
Just a few quick notes about an egg fast. An egg fast is a great tool to simplify your keto meals, break a weight loss stall and come back to keto basics. It is recommended that you do the fast for a minimum of 3 days to maximum of 5 days. The general rules are minimum of 6 eggs per day with 1 oz of fat (oil, butter etc) per egg. You can also add cheese with the fast, recommended up to 3 oz. A small amount of keto-friendly sauces and spices are allowed on the egg fast, making this Keto Thai Omelette a great meal for the fast!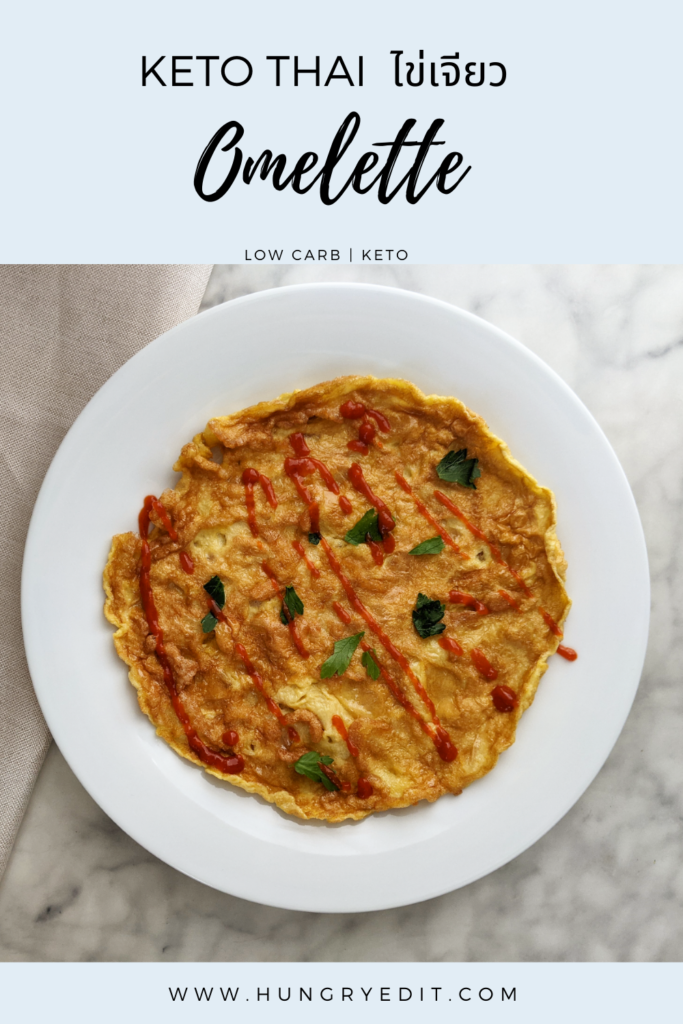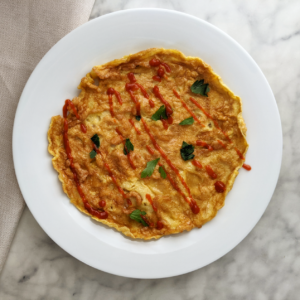 Keto Thai Omelette ไข่เจียว
Ingredients
2

Large Eggs

1/2

Tsp

Fish Sauce

To taste.

1/2

Tsp

Soy Sauce

To taste.

Neutral Oil for Frying

Avocado oil or canola oil. Approx 1/4 - 1/3 cup. The final product will not use all of this oil. I measure before and after. The omelette absorbs approx. 1-2 tbsp.
Instructions
Heat a medium size pan over medium-high heat with oil.

While the pan is heating, whisk together the eggs, soy sauce and fish sauce. Note: you can alternatively use only fish sauce or only soy sauce. To taste.

Once the oil is very hot pour the beaten eggs into the pan and cook until the bottom is nice and brown. Approx 4-5 minutes.

Once the first side is golden brown, flip and cook the remaining side for 1-2 minutes.

Place the omelette onto a paper towel and pat dry.

Serve as is or with the sauce of your choice (ex. sriracha).
Notes
Nutrition Information (1 Serving):
277 Calories 
1g Carbohydrates
0g Fiber
24g Fat 
13g Protein
Net Carbs: 1g / Serving
Let us known in the comments below if you've tried this Keto Thai Omelette, we'd love to hear your thoughts. If you're looking for more keto breakfast recipes, visit our recipe page!