This homemade keto whipped cream is such a versatile recipe that's great with almost any keto dessert. My favorite way to eat this is topped with some berries or in a delicious espresso con panna. After years of buying sugar filled store-bought whipped cream, I can confidently say that this keto recipe tastes just as good or if not better! This recipe is so easy and is ready in less than 10 minutes. It's a staple that any ketogenic cook should learn.
How to Make Homemade Keto Whipped Cream
To make whipped cream you must incorporate as much air as possible into the cream. This is best done by using a hand mixer or a stand mixer. I prefer using the hand mixer as it gives more you more control. Some recipes state that you can make whipped cream with an immersion blender, but I've never had success. For a successful whipped cream it is important that the cream is kept cold. If you are folding the whipped cream into other ingredients, it is important that the other ingredients are cold; otherwise the cream will lose stiffness and thin out.
Cold Heavy Cream
You'll want to work with cold heavy whipping cream as it holds its shape longer and produces as creamier result. If the cream is slightly warm or room temperature, the mixture will be too thin and not create whipped cream.
Sweetener
You can use any granular sweetener of your choice! I typically use swerve or erythritol for this homemade keto whipped cream.
Flavorings
For a classic whipped cream I use pure vanilla extract. The options however are endless! For a twist you can use caramel extract or any flavoring of your choice.
Cold Mixing Bowl
Before whipping the cream, pop the mixing bowl in the freezer for a couple of minutes. This will help hold the shape and create a smooth cream. Additionally, you can also place your beaters in the freezer along with the bowl.
Mixing Speed
Start the mixing speed at medium and turn up the speed to high after about 1 minute. Continue mixing for 3-4 additional minutes once stiff (or firm) peaks form. Continue to consistently watch the whipped cream throughout the mixing process. Under whipped cream will result in a thin consistency and over whipped cream will start to turn to butter.
How to Make Stabilized Whipped Cream
Whipped cream is best served immediately. However, if you need to prepare it in advance, add 1/4 tsp of cream of tartar to the heavy whipping cream. Store the keto whipped cream in an air tight container and this will help the cream last a little bit longer.
If you're making a larger batch of whipped cream, you'll want to add 1/4 tsp of cream of tartar to every cup of heavy whipping cream.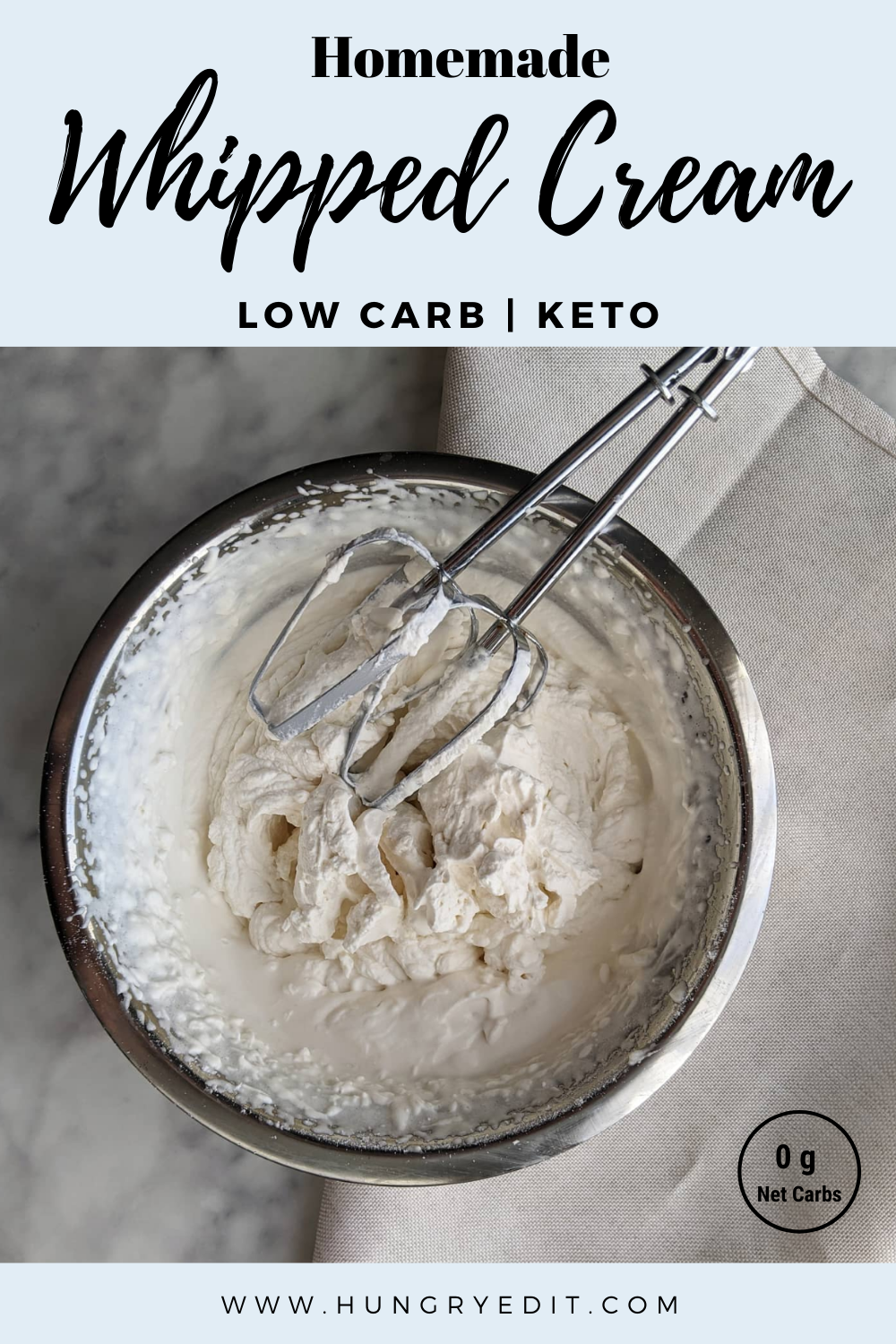 Keto Homemade Whipped Cream
Ingredients
1

Cup

Cold Heavy Whipping Cream

35-36%

1/2

Tsp

Pure Vanilla Extract

Optional but Recommended

1-2

Tbsp

Sweetener

Granular Monk Fruit Sweetener, Swerve, Stevia or Erythritol

1/4

Tsp

Cream of Tartar

Optional, for stabilized whipped cream.
Instructions
Place mixing bowl in the freezer for a few minutes before making the whipped cream.

Once the mixing bowl has chilled, add cold heavy whipping cream to the mixing bowl and beat for 1 minute.

While still mixing, add the additional ingredients and turn up the speed to high. Continue to beat for an additional 3-4 minutes (keep an eye on the mixture!).

Once stiff peaks form, the whipping cream is ready.
Notes
Nutrition Information: (8 Servings) 
100 Calories 
0.0g Carbohydrates 
0.0g Fiber
12g Fat
0g Protein 
Net Carbs: 0.0g / Serving 
Have you made keto whipped cream before? What's your favorite way to enjoy this classic dessert? Let me know in the comments below!