Torta di Mele is a delicious Italian Apple Cake that's easy to prepare! Our Low Carb Italian Apple Cake is gluten free and has no sugar added. It is made with a blend of almond flour and coconut flour.
This Sant'Orfeo Apple Cake is a traditional Umbrian specialty that consists of apples, a pear and raisins. While these ingredients don't typically fit within a keto diet, we can certainly adjust the recipe to fit within a low carb diet. To achieve this, we've swapped out all purpose flour for coconut and almond flour. We still use apples and raisins but decided to omit the pear to keep the carbs lower.
Filling
Our low carb Italian apple pie uses the traditional fillings of apples and raisins. We skip the pear to keep the carbs lower, but feel free to add 1 pear if you aren't concerned about the overall carb content. If raisins aren't your thing, you can substitute them for any other dried fruit such as cranberries.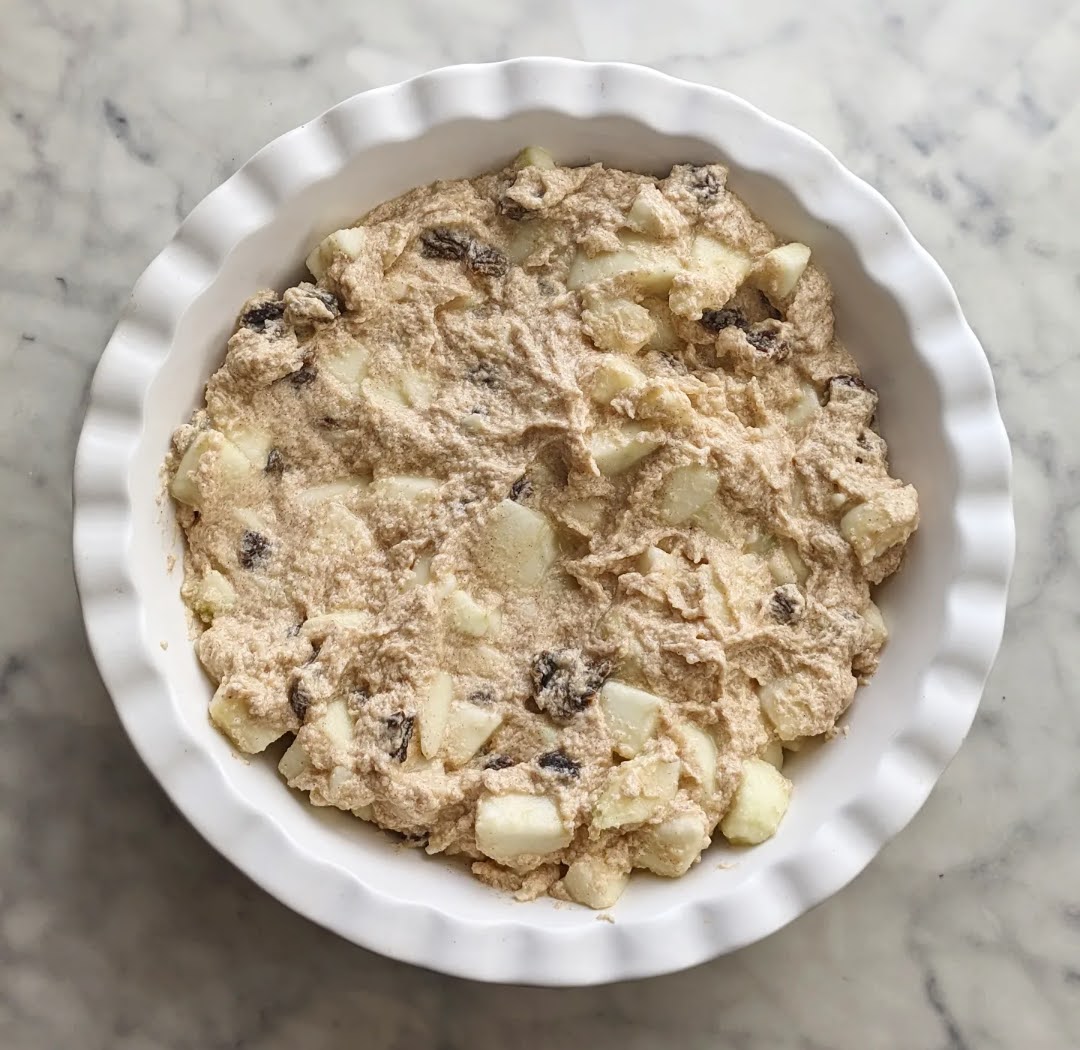 Nuts or sugar-free chocolate chips would also be a nice substitution. For sugar-free chocolate chips we recommend using Lily's Chocolate Chips or Krisda Chocolate Chips. If using Lily's Chocolate Chips the carb count per serving will be 28.8g of total carbs and 9.5 grams of fiber; bringing the net carbs to 19.3 grams. If using nuts, walnuts or pecans will work nicely in this cake.
Raisins
It is important to remember to hydrate the raisins before adding them to the cake. This will soften them and create a nicer texture. Soak the raisins in water while preparing the cake. Don't forget to drain them and thoroughly squeeze out the water before adding them to the cake. Forgetting may result in the cake being too moist. For this recipe we soak the raisins in water, but you can also soak them in rum for added flavour!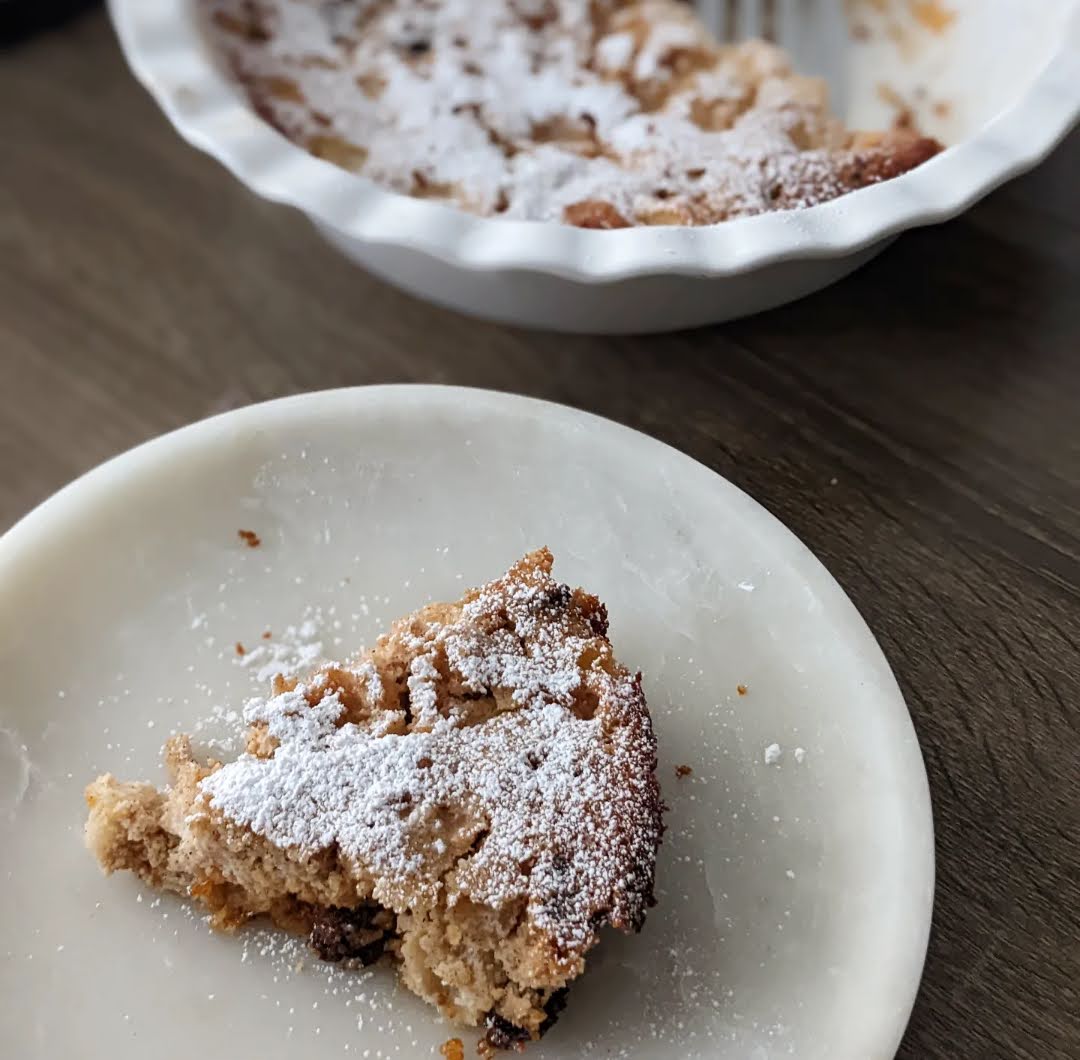 Carb Count
If you're following a keto diet, this cake may till be too high in carbs for you. This cake uses a lot of apples and one apple alone has 14 grams of carbohydrates. If you're following a keto or low carb diet for long term, I think it's important to be flexible and still enjoy whole foods in moderation. While this cake is 26.6g of net carbs per serving, the traditional recipe is around 50g of carbohydrates per serving!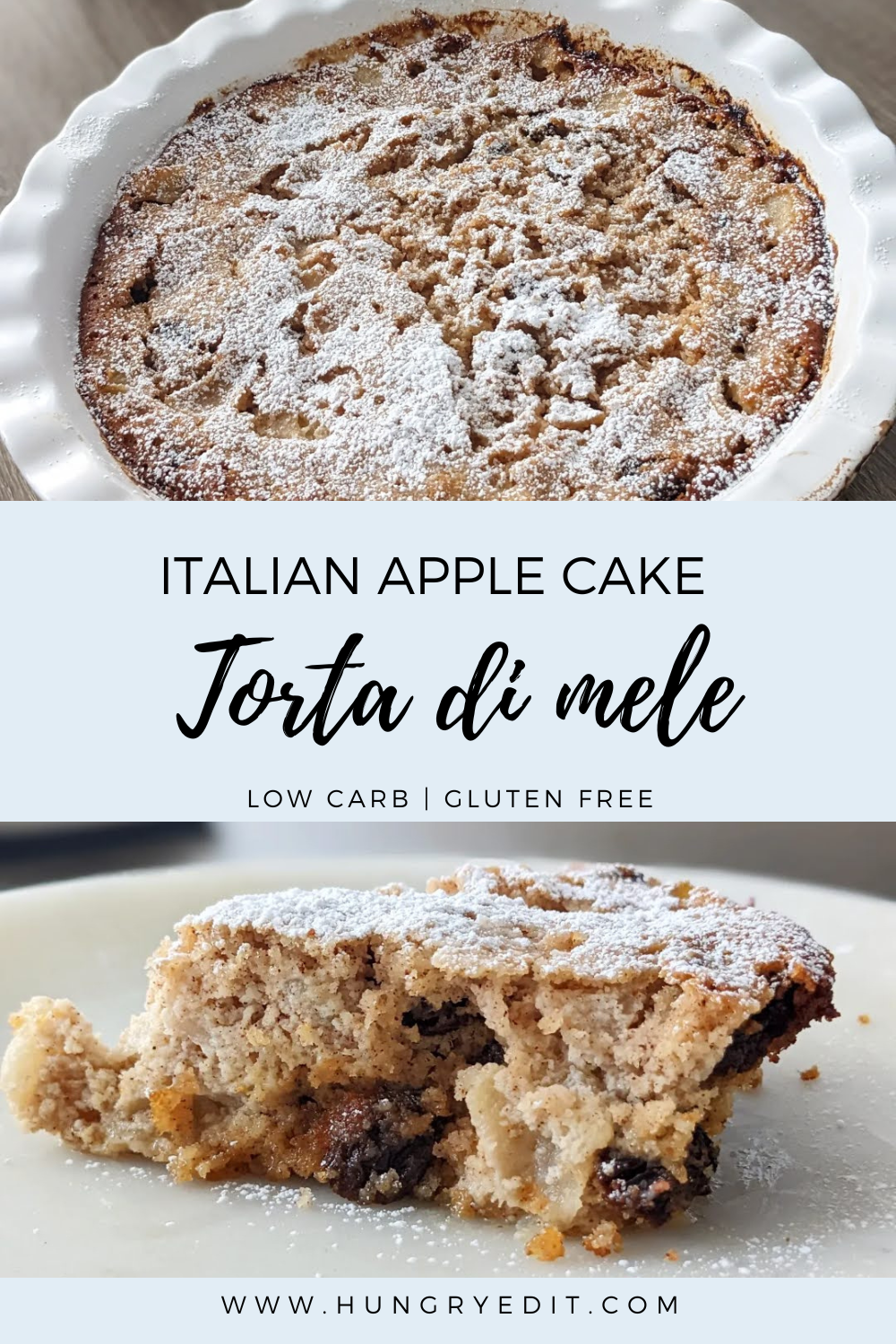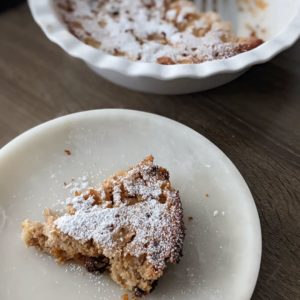 Low Carb Italian Apple Cake (Torta di Mele Sant'Orfeo)
Equipment
9" deep pie pan or lined springform pan.
Ingredients
5

Medium Apples

Peeled.

Juice of 1 Lemon

120

Grams

Raisins

Optional; Can Subsitute with Lily's Chocolate Chips, Any Dried Fruit of Your Choice, Or Nuts Such as Pecans or Walnuts.

6

Tbsp

Almond Flour

2

Tbsp

Coconut Flour

1

Tsp

Cinnamon

1

Tsp

Vanilla Extract

3

Large Eggs

1/2

Cup

Sweetener

Swerve Granular Sweetener.

10

Tbsp

Butter

Melted.

1

Tbsp

Baking Powder

2

Tbsp

Heavy Whipping Cream

Swerve Sweetener Confectioners

Icing Sugar Replacment; Dusting.
Instructions
Soak raisins in warm water and set aside. Option: Raisins can also be soaked in a bit of rum.

Peel the apples and cut them into bite size pieces. Toss them in lemon juice to prevent browing. Set aside.

In a large bowl, whisk together the almond flour, cocont flour and cinnamon. Set aside.

Using a hand mixer or stand mixer; beat the eggs, sweetener and vanilla extract together.

Next, mix in the melted butter.

Once combined, slowly add in the mixed flours to the egg mixture.

In a small bowl, mix together the baking soda and heavy whipping cream until it foams.

Fold in the baking soda mixture with the flour mixture.

Drain the raisins and thoroughly squeeze out the excess water. Chop the raisins into small bite size pieces.

Drain the apples to remove the excess lemon juice.

Stir the apples and raisins into the flour mixture.

Pour the cake mixture into a deep pie pan or lined springform pan.

Bake for approx. 1 hour or until knife pulls out clean.
Notes
Nutrition Information (8 Servings): 
315 Calories 
31.8g Carbohydrates
5.2g Fiber
19.9g Fat 
4.6g Protein
26.6g Net Carbs / Serving
Let us know in the comments below if you've tried our Low Carb Italian Apple Cake! If you're looking for more low carb or keto recipes, visit our recipe page!