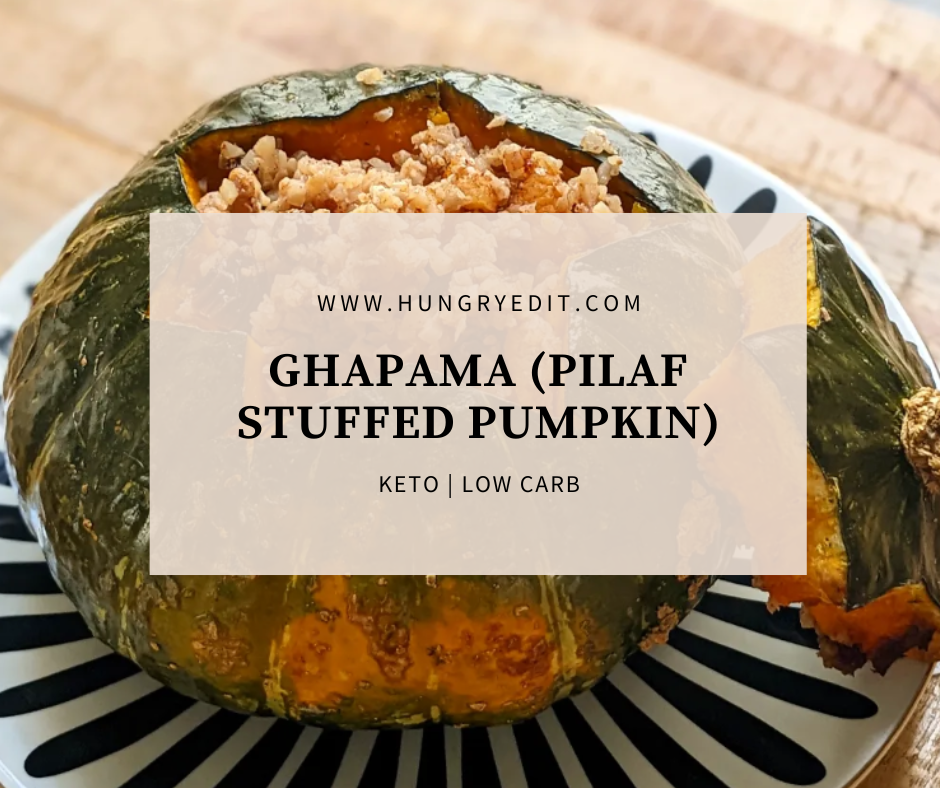 Jump to Recipe
Ghapama is an Armenian side dish that's traditionally served between the New Year and Armenian Christmas, which Armenians celebrate in the beginning of January. Our Keto Ghapama uses cauliflower rice, dried fruit, nuts and a keto honey substitute to keep this dish low in carbs.
Pumpkin
This dish is typically served and cooked inside a pumpkin. However a squash will also work for this recipe! Here we used a small kabocha squash that is around 4-5lbs.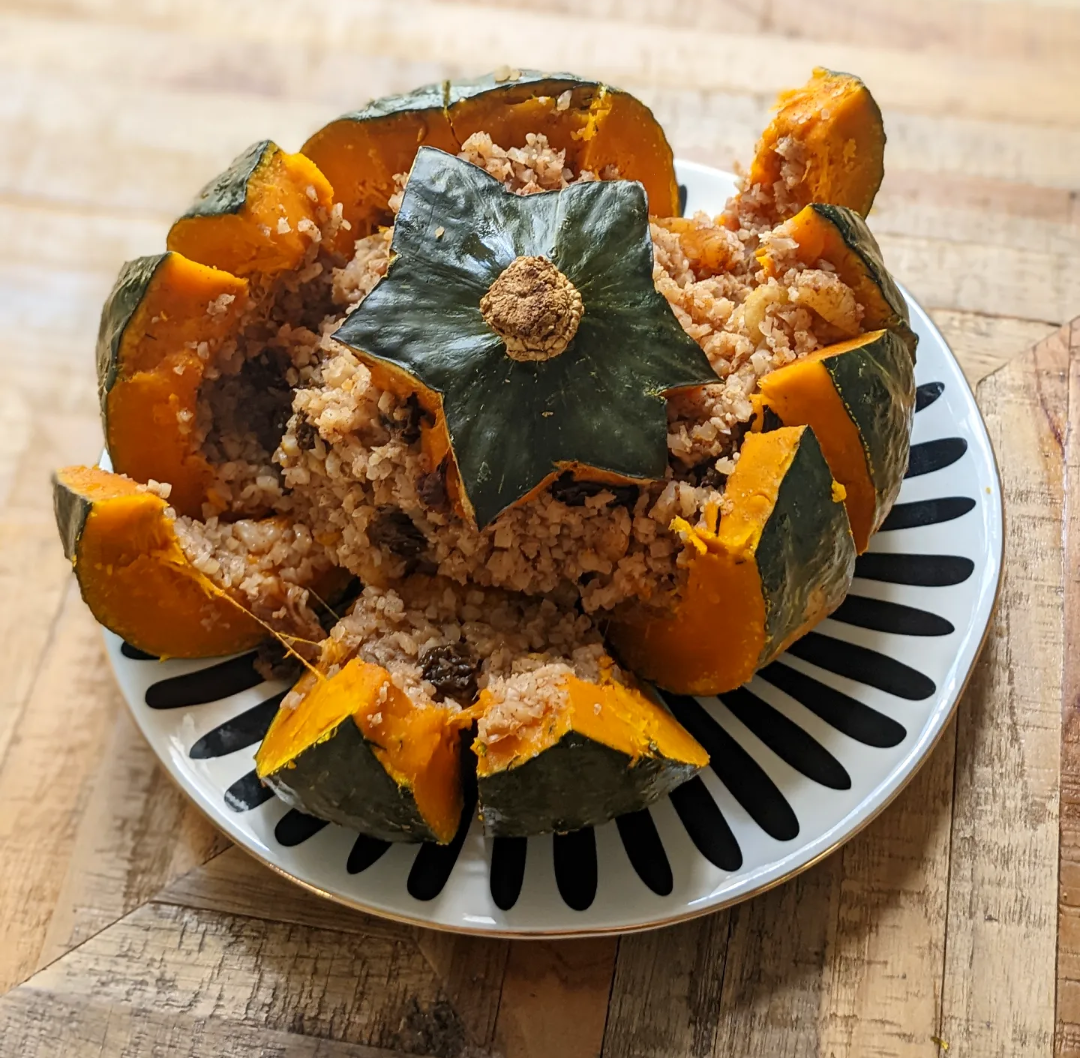 Keto Honey
By now, there are tons of honey alternatives. In this recipe we used the Nature's Hollow – Sugar Free Honey Substitute. We use this keto honey alternative in plain Greek yogurt and other keto recipes such as our Keto Sweet and Sour Pork!
Is Dried Fruit Keto?
Keto purists will tell you no. However, since we've been following a ketogenic diet for a long time (since 2017), we think it's important to not villainize food. Doing so can cause contribute to the harmful binge – diet cycle. For us, keto is a way of life. Remember that a keto diet is about your body entering a state of ketosis. If you can fit this recipe in your keto macros, then yes it is keto!
Serving
To make this dish extra festive, cut a design when cutting off the top of your pumpkin (we did a star!). Use the pumpkin as a centerpiece for your dinner table. To serve our Keto Ghapama, we cut the down sides to serve the pilaf.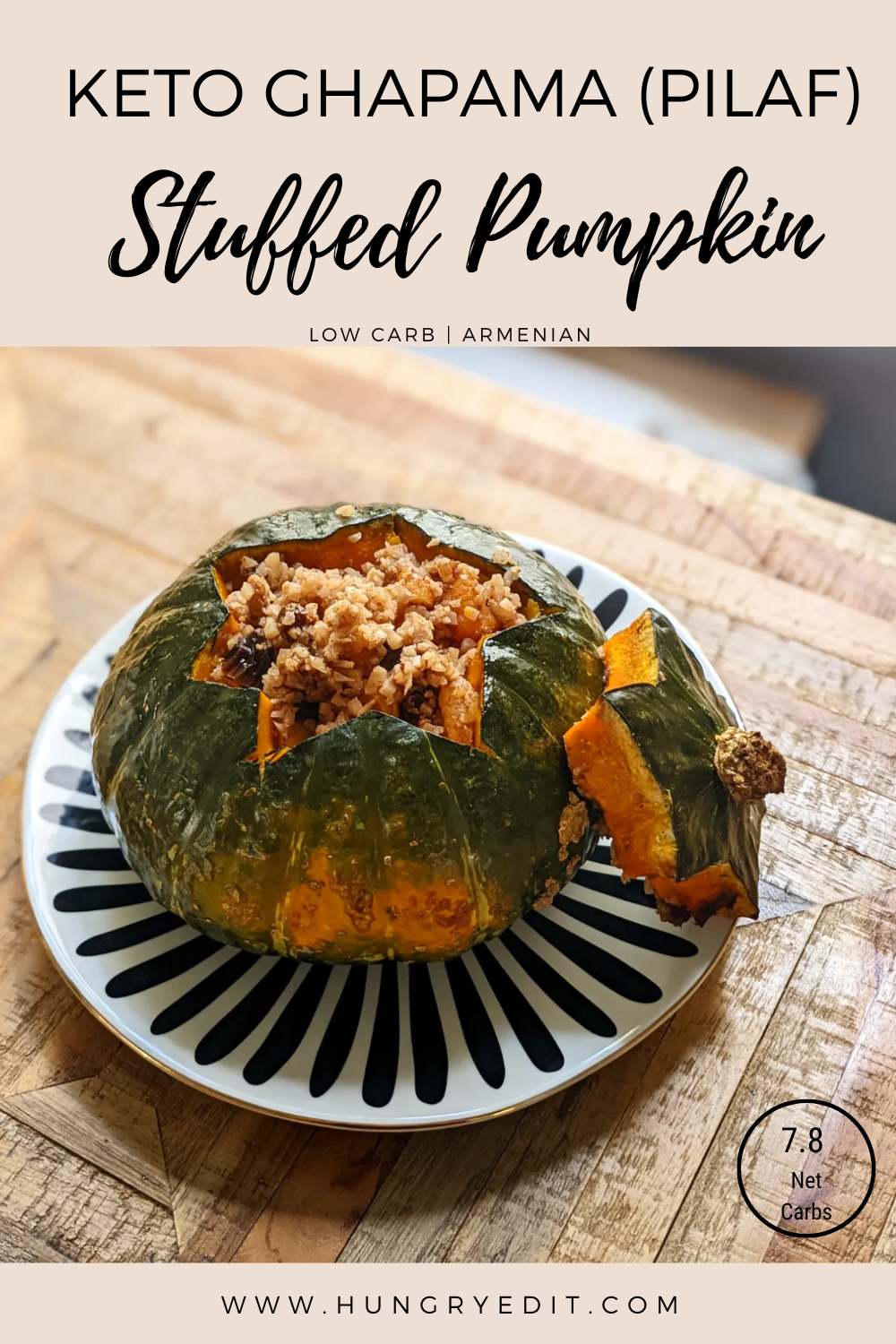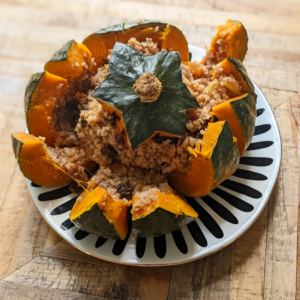 Keto Ghapama (Armenian Stuffed Pumpkin with Cauliflower Rice)
Ingredients
1

Small Pumpkin or Squash

Approx. 4 lbs

500

Grams

Frozen Cauliflower Rice

1/2

Cup

Chicken or Vegtable Stock

2

Tbsp

Keto Honey

To Taste; Nature's Hollow - Sugar Free Honey Substitute.

2

Tbsp

Butter

Divded.

15

Grams

Chopped Walnuts

15

Grams

Raisins

15

Grams

Dried Apricots

Chopped Into Bite Size Pieces.

15

Grams

Dried Prunes

Chopped Into Bite Size Pieces.

1-2

Tsp

Cinnamon

Chopped Into Bite Size Pieces.

1

Tsp

Orange Zest

To Taste.

1/2

Tsp

Salt

To Taste.

1/4

Tsp

Black Pepper

To Taste.

1/4

Tsp

Nutmeg

1/4

Tsp

All Spice
Instructions
Add the cauliflower rice to a large pot with chicken or vegtable broth. Season with salt and pepper. Simmer until all of the liquid is absorbed.

Meanwhile, melt 1 tbsp of butter in a small pan. Add walnuts, 1 tsp of cinnamon, nutmeg and all spice. Sautée for about 2-3minutes on medium heat.

Add all of the dried fruit to the butter and walnut mixture. Sautée for another minute and stir to combine. Set aside.

Once the cauliflower rice is done cooking, add the nut and fruit mixture, orange zest and 1 tbsp of keto honey to the pot. Adjust seasoning if desired (cinnamon, salt and keto honey).

Cut the top off the pumpkin or square (you can do this in an interesting pattern, like a star).

Remove the seeds from inside the pumpkin.

Combine 1 tbsp of melted butter and 1 tbsp of keto honey. Brush inside the pumpkin.

Place the stuffing inside the pumpkin (cauliflower mixture).

Close with the top of the pumpkin and place on a baking tray. Bake for approx. 45-60 minutes.

Once the pumpkin is soft, serve immediately and enjoy!
Notes
Nutrition Information (5 Servings): 
126 Calories 
11.5g

Carbohydrates

3.7g Fiber
6.4g Fat
3.2g Protein
Net Carbs: 7.8g / Serving