This Keto Russian Plov is my family's recipe that I've adapted to fit within a keto diet. Plov is traditionally a Uzbek dish but every Ukrainian / Russian knows how to make this. Traditionally Plov is made with lamb, but our family has always used chicken. Feel free to use whatever meat you like in this dish.
What is Plov?
Plov is a rice pilaf made with carrots, onion and spices. It is a one pot meal that is traditionally cooked over an open flame. Now of course most people cook Plov on a stovetop, like we do in our recipe! Plov is a staple recipe that tastes delicious immediately after cooking. However, Plov reheats wonderfully, making this prefect for leftovers or meal prep! We love to make this on Sunday and enjoy this throughout the week for a quick lunch.
Keto Plov
To make our Keto Russian Plov, we swap out the rice for cauliflower rice. We cook the Plov in chicken or vegetable stock for at least on hour with spices to allow the flavors to fully develop. The goal of the stock is to add flavor but we want to make sure that the liquid has completely reduced (nobody likes soggy cauliflower!). After one hour of cooking on medium heat on the stove, the liquid should be completely gone. You'll be left with a delicious Plov that's full of flavor! Serve as is for a comforting meal or as a side dish.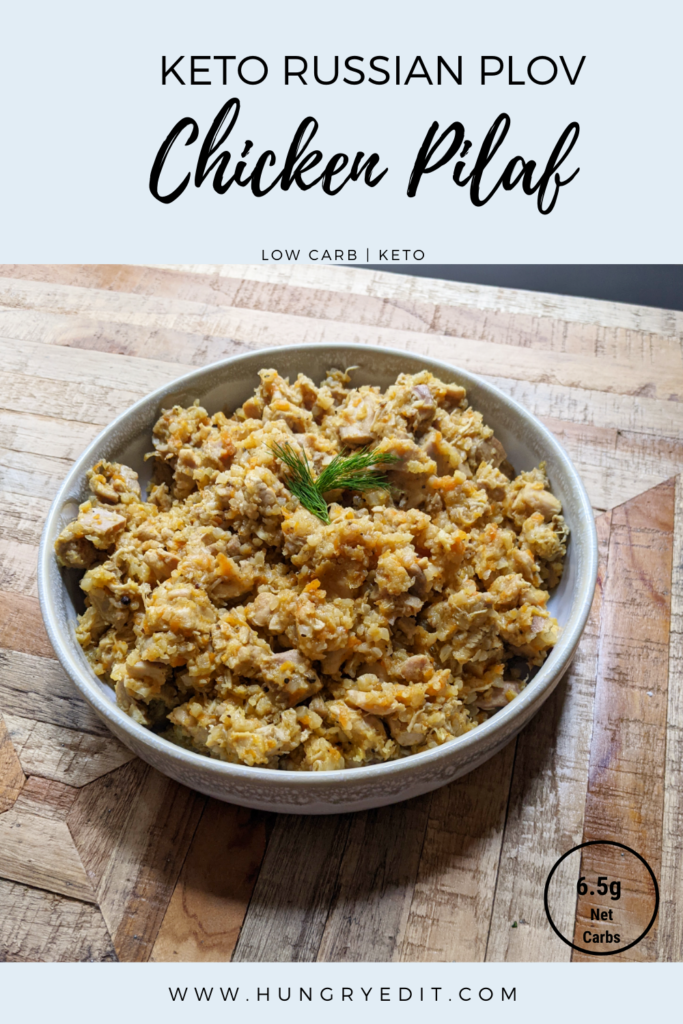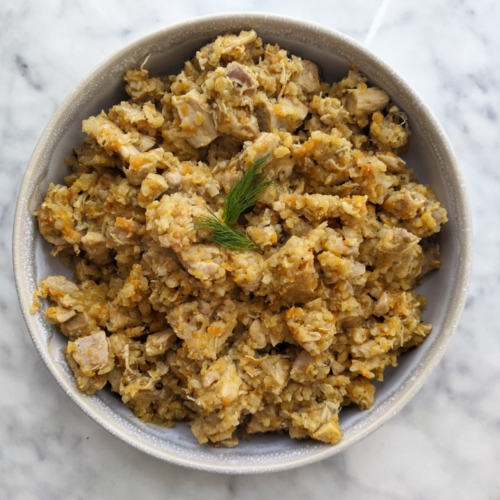 Keto Russian Plov (Chicken & Cauliflower Rice)
Equipment
1 large pot or Dutch oven
Ingredients
500

grams

Cauliflower Rice

2

lbs

Boneless Chicken Thighs

Or protein of your choice.

100

grams

Grated Onion

100

grams

Grated Carrot

3/4

cup

Chicken or Vegetable Stock

1/4

cup

Olive Oil

2-3

Garlic Cloves

Minced.

1

tsp

Cumin

1

tsp

Ground Coriander

Salt

To Taste.

Pepper

To Taste.
Instructions
Heat olive oil in a large pot over medium-high heat.

Pat chicken thighs dry and season with salt and pepper on both sides.

Working in batches, sear chicken thighs on both sides, about 3-5 minutes per side.

Set chicken thighs aside and cut into 2" pieces.

Add minced garlic to the same pot and sauté until fragrant, about 1-2 minutes.

Add grated carrot and onion to the pot. Sauté until soft, about 5 minutes.

Add chicken or vegetable stock and deglaze the pan.

Add cauliflower rice, chicken thighs, cumin and coriander to the pot. Mix together. Add additional salt and pepper to taste.

Allow the plov to simmer on medium heat for about 1 hour until the liquid has reduced completely.
Notes
Nutrition Information (4 Servings): 
441 Calories 
10.6g Carbohydrates 
4.1g Fiber
24.9g Fat
46.6g Protein
Net Carbs 6.5g / Serving
Let us know in the comments below if you've tried our Keto Russian Plov! If you're looking for more keto or low carb recipes, visit our recipe page!