Mexican chorizo is surprisingly very easy to make! Once you start making your own, you won't ever want to purchase the premade ones from the store. This recipe is a quick, Americanized version of Mexican chorizo as it uses ingredients commonly found in American & Canadian grocery stores. This recipes is ready in 45 minutes with the instant pot. We've also included notes below if you want to follow a more authentic recipe for Mexican chorizo.
Mexican & Spanish Chorizo
There are two different types of chorizo. Spanish chorizo is a dried and cured sausage that is usually found with ready to eat cured meat products like prosciutto. While, Mexican chorizo is a spicy ground meat sold uncooked in a casing. Remove the casing and cook before eating the Mexican chorizo.
Meat
Mexican chorizo is made with ground pork and a variety of spices. In this quick version, we use Italian sausage. Now, this might seem weird to be using Italian sausage for a Mexican dish but the spices in the sausage are very mild. In this quick version, the flavors don't have as much time to marinate. Using a premade Italian sausage helps to amp up the flavor in a short amount of time. You can of course, use regular ground pork combined with the spices and apple cider vinegar listed below. If you're doing this I would allow the flavors to marinate for 24-48 hours. Roll the filling together into a sausage and cover with seran wrap.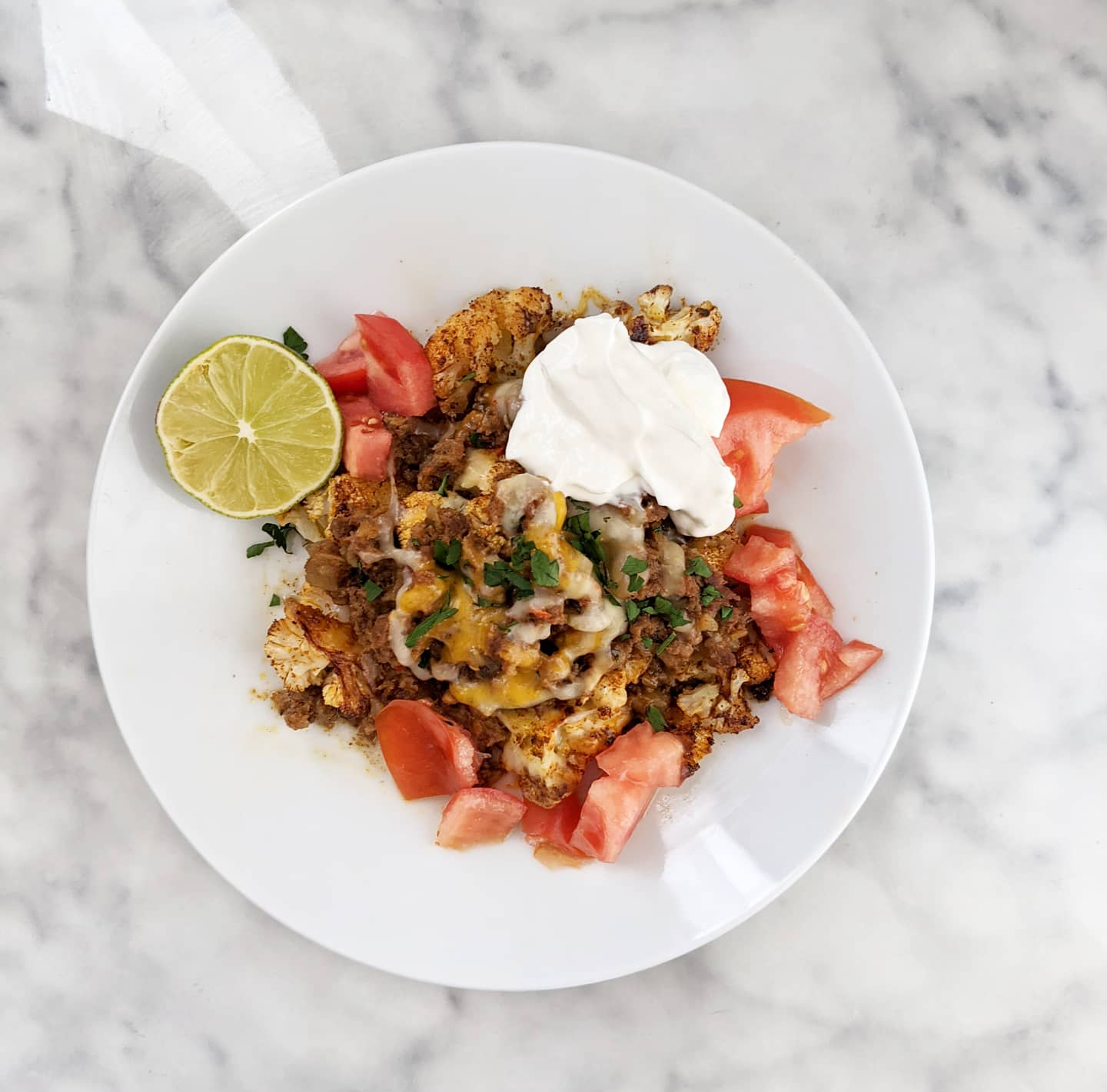 Keto Taco Cauliflower Bowl with Our Instant Pot Chorizo
Spices
Authentic Mexican chorizo typically uses ancho chili powder and Mexican oregano. Feel free to use those spices if you have them on hand. If not, this recipe tastes great with standard American chili powder and dried oregano.
Link – Ancho Chili Powder
Serving
Once the chorizo is done cooking, remove with a slotted spoon. Since this is cooked in the instant pot with chicken broth, there is liquid remaining in the pot. Serve with keto tacos, eggs or even eat on it's own (seriously, it's that good!).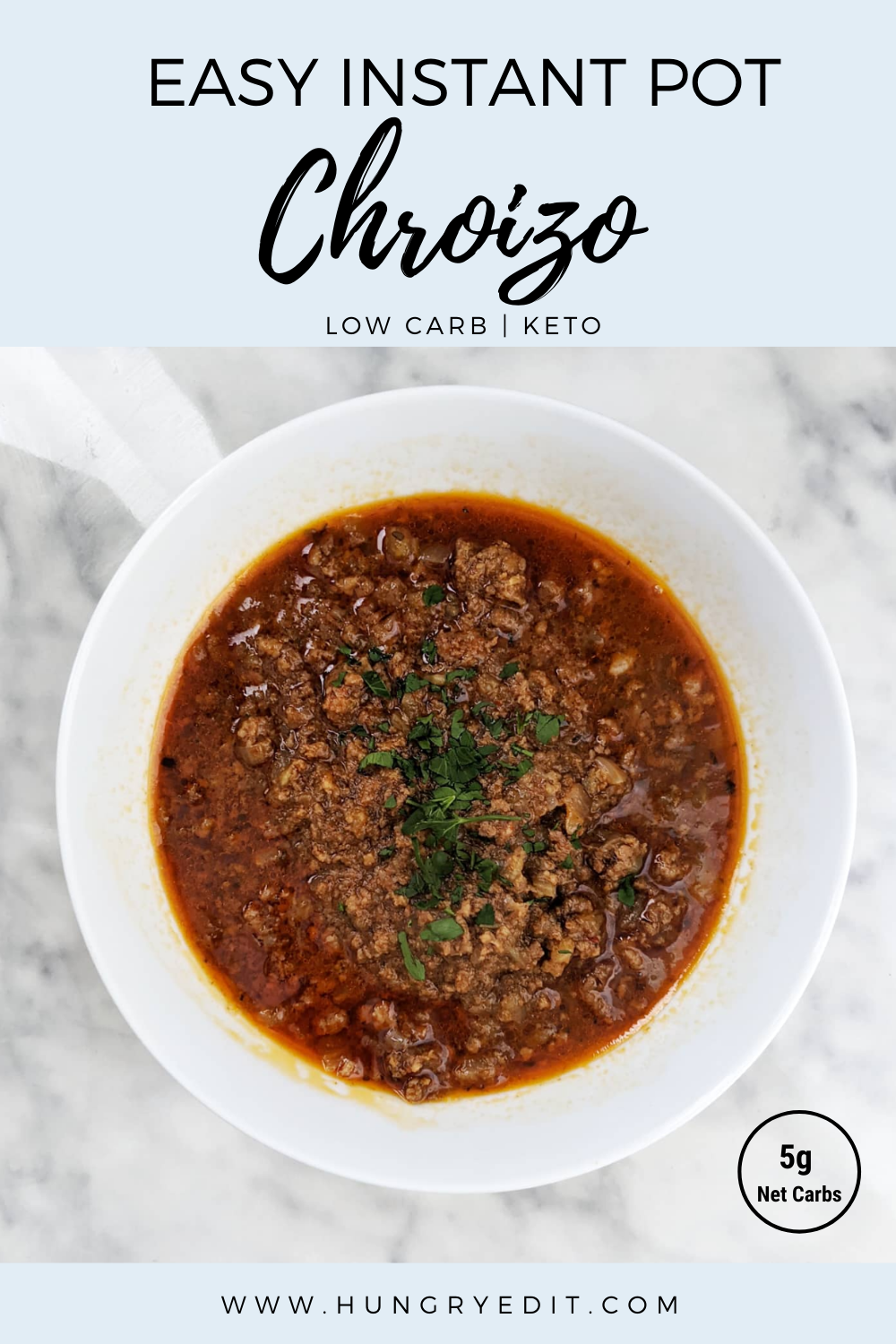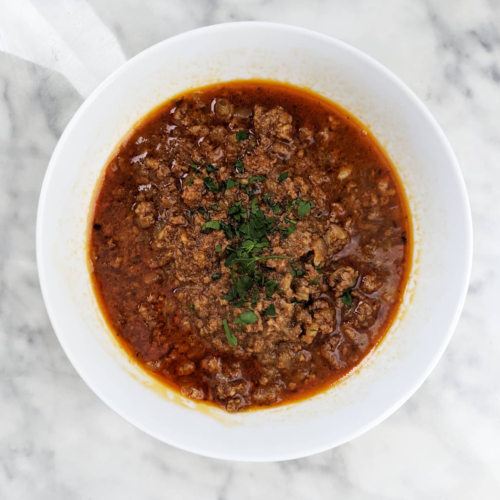 Instant Pot Mexican Style Chorizo
Equipment
Instant Pot or Pressure Cooker
Ingredients
Ready to Eat Instant Pot Mexican Chorizo
1

lbs

Ground Italian Sausage

Mild or Hot depending on preference.

1

tbsp

Avocado Oil

1

Cup

Chicken Broth

3

tbsp

Apple Cider Vinegar

50

grams

White Onion

Diced. Can substitute with onion powder about 1/2 tbsp.

5

Garlic Cloves

Minced.

2

tbsp

Chili Powder

Or Ancho Chili Powder.

1

tsp

Smoked Paprika

1

tsp

Oregano

Or Mexican Oregano.

1/2

tsp

Cumin

1/8

tsp

Ground Cloves

1/4

tsp

Ground Cinnamon

1-2

Bay Leaves

1

tsp

Salt

1/2

tsp

Black Pepper

100

grams

Diced Fennel Bulb

Optional. See note.
Instructions
Turn instant pot to saute function and add oil.

Add minced garlic and onion to the pot and cook until fragrant. About 2-3 minutes.

Add diced fennel and cook for an additional 2-3 minutes. Optional. See note below.

Add sausage and spices to the pot. Break apart the sausage with a wooden spoon until crumbly.

Add chicken broth, apple cider vinegar and bay leaves to the pot.

Put the lid on and set the instant pot to Pressure Cook For 25 minutes.

Once done cooking, turn the valve to a quick release.

Using a slotted spoon, remove the chorizo from the instant pot and enjoy!
Optional Mexican Chorizo (Marinate 24-48 Hours)
If you're not following our Ready to Eat Instant Pot Mexican Chorizo and just want to make a more authentic Mexican chorizo; use regular ground pork, combine all spices (substitute onion and garlic for powder), and apple cider vinegar. Omit the fennel for this version.

Roll everything together into a sausage and let marinate for 24-48 hours.

Once the chorizo is done marinating, cook in a skillet (no need for the instant pot version).
Notes
Note on Fennel: 
Fennel isn't used in Mexican Chorizo at all.  We have heard that fennel seeds and maybe the leaves are sometimes used in Spanish chorizo (correct me if I am wrong about this!). I really enjoy the flavor of fennel, so I've included it in my Instant Pot recipe. This ingredient is completely optional. 
Ready to Eat Instant Pot Mexican Chorizo
Nutrition Information (5 Servings):
304 Calories
6.9g Carbs 
1.9g Fiber 
24.3g Fat 
14.8g Protein  
Net Carbs:  5g 
Let us know in the comments below if you've made your own chorizo and if you've tried our Ready to Eat Instant Pot version! Looking for more easy dinner recipes? Visit our recipe page!