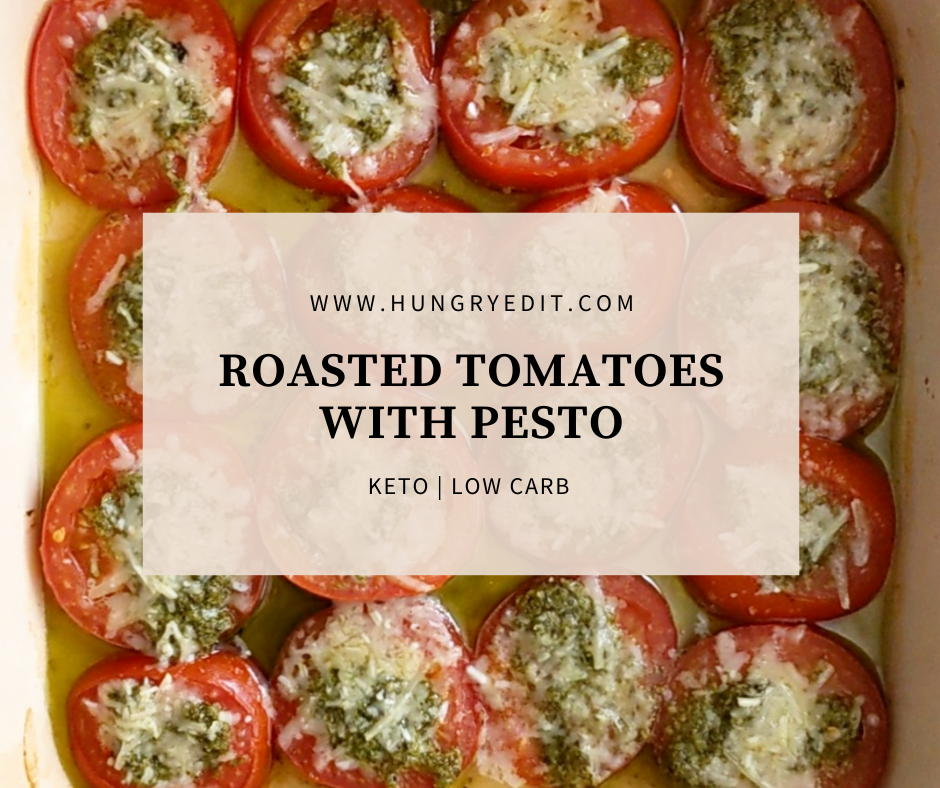 Jump to Recipe
This is a quick and easy recipe that is the perfect side dish for any meal. These Roasted Tomatoes with Pesto are topped with Parmigiano-Reggiano cheese, making them the perfect keto side dish! This dish only takes 15 minutes to make with only 3.4g of net carbs per serving.
Pesto
For this recipe you can use your favorite pesto. Homemade or store-bought will work nicely for this recipe. Pesto is a simple sauce made of pine nuts, salt, basil leaves and a hard cheese. Homemade pesto is easy to make and comes together in about 15 minutes. For store-bought pesto, look for the stuff in the fridge section or try this Augusto Pesto. Luckily, pesto is low in carbs and high in fat. A 1/4 cup of pesto has about 3g of carbohydrates, 1g of fiber and 27g of fat.
Tomatoes
Tomatoes can be high in carbs and because of that, some people avoid them while on a keto diet. I personally think that's crazy! Tomatoes are high in nutritional value and offer so much flavor to any dish. For this recipe, I slice the tomatoes on the thinner side to help keep the carbs low (about 1/2″). Feel free to make the tomato slices bigger depending on your preference. Just remember to adjust the cooking time accordingly!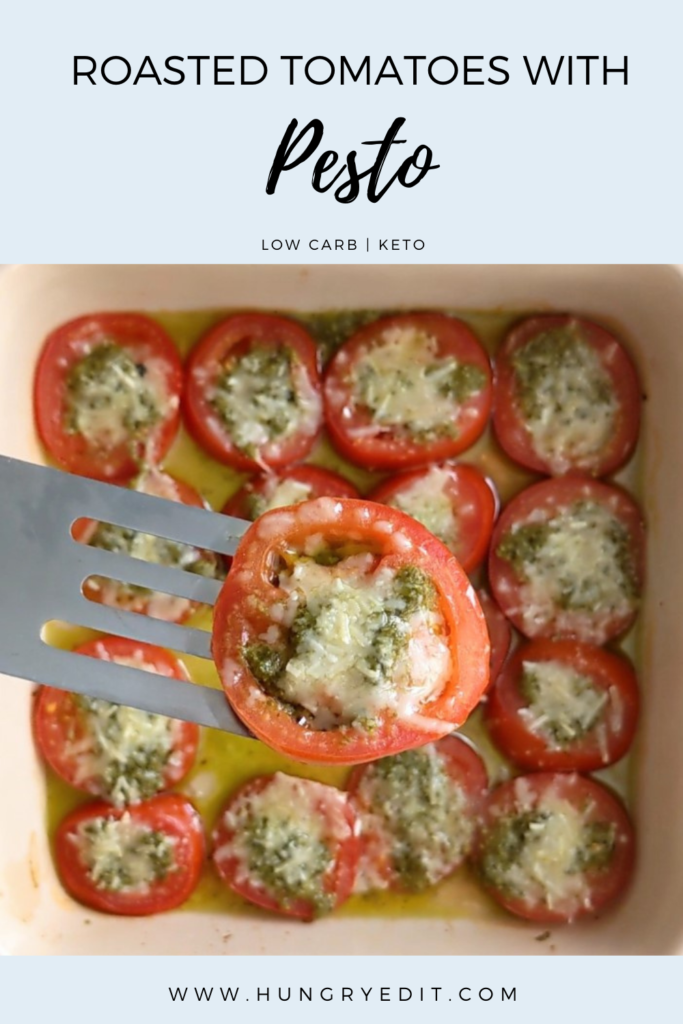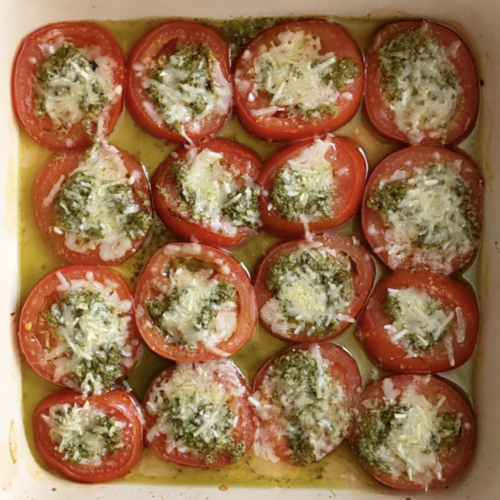 Easy Roasted Tomatoes with Pesto and Parmigiano-Reggiano 
Ingredients
250

grams

Sliced Tomatoes

About 1/2" thick.

8

tbsp

Pesto

1/4

cup

Parmigiano-Reggiano 

Salt

To taste.
Instructions
Slice your tomatoes so that they are about 1/2" thick.

Lay the tomatoes on a single layer on your baking sheet.

Drizzle the olive oil and sprinkle a bit of salt onto the tomatoes.

Top the tomatoes with pesto and finally the grated Parmigiano-Reggiano .

Bake for about 12-15 minutes until the tomatoes are soft and the cheese is melted.
Notes
Nutrition Information (4 Servings): 
218 Calories 
4.3g Carbohydrates
0.9g Fiber
18.7g Fat
8.2g Protein
Net Carbs: 3.4g / Serving 
Let us know in the comments below if you've tried our Keto Roasted Tomatoes with Pesto. If you're looking for more keto and low carb recipes, visit our recipe page!