This salad is the perfect pairing of tangy and sweet flavors. For our Keto Summer Strawberry Salad, we make our own Poppy Seed Vinaigrette. This is as healthy salad that's super easy to make (including the homemade dressing).
Greens
This salad really is quite versatile. You can switch up the ingredients depending on your tastes. We like to use baby spinach or romaine lettuce with this salad. Even a combination of both would work nicely here. Spinach is great to consume on a keto diet because its high in essential nutrients like calcium, iron, magnesium and potassium.
Cheese
We love to use goat cheese for this salad. Even better if you can find blueberry or cranberry goat cheese! If goat cheese isn't your thing, you can also use feta.
Poppy Seed Dressing
This dressing is the star of the show! It is sweet, tangy and easy to make. It has healthy fats from the olive oil and gut-friendly apple cider vinegar. You can find poppy seeds and any grocery or online here.
Protein
This salad is lovely on it's own! However, if you're wanting to make this a full meal, precooked chicken breast works nicely here. We often buy ours from the fridge section at the grocery store and keep it cold.
Nuts
To add some texture to this salad we love to add pecans, walnuts or sliced almonds to this salad.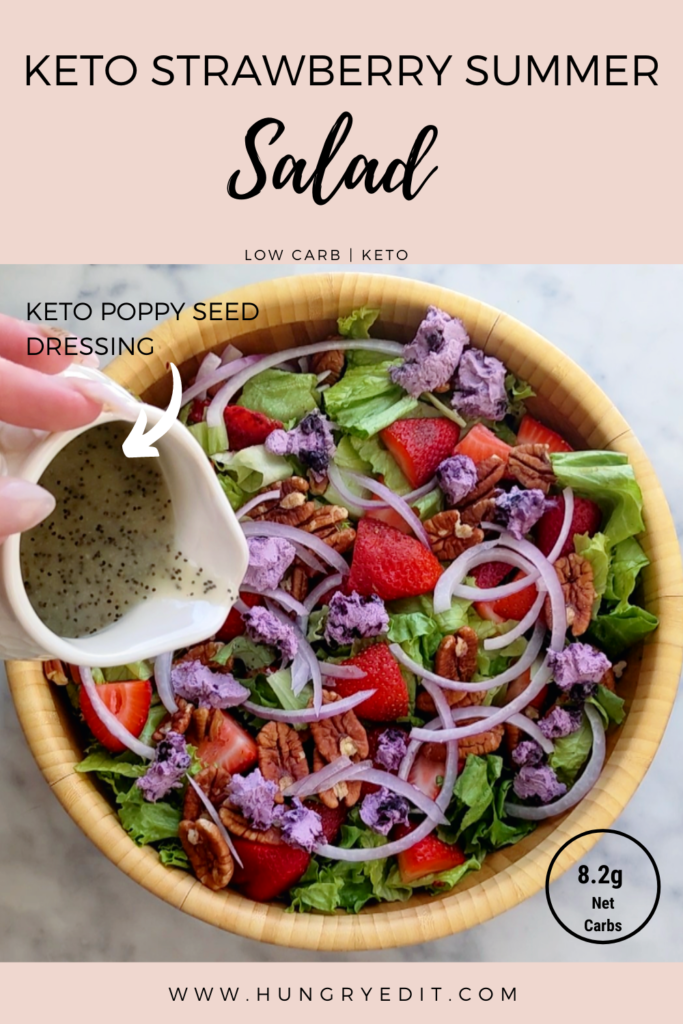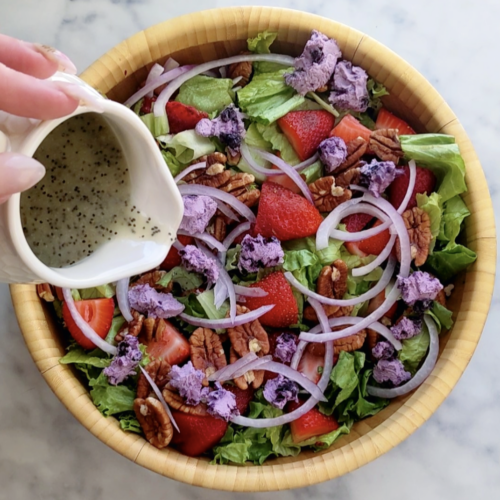 Keto Strawberry Summer Salad
Ingredients
1

Head

Romain Lettuce or Spinach

250

Grams

Sliced Strawberries

113

Grams

Goat Cheese

60

Grams

Pecans

30

Grams

Sliced Red Onion

Precooked Chicken Breast

Optional.
Instructions
Add all ingredients to a large bowl and mix well.
Notes
Nutrition Information (4 Servings): 
229 Calories
13.5g Carbohydrates
5.4g Fiber
16.8g Fat
8.5g Protein
Net Carbs: 8.1g / Serving
Nutrition information is per serving and does not include dressing or precooked chicken breast. 
Keto Poppy Seed Vinaigrette
Ingredients
1

Cup

Olive Oil

1/3

Cup

Apple Cider Vinegar

1/2

Cup

Sweetener

Example. Swerve Granulated Sweetener, Lakanto Monk Fruit Sweetener or Erythritol

2

Tbsp

Poppy Seeds

1

Tsp

Dijon Mustard

1

Tsp

Salt

1/2

Tsp

Onion Powder
Instructions
Add all ingredients to a blender except for the olive oil and poppy seeds.

Turn on the blender and slowly add in the olive oil to emulsify the dressing. This will take approx. 5-8 minutes.

Once blended, stir in poppy seeds.

Store in an air-tight container in the fridge.
Notes
Nutrition Information / Serving (2 Tbsp Per Serving):
167 Calories 
0.5g Carbohydrates 
0.4g Fiber
18.7g Fat 
0.4g Protein
0.1g Net Carbs / Serving 
Let us know in the comments below if you've tried our Keto Strawberry Summer Salad. Don't forget about the homemade poppy seed dressing too!
If you're looking for more keto recipes. visit our recipe page!