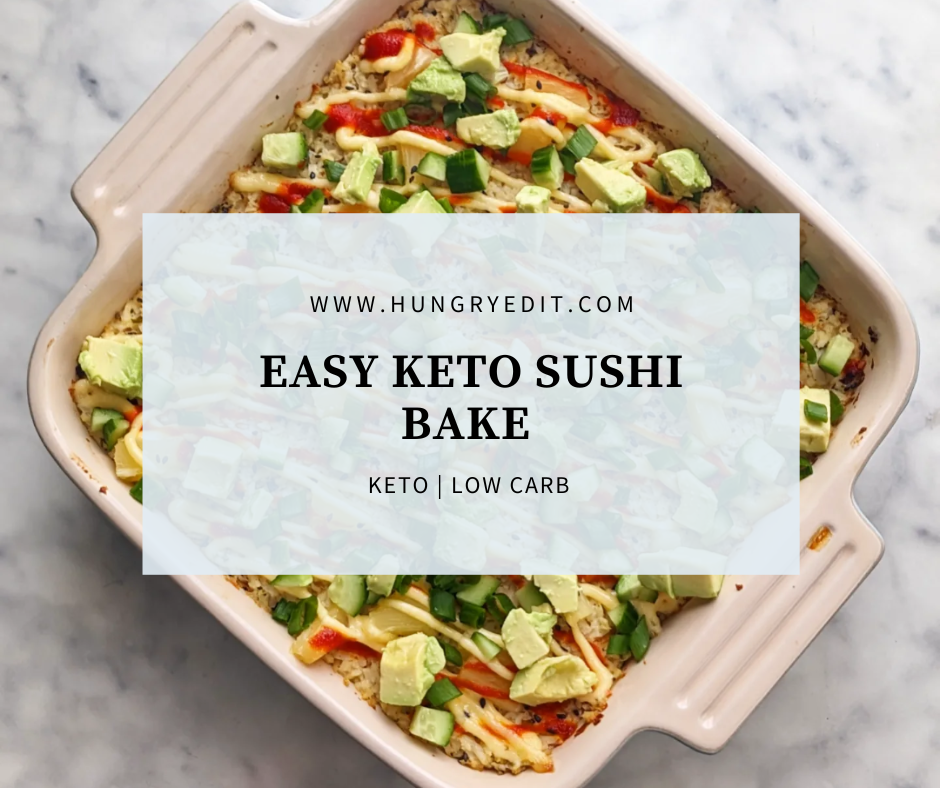 Our Easy Keto Sushi Bake is with just like a California sushi roll! We make this easy keto casserole with seasoned cauliflower rice, imitation crab, Kewpie mayo and Sriracha. This recipe is easy to make and is great for meal prep!
Sushi Bake is a deconstructed sushi roll that's basically a casserole! This dish gained popularity during the COVID-19 lockdowns in 2020. The sushi bake trend was a great way for restaurants and entrepreneurs to offer take-home dishes during the lockdowns. Although a trend, it looks like this dish is here to stay! It's versatile, easy and a great way for home cooks to get the sushi flavors.
How to Make Cauliflower Rice Taste Good
I know, I used to be one of those people that HATED cauliflower rice. I would roll my eyes when people would suggest it as a rice substitute. But here's the thing, you just need to know HOW to prepare it. I always opt for frozen cauliflower rice as I find that the fresh bagged cauliflower rice at the grocery store spoils too quickly. Also who has time to make their own cauliflower rice.
Frozen cauliflower rice is best if steamed in the microwave first. Next (the most important step), you have to drain as much liquid as you can out of the cauliflower rice. This will give you the best texture. Finally you'll want to season the cauliflower rice as much as you can. In this recipe I added dashi miso paste. This step is optional but remember, the more flavor added, the better! With the moisture gone and the extra seasoning most people end up loving cauli rice!
How to Serve Keto Sushi Bake
Sushi Bake tastes beside topped with fresh veg such as cucumber and avocado. To take things up another level, serve the sushi bake with Korean roasted seaweed snack. These can be found at almost any grocery store, including Costco!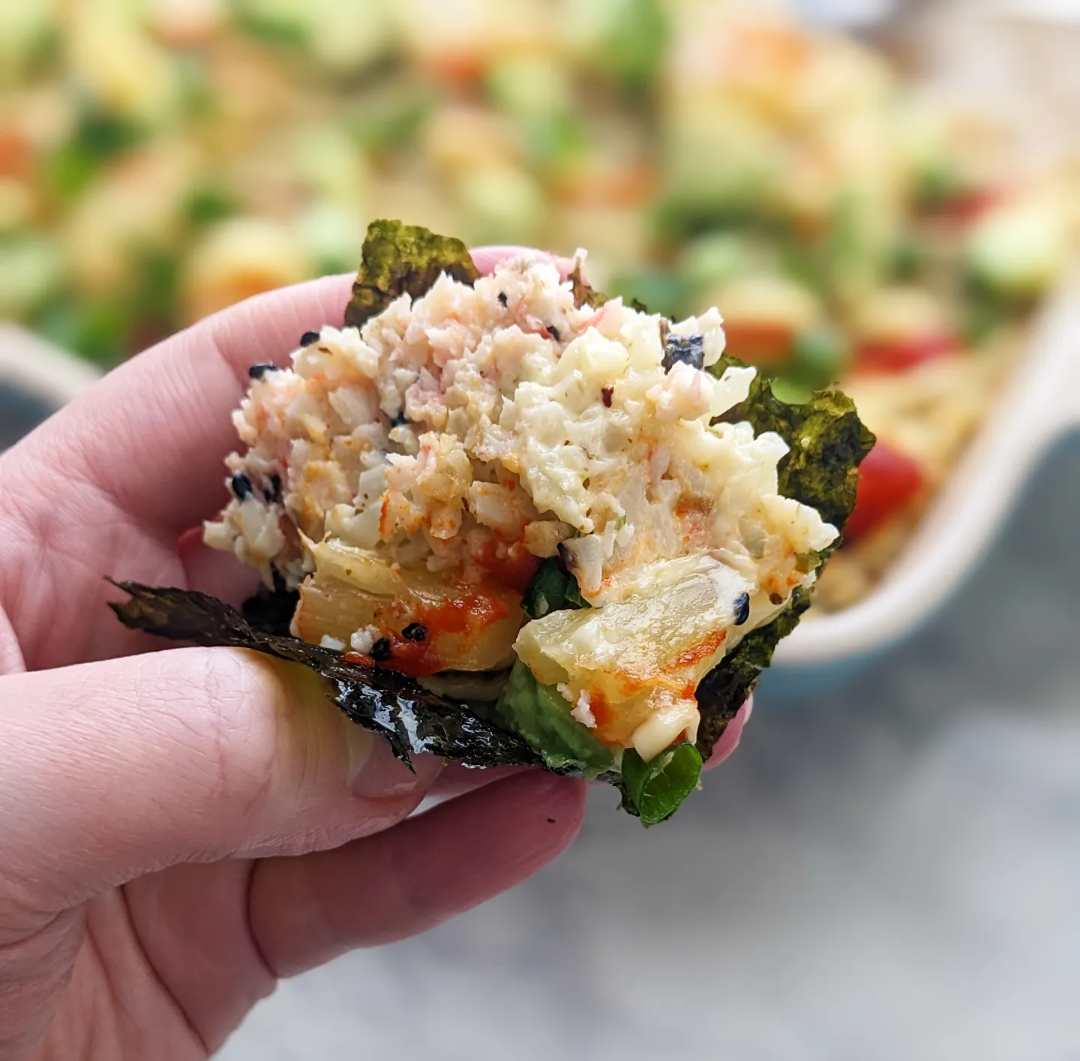 Can I Make Sushi Bake with any Seafood?
Definitely! Our recipe uses imitation crab meat because that's what's commonly used in a California Roll. You can use real crab, shrimp, salmon, tuna or even chicken.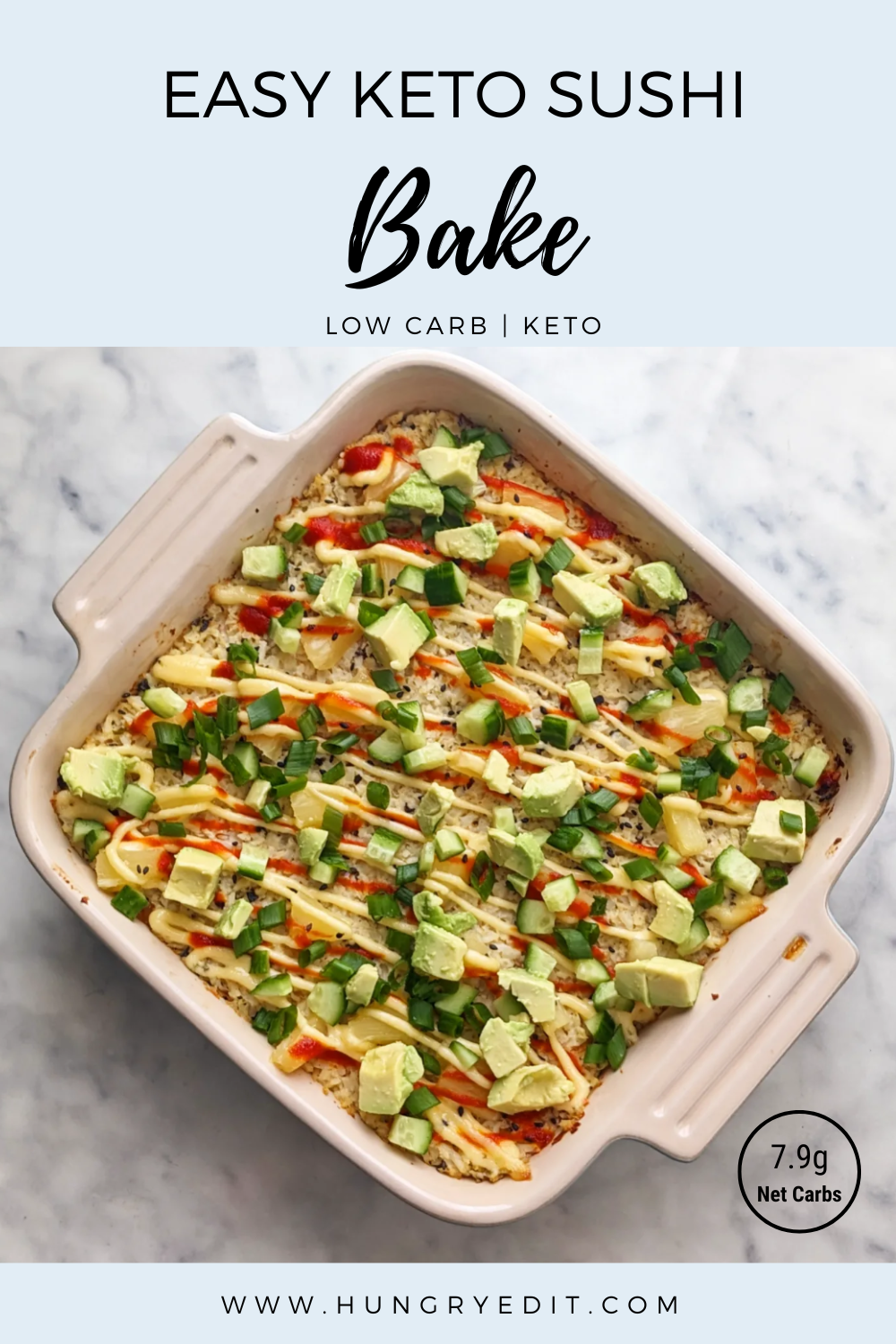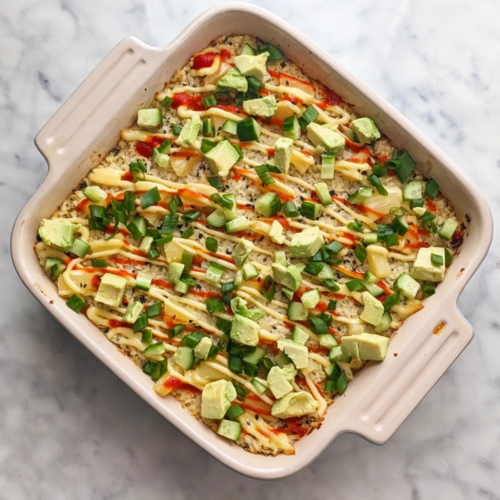 Keto Sushi Bake
Ingredients
Filling
1

Lbs.

Imitation Crab Meat

Can Also Use Crab or Any Seafood of Choice.

1/4

Cup

Kewpie Mayo

1/2

Cup

Cream Cheese

Softened.

1

Tbsp

Black Sesame Seeds

1

Large

Egg

Sriracha

To Taste.
Cauliflower Rice
2

Packages

Frozen Cauliflower Rice

680 Grams Total.

1

Tbsp

Sesame Oil

1

Tbsp

Dashi Miso Paste

Optional.

1/4

Cup

Kewpie Mayo

1/4

Cup

Furikake

1/4

Cup

Rice Vinegar

1

Large

Egg

1

Tsp

Keto Friendly Sweetener

Stevia, Erythritol etc.
Topping
1

Tbsp

Mayo

To Taste.

1

Tbsp

Sriracha

To Taste.

1/4

Cup

Pineapple

Optional.
To Serve
1/4

Cup

Green Onion

Diced, to Serve.

1/4

Cup

Cucumber

Diced, to Serve.

1

Avocado

Diced, to Serve.

4

Packages

Korean Roasted Seaweed Laver Snacks
Instructions
Thaw cauliflower rice in the microwave according to the package directions (about 3-5 minutes). Set aside and allow to cool.

While the cauliflower rice is cooling, prepare the filling.

Run the imitation crab meat through a food processor or chop up

In a large bowl, combine the imitation crab meat with the mayo, cream cheese, black sesame seeds, sriracha (to taste) and egg.

Spread the filling mixture into the bottom of a 9x9 baking dish.

When the cauliflower rice has cooled, use a kitchen towel and squeeze out as much moisture as you can.

Heat 1 tbsp of sesame oil in a large pan on medium heat.

Lightly sauté the cauliflower rice with dashi miso paste (optional) to cook out any excess moisture. Stir constantly to make sure that the cauliflower doesn't brown. About 5 minutes. Adjust salt if needed.

Stir in mayo, furikake, egg, rice vinegar and sweetener to the cauliflower rice.

Spread the cauliflower rice mixture of the filling in the 9x9 pan. Top with kewpie mayo, sriracha and pineapple chunks if using.

Bake uncovered for 25 minutes until heated through.

To serve, top with chopped cucumber, green onion and avocado.

Serve with roasted seaweed snack.
Notes
Nutrition Information (6 Servings): 
389 Calories 
14.8g Carbohydrates 
5.1g Fiber 
28.7g Fat 
15.4g Protein
Net Carbs: 9.7g / Serving
Nutrition Information (Without Dashi Miso Paste and Pineapple): 
378 Calories 
12.9g Carbohydrates 
5g Fiber
28.6g Fat 
14.8g Protein
Net Carbs: 7.9g / Serving
Let us know in the comments below if you've enjoyed our Keto Sushi Bake. If you're looking for more keto recipes,