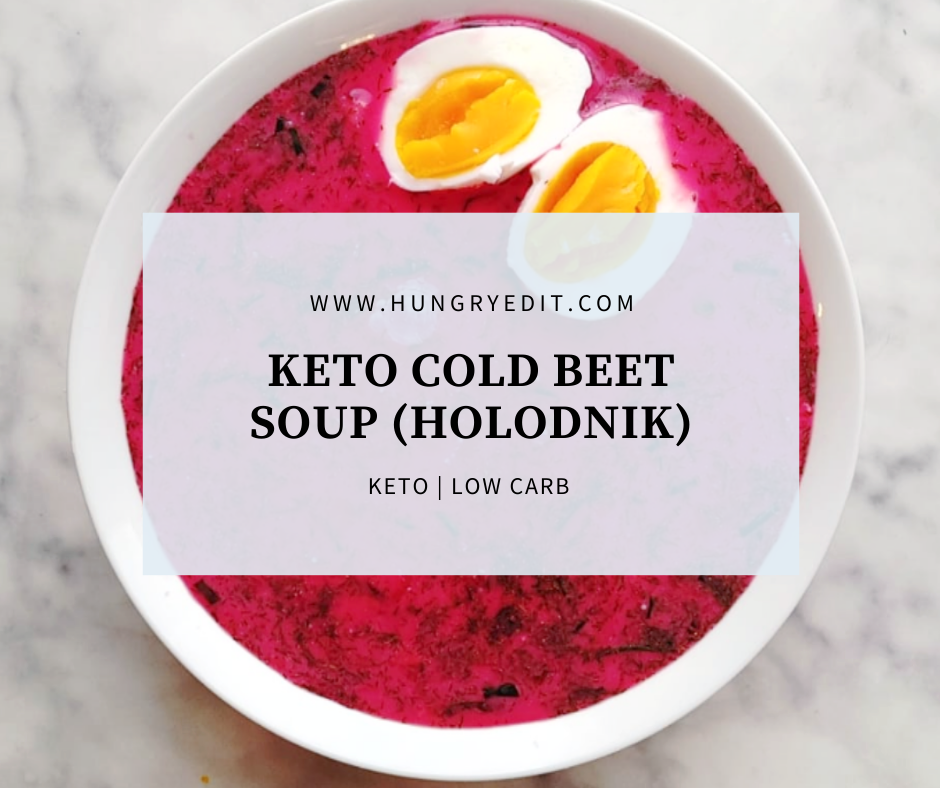 Jump to Recipe
Our Keto Cold Beet Soup is easy to make and is the perfect side dish to any meal. Russian Holodnik is a classic chilled soup. It's perfect for those warm summer days. We like calling this soup a Summer Borscht because it is a lighter, tangier version of traditional borscht.
The Method:
Luckily this soup doesn't include much stove time. Nobody wants to keep their stove or oven on during a summer heat wave!
Start by boiling or steaming your beets under fork tender. Allow to cool and shred using a food grater.
While the beets are cooking, boil an additional 2 cups of water and allow to cool.
Meanwhile, grate the cucumbers, chop the fresh dill and chives. Add to a large bowl.
Once all ingredients are added to the bowl, whisk in the sour cream (buttermilk, kefir or plain yogurt).
Allow to sit in the fridge for a few hours or overnight for the best results.
Eggs
It might seem unusual to add hard boiled eggs into a soup, especially a cold one. However, this is very common in Russian soups and they are lovely. They make the soup more filling and their mild flavor pairs well the freshness of the soup.
Sour Cream
The addition of sour cream to this soup gives it a lovely tangy taste with a creamy texture. Sour cream is low in calories and carbohydrates. If sour cream isn't your thing, you can try using plain yogurt, kefir, or buttermilk is very common. Please note that the nutritional value will greatly vary depending on what substitution you make.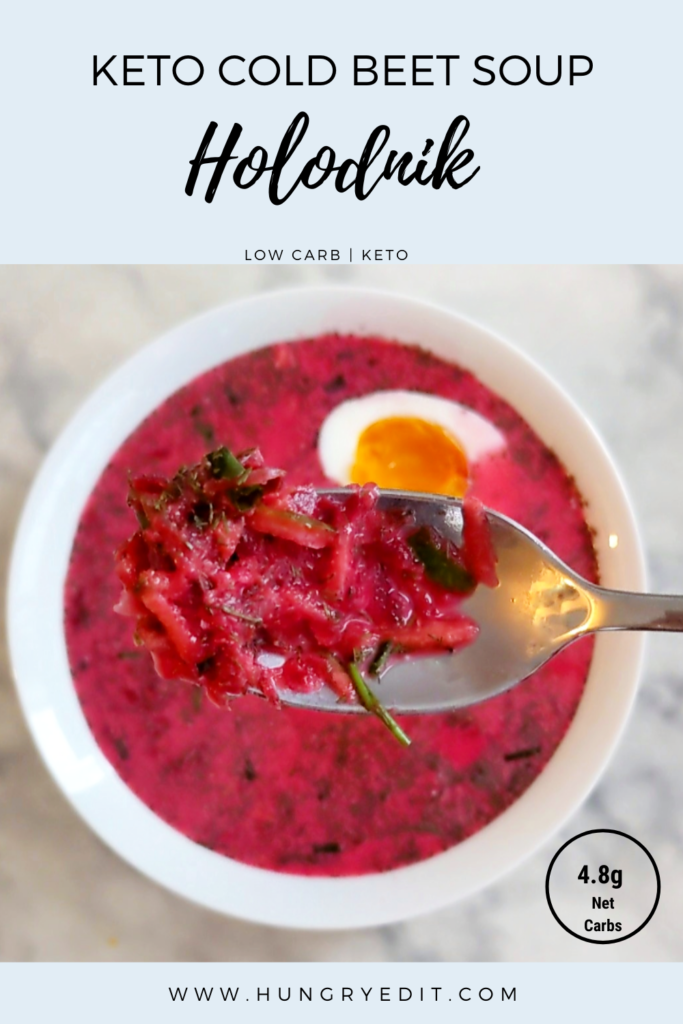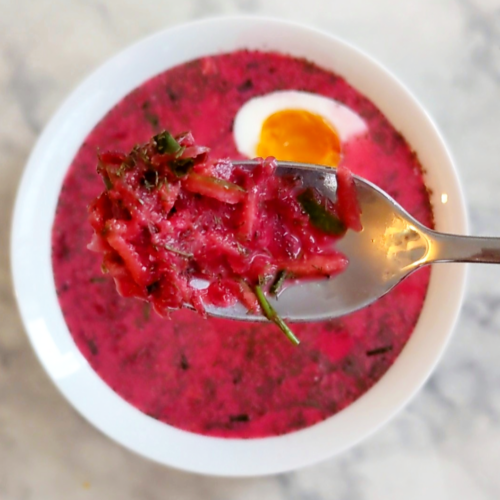 Keto Cold Beet Soup (Holodnik)
Ingredients
200

Grams

Beets

Approx. 2 beets.

200

Grams

Cucumber

Grated.

2

Cups

Boiled Water

Cooled.

1-2

Tbsp

Fresh Dill

Chopped.

3

Tbsp

Green Onion

Chopped.

1

Cup

Sour Cream

Or plain yogurt, plain kefir or buttermilk.

1

Lemon

Juiced.

1

Tbsp

Salt

To taste.

6

Hardboiled Eggs

Optional.
Instructions
Place the beets in a large pot and boil or steam for about 30 minutes. Or until tender with a fork.

Meanwhile, boil 2 cups of water and allow to cool.

While the beets are cooking and the water is boiling, prepare the rest of the soup.

Grate the cucumber into a large bowl.

Add chopped dill, chopped chives, lemon juice and salt to the cucumber mixture and set aside,

Once the beets are done cooking, allow to cool.

Remove the skin, grate and add the grated beets to the cucumber mixture.

Add the boiled water (cooled) to the beet and cucumber mixture.

Whisk in sour cream (buttermilk, kefir or plain yogurt) and adjust seasoning if needed.

Allow the soup to cool in the fridge overnight to allow the flavors to develop.

Enjoy as is or add chopped hardboiled eggs to the soup!
Notes
Nutrition Information (6 Servings):
85 Calories
6g Carbs
1.1g Fiber
6.4g Fat 
1.5g Protein 
Net Carbs: 4.8g / Serving
Nutritional information is based on using sour cream and does not include optional hardboiled eggs. 
Let us know in the comments below if you've tried our Keto Cold Beet Soup! If you're looking for more keto recipes, visit our recipe page!
Don't forget to check out our other two traditional borscht recipes!