This classic Vegetarian Borscht is almost exactly the way my Ukrainian mother-in-law makes it. It's a simple recipe that's high in nutrients and delicious! We've adapted this recipe to fit well within a keto diet without sacrificing any of the flavor.
Beets
Beets are an excellent source of nutrients! They are low in calories, help to fight inflammation, and can even regulate your blood pressure. It might be surprising, but beets are high in carbohydrates (they have quite a bit of natural sugar). Because of this, we use only 1 whole beet in our recipe. This is enough to add the flavour and vibrant color to the soup. We start the recipe by sautéing the shredded beets with lemon juice. The addition of the lemon juice balances out the strong, earthy flavor of the beet. Infact, we sauté all of the vegetables in this recipe, which we believe adds a ton of flavour!
Broth
Traditional borscht is made with homemade beef broth and some even add beef into their soup. My family has always made this soup vegetarian (we only use water!) and I'll be honest, I prefer it this way! Borscht can be strong with all of its flavors. For some, it's even an acquired taste. Our vegetarian recipe, will transform anyone into a borscht enthusiast. I know, because it happened to me! Of course if you prefer to use beef broth, feel free to use this instead of water.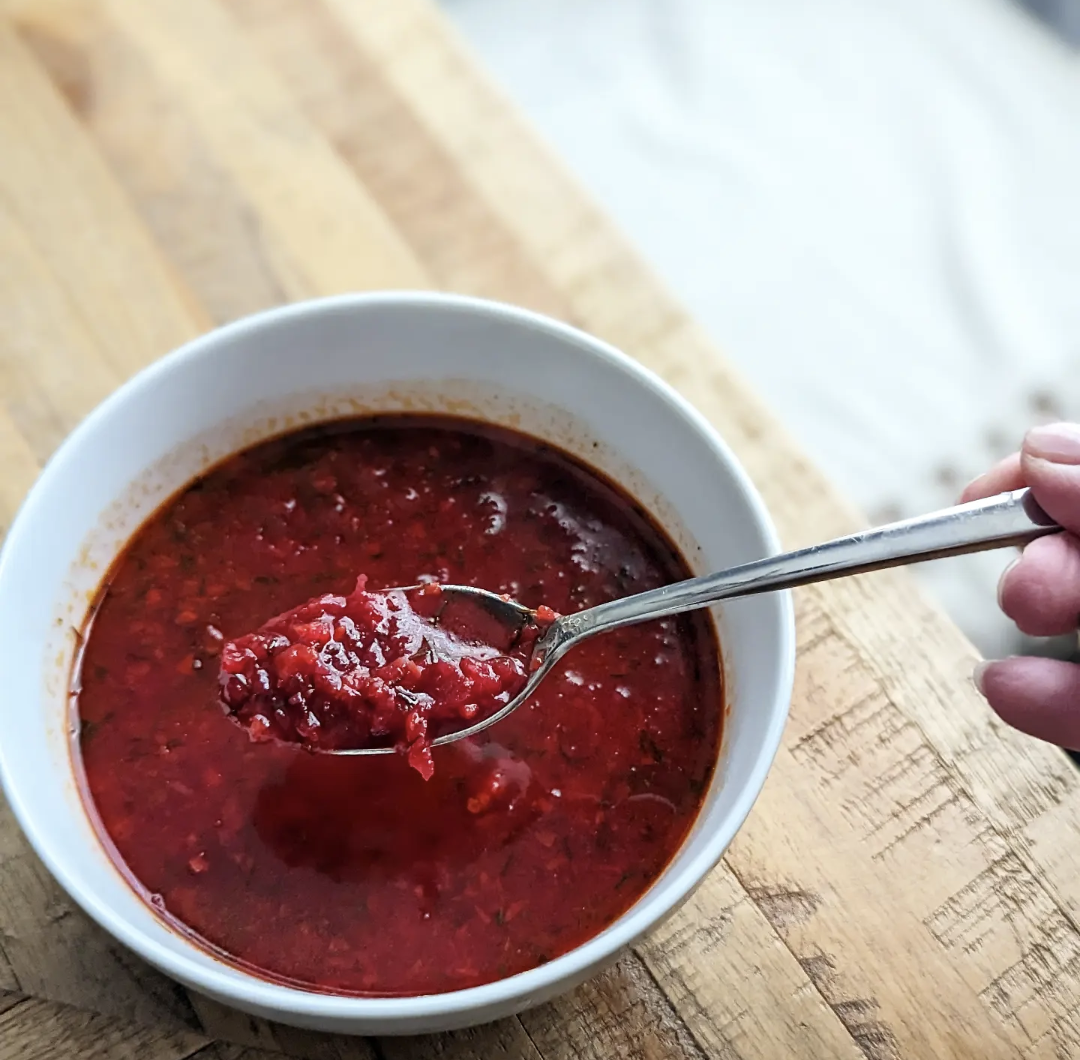 Serving
This keto borscht is perfect as a side dish or even as a light lunch! You can serve immediately or as a leftover. This soup is great for meal prep. Make a big batch on a Sunday afternoon and enjoy throughout the week. For serving, eat on its own or serve with a dollop of sour cream (this is the more authentic way to eat the soup). We also like to add a slice of keto-friendly bread on the side.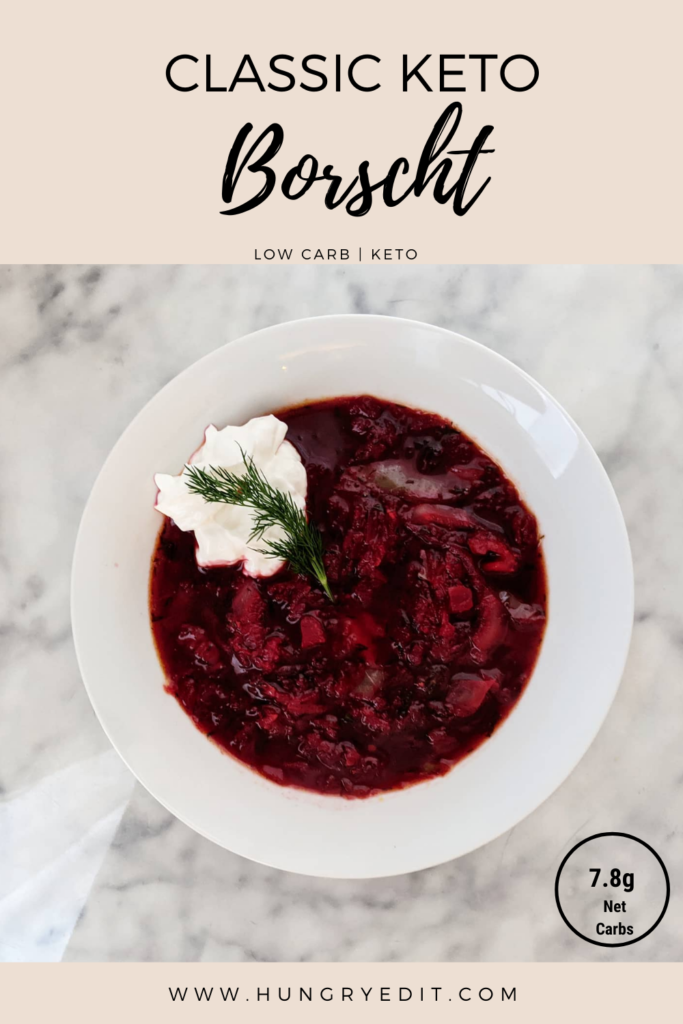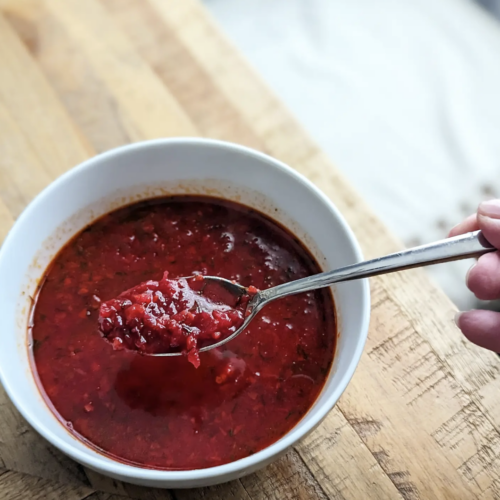 Classic Keto Borscht
Ingredients
2

tbsp

Olive Oil

1

tbsp

Butter

1

Beet

Peeled, grated. Approx. 125 grams.

1-2

tbsp

Lemon Juice

100

grams

Onion

Diced.

150

grams

Carrot

Shredded.

2

tbsp

Tomato Paste

Fresh Dill

A handful, about 1/4 cup. To taste.

5

cups

Water

Salt

To taste, about 1 tbsp.

Pepper

To taste, about 1/4 tsp.

Sour Cream

Optional. for serving.
Instructions
In a large pot add 1 tbsp of olive oil over medium heat and sauté shredded beets with lemon juice for about 3-5 minutes. (Start with 1 tbsp of lemon juice and add more to the soup if needed).

Add another tbsp of olive oil along with 1 tbsp of butter to the pot.

Add shredded carrot and diced onion to the pot. Sauté for about 3 minutes until soft. Season with salt and pepper, to taste.

Add 2 tbsp of tomato paste to the mixture and sauté for 1-2 minutes.

Add water to the pot and bring to a boil.

Once the water is boiling, partially cover and reduce heat to medium low. Simmer for about 1 hour until flavors develop.

Once the soup is almost done (with 10-15 minutes remaining) add the fresh, chopped dill.

Serve on it's own or with a dollop of sour cream.
Notes
Nutrition Information (4 Servings, about 1 cup / Serving):
135 Calories 
11.3g Carbohydrates 
3g Fiber
9.6g Fat 
1.6g Protein 
Net Carbs: 8.3g / Serving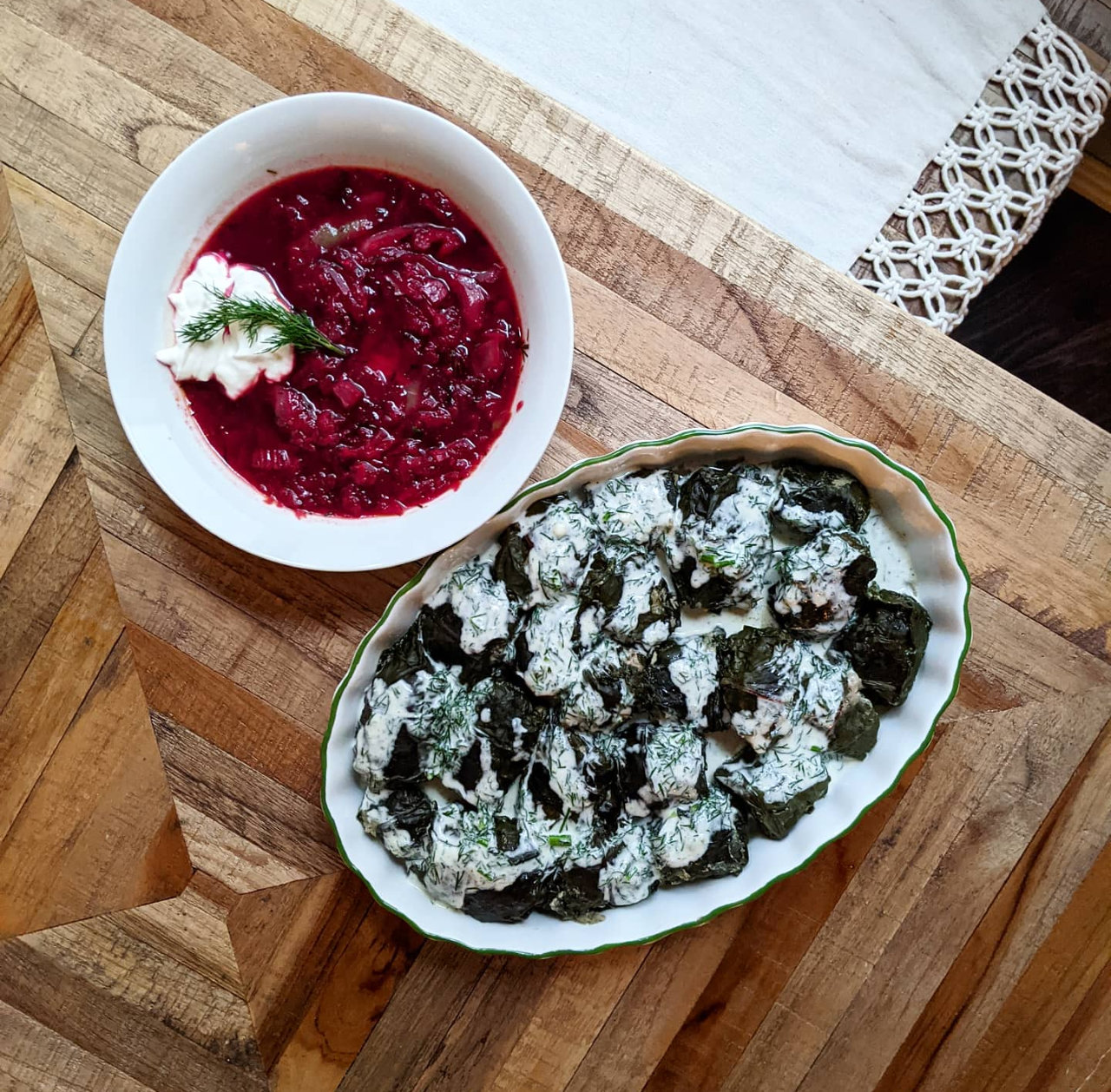 Let us know in the comments below if you've tried our Vegetarian Borscht! We also highly recommend you try our Green Borscht (Spinach Soup) and Keto Beet Leaf Rolls.